Year 11
Year 11 Key Dates 2018-19
Parent Information Evening

Half Term Science/Maths Tuition

Parents/ carers of Year 11 students will have received an e-mail outlining the tutoring available in school during October half term.
These are run by a private tutoring company, Winchmore tutors.
These camps will only be open to students from WSFG and will have a maximum of 15 students in a group.
Camps will be running on the:
Wednesday 24th October (Maths: 9am-12pm; Science: 12:30-3:30pm)
Thursday 25th October (Maths: 9am-12pm; Science: 12:30-3:30pm)
Details of the topics covered are on the web link below.
Tutoring costs £25 for a 3 hour session. Some students may be eligible for a reduced rate.
If you would like to find out if you are eligible please see Ms Kennedy.
If students and parents/carers would like them to attend, then go to the following link:
http://winchmorecamps.com/venues/walthamstow-school-for-girls
and complete the "register interest" form.
Winchmore tutors will then contact you to finalise the booking/ take payment.
Black History Month ICT Competition

Black History Month Competition
Make an A4/A3 sized Poster about a Black or Asian women, who has made a contribution to the development of computing/IT.
Your poster must include:
The woman's name
Her early life
Her career in computing
Submit your completed entry to Mr Bryant in F15 by Wednesday 31st October 2018
There will be a special prize for the top three entries
Black History Month Art Competition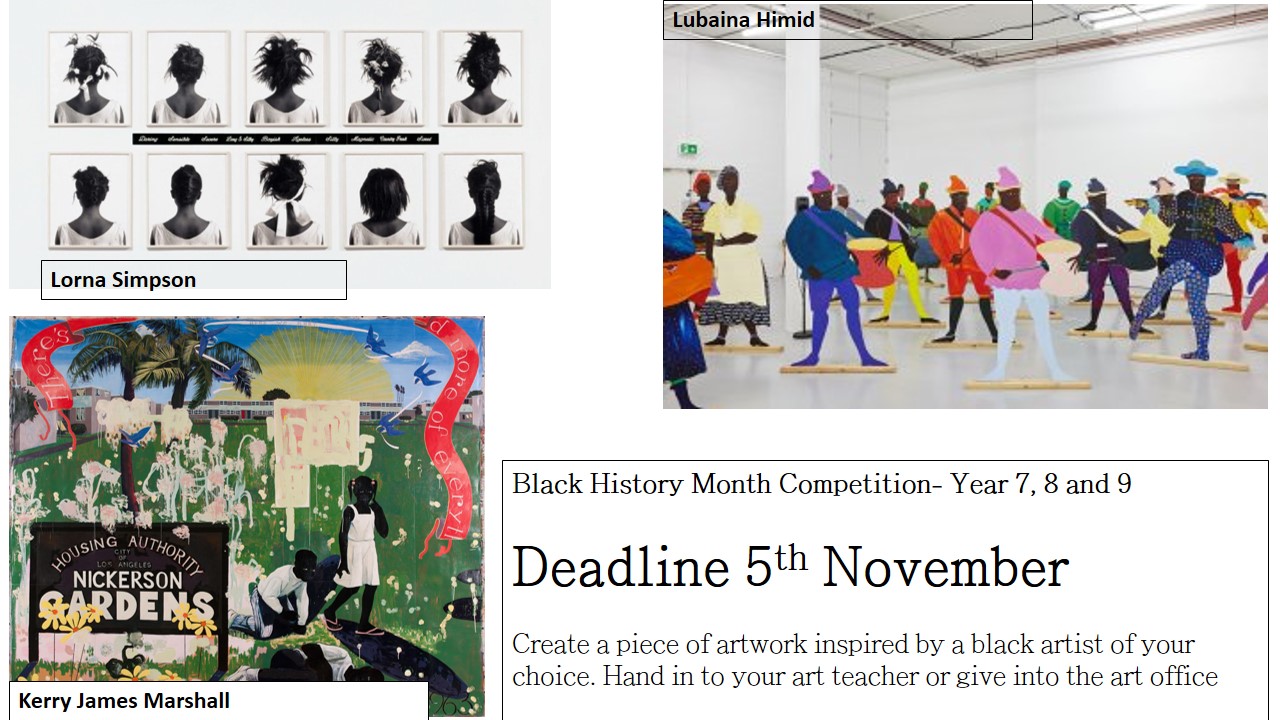 Black History Month English Competition

Year 10-11 Black History Month competition
Read the poem 'Remember the Ship' (See picture).
Write your own poem or descriptive piece of writing in response to John Agard's poem.
Your writing should not exceed one side of A4 paper.
Entries due by 30th October 2018.
Hand to your English teacher or into the English office (G13)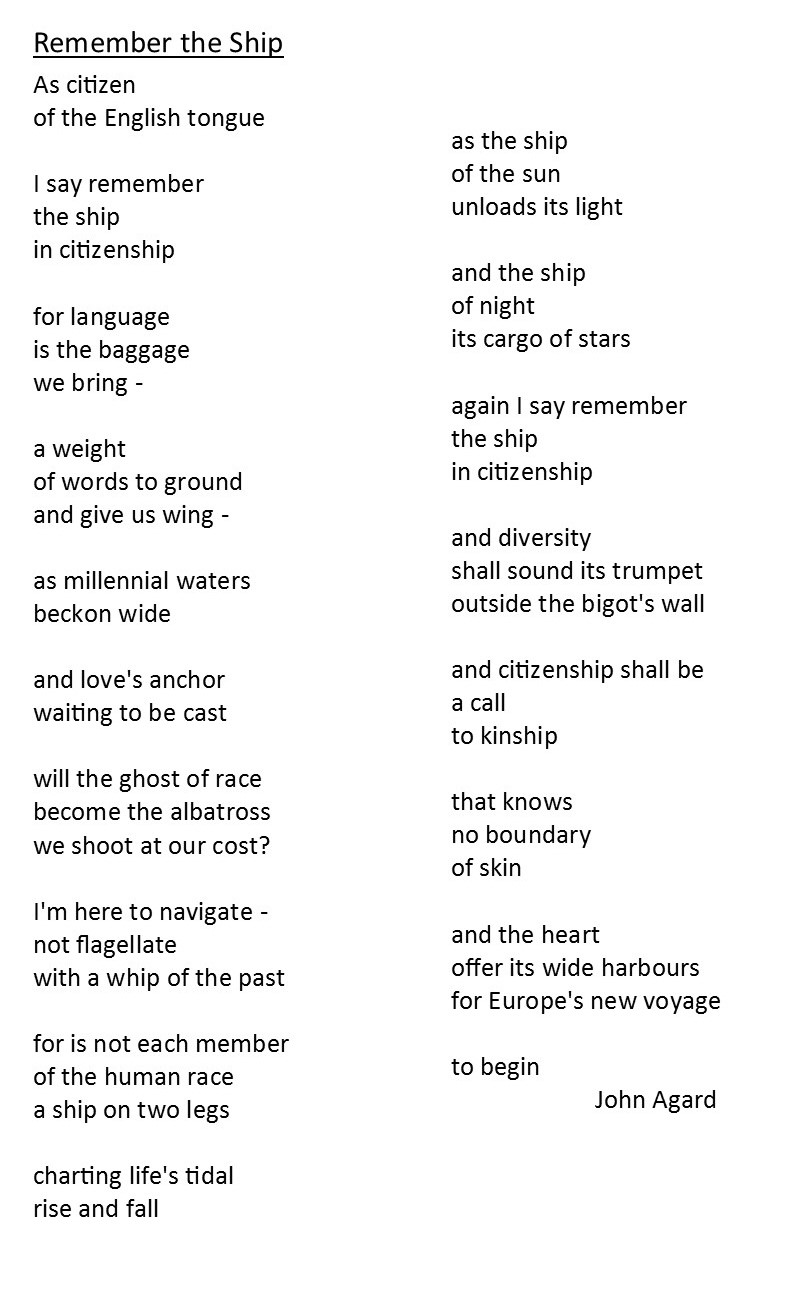 Food Focus Group

Dear Students,
I would like to invite students to the next Food Focus Group meeting to look at current issues being raised and discuss some service improvements for the Spring term onwards.
The meeting is planned for Thursday the 18th of October in F18 @ 12.30pm, new students are always welcome so come along if you have any ideas you wish to share and I'm sure there will be some free samples on offer as always!
Thanks,
Mr. Jalil
School Business Manager
Year 11 Geography Revision

In preparation for the Year 11 mock exams, Mr Sterlini has created a revision list for the Year 11 Geography paper which can be found here
Beal Sixth Form Open Evening

We need to compile a list of 20 students to attend the Beal Open Evening which is planned for 16th January and we will give you more details nearer the time.
Beal has 14 girls from WSFG on roll in Year 12 this year.
Their entry requirement is basic: get level 5s minimum! Check their website for more info.
If you are interested and committed to attending their Open evening, come and see Ms Desbenoit.
College/Sixth Form Lunchtime Lectures

We are delighted to welcome representatives from the following Colleges & Sixth Forms, who will talk about their institution and answer questions from our Year 11 students at lunchtime in the Hewett Hall.
Tuesday 16th October 12.40 - 1pm. - BSix Sixth Form College
Wednesday 17th October 12.40 - 1pm. - London Design & Engineering UTC, Docklands
Tuesday 30th October 12.40 - 1pm. - Sir George Monoux Sixth Form College
Wednesday 31st October 12.40 – 1pm. – Leyton Sixth Form College
Thursday 1st November 12.40 - 1pm. - Chingford Foundation School Sixth Form
Tuesday 27th November 12.40 - 1pm. - Highams Park School Sixth Form
Weds 28th November 12.40 - 1pm. - Caterham High School Sixth Form
Tuesday 4th December 12.40 - 1pm. - London Screen Academy
Wednesday 5th December 12.40 - 1pm. - National College for Digital Skills
A Reminder for all Year 11 Students

Important Reminder
All Year 11 students need to regularly check their school emails for important information that is sometimes sent to them.
I have today sent an important email regarding the regulatory JCQ Notices to Candidates for 2018-19 that they need to be familiar with.
If they are unsure of their email addresses please speak to one of the IT Technicians in F15.
Many thanks
Ms Brickett
Exams & Assessment Manager
Sixth Form / College Open Days / Evenings

Woodford County High School for Girls
Students and their parents/cares are invited to come to Woodford to discover more about the range of A Levels offered in addition to science and mathematics. The A Level Options Evening includes a talk on choosing A Levels and applying to the Sixth Form, plus workshops focusing primarily on the Arts, Humanities and Languages at A Level. The event starts at 6pm on 15th October, with last admittance at 7.30pm. No pre-booking is required. There is no parking on site, but plenty of space is available at the Sir James Hawkey Hall car park on Broadmead Road, which is a short walk from the school.
---
City and Islington Sixth Form College
Our Sixth Form College Open Day this year will be on Saturday 10th November from 10-3pm.
All booking will be by appointment and the online booking system will open in the next few weeks on our website.
All visiting students must be accompanied by an adult.
Our applications deadline for A Levels is 31st January 2019. However, we enrol students in September in the order in which they applied, so early application are encouraged. Again – the online applications system will open in a few weeks' time.
City and Islington Sixth Form College
283-309 Goswell Rd
EC1V 7LA
Tel: 020 7520 0608
www.eventbrite.co.uk/e/sixth-form-college-open-day-tickets-49336332298
---
Waltham Forest College
Will be pleased to welcome you on the following dates for their 2018/2019 Open Events:
Wednesday 7th November 2018, 4.30pm – 7.30pm
Saturday 26th January, 10am – 1pm
Wednesday 20th March, 4.30pm – 7.30pm
Wednesday 15th May, 4.30pm – 7.30pm
---
Chingford Foundation School Sixth Form Open Evening will take place on Thursday 17th January, from 6:30pm. Please click here for more information.
Study Support

Year 11 flip learning project: students who need support with this or need to catch up there will be a catch up session this Wednesday lunch time in G02 with Mr Kerr.
---
KS4 Spanish Club/GCSE support
Please go to F25 every Monday 3:30-4:30pm for extra support with your Spanish GCSE.
If you are a targeted student, you MUST attend every week.
Ms. Prieto, Head of MFL
---
KS4 French Club/GCSE support
Please go to F21 every Monday 3:30-4:30pm for extra support with your French GCSE.
If you are a targeted student, you MUST attend every week.
Ms. Prieto, Head of MFL
Zanzibar Trip July 2018

Careers Meetings

Dear Year 11 Parents and Carers,
We are really pleased to be able to offer careers meetings to all of our Year 11 students this year. These meetings are provided by the Waltham Forest Careers Service and are an opportunity for students to discuss and ask questions about what they want to do following their GCSEs. Last year's Year 11 students reported that these meetings were informative and helpful, which is why we are keen to continue this offer. Some of the meetings will be one to one meetings and others will be in groups. Your daughter will be provided with a meeting time in September or October.
Students are expected to attend these meetings and it is important that they are punctual. As a school, we have paid for specific days for this service and so it is vital that students inform Ms Philippou, with as much notice as possible, of any meetings they are unable to attend.
Please do not hesitate to contact me should you have any questions or concerns.
Kind regards,
Ms Philippou
Assistant Headteacher
Exam Anxiety - Supporting at Home
Please click here for helpful advice on supporting your daughter through her exams.
Tips for College Interviews

Tips to make your interview a success are:
Have a conversation. The most successful applicants are those who are themselves
Ask questions. Do express your interest in why you want to study the subject(s) you have applied for and the College
Be yourself. Don't try to answer questions based on what you think your interviewer wants to hear
Prepare. Find out about the course(s) you've applied for. Find out about the career paths or further study options. Find out about the College. Have a look through the website.
Be ready. Always arrive at least 15 minutes early.
Lunch Money Loans

It has become apparent that the number of students borrowing money for lunch has increased dramatically this school year. Lunch money loans should be for emergency purposes only.
Walthamstow School for Girls offers a Top-Up facility via sQuid enabling both students and parents to check balances, top-up lunch money, pay for trips and other sundry items at their own convenience.
An automatic Top-Up can also be activated ensuring your daughter never runs out of money.
A reminder to parents/carers that if you wish to pay for your daughter's school meals by cheque, please make the cheque payable to 'Olive Dining Ltd'.

All students have also been given usernames and passwords to enable payments to be made online via our sQuid system. If you would like a reminder of your daughter's username and password please contact Student Services.
Ms Jolliffe
Student Services
College References
If you require a college reference you need to hand in your completed application form to Student Services in the morning, before registration. You will then be able to collect it after school that day.
Any applications/requests received after break may not be completed until the following day.
We have to adopt this procedure as hundreds of requests come in each year and they all need to be logged and completed.
If you need your reference before the Christmas holidays it will contain your Forecast Grade from your end of Year 10 exam results. After Christmas this will be updated and your college reference will have a Forecast Grade based on your Year 11 Mock Examination.
For on-line applications, where a contact e-mail address is requested, you should use the following address:
If you have any questions please see Ms Desbenoit or Ms Jolliffe.
GCSE PE
GCSE PE revision guides are for sale from the PA office for £2.50 each.
Please see Ms Wood if you would like to buy one.