G.R.E.E.N. TSA News & Information
Walthamstow School for Girls will be hosting an event targeted at senior teachers and Maths, English and Science curriculum leaders, that will demo the use of 'Learning by Questions' which won the BETT Innovator of the Year Award 2019. This event, held on Thursday 28th March (4-5pm), is suitable for both primary and secondary colleagues.
We are a pilot school and have been using 'Learning by Questions' in Maths Key Stage 3 lessons for over a year. It focuses on Maths mastery but has also been designed for use in English and Science. LbQ is delivered through one to one devices and allows very targeted and diagnostic feedback/ next steps learning.
As well as our pilot teacher demonstrating the use of LbQ , members of the LbQ team will be presenting their work.
Please could you forward details to the relevant colleagues in your school who may be interested in finding out more. See the attached flyer with details of sign-up through Eventbrite.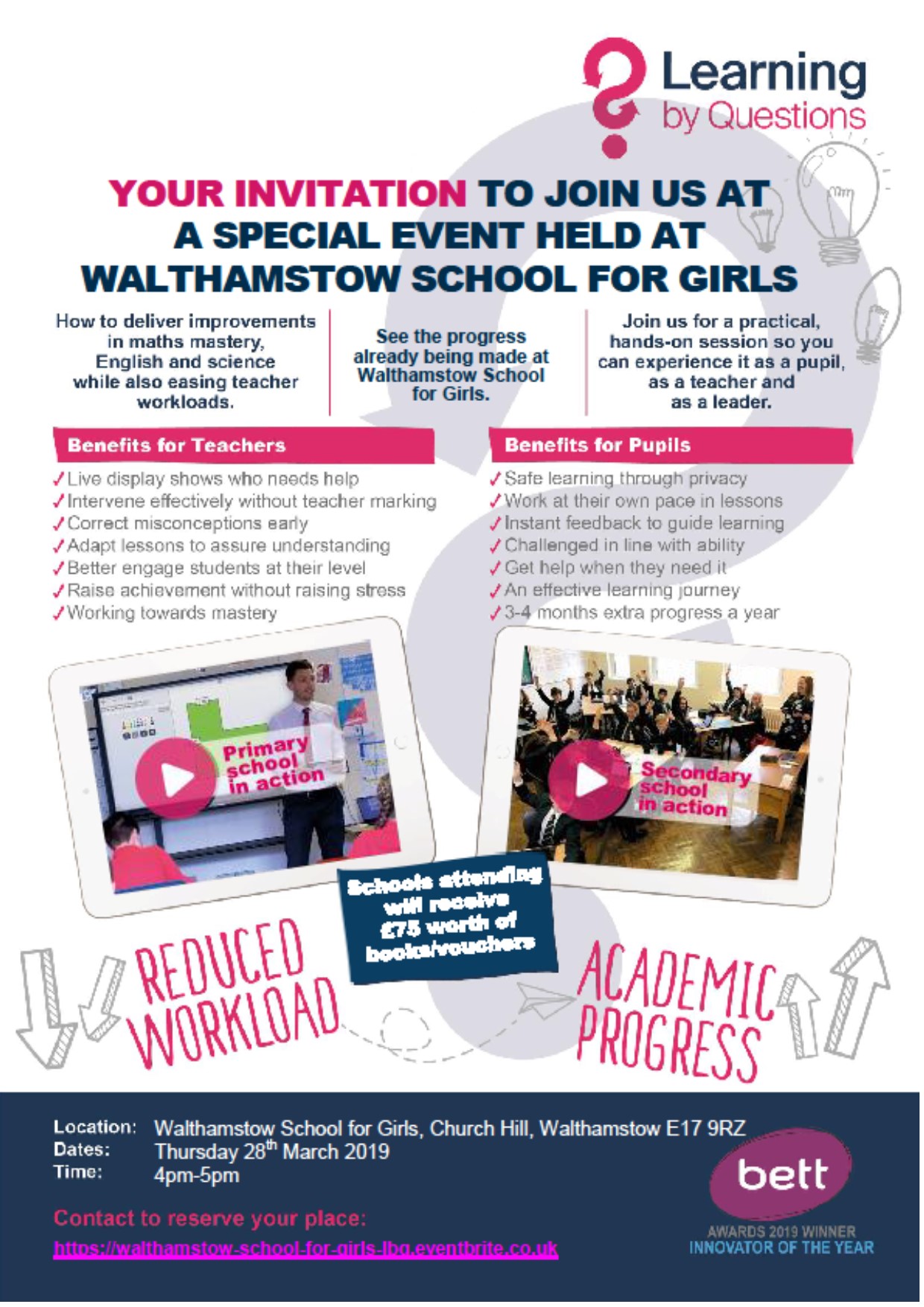 ---
The TSST course is an accredited course for non-specialist teachers (or returning) teachers who would like to teach some or more Spanish, Physics or Maths. It is accredited by subject specialist organisations and includes lectures at Cambridge University, visits to outstanding schools, subject specific PTI days and SLE time to focus on pedagogy. Places are limited (8 Spanish, 10 Maths and 15 Physics).
---
The L4F course is an SSAT accredited course with 5 after-school modules and a research project. It is aimed at early career teachers with leadership potential. The course is delivered by senior leaders from 5 different alliance schools and we are looking to recruit teachers around their 2nd or 3rd year of teaching without (much) middle leadership experience.