Year 7
Key Dates for Year 7 2019-20

| Date | Event |
| --- | --- |
| 1 October | Parent Information Evening |
| 10 October | Early Closure at 14.30 for Open Evening |
| 11 October | School Closure for Staff Training |
| 16 October | Year 7 Settling In Afternoon |
| 7 November | Year 7 Sharing Evening |
| 9 December | School Closure |
| 10 December | Early Closure at 14.30 for Community Party |
| 12 December | Christmas Concert |
| 20 December | End of Autumn Term, Early Closure at 13.00 |
| 6 March | International Women's Day |
| 7 May | Parents' Evening |
| 8 May | Bank Holiday (Friday) |
| 11-22 May | Year 7 Exams Fortnight |
| 13 May | Early Closure at 14.30 for Staff Training |
| 4 & 5 June | Humanities Trip to Rochester |
| 10 June | Early Closure at 14.30 for Staff Training |
| 17 July | End of Summer Term, Early Closure at 13.00 |
Year 7 Parent Information Evening Tuesday 1st October
You are invited to our Year 7 Parent/Carer Information Evening on Tuesday 1st October in the Hewett Hall.
The doors will open at 5:45pm for a prompt 6:00pm start.
The aim of this Information Evening is to provide you with details on: key events your daughter will need to prepare for this year including:
Assessment System/ Measuring Progress
Accelerated Reader
Green
E-Safety
Introduction to our Safer School Officer.
We would like all students to be supported at this meeting by an adult, no student will be allowed to attend without a parent or carer present. The Information Evening is expected to finish at approximately 7:00pm.
If you have any further questions regarding the Year 7 Parent Information Evening, please do not hesitate to contact Ms Snowsill, Deputy Headteacher responsible for Key Stage 3, or one of the Student Progress Leaders for Year 7.
Kind regards
Mr Morrow
Student Progress Leader, Year 7
If you were unable to attend, the information given can be found here
Worried or Anxious?
Here is a booklet full of information that we hope will help our students and parents/carers during this uncertain time ...
A Message from your SPL - 1 April 2020
To Year 7
As we are now entering our second week of Social Distancing I thought I would send you an email to check in with you.
I hope you are all well and are not going too crazy being cooped up indoors! It is of course very important that you continue to follow the government guidelines to keep yourselves healthy (no unnecessary trips, 20 secondhand washing, keep two metres apart etc.). But it is also very important to keep yourself mentally healthy too.
Therefore, I have a few recommendations for you, to help to ensure that you are all following a healthy routine and not just staying in your pyjamas all day watching TikTok and Netflix nonstop!
Do's:
Do try to get some exercise each day.
Do try to eat healthily whenever possible.
Do try to help your parents/siblings wherever you can.
Do be kind and supportive to your families (this can be a stressful time).
Do try to do some of your schoolwork each day.
Do try to keep in contact with each other (don't wait for someone to contact you first).
Do let us know if you need any help/support/advice/guidance.
Dont's:
Don't stay in bed all day.
Don't forget to do your schoolwork.
Don't forget your friends and classmates (everyone gets lonely, but some people are also shy and won't want to reach out)
Don't let the days all drift (try to do something productive each day).
Don't be mean! (Try to be nice to your family).
Don't be lazy, normally you would be doing 6 or 7 hours work a day so you should be doing something each day, to ensure that you don't fall behind.
Don't be afraid to ask for help (whether it's about schoolwork or something else).
Hopefully by now you will have completed some of your work-from-home packs from English, Maths, DT or Humanities. Don't worry if you haven't completed everything, you can work through them at your own pace. But do try to complete as much as you can, as you will have some new work set for you after the Easter Holidays.
After the Easter vacation some of your subject teachers will start to teach you or set you work online using Teams. I know you are all familiar with Teams so this should be easy for you, but if you do have any problems, please contact the school to let us know so we can help you.
To collect your work, you will need to log onto the class Team of your subject teacher, at the time when your lesson would normally be on. Your teachers will use the Chat feature to set your work. Remember the chat is for your work, not for socialising with your friends! Your teacher will then set you instructions and they may ask you to open other Apps such as Nearpod, Kahoot! or Quizlet.
You may be asked to submit work through assignments or some other App. It's very important that you try to stick to deadlines where you can, so that you don't fall behind the rest of your year group. Your teachers will be regularly checking that you are completing your work and they will be contacting your parents if they find you are not completing or submitting your work.
It is very unlikely that all your teachers will be sitting by their computers during lesson time, but they will try to respond to questions (just don't expect an immediate answer).
It's vital that you keep yourselves busy during what could turn out to be a prolonged lockdown, so do keep in touch with the school and each other.
Take care and stay healthy!
Mr Morrow
Student Progress Leader Year 7
Year 7 Cycling Course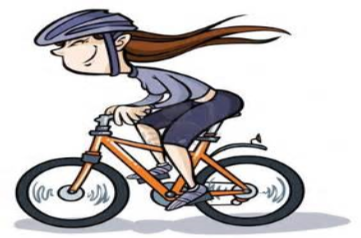 Cycling Course for Year 7 Students
Monday 16th March - Friday 20th March 2020 4.00pm – 5.30pm
Places are limited - only 8 students can participate.
Dates and Times
Monday 16th March 16:00-17:30pm
Tuesday 17th March 16:00-17:30pm
Wednesday 18th March 16:00-17:30pm
Thursday 19th March 16:00-17:30pm
Friday 20th March 16:00-17:30pm
You must be able to stay on a bicycle with a level of control to be able to participate in this course.
You must wear comfortable clothing such as jogging pants, flat shoes or trainers.
The group will meet at Muga at 3.45pm until 5.30pm each day. You must be on time.
The school has bikes and helmets for use so there is no need to own your own bike. If you are interested please collect a letter form G38.
Mrs Dominique
Key Stage 3 Learning Mentor
Love Latin Club
Love Latin Club for Y7.
Meet in F55 on Friday at 1pm.
Any questions see Ms Famiglietti in G68
Virgin Money Giving Mini London Marathon

Virgin Money Giving Mini London Marathon
Sunday 26 April 2020
Would you like to represent Waltham Forest in this year's Virgin Money Giving Mini London Marathon on Sunday 26 April 2020
Age categories are:
Boys and Girls – Under 13
Born between 1 September 2006 and 28 April 2009
Boys and Girls – Under 15
Born between 1 September 2004 and 31 August 2006
Selection for Waltham Forest is as follows:
The runner must live or go to school in the borough.
The details of the event are here: https://www.minimarathon.co.uk/en/
Year 7 Sharing Evening

Last Thursday, we held our third Year 7 Sharing Evening. The event took place in the Hewett Hall where each Year 7 Form Group performed a song that they had been working on in their music lessons. The theme of the event was 'Energy' and the repertoire included musical theatre and pop songs.
The evening also featured performances from Voice who sang 'Glory' as part of our Black History Month Celebrations and also from The Soundbreakers who performed 'Let Me Down' by Jorja Smith and Stormzy. The finale was 'You Can't Stop the Beat' from Hairspray which was performed by the whole of Year 7. Thank you to everyone who attended the event and well done to our Year 7s.
Ms Bradshaw
Philosophy Club
KS3 Philosophy Club will continue this half-term.
All inquisitive minds are welcome.
Philosophy Club topics of the past have included:
· Aliens
· How to change the world
· Language and what should people say and not say.
All topics can be considered and no question is considered too ridiculous.
Anyone interested in KS3 simply have to get a short note to Mr Caps (Humanities, Room S10) explaining why they would like to come and what topics they would like to explore.
Philosophy Club takes place for KS3 after school, every Week B Thursday.
We will start shortly after school and should finish by 4:30.
I look forward to seeing some of you there.
Mr Caps
Lunch Money Loans

The number of students borrowing money for lunch increased dramatically last school year. Lunch money loans should be for emergency purposes only.
Walthamstow School for Girls offers a Top-Up facility via sQuid enabling both students and parents to check balances, top-up lunch money, pay for trips and other sundry items at their own convenience.
An automatic Top-Up can also be activated ensuring your daughter never runs out of money.
A reminder to parents/carers that if you wish to pay for your daughter's school meals by cheque, please make the cheque payable to 'Olive Dining Ltd'.

​All students have also been given usernames and passwords to enable payments to be made online via our sQuid system. If you would like a reminder of your daughter's username and password please contact Student Services.
Ms Jolliffe
Student Services
Year 7 Netball Club
Wednesday lunchtime from 12.30-1pm.
G.R.E.E.N. lessons in Year 7