Year 7
Worried or Anxious?
Year 7 Parent Information Evening (P.I.E.)

23 September 2020
Dear Parents and Carers
I hope you and your families are safe and well.
As you are aware, Walthamstow School for Girls was due to host our Year 7 Parent Information Evening (or Year 7 PIE) this evening. Unfortunately, due to the restrictions about social gatherings it is impossible for us to hold this event in school.
To ensure you are fully informed about all the key information relevant to Year 7 students this year, we have decided to record a presentation that covers the key topics that we would normally include in the PIE evening.
The presentation includes an overview of the main changes that we have introduced in school in order to ensure everyone safe on site, as well as what steps we have put in place to ensure we can continue teaching live lessons remotely in the event of another lockdown.
There is a running order on the second slide that covers the content of the rest of the presentation.
The total running time for the Year 7 PIE is 20 minutes and you can watch it by clicking on the link here
Kind regards
Mrs Jean-Baptiste
Year 7 Student Progress Leader
Associate Assistant Headteacher
Year 7 Key Dates
AUTUMN TERM
Tuesday 8 September to Friday 18 December 2020
Friday 16 October 2020 - Inset for staff training - school closed for students
Autumn Half Term - Monday 26 October to Friday 30 October 2020
Christmas holiday (Early Closure at 13.00) - Monday 21 December 2020 to Friday 1 January 2021
SPRING TERM
Monday 4 January 2021 to Thursday 01 April 2021
Spring Half Term - Monday 15 February to Friday 19 February 2021
Easter Holiday - Friday 02 April 2021 to Friday 16 April 2021
SUMMER TERM
Monday 19 April 2021 to Thursday 22 July 2021
Thursday 22nd April - Parent's Evening
Monday 17th - Thursday 28th May - Year 8 Exams Fortnight
Summer Half Term - Tuesday 01 June to Friday 04 June 2021
Please note that these dates are subject to amendment.
Opportunity for aspiring writers in Year 7!
'Stories & Supper' is a Waltham Forest based not-for-profit organisation which works to break down barriers and challenge some of the myths about refugees, asylum seekers and migration. The 'Stories & Supper' team will be coming to our school on Tuesday, 15th June to run a workshop for 30 lucky Year 7 students!
The workshop will focus on increasing knowledge and awareness about migration and people who migrate. Students taking part will have the opportunity to boost their creative writing skills and reflect on their own family migration stories.
To enter to win a place on this workshop, write a poem (no more than one side of A4) entitled 'Home' and upload it to TEAMS - Student Central - English Students - Files - 'Stories and Supper Competition Entries' by Monday, 7th June.
Make sure you put your name and tutor group on your entry.
Good luck!
Ms Schaber
Head of English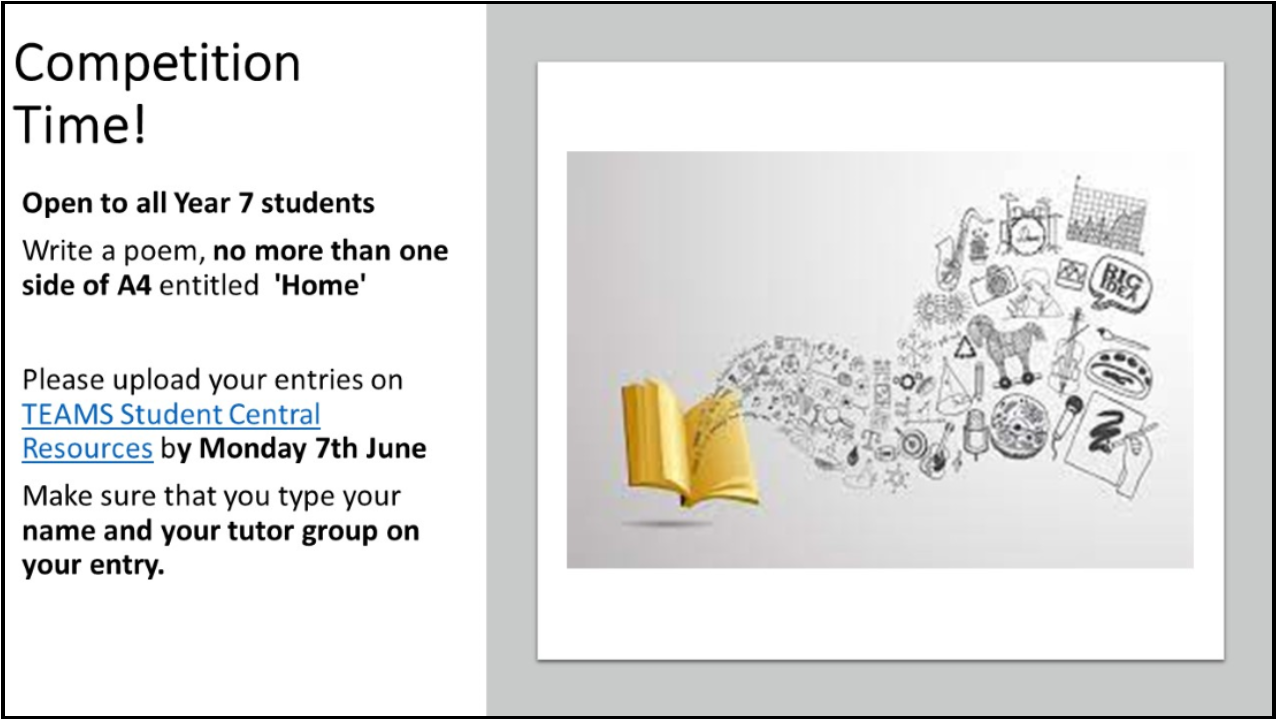 Year 7 Philosophy Day
Year 7 Philosophy Day will take place on Friday 11th June
Interested students need to do the following:
Year 7 Philosophy Day - How to apply
Put Philosophy Day in the header
Include name and form
Write a short paragraph about why you want to participate in the day
OR do this by hand and give to your tutor to give to me
The deadline by which to apply is Wednesday 26th May at 3.30pm
There are 4 places per form
The actual workshop is on Friday 11th June.
Any questions, do ask.
Ms Robinson
Challenge Co-ordinator
Year 7 iPad Initiative
We would like to thank all those parents and carers of students in Year 7 who have signed up for the iPad scheme and who have their child's iPad ready and waiting for use. We would also like to thank these families for their patience.
As we are all more than aware, this year has been challenging in many ways for so many members of our community with the pandemic and its impact upon health, work and finances, as well as the lack of certainty many families have faced.
Within this context many families have understandably struggled to commit to the iPad scheme, which in turn has caused delays in establishing the use of the iPad in the classrooms.
We are looking at a solution to this which should mean all of our Year 7 students have access to an iPad for their learning after half term. We will notify our Year 7 families when this is the case, and your child will then need to ensure they have their iPad in school every day, fully charged, ready for their learning.
Best wishes
Ms Snowsill
Deputy Headteacher
Year 7GREEN Trip June 2021
13 May 2021
Dear Parent/Carer
YEAR 7 GREEN Trip
We have arranged an afternoon of adventurous activities for our Year 7 students at the Waltham Forest Feel Good Centre. This is a fabulous opportunity for students to enjoy a fun and active afternoon, which will involve them working together to learn and develop their GREEN skills in the Extreme Play area of the Centre. They will have access to the Trampolining Park, Soft Play Area and the Ninja Run and will be supervised by trained staff - they will not be forced to do anything that they are fearful of, but we will encourage them to try.
Two tutor groups will visit the centre each afternoon as follows:
Monday 28 June: 7F & 7H
Tuesday 29 June: 7S & 7C
Wednesday 30 June: 7W & 7G
The plan for the afternoon is as follows:
STUDENTS SHOULD EAT SOMETHING AT BREAK TIME
12.30pm – students walk down to Feel Good Centre accompanied by their form tutor and myself
1.15pm – arrive at centre and get ready
1.30pm – activity starts – Extreme Play
2.30pm – activity finishes – Have small snack and drink
3.00pm - walk back to school
3.30pm – arrive back at school
The cost of the session is £5.50. This should be paid via the sQuid online payment system by Monday 31 May 2021.
Please complete this Form https://forms.office.com/r/1bYT0FAwm0 to give your consent, or raise any concerns about the trip.
For this trip, permissions will be collected on the sQuid online payment system. Please sign into sQuid in the usual way and select the trip. You will then be guided through the permission questions and payment.
I attach a copy of the Feel Good Centre's Waiver Form, which you must agree to when granting permission.
If you have any problems logging into sQuid, or do not have a log-in for the sQuid system, please contact
Contact Ms Joliffe via the school e-mail and write "sQuid query" in the subject line.
Students should wear their PE kit on the day of the trip. They will need to bring a small snack and drink for after the activity and also bring £2 if they want to purchase trampoline socks (some students may already have these). This is a 'normal' school day and we expect all Year 7 students to attend as usual.
Of course, should you have any questions, please do not hesitate to contact me through the school email.
Yours faithfully
Ms T Jean-Baptiste
Student Progress Leader Year 7 / Associate Assistant Headteacher
Culture Day 2021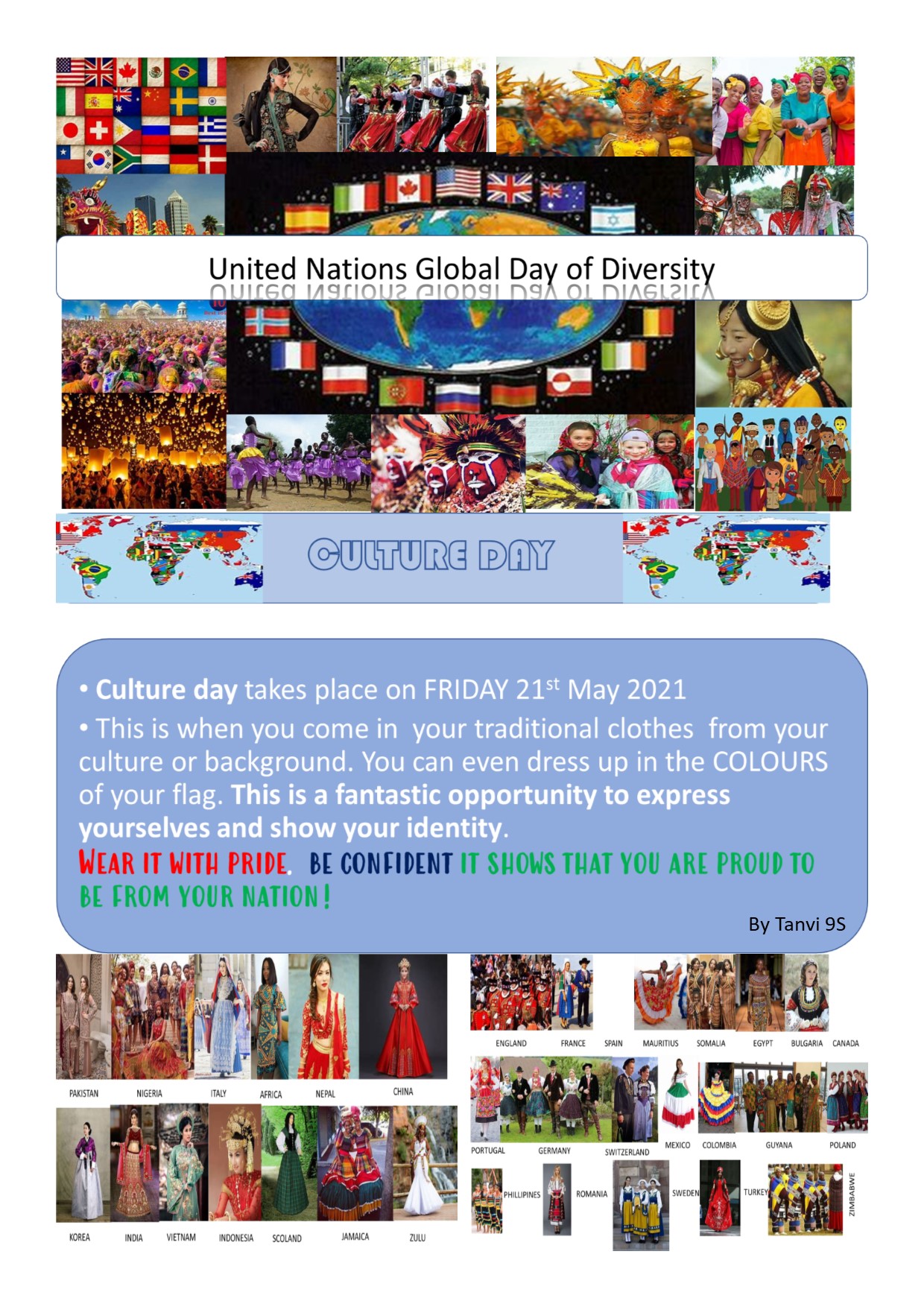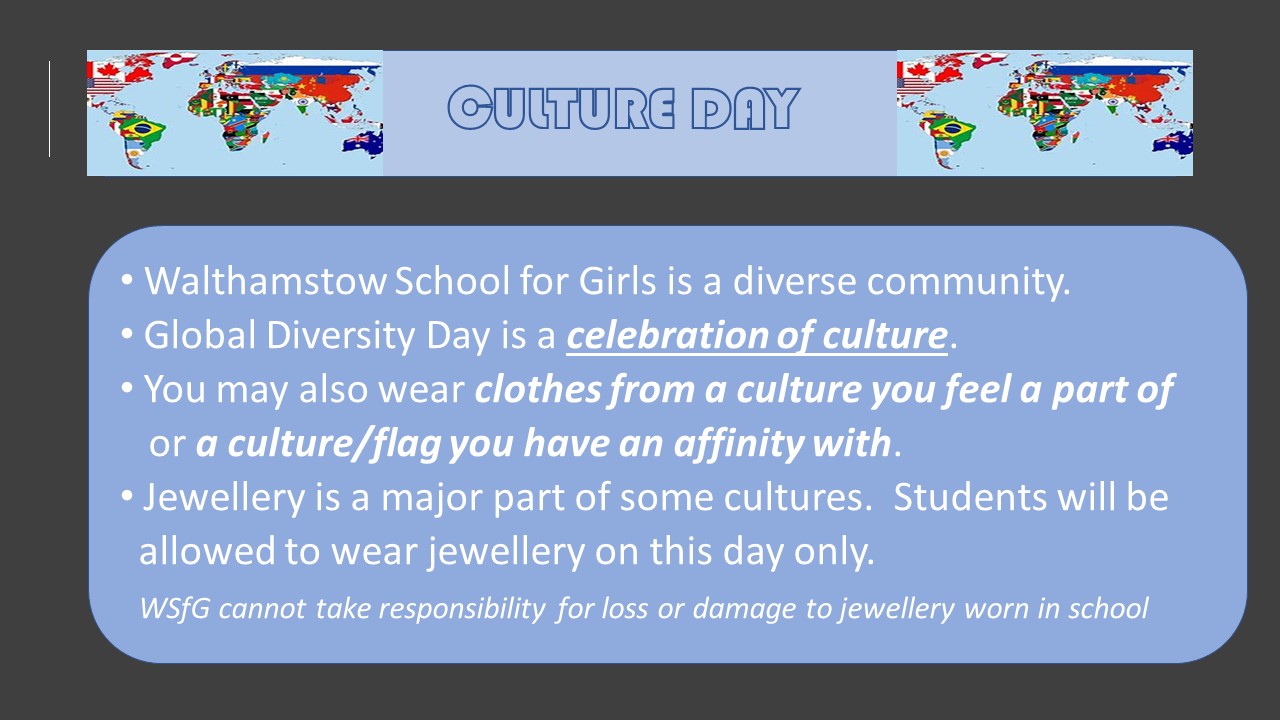 Year 7 Exams 2021
30 April 2021
Dear Parents and Carers,
I hope this email finds you and your families safe and well.
I am attaching a copy of the Year 7 exam booklet which has been put together to prepare your daughter for her end of Year 7 assessments. Your daughter was given a copy of the booklet this morning to take home and she will be given further information in her lessons in the next few weeks leading up to the half term break.
The assessments will take place over the course of two weeks following the half term break i.e. Tuesday 8th June to Friday 18th June.
We are aware that this has been a challenging year for many of our students in Year 7 and would like to reassure you that we are using the information from these assessments alongside work completed as part of classwork and home learning in order to identify any gaps in your daughter's learning. We want to be sure that no student is disadvantaged as a result of the pandemic.
I would like to take this opportunity to thank you for our ongoing support.
With kind regards,
Mrs Jean-Baptiste
Year 7 Student Progress Leader
Associate Assistant Headteacher
A Message from Your SPL - 5 March 2021

5 March 2021
Dear Year 7 Students, Parents and Carers,
I hope you are all safe and well. I would firstly like to thank you for your support during this period of remote learning, it has been a very challenging time for everyone and we really appreciate all efforts to ensure that students have continued their education at home.
Earlier this week we sent you an email with details of your child's lateral flow testing time slot which will take place on Friday 12th March. All the information regarding the testing process is detailed within that email and here is the link to our lateral flow test guidance video
Student Information Video on Covid Lateral Flow Testing
Please ensure you have also completed the consent form for your child to have her test in school. If you did not receive the consent form or time slot or have any questions, please email the school at
Once the student's test has been completed on Friday students will return home. Year 7 students will not have live lessons on Friday but will be set screen free and well-being challenges to complete during the day (attached in a PDF format to this message). Monday 8th to Thursday 11th March will be online learning days following the school timings from before Christmas (see Year 7 school timings below).
We are very much looking forward to welcoming all Year 7 students back to WSFG for lessons on Monday 15th March and expect to see students arriving in school on time, lining up inside the school grounds by 8:30am. I am pleased to say that Year 7 students had mastered this routine last year. Our usual expectations in terms of uniform remain in place and can be found on our school website. Students will need to be in full school uniform including blazer and lanyard, with appropriate school shoes and plain black waterproof outerwear. If they have PE, students know they will need to come in their PE kit.
We will be reverting back to the school timings the Year 7s followed last term.
Year 7 (entry when attending onsite lessons - 8:30 am)
Registration 8:45 am
Period 1 9:10 am - 10:10 am
Break 10:10 am - 10:25 am
Period 2 10:30 am - 11:30 am
Lunch 11:30 am - 12:15 pm
Period 3 12:15 pm - 1:15 pm
Period 4 1:15 pm - 2:15 pm
Period 5 2:15 pm - 3: 05 pm
We want to do everything we can to keep our school community safe, so in addition to the lateral flow tests we will be asking all students to follow our Covid safety procedures. Some of these have changed slightly as a result of updated Government guidance so please do read them carefully.
We now ask that students wear face masks when in lessons and when moving around the building. Make sure your child has plenty of washable masks to use. Students may remove masks when taking part in PE lessons, when outside, and when seated in the dining room.
Entry times, lunchtimes and exit times remain staggered for different year groups to prevent the mixing of bubbles. Students should go straight home after they leave the school building at the end of the day.
Students will not be allowed inside the building during lunchtime unless the weather is very bad. They must bring appropriate outerwear and an umbrella.
On days when students have PE they must continue to wear PE kit to school as there will be no changing room facilities. Students must still wear their blazer and lanyard. Black leggings, hoodies and sportswear with large logos/stripes are not part of our school PE kit and should not be worn.
Students will have specific toilets allocated to use within lesson time to avoid the mixing of bubbles.
It has been a challenging start for the Year 7 students this year, yet they have demonstrated incredible resilience, determination and maturity during this lockdown and many members of staff have told me how impressed they have been with the students. I know Year 7 form tutors and teachers are looking forward to seeing the students back on site.
I am extremely proud of the students and am confident they will continue to make me proud when they return to school on 15th March. I myself am really looking forward to seeing them all!
Thank you once again for all your support and if you have any questions, please contact us at info@wsfg.waltham.sch.uk.
Yours faithfully
Mrs Jean-Baptiste
Year 7 Student Progress Leader / Associate Assistant Headteacher
iPad Scheme Update November 2020
26 November 2020
Dear Year 7 Parents/Carers
The use of the iPads in the classroom will be a transformational way in which to engage your daughters with their learning journey and we would like to thank you for engaging with us on our iPad initiative.
The new iPad has proved to be very popular globally and, as a result, there has been a delay in the supply of the Apple iPads. Below is a statement given by Apple:
'The global supply chain is experiencing unprecedented levels of demand for which manufacturers are not always able to meet with supply. We fully appreciate the consequences of longer lead times and will endeavour to secure stock as soon as possible. We are being told that iPad stock will be in constraint for 4-6 weeks.'
We have had a number of queries from parents asking when you will receive the iPads. Unfortunately, as you can see from Apple's statement, this is currently completely out of our hands. The educational supplier we use for the iPads are one of the few Apple Authorised Education Specialists in the UK and they do have access to all the UK stock and are given priority with Apple stock. Unfortunately, due to the increased demand and despite forecasting in advance, Apple are not able to guarantee delivery dates.
In the meantime, Academia will be giving us regular updates on stock and when it is likely to arrive as and when they hear from Apple. We will forward this information to you.
We apologise to you for this delay but, as you can see, this is a matter that is completely beyond our control.
We thank you, in the meantime, for your patience.
Kind regards
Mrs T Jean-Baptiste
Year 7 Student Progress Leader / Associate Assistant Headteacher
WSFG iPad Scheme Information October 2020
20 October 2020
Dear Parents and Carers
You will be aware from our communication prior to your daughter starting with us, and more recently through the Year 7 settling in afternoon session Ms Jean-Baptiste ran this week, that we are about to go live with the Year 7 iPad scheme. We apologise for the delays, but we felt it was important that we waited for the new 8th Generation iPad to be released by Apple, so you were indeed able to buy the latest released device.
As previously outlined, the school is asking parents and carers to buy an iPad device for their daughter for use in online learning at school and at home. We have secured a significant discount on the bundle of an iPad, hard case and 3-year extended warranty from that available from Apple direct. The bundle price will be £343.28 inclusive of VAT. A similar package price from Apple direct would be approximately £450. We understand this is still a large financial commitment and for those families eligible for free school meals and the Pupil Premium grant, we will be providing a discount via the school. Those families eligible for this will be communicated with separately, with your unique discount code which you will be able to apply during the checkout process.
We have also asked our Apple partner, Academia for Education, to offer an instalment scheme for families. There will be options to sign up to 1, 2 or 3-year plans if that is a preferable option and will be much like signing up for a mobile phone contract. You will need to complete an application during the purchasing process, consent to a credit check and agree to the length of the finance agreement. The finance partner DECO do charge an APR of 19.9% for the finance agreement, which we unfortunately have no control over. If you do choose this option, you will just be required to pay the 10% deposit for now and consent to the monthly repayment plan. The table below illustrates the different possible instalment payment plan options:
Repayment Plan Option

Deposit Required

(10%)

Monthly Instalment Amount

Number of Monthly Payments Required

1 Year

£34.33

£28.26

12

2 Year

£34.33

£15.46

24

3 Year

£34.33

£11.21

36
Whether you opt to choose to pay for the bundle upfront or in instalments with a deposit, once you have completed the process the device will be sent to the school two weeks after the purchase date. This will then be setup by the ICT Support Team and passed onto your daughter within the following 2 weeks.
Once the device has been paid for in full, the device is owned by you. For those of you opting to pay by the instalment option, the finance partner DECO will retain ownership until the balance of the device is paid off. It is important to note that the warranty cover does not cover loss or damage (including accidental damage) to the device. Academia have provided an optional insurance cover option if you feel you need this added level of assurance.
This is the portal through which you can make the purchase
Once on the portal, you will be required to register and complete the purchase of the bundle. It is important that your daughter's name and tutor group are recorded in the registration details as that will help us identify which iPad should be assigned to which student when they arrive in school. There are some helpful instructions provided by Academia to support the purchasing process below; please do refer to them if you need assistance with the purchasing process. If you have any further queries regarding the scheme, then please do contact the school.
Kind Regards
Ms Snowsill
Deputy Headteacher (KS3)
Mr Jalil
Business Manager
Blue Peter on YouTube

CBBC have launched Blue Peter on YouTube where you will get to see all the best bits from the show and more!
Blue Peter is the longest running children's TV show in the world and we are uploading videos to it that are suitable for 5-11 year olds. We have world record breaking challenges, arts and crafts, environmental videos, cooking and baking how to's, inspirational films, gaming, celebrity appearances, dance routines and music performances. We also feature ways of getting a Blue Peter badge, behind the scenes footage and extra content about our incredible presenters Adam, Lindsey, Mwaksy, Richie and Henry the Blue Peter dog.
The YouTube channel is free to subscribe to.
Don't forget to watch the live programme on CBBC at 5.00pm every week, or on BBC iPlayer.
The Blue Peter Team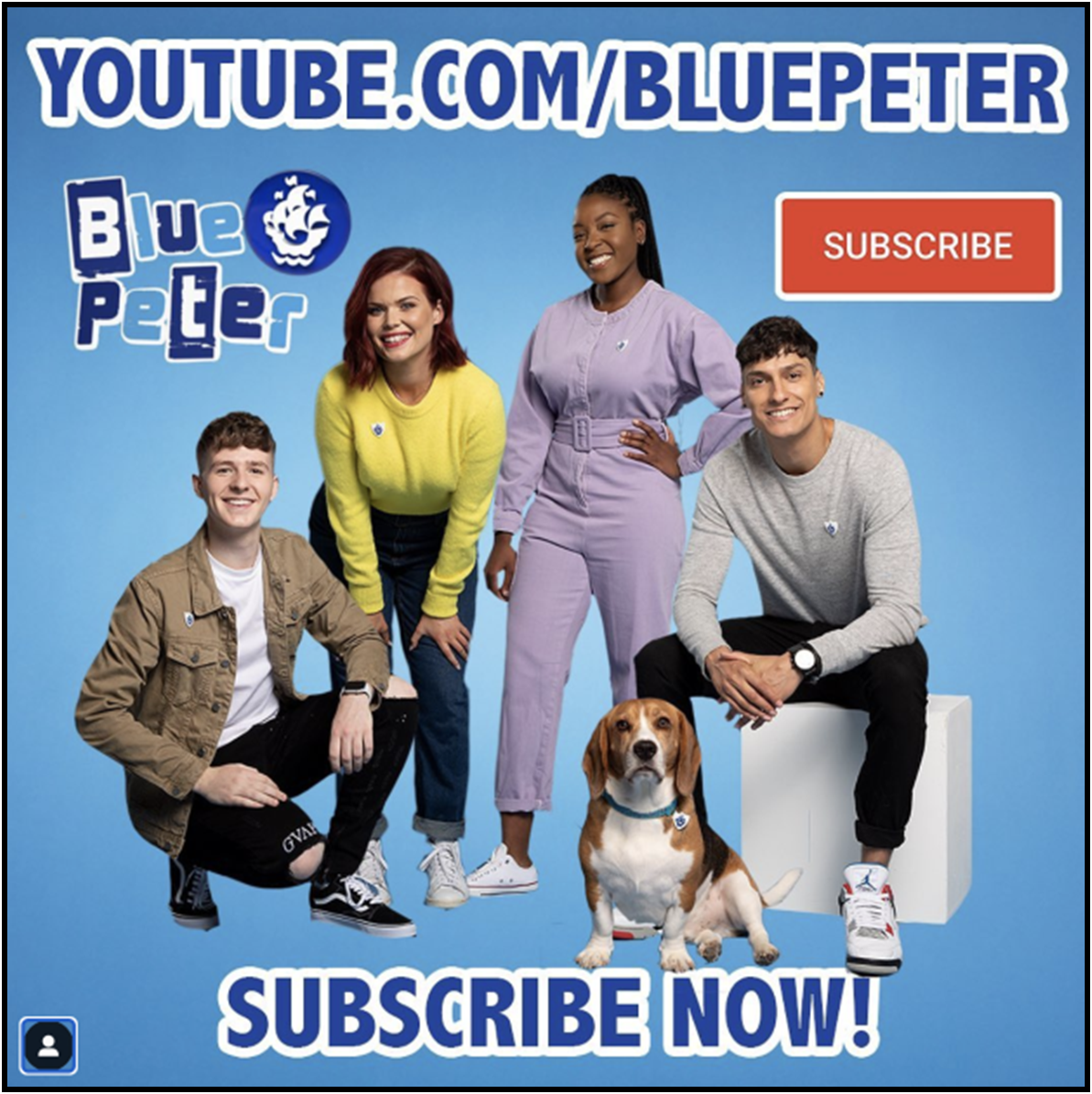 WSFG Office 365 Guide
Dear Parents/Carers,
For your information and to help you support your daughter's learning both in and out of school here is our Walthamstow School for Girls user guide for Office365. This should provide you with any information you need when accessing online learning.
With kind regards,
Mrs Jean-Baptiste
Year 7 Student Progress Leader
Associate Assistant Headteacher
Student Mobile Phones at WSFG 2020-21
During the period of the COVID-19 pandemic mobile phones WILL be allowed to be carried by students during the school day at WSFG.
We understand that parents / carers may wish their children to have mobile phones for safety purposes on the way to and from school.
To allow for this ALL students will be required to turn off (not on silent) their mobile phones before they enter school and place them securely in their school bags.
The phone must NOT be taken out of the bag and turned on and checked / used at any time during the school day.
The phone will remain in the student bag, but this may be left unattended in a classroom at times during the school day, so students bring their phones into school at their OWN risk.
Phones can be used on exit from the school premises once students are outside the school gates.
Note that SMART watches such as Fitbits are NOT allowed to be worn in school and must not be brought into school.
Sanctions:
If a student is found to be using a mobile phone in school:
The mobile phone will be confiscated by a member of staff.
If the student does not hand over the mobile phone straight away or argues with the member of staff, a further sanction will be applied.
Mobile phones will NOT be returned directly to students.
Parents / carers will receive a phone call (usually the day after confiscation) asking them to collect the phone from the school office, following Covid-19 handling restrictions.
Important Note:
Mobile phones that are brought into school by students are done so at the student's OWN risk.
The school takes no responsibility for loss or damage of mobile phones if they are brought into school by students.
September 2020
Parent App
September 2020
Dear Parent / Carer
Parent App – easy access to important school information
We have a convenient way to share information with you about your daughter's school life. In the next few days you will be able to access our new parent app and website.
You can access the system from a smartphone, tablet or PC – anytime, anywhere.
What you will find in the SIMS Parent App initially:
Important information related to your daughter's attendance and timetables
School term, inset dates, calendar events at the click of a button
Access to your child's school report
Access to update your contact details, so we always have the most up-to-date information in case of emergency
If you have more than one child at school, you'll have access to information for all your children, from the same app.
As we develop the system, we hope to provide data related to your daughter's progress in subject areas, homework set and her conduct over the course of the next academic year.
The information that you receive through the app will help you to stay up-to-date with your daughter's school life as well as support your child's development and progress.
Getting started with the SIMS Parent App
1. We will send you an activation email within the next two weeks to the email address we hold for you on our records; simply click on the link from your tablet, PC or smartphone to activate your account.
2. You can then login using your normal Facebook, Twitter, Google or Microsoft username and password.
3. From your smartphone or tablet (Android or Apple), download the app from the Google Play or Apple App store - search for "SIMS Parent". (You can do this in advance of receiving the activation email).
4. From a PC or Windows phone, login online at http://www.sims-parent.co.uk
Your activation email link will expire after 14 days if it is not used, please contact info@wsfg.waltham.sch.uk if you require a new activation email link after this date or have any further questions about the new SIMs Parent App.
Yours sincerely
Mr Jalil
Business Manager
A Message from your SPL - 3 September 2020
3 September 2020
Dear Year 7 Students, Parents and Carers
We are putting into place the final preparations for students' first day at Walthamstow School for Girls.
In order to make sure everyone agrees to comply with our new regulations to keep students and staff safe, we are asking all students and parents/carers to complete a Covid Safety Contract prior to students starting school. The deadline for this to be done is Friday 4th September. If we do not receive both Covid Safety Contracts, we will be unable to welcome students into school. It is therefore essential for both contracts to be completed.
If you have any issues with the contract, please contact us at info@wsfg.waltham.sch.uk. Here is the Covid Safety Contract for you to complete:
Please complete the Parent Contract by Friday 4th September:
Please ensure your daughter completes the Student Contract by Friday 4th September:
We had hoped to put together a welcome video for students, however, our main focus has been ensuring all measures are firmly in place so that we have a 'Covid-secure' environment for all students starting next week. It goes without saying that we are really looking forward to welcoming students in person on Monday 8th September at 8.30am.
With best wishes
Mrs Jean-Baptiste
Student Progress Leader Year 7/Associate Assistant Headteacher
Lunch Money Loans
Lunch money loans should be for emergency purposes only.
Walthamstow School for Girls offers a Top-Up facility via sQuid enabling both students and parents to check balances, top-up lunch money, pay for trips and other sundry items at their own convenience.
An automatic Top-Up can also be activated ensuring your daughter never runs out of money.
A reminder to parents/carers that if you wish to pay for your daughter's school meals by cheque, please make the cheque payable to 'Olive Dining Ltd'.
All students are given usernames and passwords to enable payments to be made online via our sQuid system. If you would like a reminder of your daughter's username and password, please contact Student Services.
Ms Jolliffe
Student Services