Our 2017 Open Evening is 12 October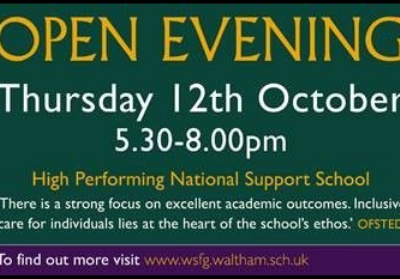 Our Open Evening for current Year 6 students hoping to study here next year is tonight.
Our Open Evening for the
September 2018/19 Year 7 intake will be on
Thursday 12th October, 2017
5.30pm-8.00pm

WSFG Open Mornings
If you wish to see the school on a teaching day, we are offering the following dates and times for Year 6 Families to attend :-
Tuesday 17th October 09.00 or 10.00
Wednesday 18th October 09.00 or 10.00
Thursday 19th October 09.00 or 10.00
Please sign up at Open Evening on 12th October for one of the 45 minutes tours of the school, by leaving your name, your daughter's name, your email address and telephone number.
If you are unable to attend Open Evening please contact the school on info@wsfg.waltham.sch.uk to inform us which date and time you would like to attend the tour.
Parents of current WSFG students should note that school finishes early on 12th October at 14.30 and is closed to students all day on Friday 13th October.
Ms K Pratt
Assistant Headteacher