Headteacher's Weekly Message
Dear Parents and Carers,
I hope that you all enjoyed the spring break, certainly our students have returned with renewed enthusiasm for the term ahead. My thanks to those members of staff who enabled Year 11 students to continue their examination preparation in school during the holidays and to Mr Morrow and his team (Ms Wood and Mr Fowler) for organising and accompanying our students on another enjoyable ski trip to the Alps - some photographs are shared in this edition of our Greensheet. Thanks also to Ms Careless-Pye, Ms Dominique and Ms Robinson who accompanied a group of Year 8 students to the Houses of Parliament during the holidays as part of WSFG's participation in the Inspire programme in collaboration with some other local schools.
In the final week of the Spring term, the Year 8 netball team enjoyed success against Frederick Bremer School. Belated congratulations to the team, who were: Molly and Grace (8G), Morenike and Deja (8H),
Jai-Ming, Sylvie, and Jessica (8F), Rachel and Rebeca (8F) and Roya and Jessica (8W). We wish them continued success this term.
It was exciting to return to school to find the mosaics, prepared in our art rooms last term, finished and proudly displayed on the school wall in Church Hill for the whole community to enjoy. They look splendid and I would like to congratulate local artist, Maud Milton, who instigated the project, designed and created these impressive mosaics with some help from ourselves and other members of our community including our local MP and local Councillors. More information on this and other activities in school during the Spring Term will be available in the Bumper Greensheet, to be issued shortly.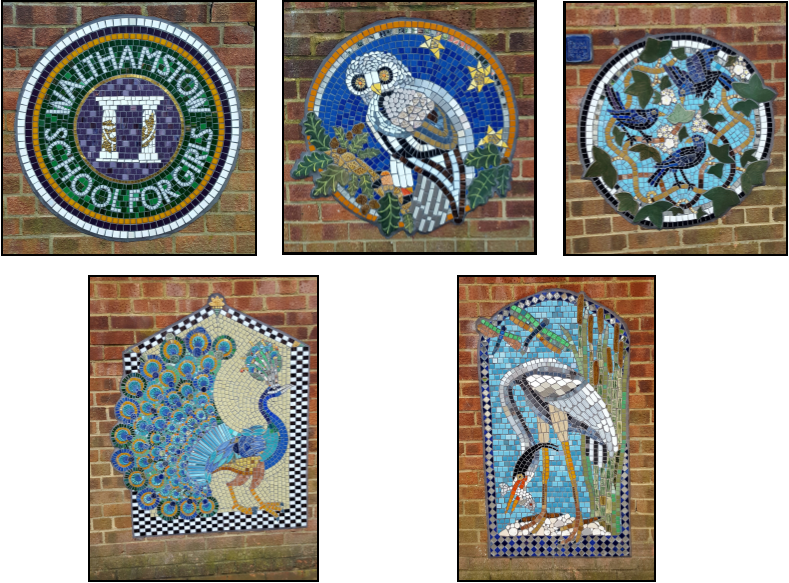 Students in Years 7-10 have enjoyed competing in our Summer Interform this week and thankfully the weather has been beautiful, allowing this to take place out of doors.
On Thursday evening a few of our students were invited to accompany me and represent WSFG at a Special Council Meeting at which two local women were awarded the Freedom of the Borough. Some of these students stayed on for part of the Council meeting that followed to witness the formal start to the meeting and see the local democratic process in action. One of the recipients of the Freedom of the Borough, Hibo Wardere, a WSFG parent, was recognised for her national campaigning work to raise awareness of and fight against FGM.
I look forward to seeing the parents/carers of the Year 7 students again next week as they come in to meet for the first time formally with their daughters' subject tutors. Students in Year 7 should be making appointments with their teachers on their parents' behalf for the Parents' Subject Evening on Thursday 26th April between 4.30-7.00pm.
Finally, please remind your daughter that her behaviour outside of school, especially when wearing the school's green uniform, reflects on the whole school community and there are high expectations of behaviour from both her teachers and her parents and carers. We are fortunate to enjoy a beautiful school building and lovely grounds, recently enhanced by the addition of the mosaics to the school wall in Church Hill; there is a strong tradition of pride in having attended Walthamstow School for Girls which we are determined to protect. It is therefore important that all our students maintain exemplary levels of respect for the local environment and community at all times and this includes leaving plants in their natural habitat on the way to school, irrespective of how enticing they may appear.
Meryl Davies
Headteacher