Performing Arts News
News from our Performing Arts (Drama, Music & PE) Faculty
For more information about subjects taught by this Faculty, please see the subject pages for Drama, Music and P.E.
To meet our Performing Arts Faculty staff, please click here
"Noises Off" Theatre Trip

Our November theatre trip is to see Noises Off in the West End.
The visit is on Tuesday 5th November in the evening.
This open to all students.
The cost of the tickets is only £8.
Please see me for a letter if you are interested.
Ms Cornford
All Year Street Dance Club

We will be running a street dance club with a professional street dance teacher.
Tuesday 3.30-5.00pm
If you would like to attend the club YOU MUST SIGN UP AT MS WOOD'S OFFICE F05
Details will follow once you have signed up.
Ms Wood
National Junior Rowing Championships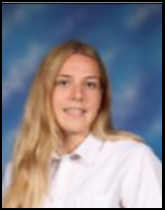 Year 11 student, Abby rowed at the National Junior Rowing Championships at the end of July in Nottingham, over the Olympic distance of 2km. She rowed in an eight in the Under 18 Junior Women Category.
Abby was representing the Lea Rowing Club and the team won the Silver Medal. She was very pleased to get her first national outdoor medal.
Well done Abby!
Ms Wood
Head of PE
Football Coaching

Year 7-11
Football coaching Wednesday after school 3.30-4-30.
Please wear your P E kit and bring shin pads if you have them.
Meet in the sports hall.
Ms Wood
Netball Clubs

Year 7 - Wednesday lunchtime 12.30-1pm.
Year 10/11 - Thursdays lunch 12.30-1pm.
London Youth Games Indoor Rowing / Swimming
At the weekend three students competed in the London Youth Games.
Abigail 10F competed in the indoor rowing and won the Year 10 girls event. Abby rowed 1386 metres in five minutes, finishing just over 40 metres ahead of the next competitor.
Abby along with Aoife 10F and Ella 9W also competed the day before and helped the girls' swimming team finish 8th overall, which is a significant improvement on previous years and is a very respectable placing when you consider that there are thirty London Boroughs.
In the senior girls medley relay, Aoife (50 breast stroke) and Abby (50 butterfly) and two other girls swimming backstroke and freestyle came 5th, which was a great result and made them the best placed Waltham Forest relay team.
Well done to all our student competitors!
Ms Wood
SPL Year 9
Head of PE
Waltham Forest Borough Athletics

The students were fantastic at the Borough Athletics Championships on Friday and we had one of our biggest medal hauls for quite a few years. Please congratulate the following students on their success:
Ava 7G - Silver medal in 200m
Sylvie 9F - Silver medal in 200m
Sasha 9C - Bronze in 100m
Jessica 9F - Bronze in 800m
Evie 10H - Silver in 800m
Kimberley 9G - Silver in high jump
Deepthighaa 10H - Silver in javelin
Sienna 9S - Bronze in triple jump
Nell 7W - Silver in triple jump
Rachel 9F - Silver in long jump
Phoenix 8W - Silver in high jump
Ms Warren
Notice for Mary Poppins Cast Members

Ms Bradshaw and I would like to organise a trip to see Mary Poppins in the West End towards the beginning of Spring Term (January 2020). Tickets would probably be around £25.
If you think you might like to participate in this visit, please sign up on the form outside the Performing Arts office.
This is an expression of interest (not a commitment) so that we have an idea of numbers before booking any tickets.
Ms Cornford
Female Only Football Teams
Female Only Football Teams and Development Programmes (AFC Leyton - Arsenal Sister Club)
AFC Leyton is a female only football club based in Waltham Forest. Despite our name, all our matches and squad training occurs at Salisbury Hall playing Fields and 3G pitches, Walthamstow Avenue, E4 8ST - which is the back of Sainsbury's just off the Billet Roundabout.
We have 330 female players in our club and we play competitively in the Essex Girls County Football League as well as the Capital Girls Cups.
We are looking for players to join our League teams in the following age groups:
Ages 8 to 11 - for our existing U10s and U11s teams and our new U9s team
Age 11 to 12 - for our new U13s team
Age 15 to 16 - for our new U16s team
Development players of any age 5+ are welcome to join us. We have sessions for all ages (including ladies 18+)
Any female players that love to play football and would benefit from professional UEFA training in an excellent community based female only football club, see the letter below. Talented players in
AFC Leyton have gone on to play for Watford, West Ham, Tottenham Hotspur, Arsenal, Millwall and at Essex and Charlton Regional Talent Centres as well as England U15s training camps.
For schools, we are also offering free football development sessions for your existing girls' teams to try out our professional UEFA coaching. This programme is designed to get girls interested and stay in football/team sports.
If you would like any further information on AFC Leyton, please do not hesitate to get in touch.
Best wishes

Louise McGing
Club Secretary
AFC Leyton Girls
Winter Interform

Results : Winners for each year group:
Year8 8G winners on Monday
Year 10 10H winners on Tuesday
Year 9 9F winners on Wednesday
Year 11 11G winners on Thursday
Year 7 7H winners on Friday
Ms Warren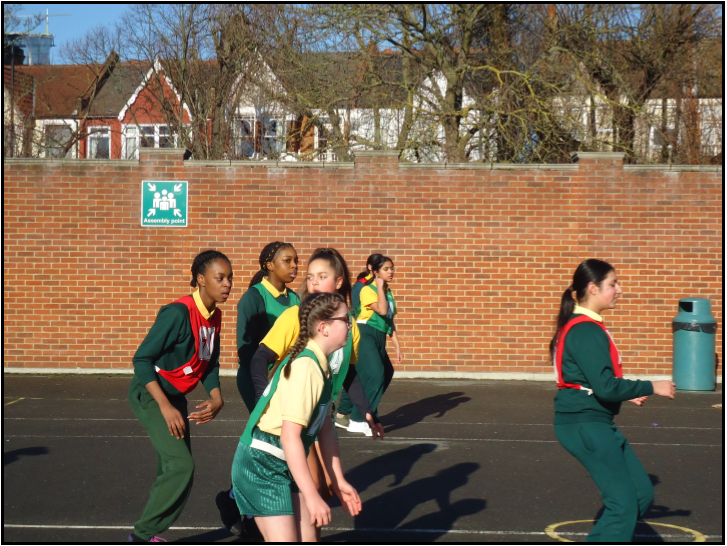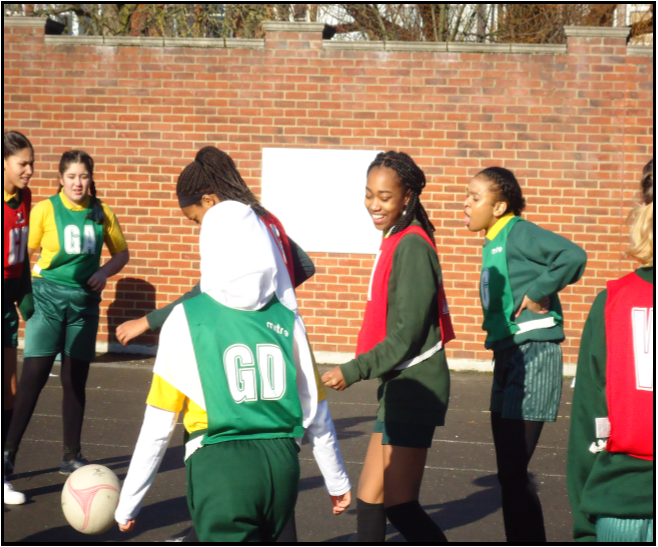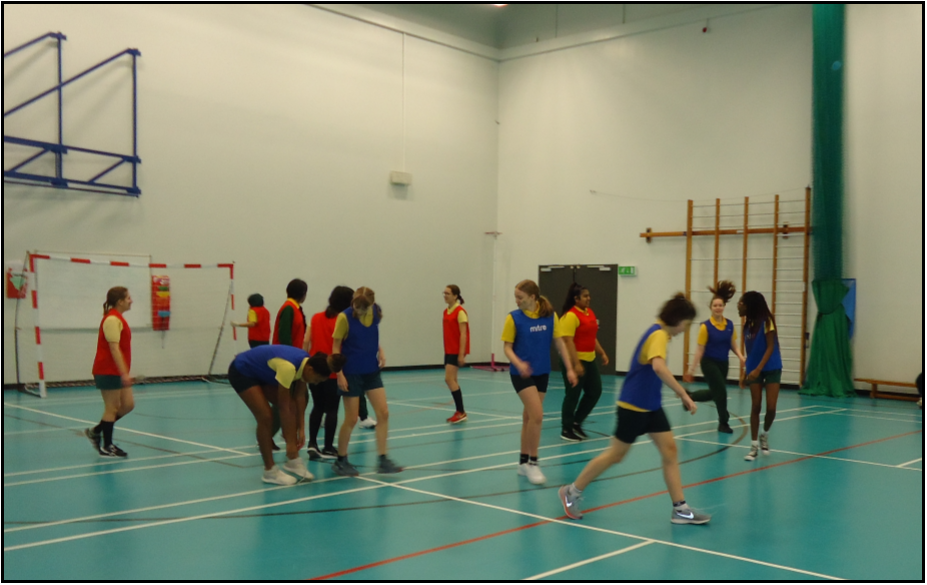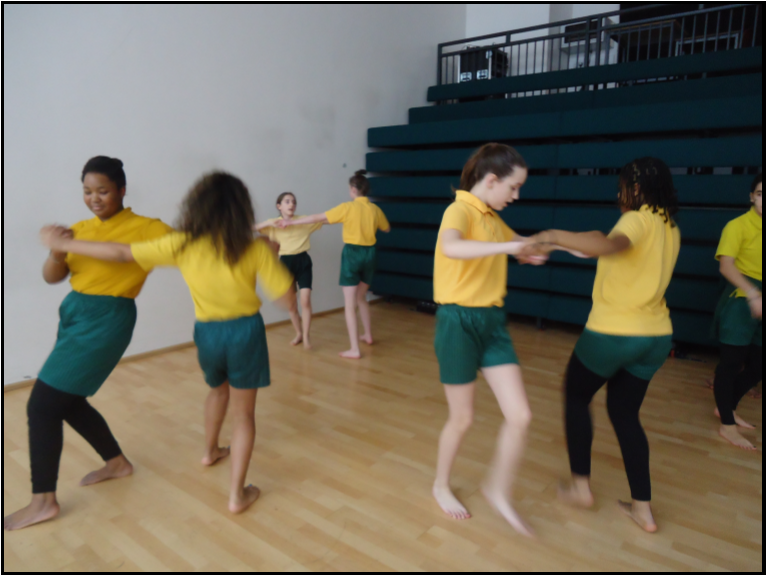 Welcome to the Forest!

Welcome to the Forest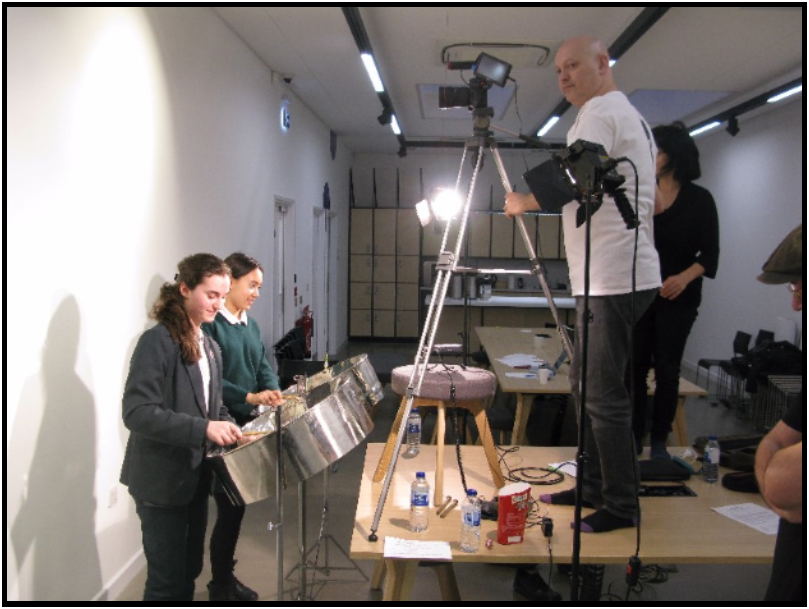 Earlier this term, you may remember Tulin and Maui from the Year 10 steelband were filmed playing at No 1 Hoe Street, in preparation for their participation in Waltham Forest's 'Borough of Culture' Opening Ceremony on January 11th 2019.
As you can see their hugely magnified images were projected on to the Town Hall during the ceremony.
We are pleased that the school did feature in the community at this historic local event - once again, via the Steel Band!
Mr Murphy
Teacher of Steel Pans.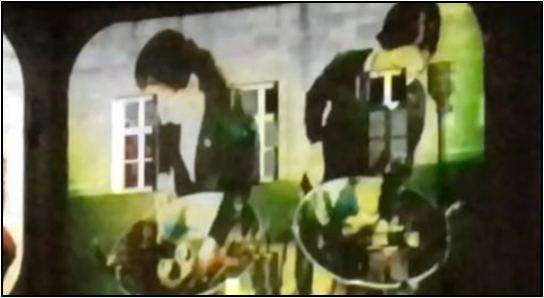 Sporting Events

The Year 10-11 joint netball team played Holy Family on Tuesday and won 9-1. On the same day they also played Highams Park and won 11-0.
Yesterday the Year 9 team played at the borough rally and finished 3rd. It was a very tiring afternoon with games played back to back.
The following students were involved - Yngie, Rome, Malaika, Maria, Phoenix, Malaika,​​​​​​​Seryiah, Frances, Emily and Therese.
---
Two of our students competed in the NDP National Trampolining Semi-Finals last weekend.
Sophie-May 11G and Clementine 7H had to perform two compulsory routines.
In the age 11-12 category Clementine finished in 12th place overall. Sophie-May came 6th in the age 13+ category and has successfully progressed to the National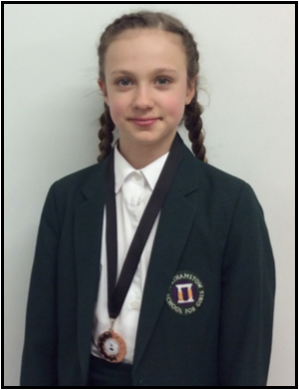 Finals.
This is a fantastic achievement by both students in a national competition.
Well done to them both.
Ms Warren
---
The Year 7 netball team played their final game of the league this week at Leytonstone School. We had a few injuries so the team was smaller than usual but the girls still played extremely well. They won the game 6-3 which was a great way to finish the league.
We now await results from other games to see if we have made it through to the semi finals. Please congratulate the following girls if you see them:
Aminah 7C (captain), Ikram 7G, Evie 7F, Hannah 7C, Debra 7C (player of the match), Che'Nye 7F, Tenzin 7C, Betty 7G, Anna 7F
Ms Warren
---
The year 9 basketball team played really well and worked extremely hard in the borough final this afternoon but unfortunately were beaten by a very experienced and strong team from Holy Family.

They were a credit to their year group and the school, never gave up and I was incredibly proud of them. Player of the match was awarded to Jai from 9F.

Please congratulate all the girls on their efforts, second best team in Waltham Forest!
Ms Warren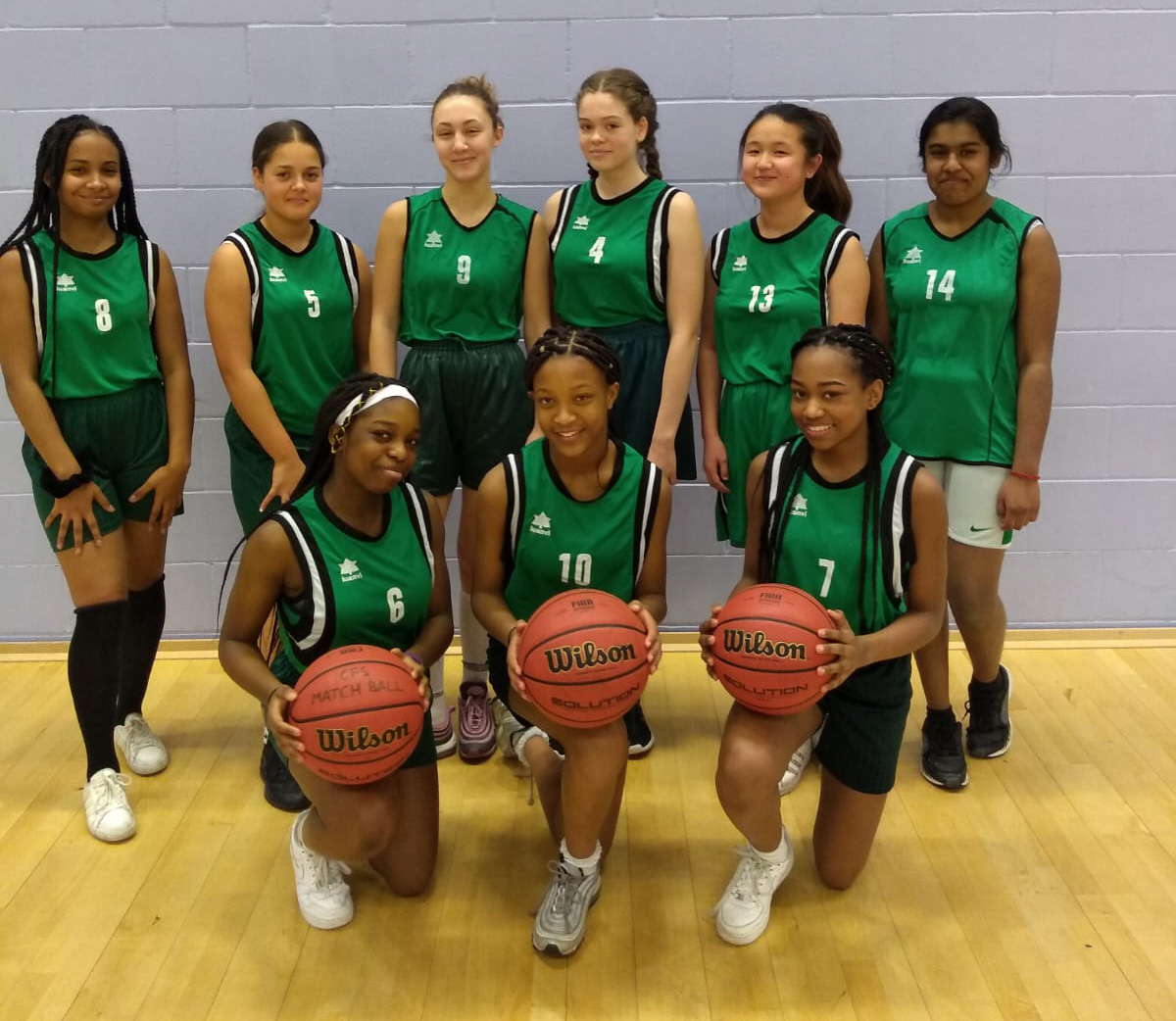 ---
The year 9 basketball team played in the semi final of the Waltham Forest Borough league this week against Chingford Foundation School.
The girls worked incredibly hard throughout the game (despite most of them having had injections that day) and won the game 16-9 so they have made it through to the borough finals on Monday afternoon at The Feel Good Centre. This is such a fantastic achievement for the team so please do congratulate them on their win and wish them luck in the final next week:
Rebeca , Arani, Sylvie (awarded player of the match), Jai 9F; Roya and Jessica 9W; Molly 9G; Deja, Morenike and Tatiana 9H.
Ms Warren
---
Year 8 Basketball Semi final
The Year 8 team played extremely well this week but unfortunately were deservedly beaten 22-11 by an extremely tall and experienced team from Holy Family!
They kept their heads up for the entire game and gave 100% effort for the full 40 minutes. Player of the match was awarded to Joni 8W who had a brilliant game. Well done to all the girls for their outstanding performance and a great first season together.
Ms Warren
---
Borough Trampolining Competition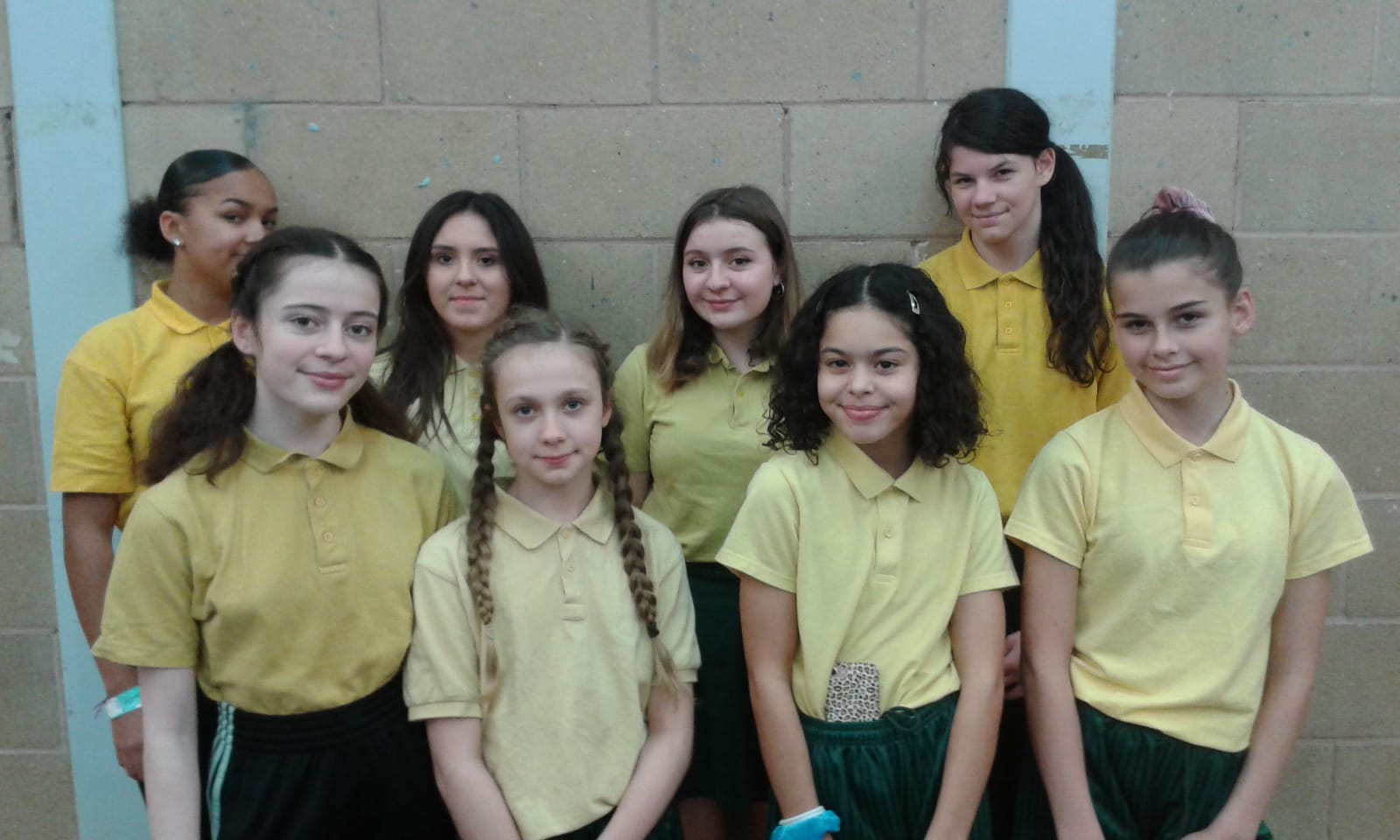 We received some fantastic news this morning regarding the trampoline competition we attended on Friday afternoon.
In the Under 16 category Sophie-May 11G won the individual competition so is the top trampolinist in Waltham Forest. Our Under 16 team also won the competition which is an incredible achievement for the girls. The team consisted of Sophie-May, Sophie 11G, Marley 11G and Eve 11H.
In the Under 14 category Clementine in 7H finished in 3rd place. She was competing against year 8 and 9 students so this in an amazing achievement.
Thank you to everyone who supported this event, please do congratulate the girls if you see them.
Ms Warren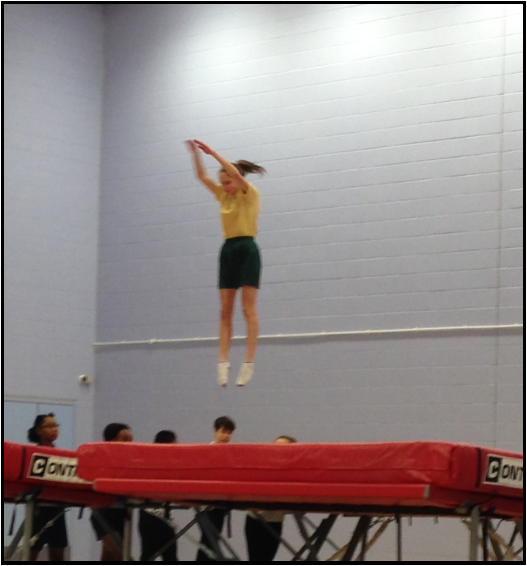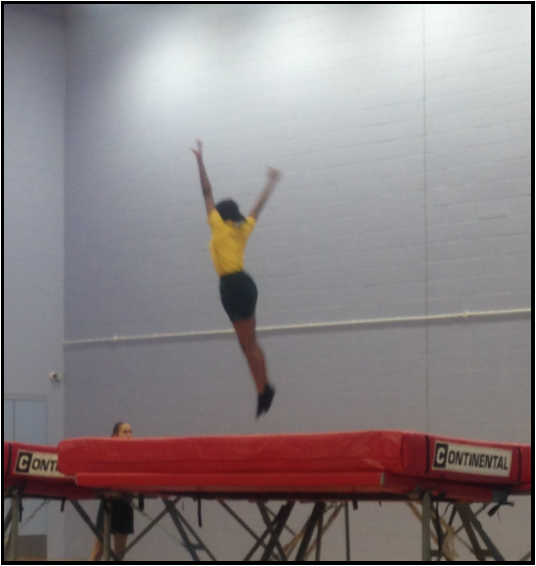 ---
Our year 8 basketball team has qualified for the Waltham Forest Borough Semi Final. They will play on Wednesday at Holy Family School. If you see any of the girls, please wish them luck:
Joni, Rosie and Phoenix 8W; Emily 8S; Elisa, Aleyna, Anaya, Ranya and Safa 8G; Debra 7C.
Thanks
Ms Warren
---
We had some fantastic end of season games with our year 8 and 9 basketball teams this week. The year 9 team played against Lammas (traditionally a very strong basketball school) and they won 8-5 which was a brilliant result.
The year 8 team played against Leytonstone last night and it was an extremely close game. The score was 10-10 at the final whistle so we had to go to extra time. Both teams scored a basket in the first half of extra time to make the score even again and we thought we were going to have to play a further period of extra time but then Emily 8S scored in the final 15 seconds of the game to win 14-12!
Please congratulate the girls on a great season if you get the chance, we will hear next week if we have progressed to the borough finals:
Year 9
Rebeca, Arani, Sylvie, Jai Ming 9F
Roya, Jessica 9W
Deja, Morenike, Tatiana 9H
Year 8
Joni, Phoenix, Rosie 8W
Emily 8S
Elisa, Safa, Khadijatou, Ranya, Anaya, Aleyna 8G
Malaika 8H
---
Tonight we kicked off the year 9 football league. All student put in 100% effort and worked really hard. We had two matches against Highams Park which we won 9-0 and Holy family winning 3-0. A great start to the league!

Please congratulate the following students:

Julia 9H, Jessica 9F, Molly 9G, Siwan 9H, Jessica 9W, Grace 9G, Karma 9W, Deja 9H, Sylvie 9F, Roya 9W
---
The year 9 basketball team had their first game this evening and played Forest School. It was an incredibly close game but our girls fought until the last second of the match and won 24-22!
Please congratulate the following students who worked unbelievably hard and gave us our first win against Forest:
Rebeca 9F (awarded player of the match), Arani 9F, Sylvie 9F, Jai Ming 9F, Roya 9W, Jessica 9W, Molly 9G, Deja 9H, Morenike 9
---
The Year 10/11 netball team reached the borough semi-final.
The team comprises: Maria 11F (captain), Melissa 11S (player of the match), Amie 11S, Deepthighaa 10H, Shanai 10H, Aini 10W, Marianne 10H, Olivia 10G, Hannah 11H, Chiara 10G
---
Finally the following cross country runners have qualified for the Youth Games:
| | | |
| --- | --- | --- |
| Lois 7W | 00:12:42 | Year 7 Girls |
| Malaika 8H | 00:14:22 | Year 8 Girls |
| Aoife 10F | 00:17:27 | Year 10 Girls |
| Becci 11W | 00:18:02 | Year 11 Girls |
---
Congratulations to all!
Ms Cornford
Head of Performing Arts

---
Congratulations to the Year 8 football team who came 2nd in the borough out of ten local schools.
Please feel free to congratulate them:
Roya 8W
Jessica 8W
Karima 8W
Jessica 8F
Sylvie 8F
Molly 8G
Grace 8G
Siwan 8H
Deja 8H
Julia 8H
Ms Wood
Head of PE
Congratulations to the Year 8 football team who came 2nd in the borough out of ten local schools.
Please feel free to congratulate them:
Roya 8W
Jessica 8W
Karima 8W
Jessica 8F
Sylvie 8F
Molly 8G
Grace 8G
Siwan 8H
Deja 8H
Julia 8H
Ms Wood
Head of PE
---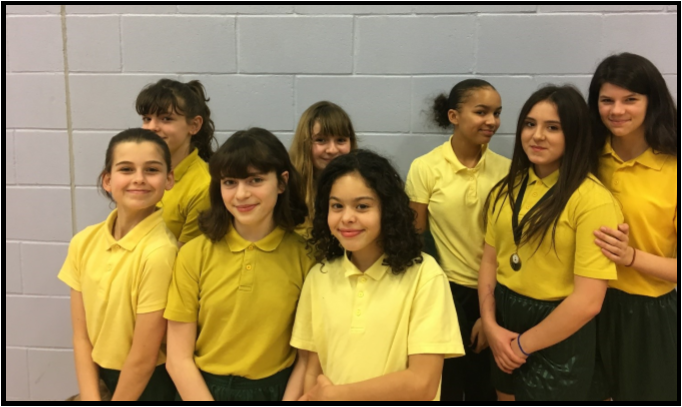 I have just received the results from the borough trampolining championships and I am delighted to say that both the U16 team and the U14 team finished in 2nd place overall.
The Team: Anna, Eve, Marley Joy, Sophie May, Sophie, Ruby, Amber, Sienna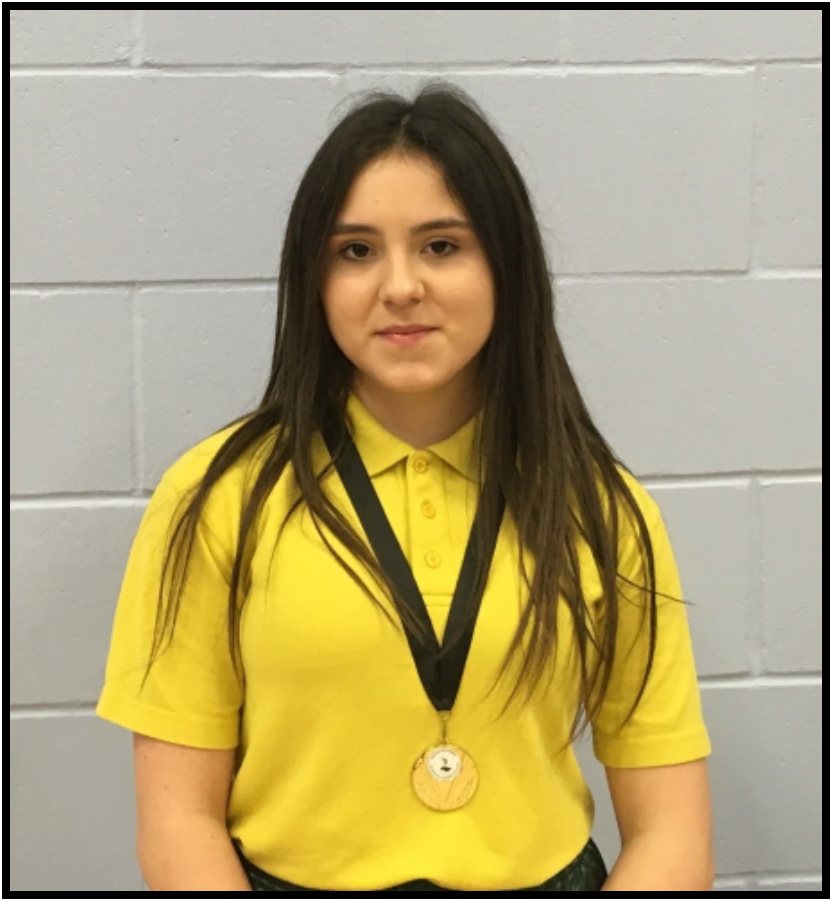 I am also pleased to let you know that Sophie May won the Under 16 individual competition and so she is the Waltham Forest Trampolining Champion.
These are fantastic achievements and the girls worked really hard on their routines so please congratulate them if you see them.
Ms Warren
SPL Year 11, PE Teacher
Student Journalists
Review of Grimm Tales at the Unicorn Theatre by Crystal Year 10
On Tuesday 13th November, I had the pleasure of seeing a re-worked version of Grimm Tales Adapted by Philip Wilson and Directed by Kirsty Housley at the Unicorn Theatre. At first glance, the set seemed to be smaller than I imagined it to be, for a play tackling the tales of the Grimm Brothers. However, by walking in you were transformed into a land of magic and whimsy, courtesy of the lighting and music playing. The actors played their characters extremely well, staying in character throughout the play.
The play starts with a family preparing for Christmas the night before, preparing food to cook the next day and placing presents under the tree. The children (Giulia Innocenti, Rachel Hosker and Enoch Lwanga) are running around the house, anxiously waiting for Christmas the next day. When the parents finally get them to bed David Emmings, who plays the father for this part of the play, tucks in the children and tells them a bedtime story called "Hans my Hedgehog" some of the actors acted out what another actor was narrating. They used the set to their full abilities, climbing on top of boxes, using costumes. After finishing the story, they also acted out red riding hood and Hansel and Gretel were also acted out. The actors play different characters, intertwining all the stories to one cohesive play. I have to applaud the actors and actresses on their ability to change characters so quickly. Afterwards, all of the villains "came to life" coming down the stairs while interacting with the audience and coming out of closets. The lighting heightened the experience while the children fought the fairy tale monsters. The screams coming from the audience shows it was effective and it also made my heart skip a beat.
The set then changes when the villains are defeated, and the backdrop becomes an extended part of the stage. This surprised me, but I was amazed at the creativity used to adapt the set. While I was watching the play, there were technical difficulties, but the cast and crew took it in their stride and repaired it during the interlude. As the show went on the extended part of the set resembled a forest, with Christmas trees littered everywhere. The tables are turned and instead of the children telling their stories, they became part of them when transported to this fairy tale land. The actors and actresses switch characters depending on the stories. More stories were told, becoming stranger and stranger as time went on.
Overall, I really enjoyed the play, I think it was well executed, engaging and an interesting twist of fairy tales originally by the brothers Grimm. The cast did an amazing job, and so did the crew. While watching the play, I was fully immersed into the story line, as had not heard many of the stories told during the play. I walked out of the theatre wishing I could see it all over again. While asking my peers about the play, they said this: "Been one of the best I've seen here" and "Amazing play, really put me in the Christmas mood".
I highly recommend watching the play Grimm Tales at the Unicorn theatre relatively soon as it is only showing until the 6th January 2019. To book tickets go to the Unicorn website at https://www.unicorntheatre.com/GrimmTales. It is a play worth watching with the family to get you in the Christmas spirit!
---
Sports Day 2018
On Wednesday afternoon, the whole school made it down to the Feel Good Centre to compete in track athletics events. For the year 10s it was their last one which some really enjoyed:
"Today was really fun, we got to spend time with our form." (Amal 10W)

For year 7s it was their first sports day and they clearly enjoyed it:

"I like the adrenaline and competing against all other forms." (Joni 7W)

For some it wasn't as exciting:

"I'm too tired." (Divya 10W)
Although there were mixed views, we got some new school records:
Year 7 - Malaika in 7F ran 2:47 in the 800m.
Year 8 – Molly in 8G ran 2:46 in the 800m.
This year's sports day was really well by the PE Department. We are looking forward to the next sports day with the new year 7 students.
Written by Melissa and Amie 10S
---
Year 9 Netball Game
Last Thursday 13th September our year 9s faced Chingford Foundation in their first netball match of the year.
They successfully won the match which consisted of two halves of ten minutes. At the end of the first half the result was 4-1 to WSFG which left us very hopeful going into the second half. At the end of the second half Chingford came back fighting however WSFG still came out on top. The end result was 4-3 to us.
Although it was a WSFG win the girls were clear on their areas for improvement.
"We worked well as a team and know what we need to work on next time." Jessica 9W

"We need to communicate a bit more as a team to be sure of great results." Jae-Ming 8F
Ms Warren was very pleased with the girls' performance. "The year 9s are a fantastic team, they work so well together and their team spirit is incredible. Every member gives 100% effort in every game and it is a pleasure to take them to fixtures." Ms Warren
Article by Amie and Melissa
(PE student journalists)