Performing Arts News
News from our Performing Arts (Drama, Music & PE) Faculty
For more information about subjects taught by this Faculty, please see the subject pages for Drama, Music and P.E.
To contact our Performing Arts Faculty staff, please click here
Trampolining success for Clementine
I competed in March, May and then June for my 2022 trampolining season I also competed in November in a practice competition, unfortunately I fell, but I still placed 7th out of 11. In March, I had been training hard, and my head coach told me she knew I could do it, so I pushed to do well I then placed 1st out of 17 with another girl from my club coming 3rd. This put me in a good place for qualifying as they add up everyone's scores from all three competitions.
In May, I came 2nd by 0.03 and when looking back at it they had my difficultly lower than it was, so I had a higher score than first but came second out of 24. In the June competition I had very harsh judging as my coach would say but still managed to come 2nd out of 26 and in total from all three competitions I was against 47 people to qualify.
In the end as I did well in all three competitions even though they can take 2 people to qualify I was the only one who managed to get a high enough score to qualify, and now I will compete as the only one in my category to compete for London in the Inter regional finals on Saturday 3rd and if I come in the top 8 I will compete again on Sunday the 4th in hopes to place 1st 2nd or 3rd in the whole of the UK. I competed in the inter-regional finals in 2019 and placed 12th in the UK, but I would hope to at least get into finals this September.
Clementine
England Basketball call up for Debra 10C
From 5th-8th May one of our year 10 students, Debra represented the England U16 basketball team at the Four Nations Tournament in Dundee. This was a national competition, and she competed against Scotland, Ireland and Wales.
This is an incredible achievement and we are all very proud of her.
Well done Debra!
Ms Warren
AHT Pastoral : Community Wellbeing
Jack Petchey Glee Club Challenge
I am delighted to announce that our Glee Club have made it through to the Regional finals of the Jack Petchey Glee Club Challenge, following our assessment visit on Tuesday 5th July.
Please congratulate the Glee Club members if you see them. More details coming in September....
Ms Bradshaw
Head of Music
Success for Sadia!
Congratulations to Sadia Year 8, she participated in the London Trampoline and Tumbling Championships competition last weekend and won a SILVER medal in the 13 to 14 age category.
Ms Wood
Head of P.E
Year 7 & Year 8 Borough Netball Rally
The year 7 and 8 netball teams played in the borough netball rally at Redbridge last week and made the borough final. 
Both teams played Forest School in the final and it was a close game with WSfG coming 2nd in the end.
Well done to all players in both teams - you were great sports!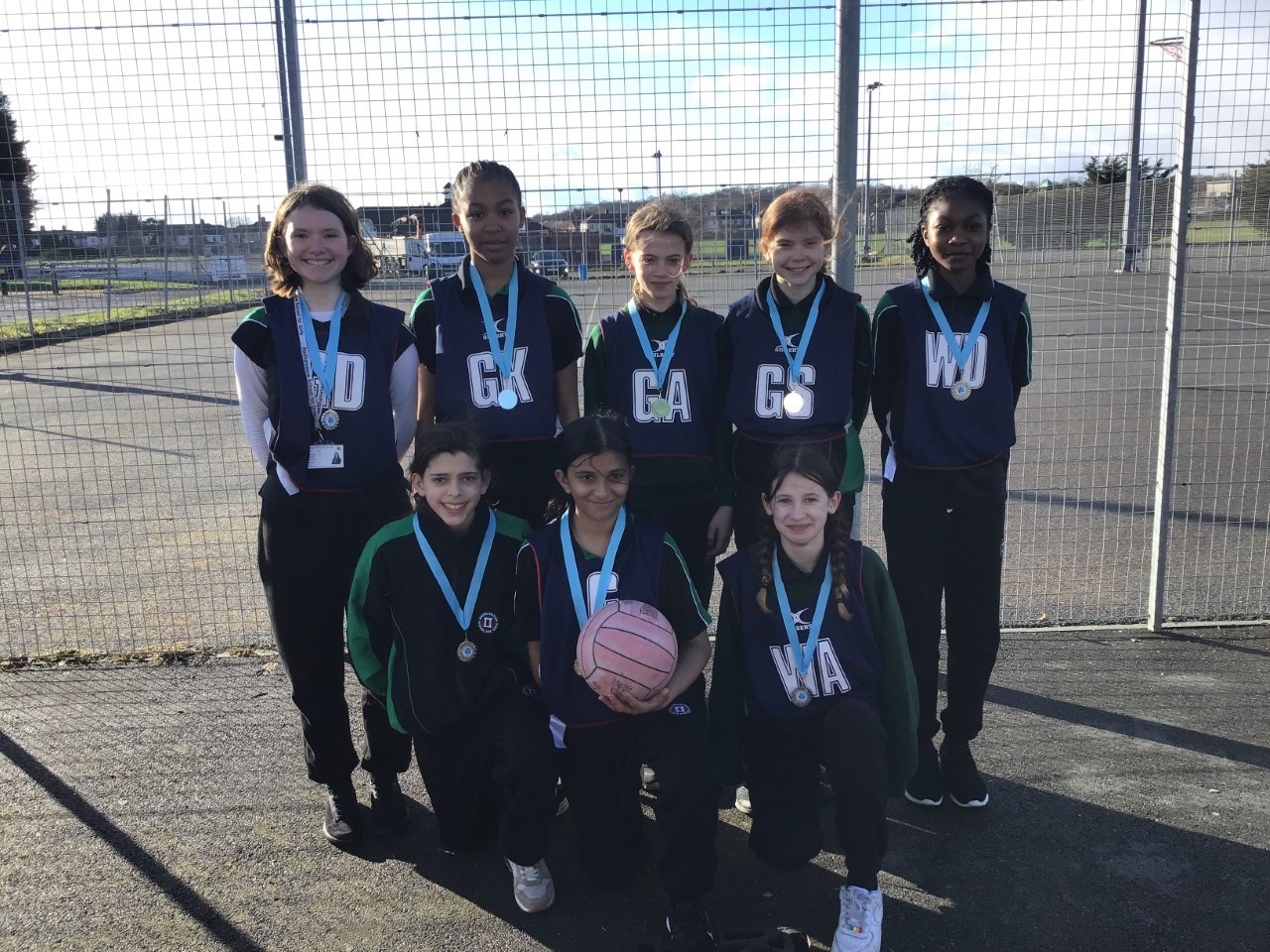 Year 7 Team: Starr, Emma, Makayla, Maryam, Farrah, Emma, Phoebe & Alex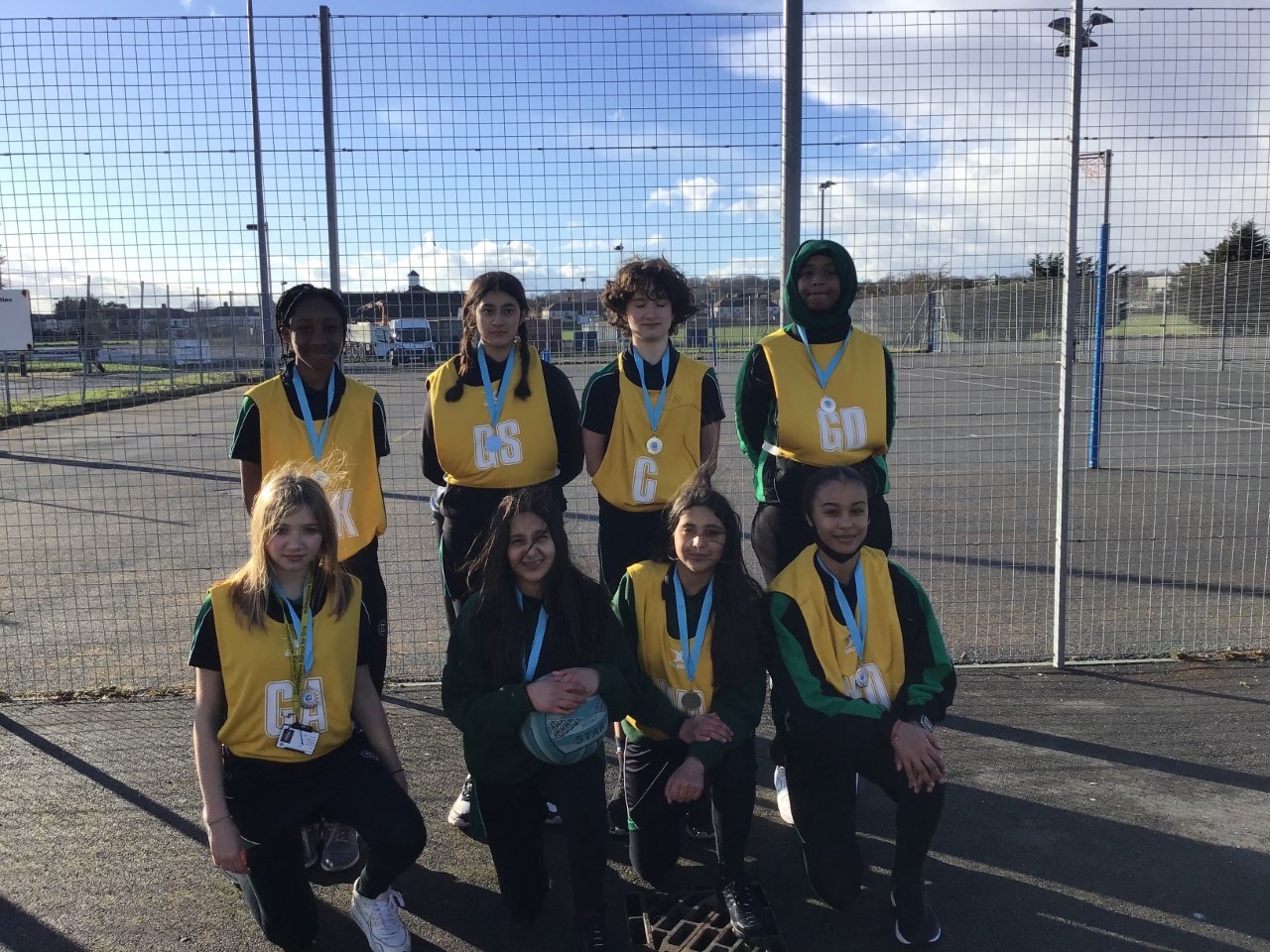 Year 8 Team: Itohan, Nuwayla, Alicja, Flo, Lucia, Elaaya, Inaaya & Mariam
Ms Wood
PE Faculty
Year 8 Basketball - Borough Champions!
After getting through to the semi finals, winning in a game against Chingford Foundation School, our year 8 basketball team played against Lammas School in the final earlier this week. I am delighted to announce that we have become Borough Champions after the team won the game 22 - 19. This is an amazing achievement and we would like to congratulate the team!
Semi final squad:
Opéyemi, Yong Xin, Blessing, Sophia, Taijah (Captain), Alzbeta, Nuwayla, Inaaya, Elaaya, Isabelle, Pearl, Sophia & Alicja.
Final squad:
Aloha, Pearl, Nuwayla, Alicja, Opeyemi, Alzbeta, Sophia, Teja, Sophia, Isabelle, Blessing, Anaaya & Deborah 10C (coach)
Ms Scully and Ms Wood
PE Faculty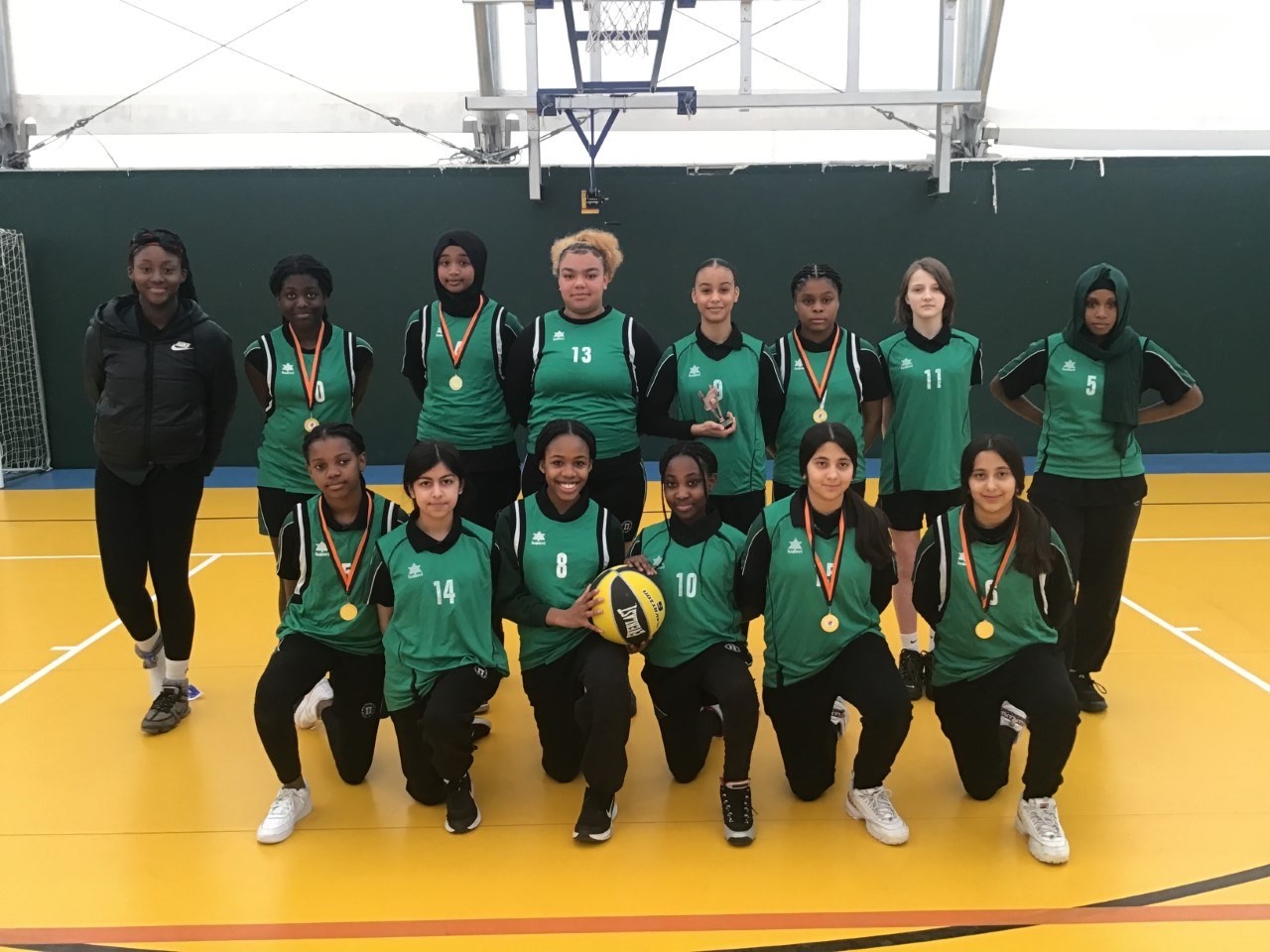 Year 8 Football
Congratulations are also forthcoming to our year 8 football team who missed out in a final place because of a sudden death penalty shoot-out. In the semi-final they were ahead for most of the match but conceded a goal in the last 2 minutes to Chingford. Drawn at 1-1, the game went to a penalty shoot-out against 3 players. The event went to sudden death, which resulted in our girls being forced into the 3rd place playoff against Eden. In this match they had a convincing 7-0 win and so took the bronze medals. 
In the league matches prior to the last 4 schools, the girls finished 2nd to Willowfield, who also took the cup title.  
Well done to the squad:  
Emaan, Matilda (absent from the finals), Helena, Elaaya, Inaaya, Flo, Aleema, (Captain), Sofia, Opeyemi, Alzbeta,(absent from the playoffs) 
Here we see some of our team displaying their bronze medals and bouncing back from their cruel semi-final penalty experience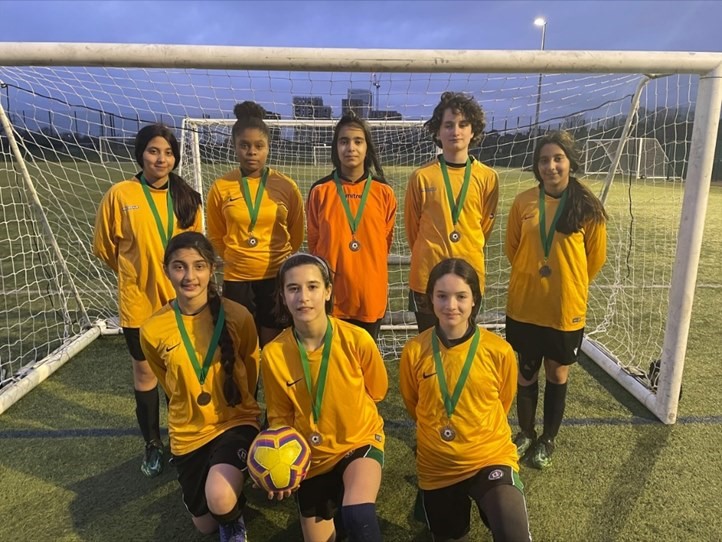 The collective skill level amongst the team is very high, and this was commented on by our opposition and the organisers - some names to watch for in the future of Women's football I think!
Ms Scully and Ms Wood
PE Faculty
Year 7 Football
The year 7 football team have made it through to the finals of the Waltham Forest Cup. With just 2 remaining league games to play this week, they had a 3-0 victory over Highams Park and a score draw against Heathcote!
Well done to the squad in this 7 aside version of football!
Ida, Elin, Clara, Starr, Emma, (Captain), Makayla, Maryam, Abeera, Zahara, Chlorie.
Ms Scully
PE Faculty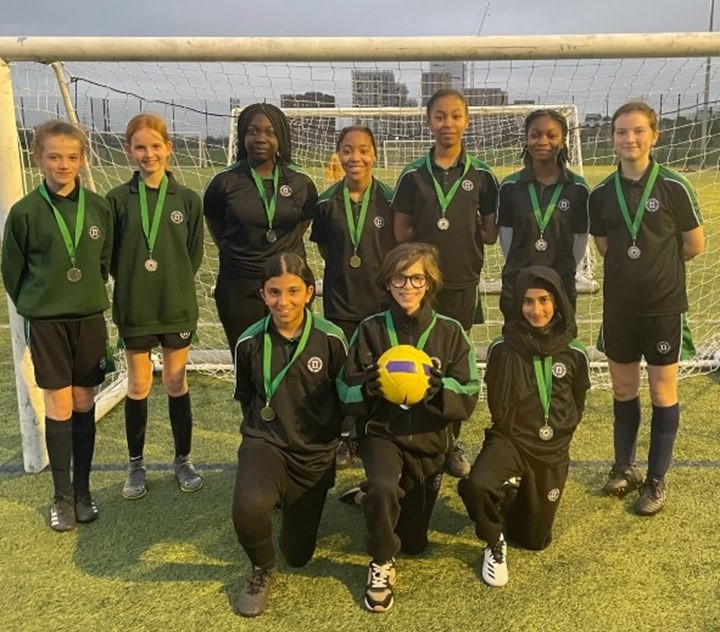 Instrumental Lessons
If you would like to continue instrumental lessons in the summer term, parents need to log onto sQuid and pay by Friday 18th March 2022. 
We are no longer accepting late payments. If the payment is not received by this date, you will not receive lessons in the summer term. 
If you want to begin instrumental lessons in the summer term, please see Ms Bradshaw before the deadline for payments in March to sign up.
Thank you,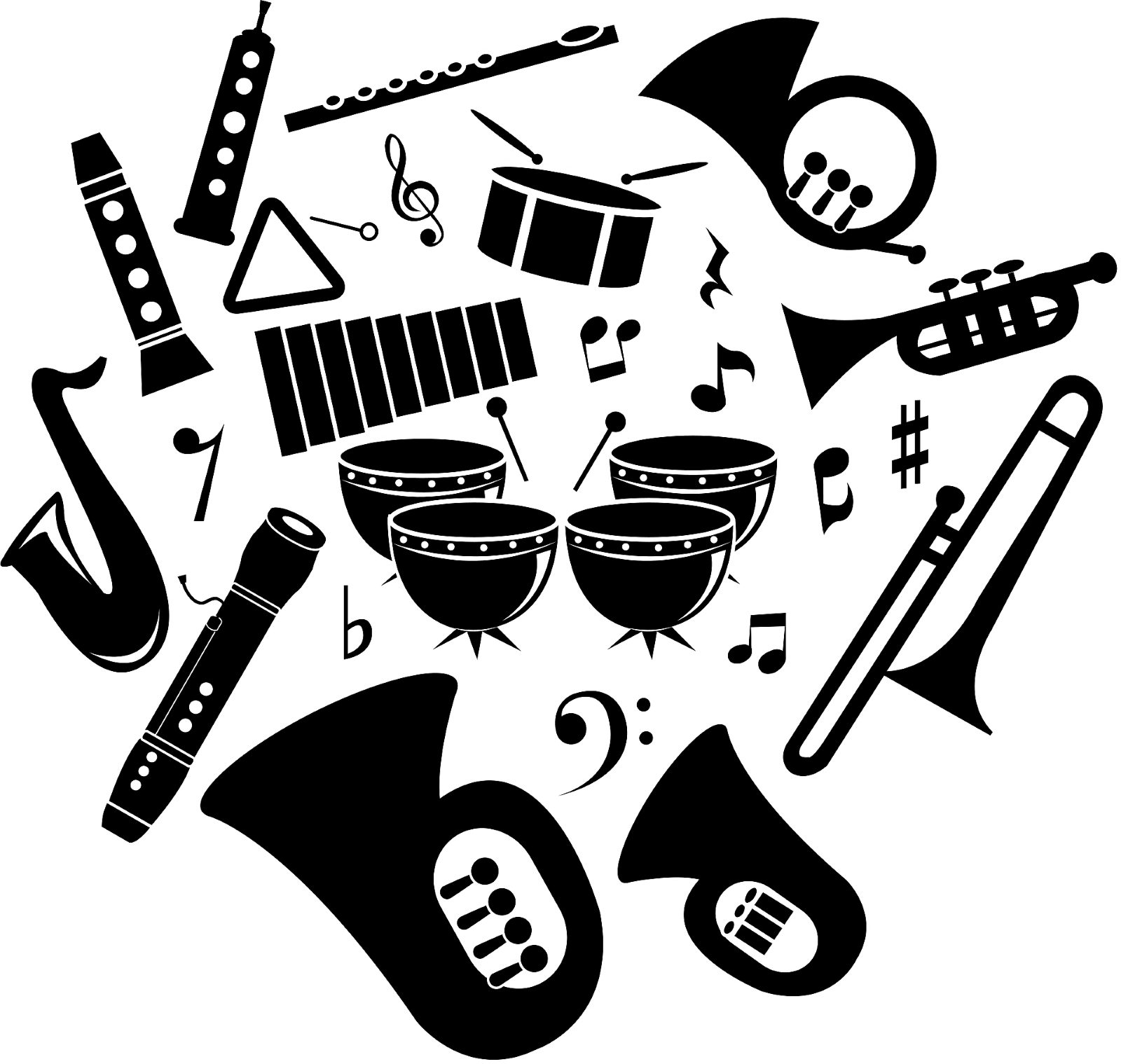 Ms Bradshaw 
Head of Music
Year 10 Work Experience
London Youth Games Cricket 2022

LONDON YOUTH GAMES CRICKET 2022
Waltham Forest Girls Cricket Squad Selection Training
In preparation for the LYG Cricket Competition, we will be hosting two squad selection training sessions.
Training takes place at Leyton Sports Ground (Cricket Hub), 485 High Road, E10 6PY on
Thursday 27th January and Thursday 3rd February both from 5pm to 6pm
You must either live or go to school in the Borough of Waltham Forest to compete.
Must be available to represent the Borough at the London Youth Games Cricket qualifiers and competition on:
Qualifiers
(Girls) Saturday 5th or Sunday 6th March at Harrow Leisure Centre, HA3 5BD
Competition
Saturday 26th March at Lord's Cricket Academy, Lord's Cricket Ground, NW8 8QN
For more information and to confirm your attendance please email Charles.Adeyemi@walthamforest.gov.uk
Year 9 Football Finals
At the end of last term the Year 9 football team played their semi-final match against Willowfield, and beat them 3-0. 
After the game, they played the borough final against Heathcote. Unfortunately, Heathcote managed to beat us in the final. 
The team played very well during the league, winning the majority of matches - both parents/carers and I are extremely proud of them for coming 2nd in the borough. Well done Eliza 9W Sam 9F Sarah 9G Miray 9F Aaliyah (captain) 9W Alice 9W Brianna 9C Nyla 9H Elena 9H!
Ms Woods 
PE Faculty
Year 9 Football
I am delighted to announce that the Year 9 football team are through to the borough semi-finals after winning all 9 of their games. The semi-finals and finals will take place next Thursday at the Peter May Centre. Here are the results so far and the students in the team:
Aaliyah (Captain), Alice, Breanna, Sarah,  Miray, Samanta, Eliza, Chanelle, Nylah, and Elena
WSFG  VS SOUTH CHINGFORD: 5  - 0
WSFG VS WALTHAMSTOW ACADEMY: 3  - 0
WSFG VS WILLOWFIELD: 1  - 0
WSFG VS LAMMAS: 1  - 0
WSFG VS HIGHAMS PARK: 1  - 0
WSFG VS GEORGE MITCHELL: 7  - 0
WSFG VS CHINGFORD: 2  - 0
WSFG VS LEYTONSTONE: 1  - 0
WSFG VS HOLY FAMILY: 2  - 0
Congratulations and good luck to the team for the semi-final!
Ms Wood
PE Faculty
Y10 Basketball Win
Congratulations to the year 10 basket team whose progress in the Waltham Forest league thus far is 2 wins from 2 😊
WSFG v's Holy Family Thursday 18/11/21
Result WIN 14-5 (game abandoned in the 3rd quarter due to illness)
WSFG v's Lammas Monday 22/11/21
Result Win 40-12
Well done girls!! 😊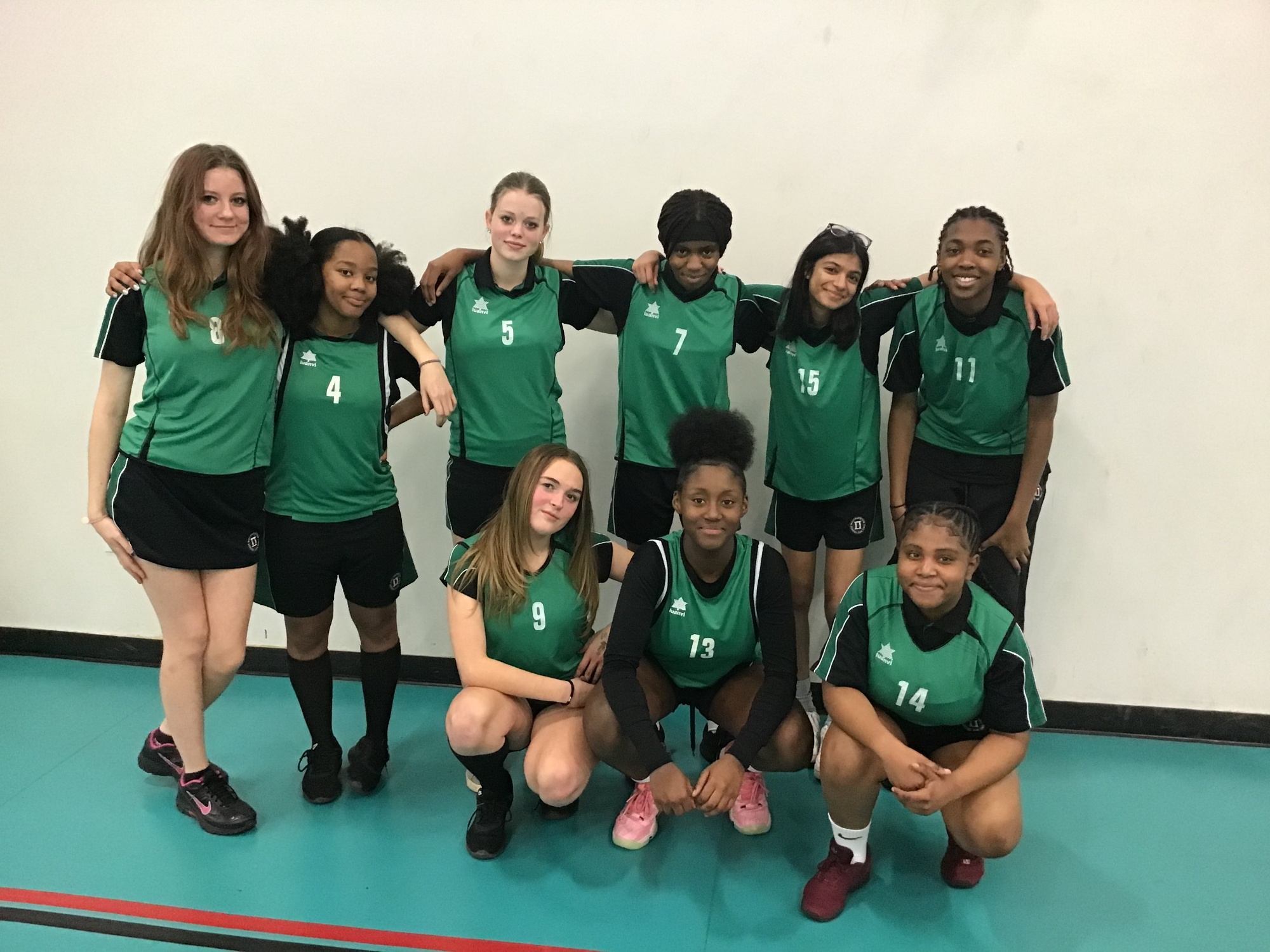 Leigh, Neil, Aminah, Betty, Debra (captain), Boluwatife, Lily, Hannah and Jahmica
Year 9 Netball
On Monday 4th October the Year 9 and the Year 10/11 combined netball teams travelled to Redbridge Leisure Centre for the WF Borough Netball Rally. The girls all worked extremely hard throughout the rally and gave 100% effort in each game. The Year 9 team finished in 4th place overall out of 5 teams. The year 10/11 combined team ended up with the same number of points as 2 other teams - all in 2nd place. When it went down to goal difference however they finished 4th out of 8 teams which is still a fantastic achievement.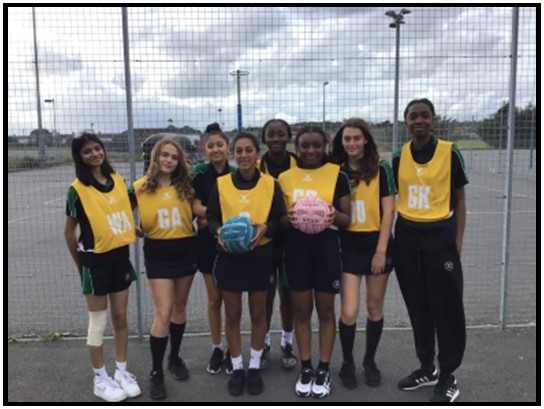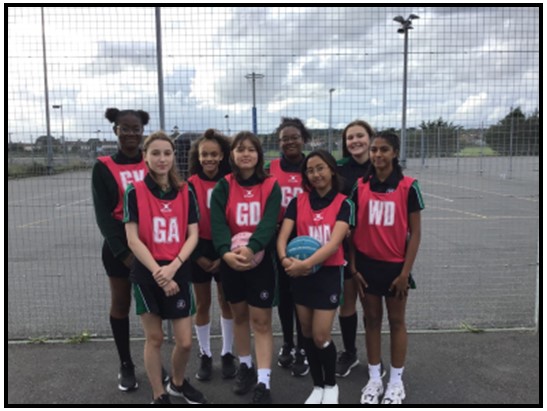 Last month, the year 9 netball team played George Mitchell. This was their first game of the season. I am happy to say the following students worked together as a team and beat George Mitchel 7-5.
Aayliah 9W- player of the match
Eliza 9W, Yvette 9H, Mari 9C, Nyla 9H and Rachel 9F
Ms Wood
PE Faculty
To all budding netballers:
On Wednesday evenings at Fredrick Bremer School Phoenix Flames Netball club.
Please see Ms Heron for further details or look on: https://www.phoenixflamesnc.com/
Year 10/11 Netball Competitions

A huge congratulations to the year 10/11 netball team who played brilliantly in all 3 games back to back last month.
Results: Year 11 WSFG V Holy Family: 14-3
Year 10 WSFG V Holy Family: 11/11
WSFG V Walthamstow Academy: 14-4
Well done to our team!
Debra 10C, Hannah 10C, Aminah 10C, Betty 10G, and Leigh 10G
The Year 10/11 netball team also played a fantastic game earlier this week and beat South Chingford 12-4. Well done to our team!
Debra 10C, Aminah 10C, Hannah 10C, Betty 10G, Leigh 10G, Malika 11H and Frances 11C
Ms Heron
PE Faculty
AP SAINTS NC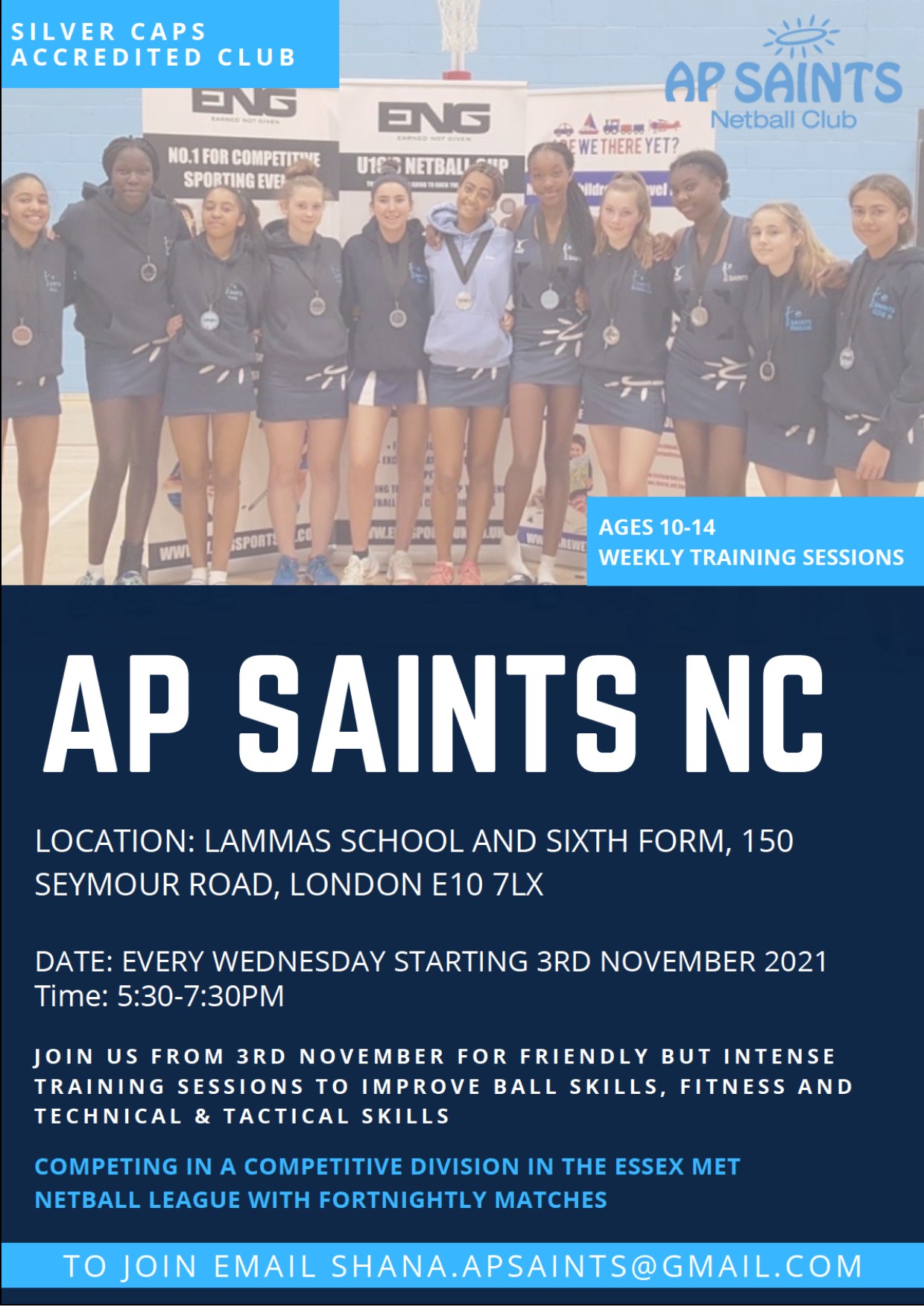 Performing Arts Faculty Wordsearch - Drama

Words supplied by the Performing Arts Faculty on the subject: Drama.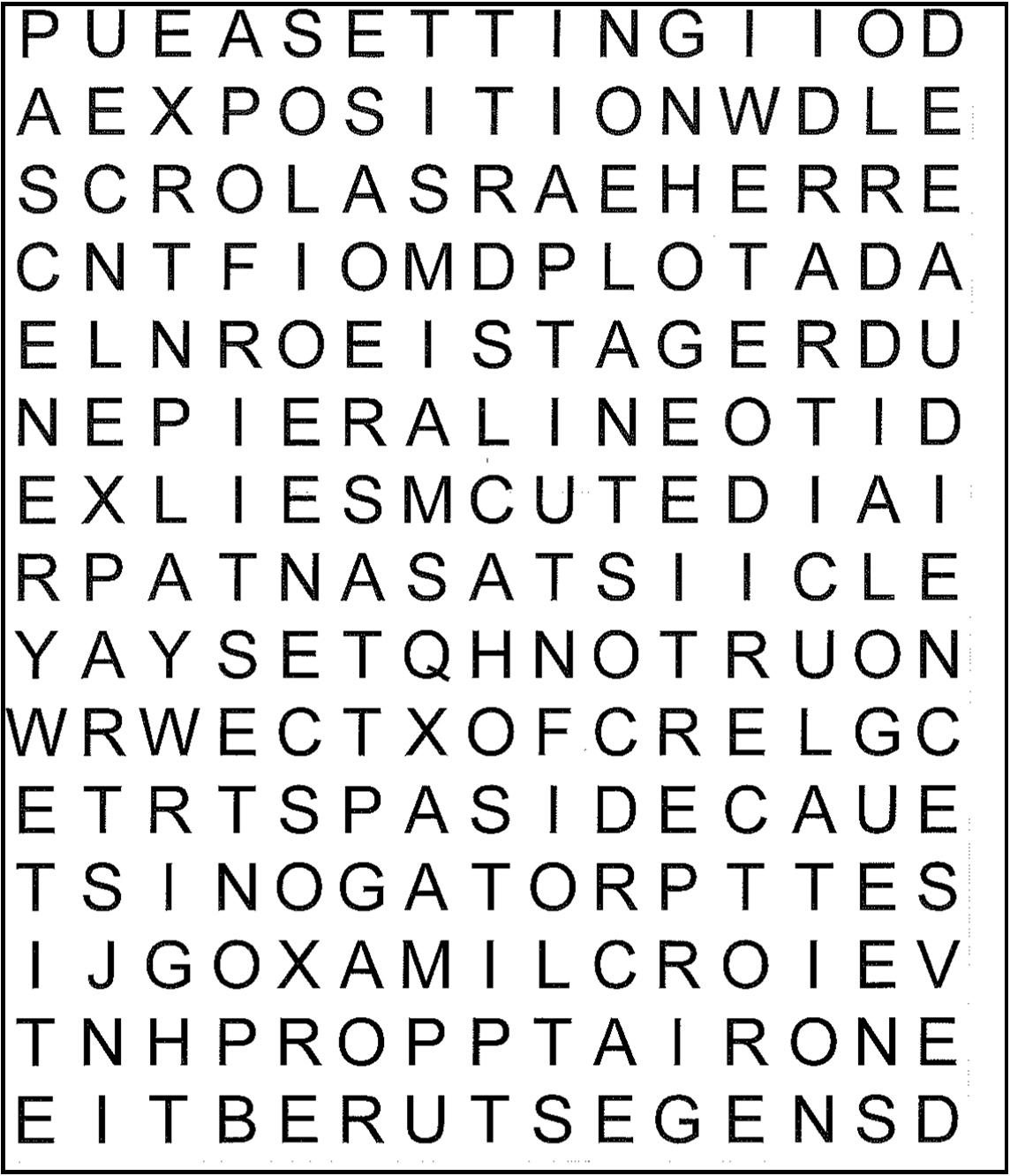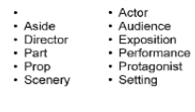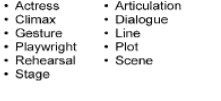 Performing Arts Faculty Wordsearch - Music
Words supplied by the Performing Arts Faculty on the topic of Music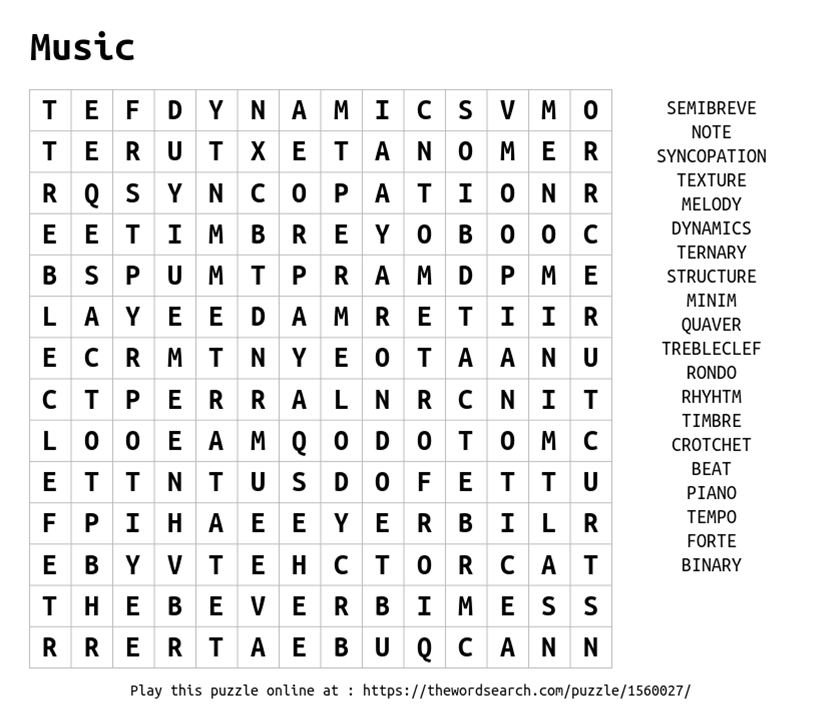 FREE After School sessions at Chingford Cricket Club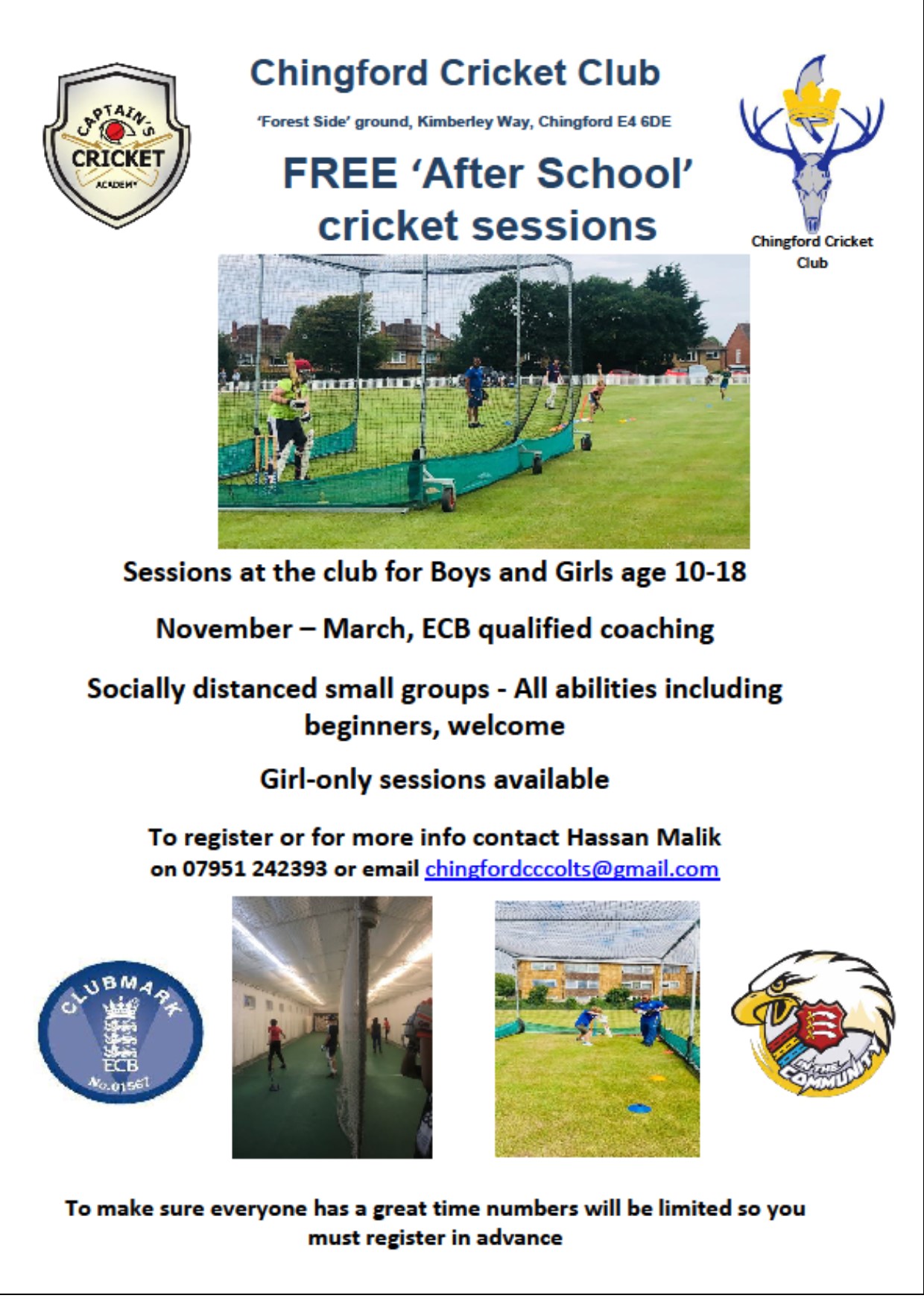 1-2-1 online music lessons with Waltham Forest Music Service


Waltham Forest Music Service offer 1-2-1
instrumental and vocal lessons held on Zoom
with specialist instrumental and vocal tutors.
There are many benefits to online teaching, such as convenience (no need to travel), having time and space to warm up before the lesson and the availability of online musical resources to support the lesson.
Lessons can be taken for 20 or 30 minutes each week.
Online lessons can deliver an excellent musical experience for children and young people that is both fun and helps them to make progress with their instrument or voice.
---
Tell us which instrument you'd like to learn, how long you'd like the lesson for and your availability.
2. We'll contact you to arrange the lesson time, day and start date, and will confirm the fee.
4. Then we'll email you a Zoom link to login to the set of lessons before the first lesson.
---
Instrument hire
Pupils having lessons in school or on Zoom with us can hire an instrument. The hire fee is £23 per term or part of term, with 50% discount for families on a low income. Please contact us to hire or return instruments to our office which is open Monday to Friday 9am-4pm during term time:
020 8496 1584
The Music Service office address is: The School Lodge, Woodbury Road, Walthamstow, London E17 9SB
Social distancing measures are in place at our office and we may ask you to wait outside while we get your instrument. Any visitors who enter the building must wear a mask and use hand sanitiser.
Please visit our website for more information about lessons, or contact us if you have any further questions.
Juliet Owen
Performing Arts Faculty Word Search - PE

Words supplied by the P.E. Department based on dance, trampoline and fitness.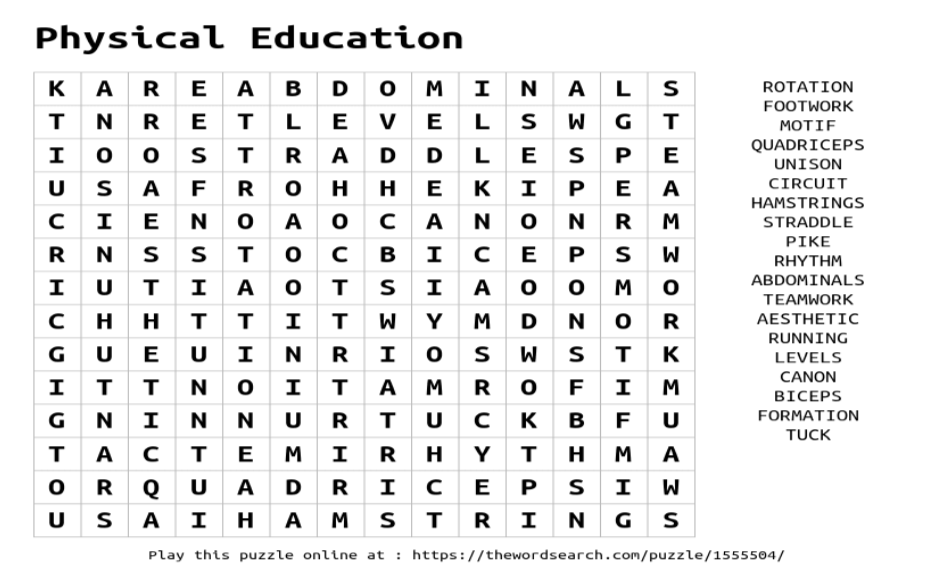 Freya Completes 10k Challenge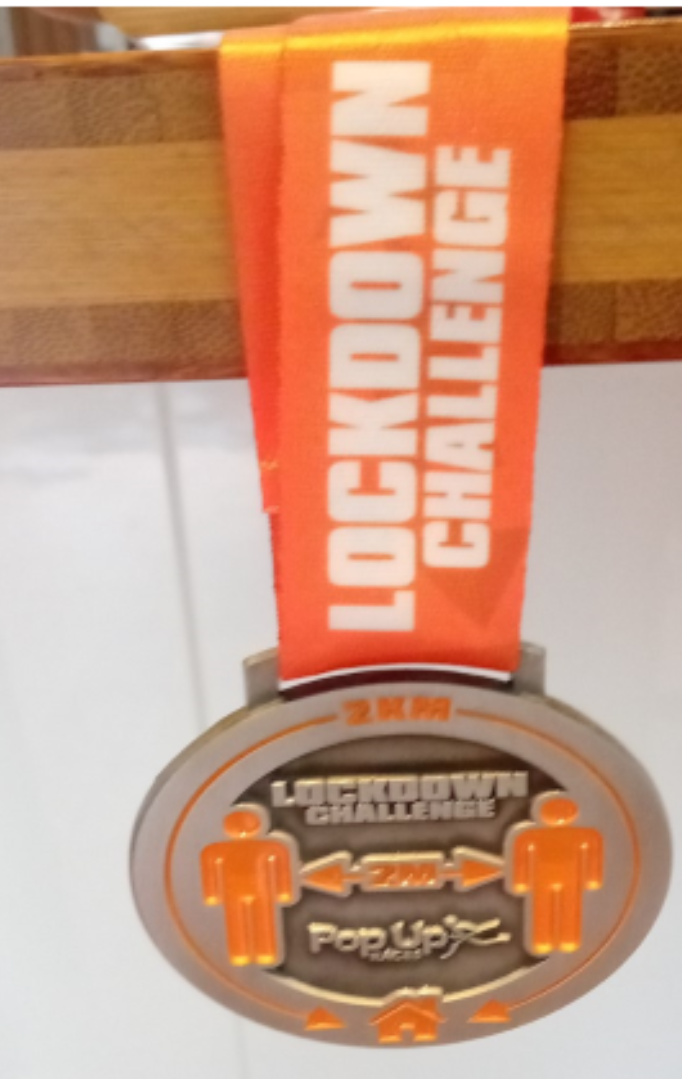 Congratulations to Freya 7F who completed the Lockdown Challenge 10km Virtual Race at home.
Here is Freya's medal - well done!
Keep staying active,
Ms Wood
Head of PE
Swimming Success for Bonnie

WSFG Student's Success at Waltham Forest Gators Swimming Club
A big congratulation to Bonnie 8S who has qualified for the Essex County Championships and will be competing in 50m Backstroke, 100m Backstroke and 200m Backstroke.
A huge achievement! Good luck in the next races!!
Ms Wood
Rowing Success for Abby

British National Indoor Year 11 Rowing Championships
We are please to announce that Abby 11F won a Gold Medal at the British National Indoor Year 11 Rowing Championships at the Olympic Velodrome in December. Abby rowed a distance of 1,664 metres in 6 minutes.
She also won the Silver Medal in the 500 metres indoor event on the same day. The winner of that event broke the British Record and we also think that Abby was inside the previous record as well.
Ms Wood
Year 7 Sharing Evening
Last Thursday, we held our third Year 7 Sharing Evening. The event took place in the Hewett Hall where each Year 7 Form Group performed a song that they had been working on in their music lessons. The theme of the event was 'Energy' and the repertoire included musical theatre and pop songs.
The evening also featured performances from Voice who sang 'Glory' as part of our Black History Month Celebrations and also from The Soundbreakers who performed 'Let Me Down' by Jorja Smith and Stormzy. The finale was 'You Can't Stop the Beat' from Hairspray which was performed by the whole of Year 7. Thank you to everyone who attended the event and well done to our Year 7s.
Ms Bradshaw
National Junior Rowing Championships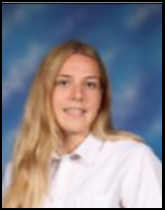 Year 11 student, Abby rowed at the National Junior Rowing Championships at the end of July in Nottingham, over the Olympic distance of 2km. She rowed in an eight in the Under 18 Junior Women Category.
Abby was representing the Lea Rowing Club and the team won the Silver Medal. She was very pleased to get her first national outdoor medal.
Well done Abby!
Ms Wood
Head of PE
London Youth Games Indoor Rowing / Swimming
At the weekend three students competed in the London Youth Games.
Abigail 10F competed in the indoor rowing and won the Year 10 girls event. Abby rowed 1386 metres in five minutes, finishing just over 40 metres ahead of the next competitor.
Abby along with Aoife 10F and Ella 9W also competed the day before and helped the girls' swimming team finish 8th overall, which is a significant improvement on previous years and is a very respectable placing when you consider that there are thirty London Boroughs.
In the senior girls medley relay, Aoife (50 breast stroke) and Abby (50 butterfly) and two other girls swimming backstroke and freestyle came 5th, which was a great result and made them the best placed Waltham Forest relay team.
Well done to all our student competitors!
Ms Wood
SPL Year 9
Head of PE
Waltham Forest Borough Athletics

The students were fantastic at the Borough Athletics Championships on Friday and we had one of our biggest medal hauls for quite a few years. Please congratulate the following students on their success:
Ava 7G - Silver medal in 200m
Sylvie 9F - Silver medal in 200m
Sasha 9C - Bronze in 100m
Jessica 9F - Bronze in 800m
Evie 10H - Silver in 800m
Kimberley 9G - Silver in high jump
Deepthighaa 10H - Silver in javelin
Sienna 9S - Bronze in triple jump
Nell 7W - Silver in triple jump
Rachel 9F - Silver in long jump
Phoenix 8W - Silver in high jump
Ms Warren
Female Only Football Teams
Female Only Football Teams and Development Programmes (AFC Leyton - Arsenal Sister Club)
AFC Leyton is a female only football club based in Waltham Forest. Despite our name, all our matches and squad training occurs at Salisbury Hall playing Fields and 3G pitches, Walthamstow Avenue, E4 8ST - which is the back of Sainsbury's just off the Billet Roundabout.
We have 330 female players in our club and we play competitively in the Essex Girls County Football League as well as the Capital Girls Cups.
We are looking for players to join our League teams in the following age groups:
Ages 8 to 11 - for our existing U10s and U11s teams and our new U9s team
Age 11 to 12 - for our new U13s team
Age 15 to 16 - for our new U16s team
Development players of any age 5+ are welcome to join us. We have sessions for all ages (including ladies 18+)
Any female players that love to play football and would benefit from professional UEFA training in an excellent community based female only football club, see the letter below. Talented players in
AFC Leyton have gone on to play for Watford, West Ham, Tottenham Hotspur, Arsenal, Millwall and at Essex and Charlton Regional Talent Centres as well as England U15s training camps.
For schools, we are also offering free football development sessions for your existing girls' teams to try out our professional UEFA coaching. This programme is designed to get girls interested and stay in football/team sports.
If you would like any further information on AFC Leyton, please do not hesitate to get in touch.
Best wishes
Louise McGing
Club Secretary
AFC Leyton Girls
Welcome to the Forest!

Welcome to the Forest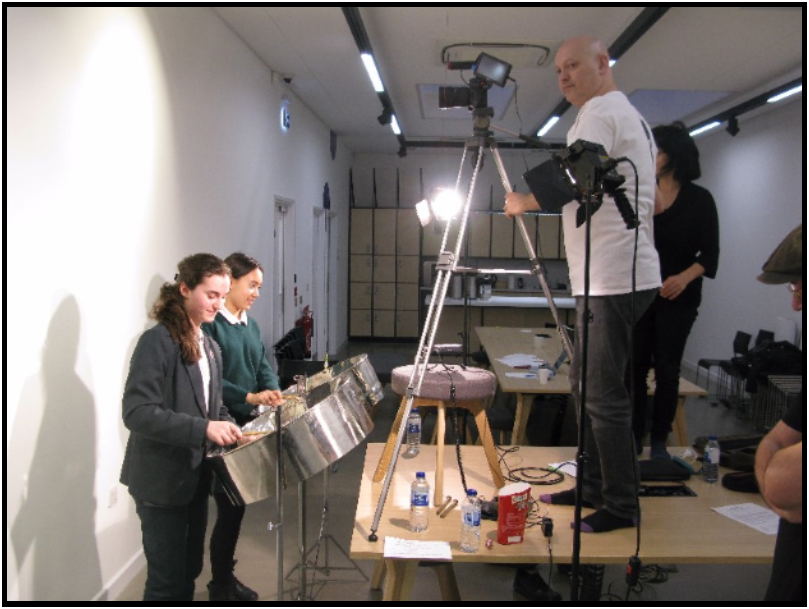 Earlier this term, you may remember Tulin and Maui from the Year 10 steelband were filmed playing at No 1 Hoe Street, in preparation for their participation in Waltham Forest's 'Borough of Culture' Opening Ceremony on January 11th 2019.
As you can see their hugely magnified images were projected on to the Town Hall during the ceremony.
We are pleased that the school did feature in the community at this historic local event - once again, via the Steel Band!
Mr Murphy
Teacher of Steel Pans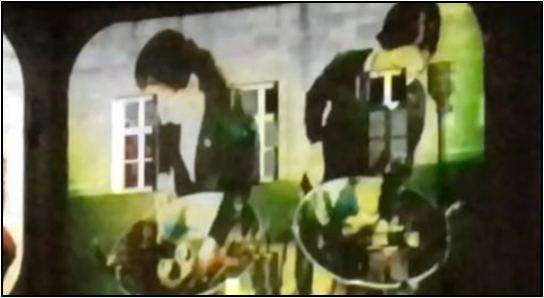 Student Journalists
Review of Grimm Tales at the Unicorn Theatre by Crystal Year 10
On Tuesday 13th November, I had the pleasure of seeing a re-worked version of Grimm Tales Adapted by Philip Wilson and Directed by Kirsty Housley at the Unicorn Theatre. At first glance, the set seemed to be smaller than I imagined it to be, for a play tackling the tales of the Grimm Brothers. However, by walking in you were transformed into a land of magic and whimsy, courtesy of the lighting and music playing. The actors played their characters extremely well, staying in character throughout the play.
The play starts with a family preparing for Christmas the night before, preparing food to cook the next day and placing presents under the tree. The children (Giulia Innocenti, Rachel Hosker and Enoch Lwanga) are running around the house, anxiously waiting for Christmas the next day. When the parents finally get them to bed David Emmings, who plays the father for this part of the play, tucks in the children and tells them a bedtime story called "Hans my Hedgehog" some of the actors acted out what another actor was narrating. They used the set to their full abilities, climbing on top of boxes, using costumes. After finishing the story, they also acted out red riding hood and Hansel and Gretel were also acted out. The actors play different characters, intertwining all the stories to one cohesive play. I have to applaud the actors and actresses on their ability to change characters so quickly. Afterwards, all of the villains "came to life" coming down the stairs while interacting with the audience and coming out of closets. The lighting heightened the experience while the children fought the fairy tale monsters. The screams coming from the audience shows it was effective and it also made my heart skip a beat.
The set then changes when the villains are defeated, and the backdrop becomes an extended part of the stage. This surprised me, but I was amazed at the creativity used to adapt the set. While I was watching the play, there were technical difficulties, but the cast and crew took it in their stride and repaired it during the interlude. As the show went on the extended part of the set resembled a forest, with Christmas trees littered everywhere. The tables are turned and instead of the children telling their stories, they became part of them when transported to this fairy tale land. The actors and actresses switch characters depending on the stories. More stories were told, becoming stranger and stranger as time went on.
Overall, I really enjoyed the play, I think it was well executed, engaging and an interesting twist of fairy tales originally by the brothers Grimm. The cast did an amazing job, and so did the crew. While watching the play, I was fully immersed into the story line, as had not heard many of the stories told during the play. I walked out of the theatre wishing I could see it all over again. While asking my peers about the play, they said this: "Been one of the best I've seen here" and "Amazing play, really put me in the Christmas mood".
I highly recommend watching the play Grimm Tales at the Unicorn theatre relatively soon as it is only showing until the 6th January 2019. To book tickets go to the Unicorn website at https://www.unicorntheatre.com/GrimmTales. It is a play worth watching with the family to get you in the Christmas spirit!
---
Sports Day 2018
On Wednesday afternoon, the whole school made it down to the Feel Good Centre to compete in track athletics events. For the year 10s it was their last one which some really enjoyed:
"Today was really fun, we got to spend time with our form." (Amal 10W)

For year 7s it was their first sports day and they clearly enjoyed it:

"I like the adrenaline and competing against all other forms." (Joni 7W)

For some it wasn't as exciting:

"I'm too tired." (Divya 10W)
Although there were mixed views, we got some new school records:
Year 7 - Malaika in 7F ran 2:47 in the 800m.
Year 8 – Molly in 8G ran 2:46 in the 800m.
This year's sports day was really well by the PE Department. We are looking forward to the next sports day with the new year 7 students.
Written by Melissa and Amie 10S
---
Year 9 Netball Game
Last Thursday 13th September our year 9s faced Chingford Foundation in their first netball match of the year.
They successfully won the match which consisted of two halves of ten minutes. At the end of the first half the result was 4-1 to WSFG which left us very hopeful going into the second half. At the end of the second half Chingford came back fighting however WSFG still came out on top. The end result was 4-3 to us.
Although it was a WSFG win the girls were clear on their areas for improvement.
"We worked well as a team and know what we need to work on next time." Jessica 9W

"We need to communicate a bit more as a team to be sure of great results." Jae-Ming 8F
Ms Warren was very pleased with the girls' performance. "The year 9s are a fantastic team, they work so well together and their team spirit is incredible. Every member gives 100% effort in every game and it is a pleasure to take them to fixtures." Ms Warren
Article by Amie and Melissa
(PE student journalists)