Events in our School, Local & Wider Community
Please see below for events and activities that may be of interest to students, parents/carers, staff and other members of our school community
World Book Night - 23rd April 2022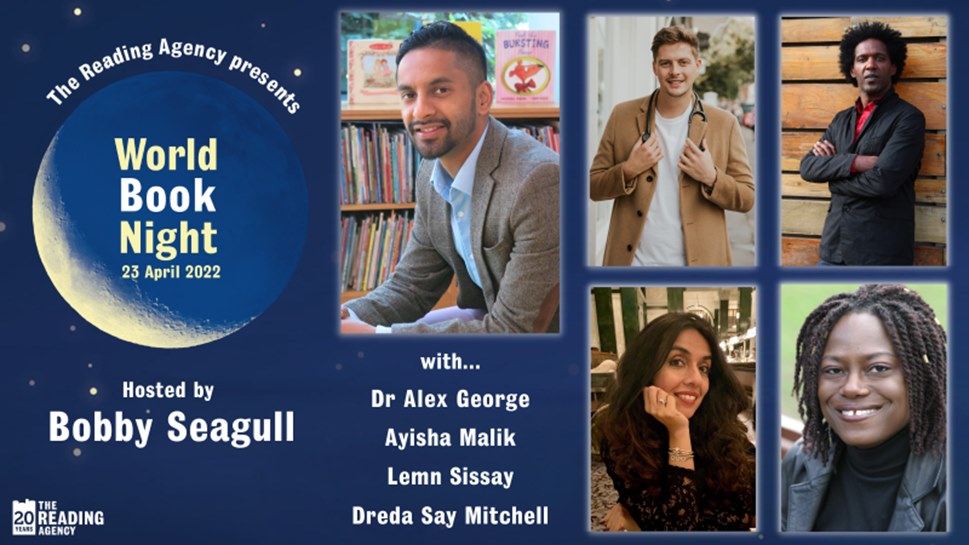 You're invited to join us on 23 April for a night of celebrating stories! We'll be live at the British Library with our host Bobby Seagull and special guests Dr Alex George, Ayisha Malik, Lemn Sissay and Dreda Say Mitchell.
They'll be talking about what inspires them to share their stories, and the stories that have shaped their lives.
This is an evening you won't want to miss!
You can watch this hybrid event either in-person at the British Library or online from around the world. Find out more and get your ticket now.
Ms Kelly
LRC
Greek Theatre Players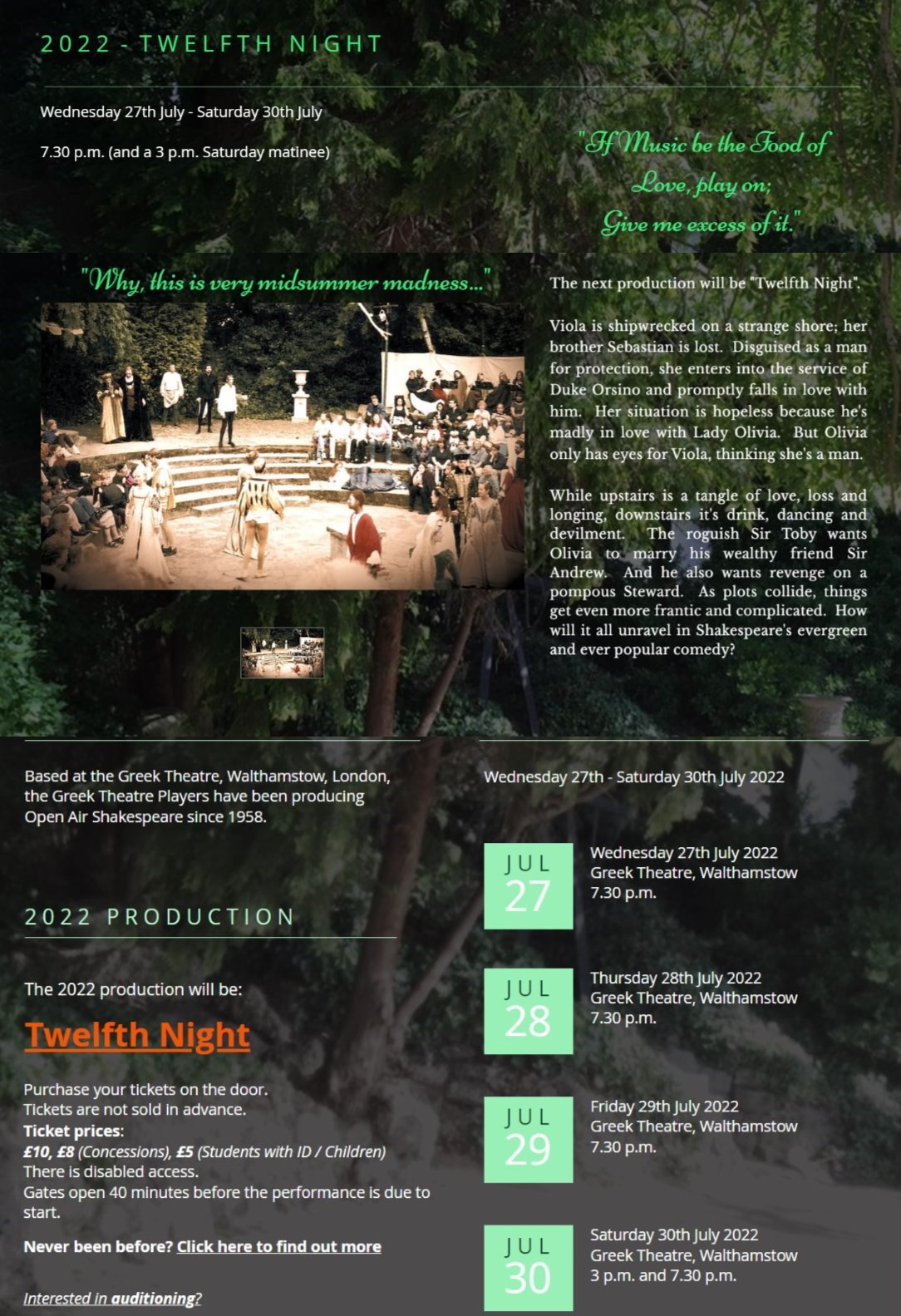 NETBALL - Phoenix Falmes NC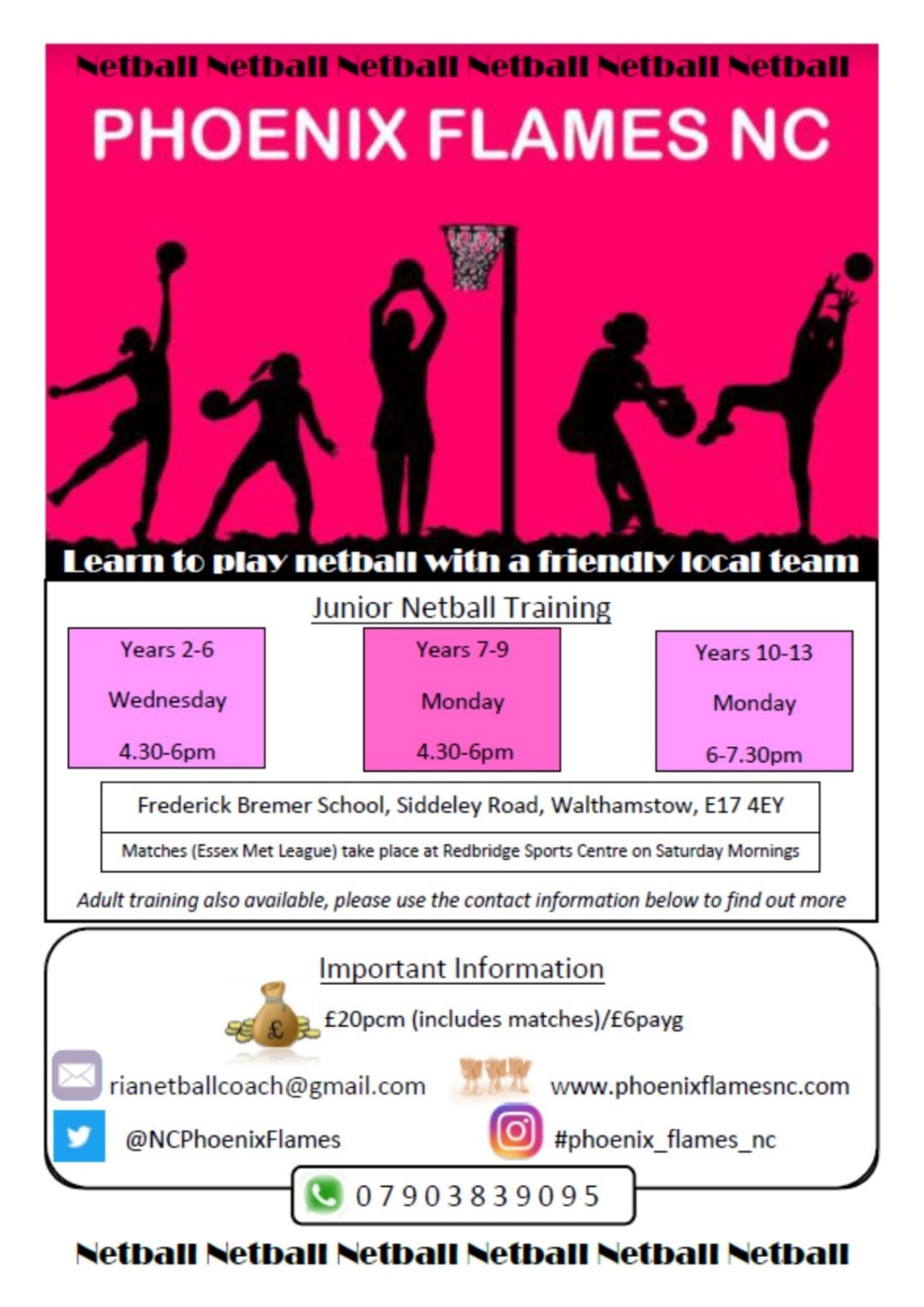 Book a Tea & Chat event at the William Morris Gallery
Book a Tea & Chat event at the William Morris Gallery
Mondays from 2 April 2022 to 26 June 2022
Are you part of a community group or charity working with older people in Waltham Forest or one of our neighbouring boroughs?
To celebrate Althea McNish: Colour is Mine we're organising 'Tea & Chat' events every Monday for the duration of the exhibition. They're an opportunity to visit the Gallery at a quieter time and enjoy the exhibition at a different pace. The events will include a tour of the exhibition with one of our curators, followed by tea, coffee and refreshments, all FREE of charge. There will be an opportunity to chat about the exhibition and Althea McNish's life and work.
If you would like to attend with a group, please email: wmg.enquiries@walthamforest.gov.uk and we'll be in touch about availability and to help with any access needs that you might have.
Essex Young Musician of the Year
We are delighted to launch the 2022 Essex Young Musician of the Year Competition.
The competition aims to support and encourage young Essex musicians of talent and potential – this year marks the 37th competition.
The Essex Young Musician of the Year competition is open to instrumentalists (not organists due to the lack of a suitable instrument) and singers, aged 25 or under on the 3rd July 2022, who were either born in Essex (including the old Essex towns of Ilford, Wanstead and Woodford), whose home address is in Essex, or who attend or have attended school or college in Essex.
FIRST PRIZE £1,000, The Essex Young Musician of the Year cup to hold for one year and the offer of recital engagements. 

ADDITIONAL CASH PRIZES will also be awarded to other prize winners.

TWO PRIZES will also awarded to the two candidates under 19, not already prize winners in the 2022 competition, who have given the most outstanding performances in their age group.
Full details are in the prospectus which can also be downloaded from the club's website: www.ongarmusicclub.org.uk.
Applications are made online through the website.
The closing date for entries is the 31st May 2022.
Thank you so much for any help you can offer in promoting this competition.
Best wishes,
Jane Webster FRAM (Shinn)
Chairman, Ongar Music Club
Web: www.ongarmusicclub.org.uk
Facebook: facebook.com/OngarMusicClub
Registered Charity No. 273185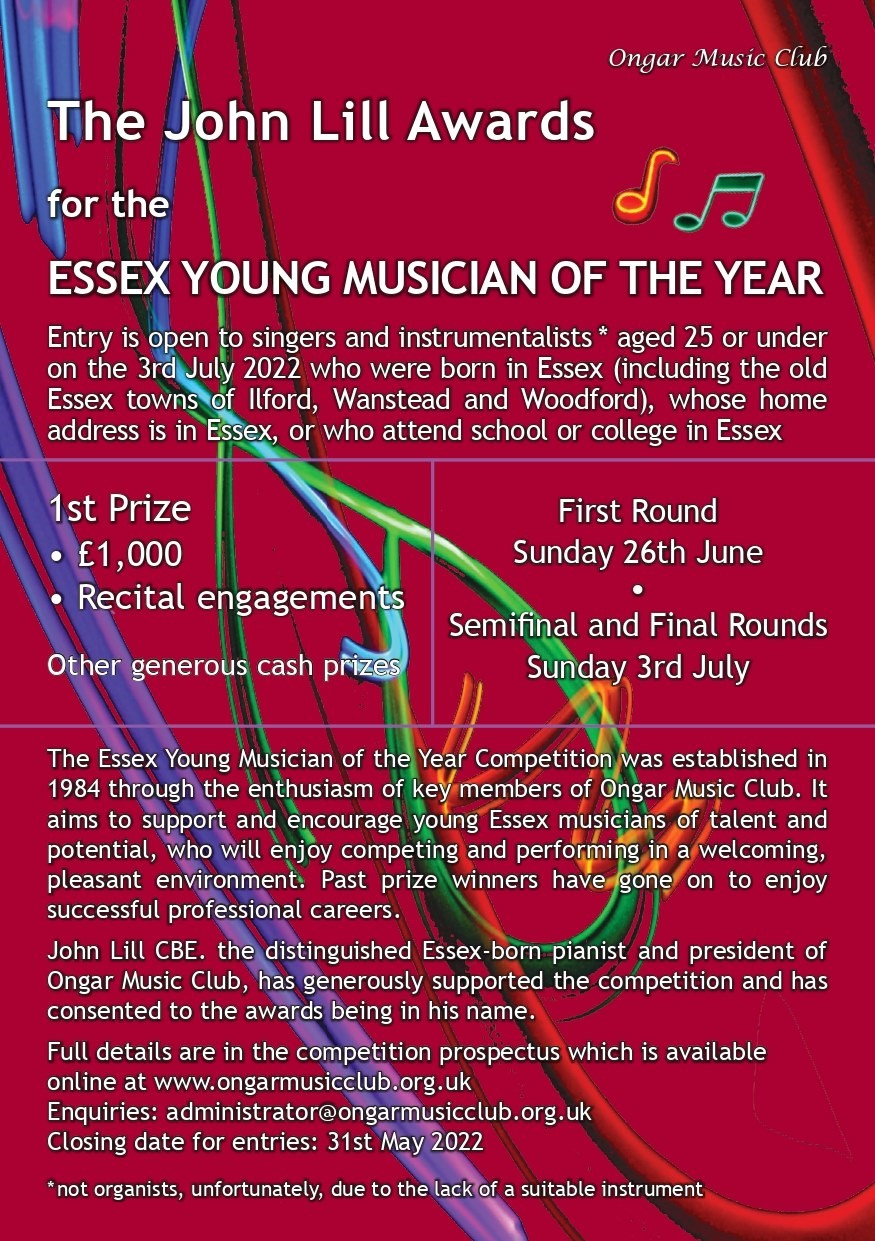 The Step into Dance Ambassador Scheme
The Step into Dance Ambassador Scheme provides talented and enthusiastic young people with the opportunity to learn new skills that will equip them to support a range of events, projects and performances we run throughout the academic year.
Through a series of regular training sessions, the scheme offers practical classes in a range of different dance styles & explores careers within dance the industry. Young people will develop their leadership skills and gain confidence in public, all whilst completing the Bronze Arts Award.
Students can apply online now using our application form
Students can also apply to attend a free audition workshop for one of our Step Companies, who meet every Sunday during term time at Royal Academy of Dance Headquarters.
Our companies offer a more serious experience, reflecting the professional expectations students will encounter if they continue to train in dance. Of course, they'll also have fun, perform, meet friends, and benefit from the positive physical and mental health outcomes we know dance provides!
We are currently recruiting dancers for two companies:
Street: An exciting company opening up the rich and diverse art form of street dance and offering weekly training in its many techniques and principles.
Contemporary: Focusing on contemporary dance techniques this company offers the opportunity to build skills and confidence in a range of techniques, including floor-based work and release, and to develop artistry.
Audition workshops will take place at RAD headquarters on Sunday 26 September, and students can register to attend now.
Royal Academy of Dance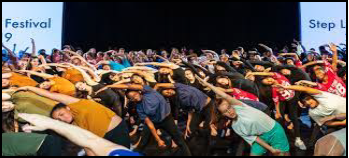 36 Battersea Square
London
SW11 3RA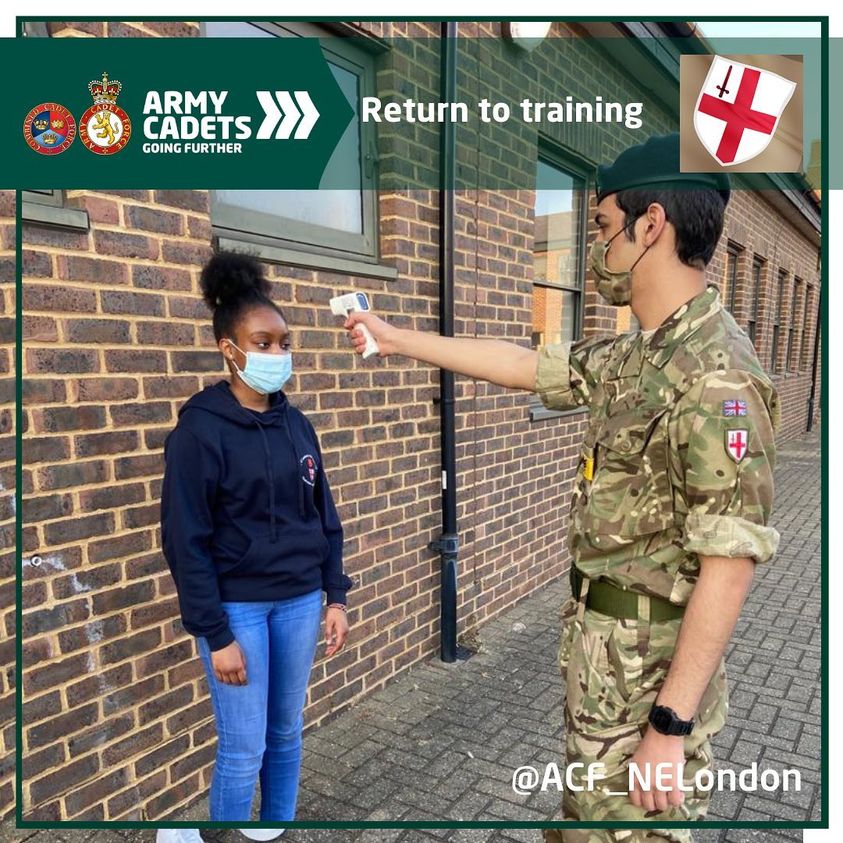 Are you aged 12-18 in Year 8 or above? Do you want to join the Army Cadets?
As the COVID restrictions are being lifted, we will start to return to detachments from tonight initially with a full return to normal parade nights from Monday 26th April!
If you're interested in joining us please go to armycadets.com and click join now! #armycadetsu
---
10 CADET DET COD
900 Lea Bridge Road, Walthamstow, London E17 9DW
PARADE TIMES
Wednesday: 1930-2130
Fashion Retail Academy Saturday Club

Overview

Age: 13 - 16 Year Olds

Start Date: September 2021

Club Duration: 30 Weeks

Day / Time: Saturday 10am - 2pm

Location: Fashion Retail Academy


Click here for more information!

Hear from our Previous Club Members!

"It's been really fantastic and really helped me decide that this is where I feel happy and what I want to move forward with as a career."

"Thank you Silvia and the rest of the FRA for teaching me. I have had the best time and am going to miss it."

A FREE 30 Week Programme for 13 - 16 Year Olds

The Fashion & Business Saturday Club is a 30-week journey for young people to experience the fashion industry and different roles within it.

Supported by the British Fashion Council, the club is aimed at providing young people with the opportunity to learn new disciplines and skills, whilst gaining important insights into the Industry and further study opportunities.

We aim to help students to grow in confidence, learn to take calculated risks, and experiment freely under the supervision of our experienced tutors, free from grades or assessment to support creative freedom. You will also have the chance to make new friends by belonging to a group of people with a shared interest.

Exciting topics covered are:

Inspiration and Research
Design Development and Fabric Identification
Pattern Development
Garment Construction
Illustration and Photography
Understanding principles of Visual Merchandising
Fashion styling/ Mannequin dressing
Effective marketing strategies
Inspiration for exhibition theme
Preparation for exhibition
Exhibition preparation
Launch of exhibition space
Fashion Retail Academy, 15 Gresse Street, London, W1T 1QL, United Kingdom
Local Village Network
This is a really useful app for students, with stacks of activities etc. to get involved in.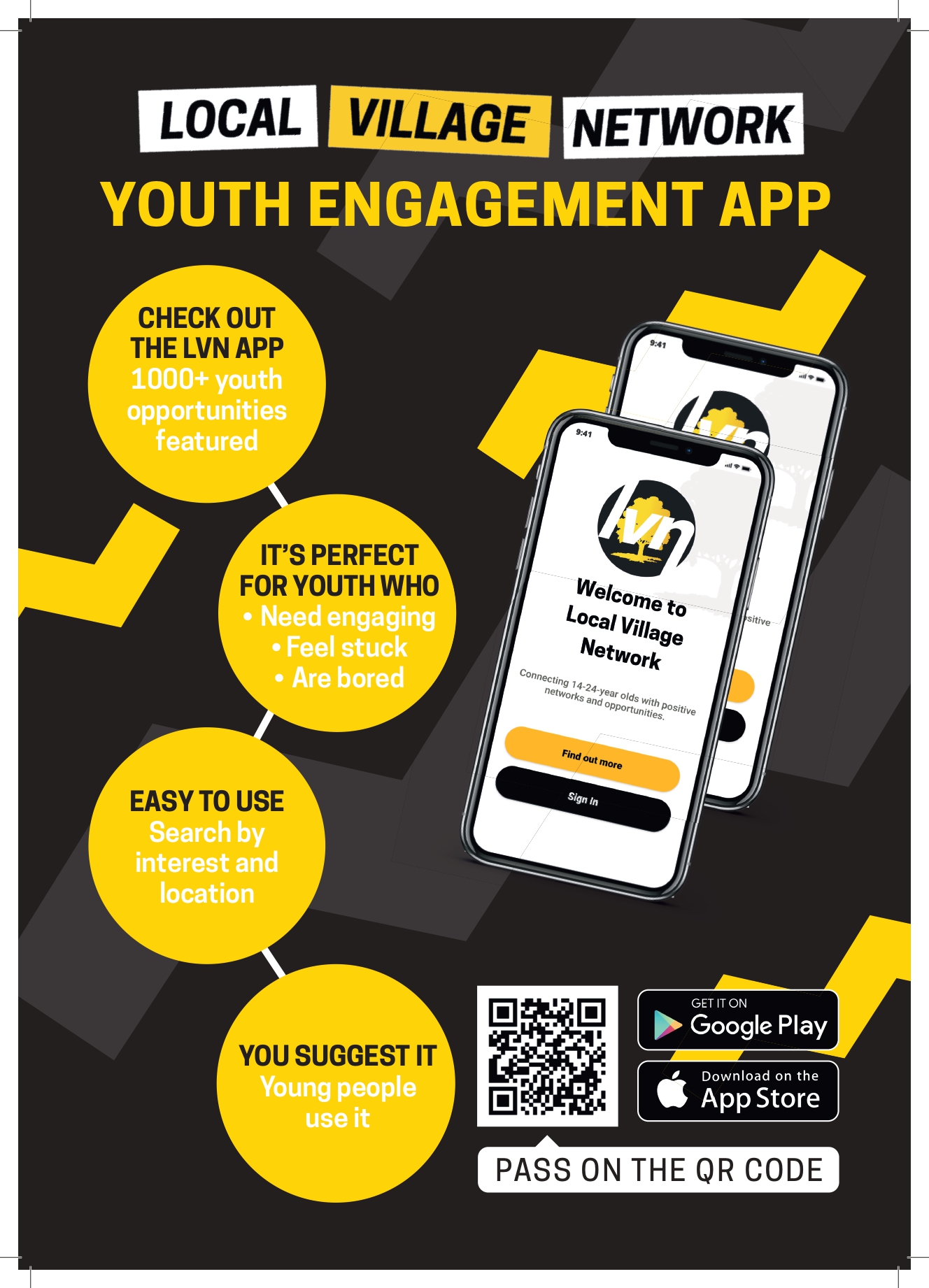 Click & Collect Library Books
WOOD STREET and WALTHAMSTOW LIBRARIES ARE
OFFERING A 'CLICK and COLLECT SERVICE!
Education Psychology Service Support for Parents/Carers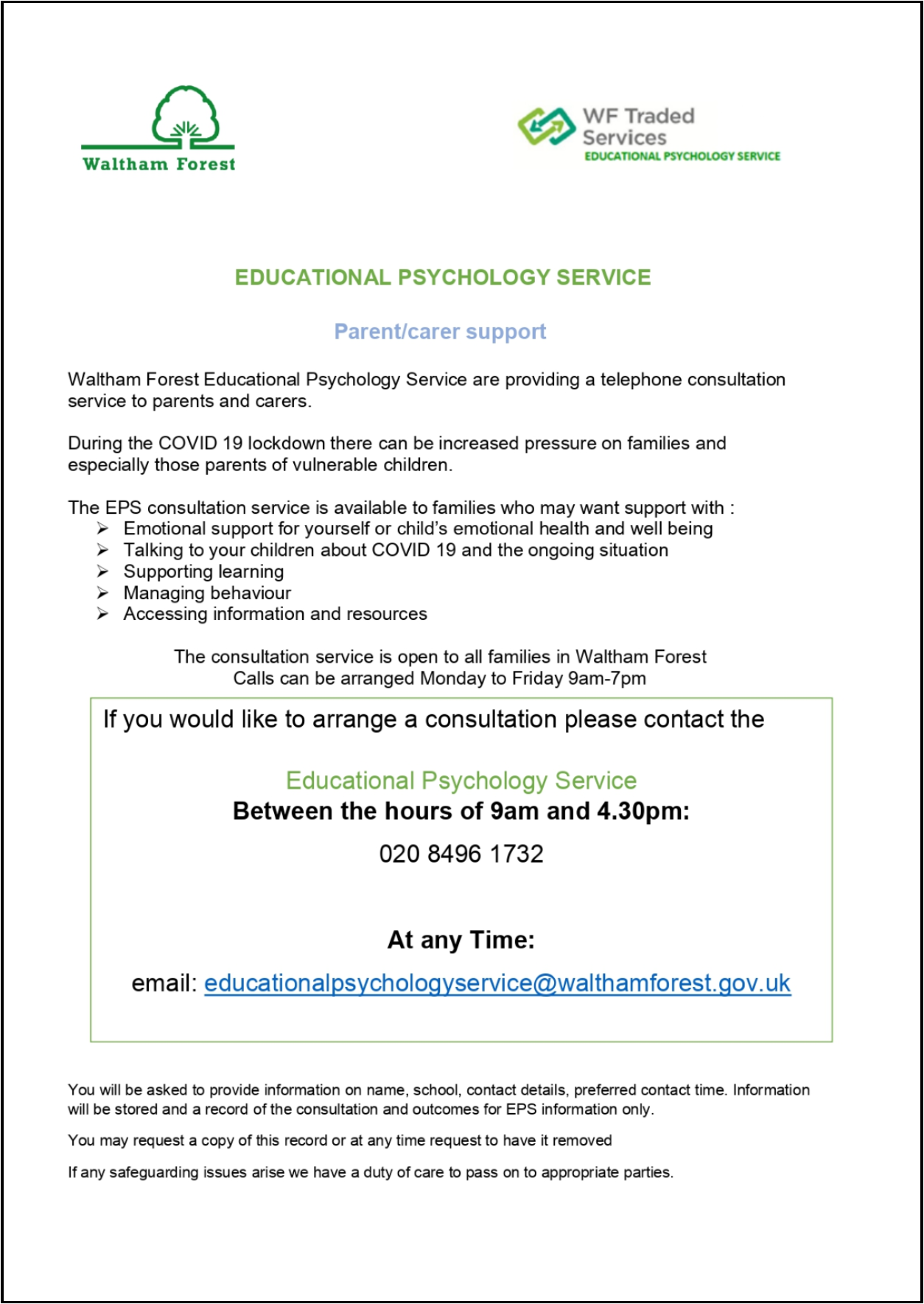 Waltham Forest Libraries Online Resources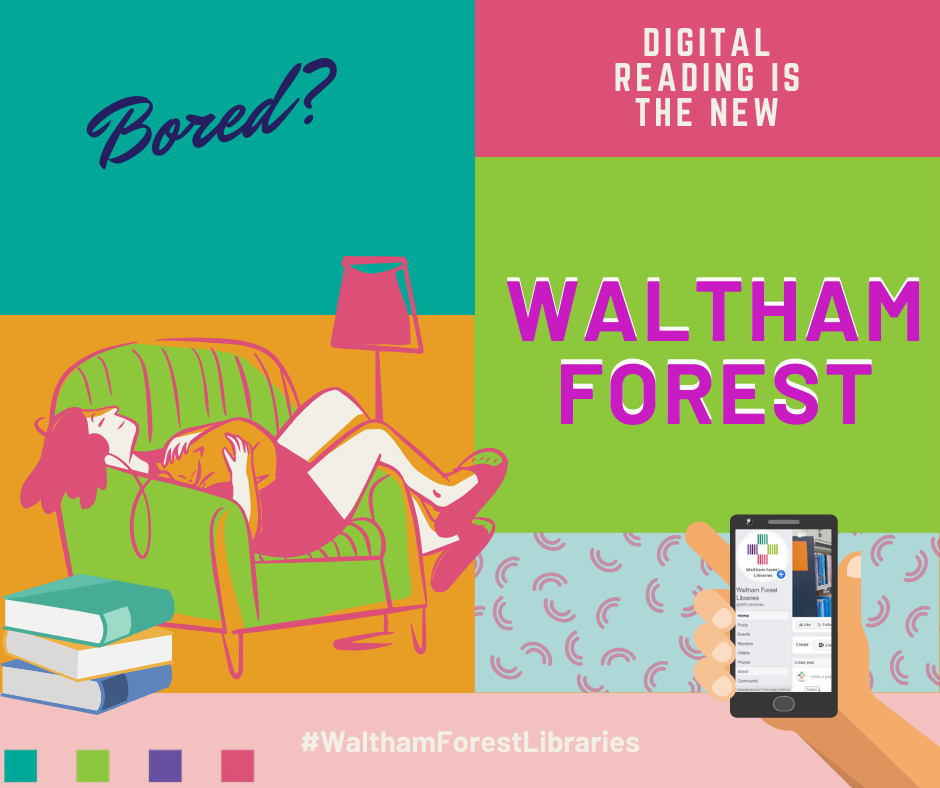 Feeling Bored?
Then why not log onto Waltham Forest Libraries and access our online resources?
Waltham Forest Libraries Website
Ziptales is an online literacy "library" designed for school, library, and home use. Ziptales has been a leader in the field of online literacy for more than 15 years.
It is based on the latest research about how children develop and sustain a love of reading. The Ziptales "library" was built by trained teachers with the express purpose of making reading a pleasurable and lifelong experience.
Stitch a Rainbow to Support the NHS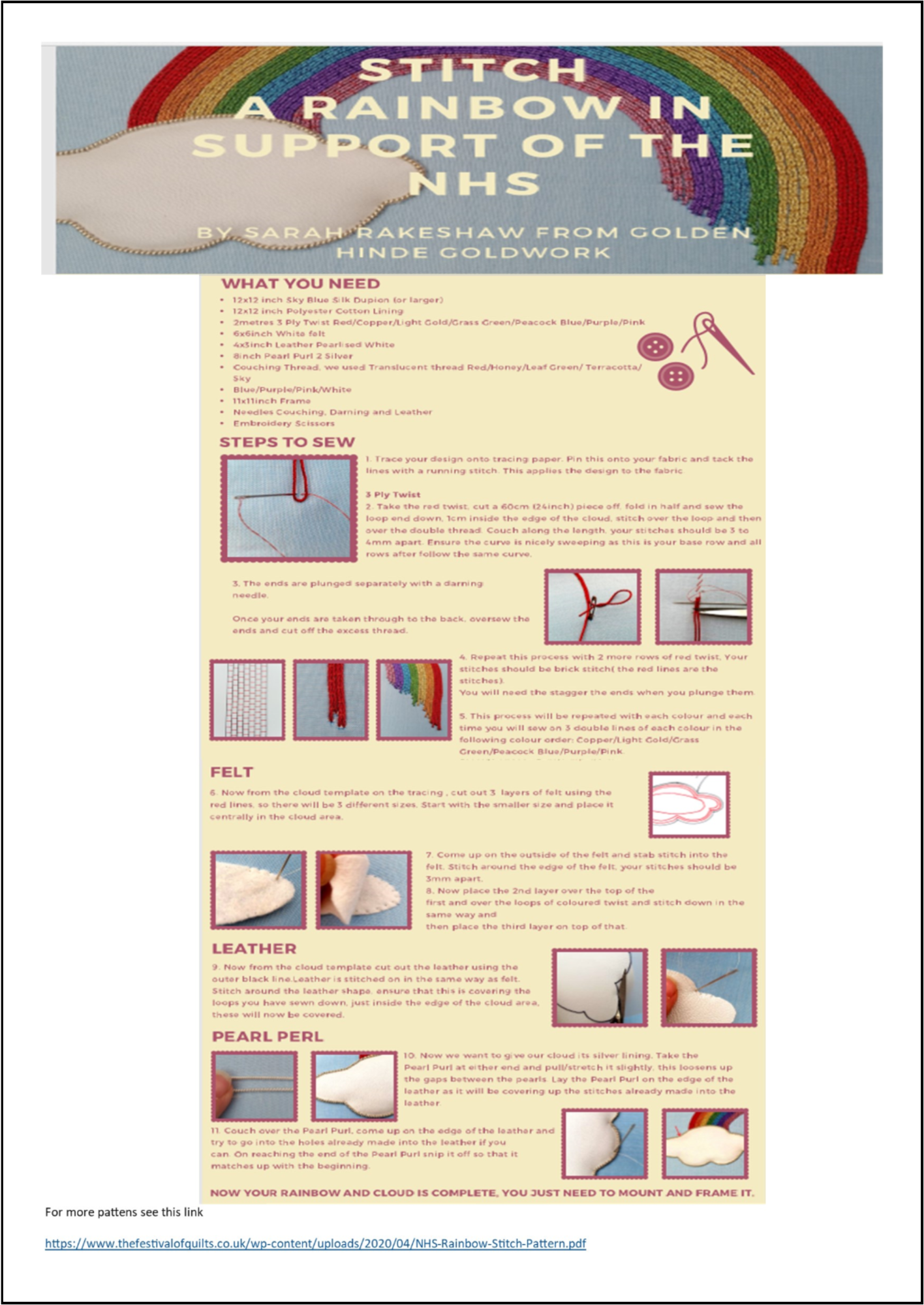 Waltham Forest Libraries

Waltham Forest Council offer library services online, meaning that you can access digital library resources from your own home. This includes newspapers, magazines, e-Books and audiobooks.

You can find out more here about the range of resources on offer.

Our library staff will email you a validated membership number within two hours (during business hours).

If you already have library books at home, they will be renewed until the libraries open again.
Mrs Kelly
Learning Resource Centre
English Language ESOL Advice Service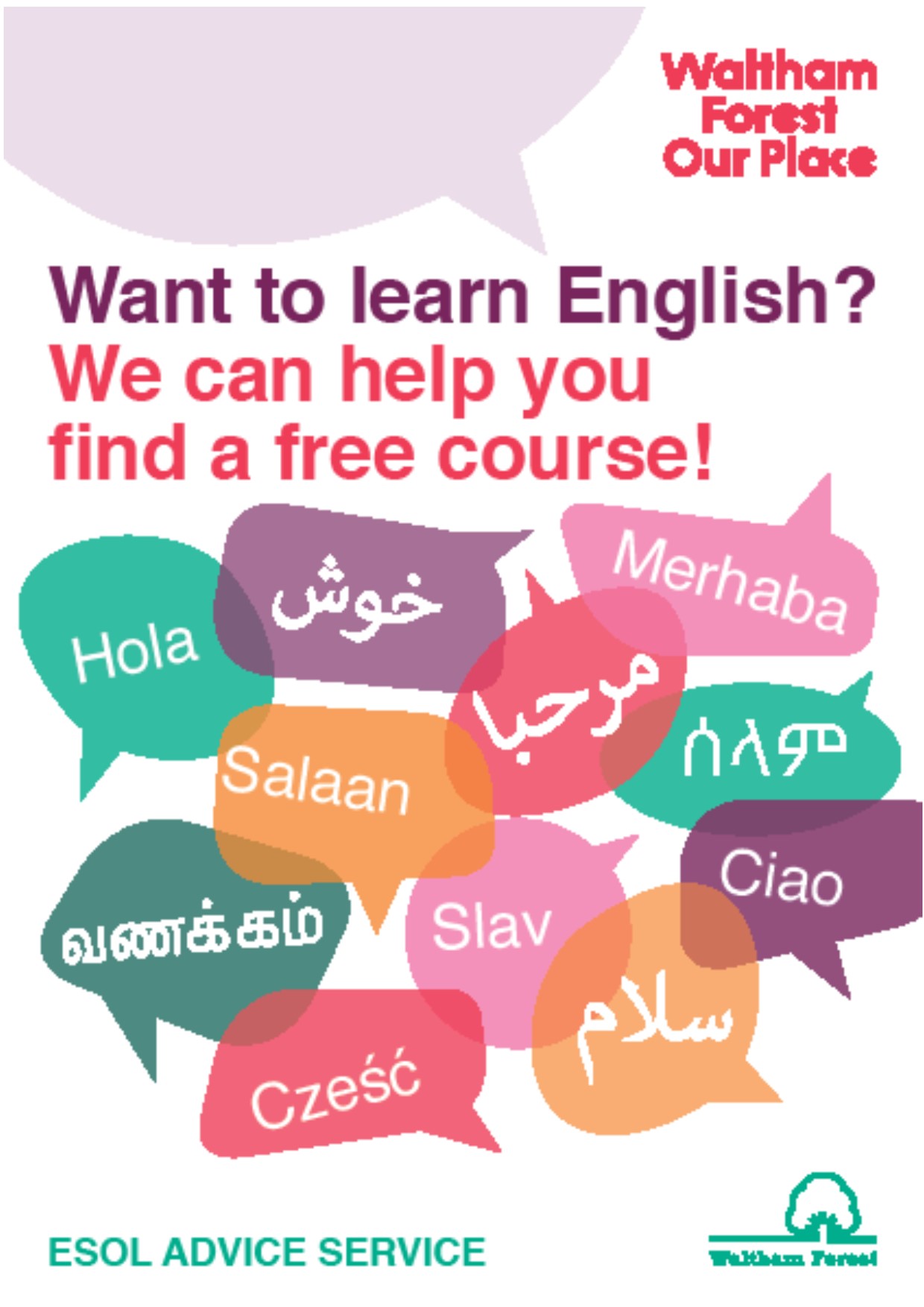 Free Football and Boxing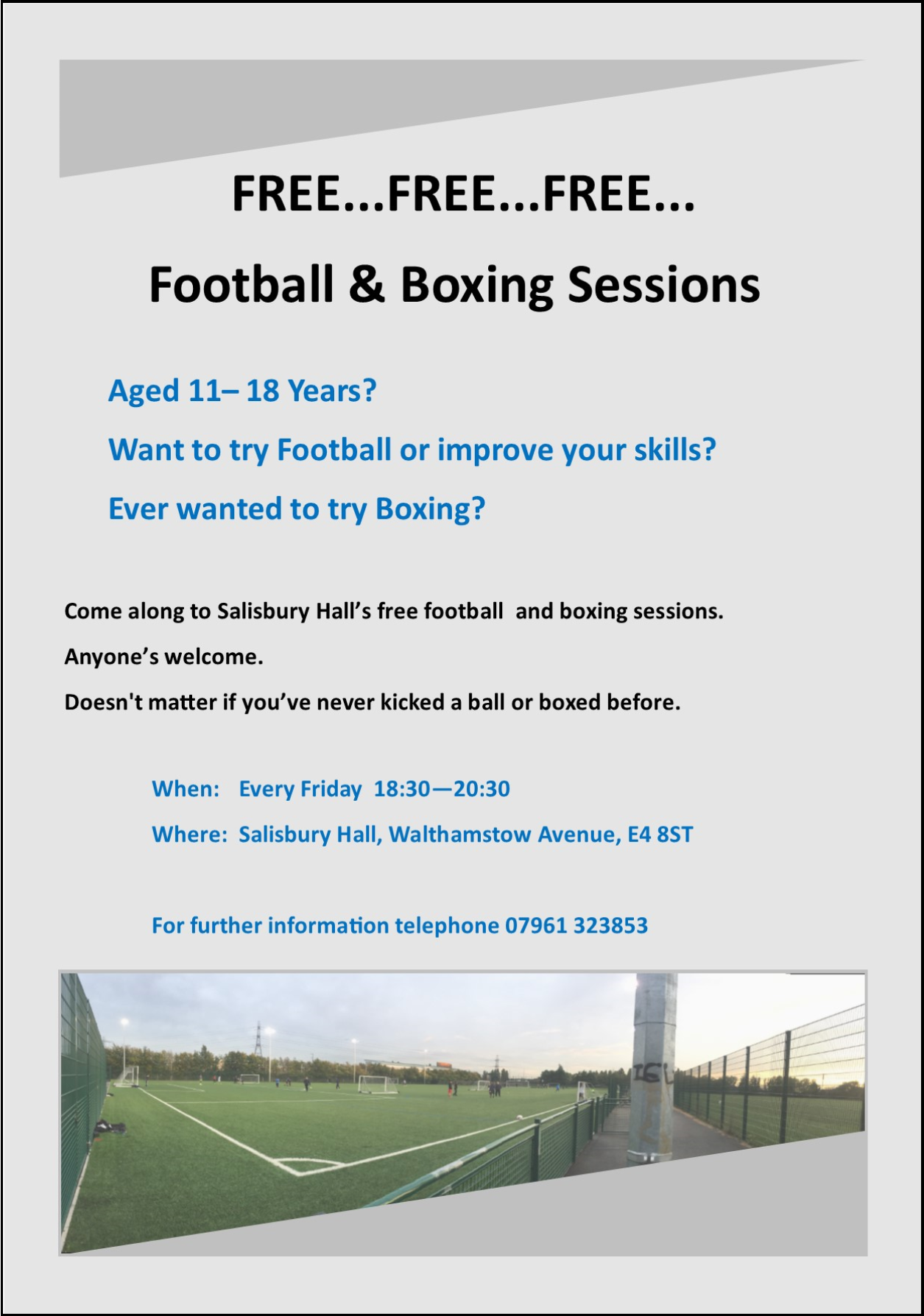 Walthamstow Wetlands

Walthamstow Wetlands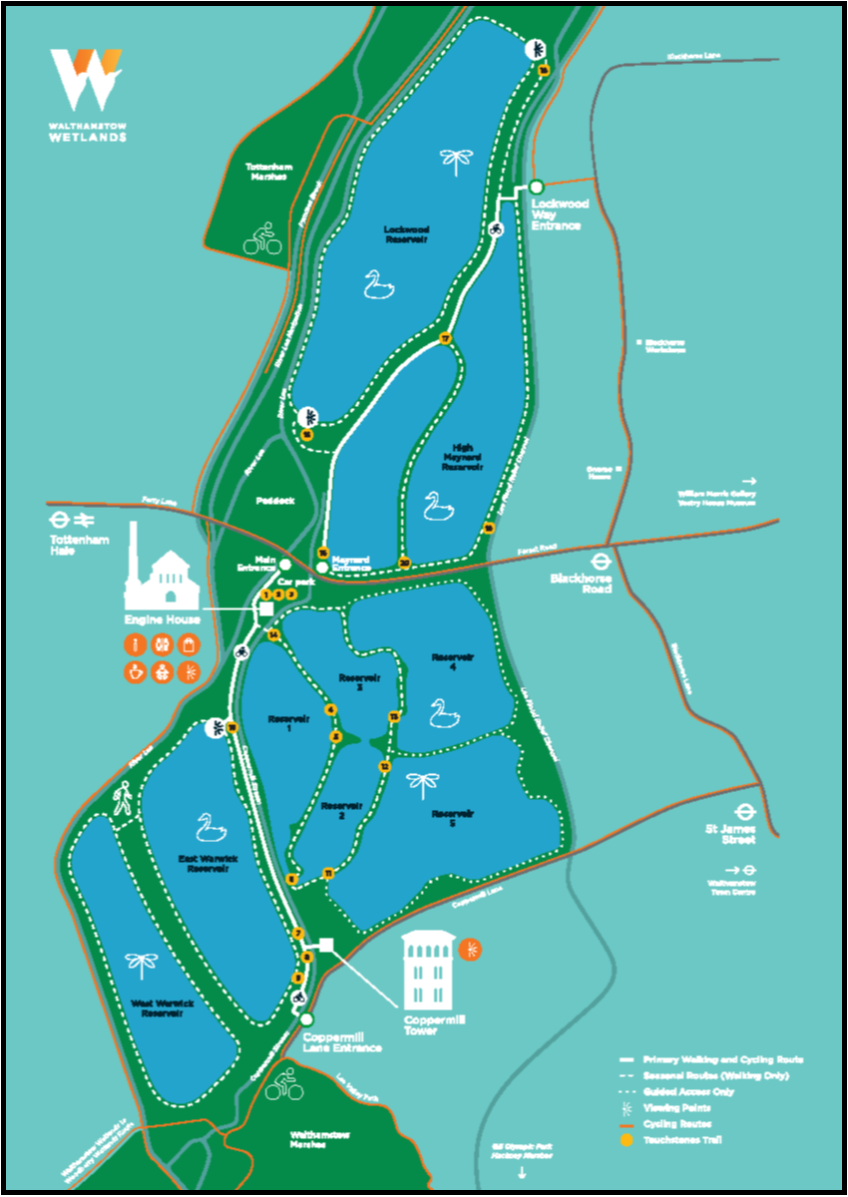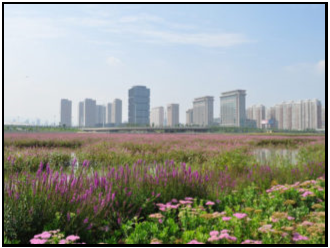 Walthamstow Wetlands is now open - see their website for further details
Walthamstow Wetlands is open seven days a week between 9.30am and 4pm (October to March), between 9.30am and 5pm (April to September).
The Visitor Centre and Café situated in the Marine Engine House are open daily 9.30am to 4pm (October to March); 9.30am to 5pm (April to September).
The main entrance to Walthamstow Wetlands is at 2 Forest Road, London N17 9NH.