Events in our School, Local & Wider Community
Please see below for events and activities that may be of interest to students, parents/carers, staff and other members of our school community
Waltham Forest Young Advisors are Recruiting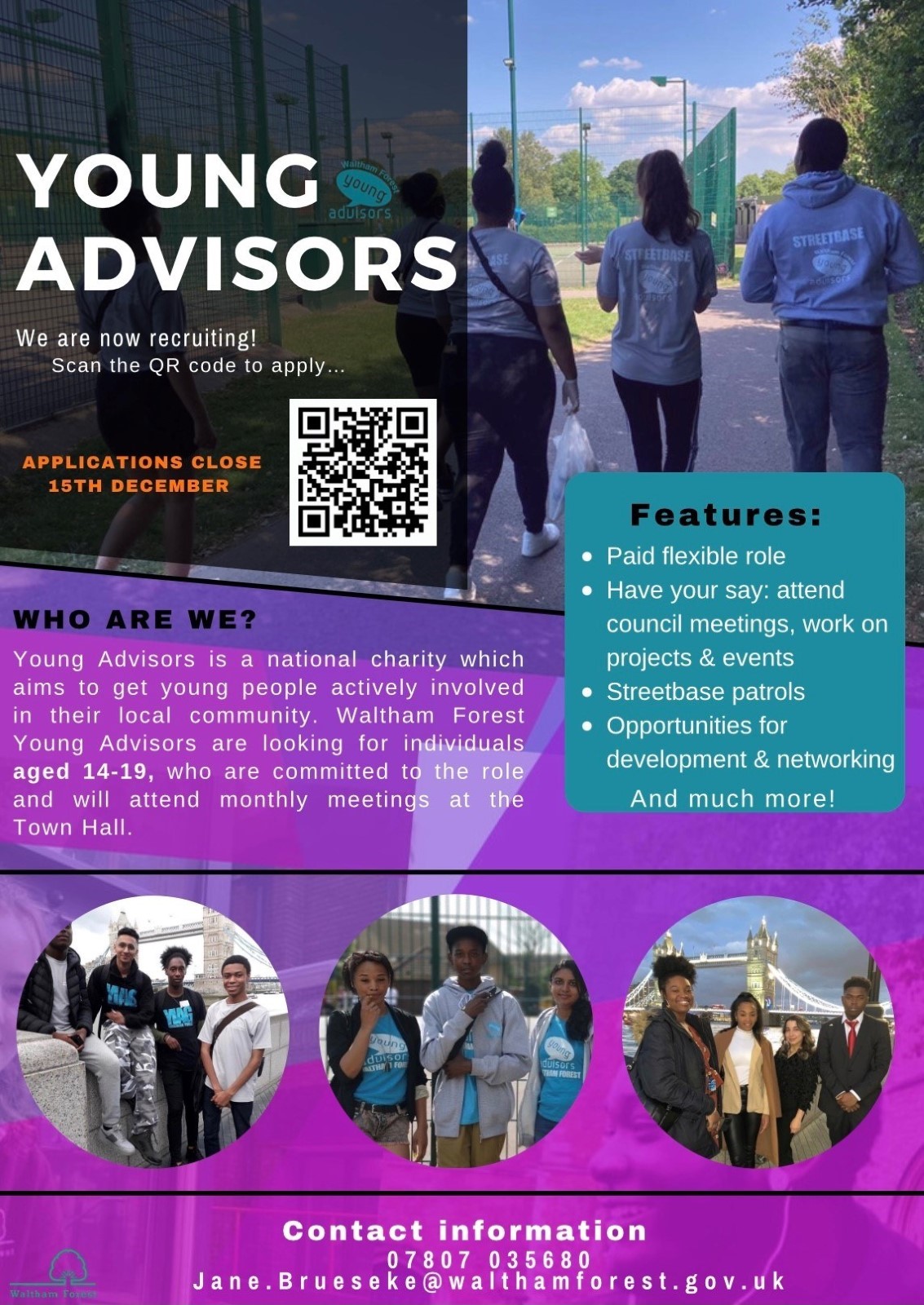 Christmas Concert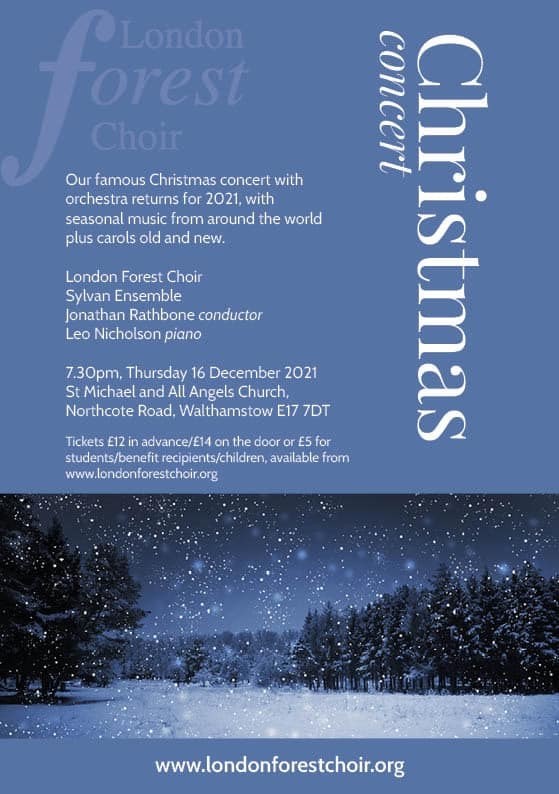 Drama - National Theatre Workshop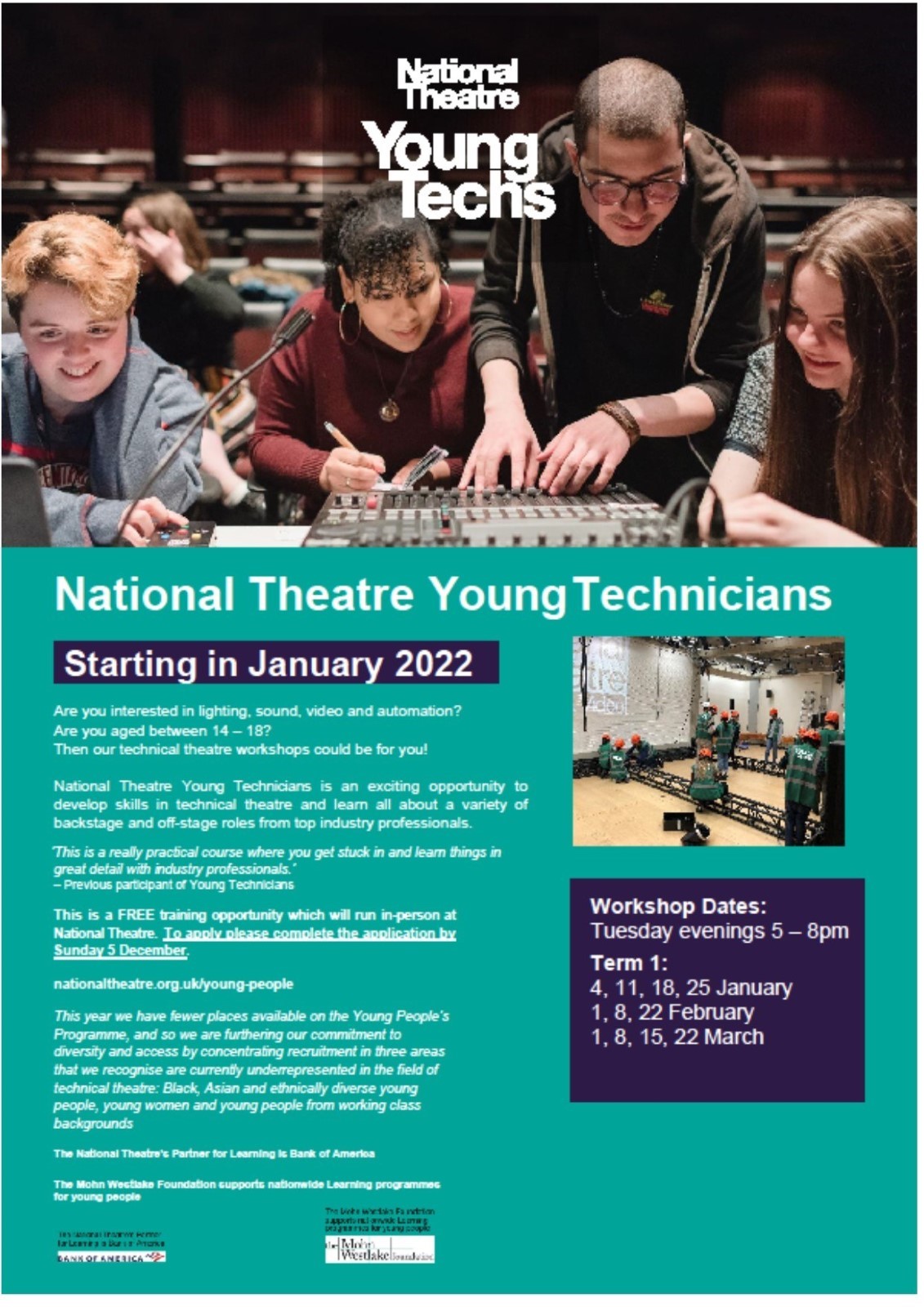 Uproot Production Company
My name is Georgia I am a freelance producer at Uproot Production Company.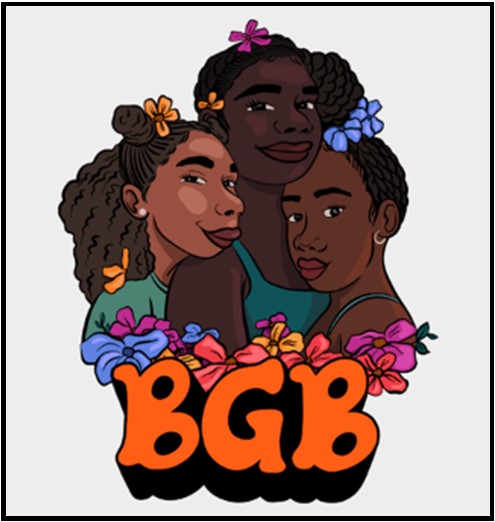 I'd like to share details of an upcoming programme that we're launching to see if any of your students may be interested in getting involved.
Black Girl Blues is a 10 week online, arts-centred wellbeing programme for Black girls in Year 9 across the UK.
The programme aims to use the arts as a tool for connection and community, where young girls will learn new arts skills and understand how to support their wellbeing. Sessions will include self-care practices, creative writing, a film club and much more!
We will be running the programme over Zoom on Tuesdays from 5:30pm-7:30pm from
Tuesday 12th October – Tuesday 14th December (with a break week for half term on Tuesday 26th October).
The sessions will be facilitated by a range of experienced arts practitioners who work within the arts and wellbeing sector, and who also hold a valid DBS.
The programme is co-created and led by Natasha Brown and Abigail Sewell and produced by myself, and we are generously supported by Arts Council England.

Eligibility:
· Black girls starting Year 9 in September 2021 (13 - 14 years old)
· Living in the U.K
· Can speak and understand English
· Are able to work with others in a group setting
· Are able to work appropriately and safely online (accessing Zoom)
Application details:
We are accepting self referrals for anyone that is eligible to apply until 5pm on Tuesday 28th September.
For further information and apply here - https://www.uprootprod.co.uk/bgb.
If you have any questions or would like to set up a call to find out more, please don't hesitate to contact me.
Many thanks,
Georgia
Georgia Dodsworth (She/Her)
Freelance Producer on Black Girl Blues - find out more here!
Big Youth Conversation — 2021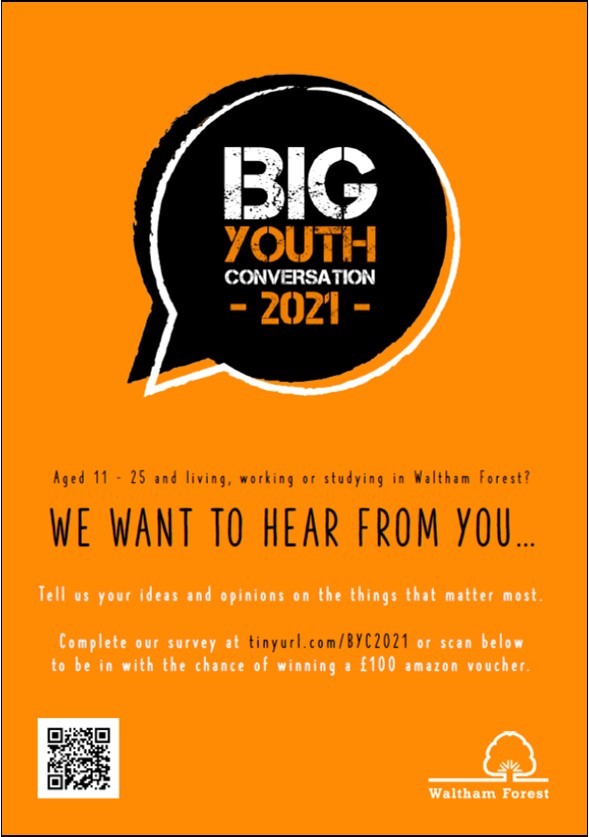 Step Into Dance
The Step into Dance Ambassador Scheme provides talented and enthusiastic young people with the opportunity to learn new skills that will equip them to support a range of events, projects and performances we run throughout the academic year.
Through a series of regular training sessions, the scheme offers practical classes in a range of different dance styles & explores careers within dance the industry. Young people will develop their leadership skills and gain confidence in public, all whilst completing the Bronze Arts Award.
Students can apply online now using our application form
Students can also apply to attend a free audition workshop for one of our Step Companies, who meet every Sunday during term time at Royal Academy of Dance Headquarters.
Our companies offer a more serious experience, reflecting the professional expectations students will encounter if they continue to train in dance. Of course, they'll also have fun, perform, meet friends, and benefit from the positive physical and mental health outcomes we know dance provides!
We are currently recruiting dancers for two companies:
Street: An exciting company opening up the rich and diverse art form of street dance and offering weekly training in its many techniques and principles.
Contemporary: Focusing on contemporary dance techniques this company offers the opportunity to build skills and confidence in a range of techniques, including floor-based work and release, and to develop artistry.
Audition workshops will take place at RAD headquarters on Sunday 26 September, and students can register to attend now.
Royal Academy of Dance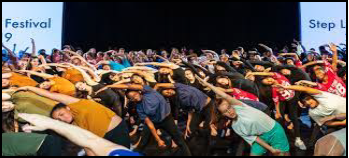 36 Battersea Square
London
SW11 3RA
Free Gardening Course
Beginners Gardening Course
Have you ever wanted to learn about gardening,
but didn't know where to start?
Starting on September 16th 2021, from 18.30-20.30,
there will be a free 8-week course run by professional
Head Gardener, Tim Hewitt,
at St Mary's Church,
Walthamstow.
Spaces are limited
So, if you are:
· 16 or older in September
· Able to come every Thursday for 8 weeks from September 16th
· Keen to learn
You can apply by email to timhewittgardener@gmail.com
Who knows, it might lead to a great career in horticulture!
Army Cadets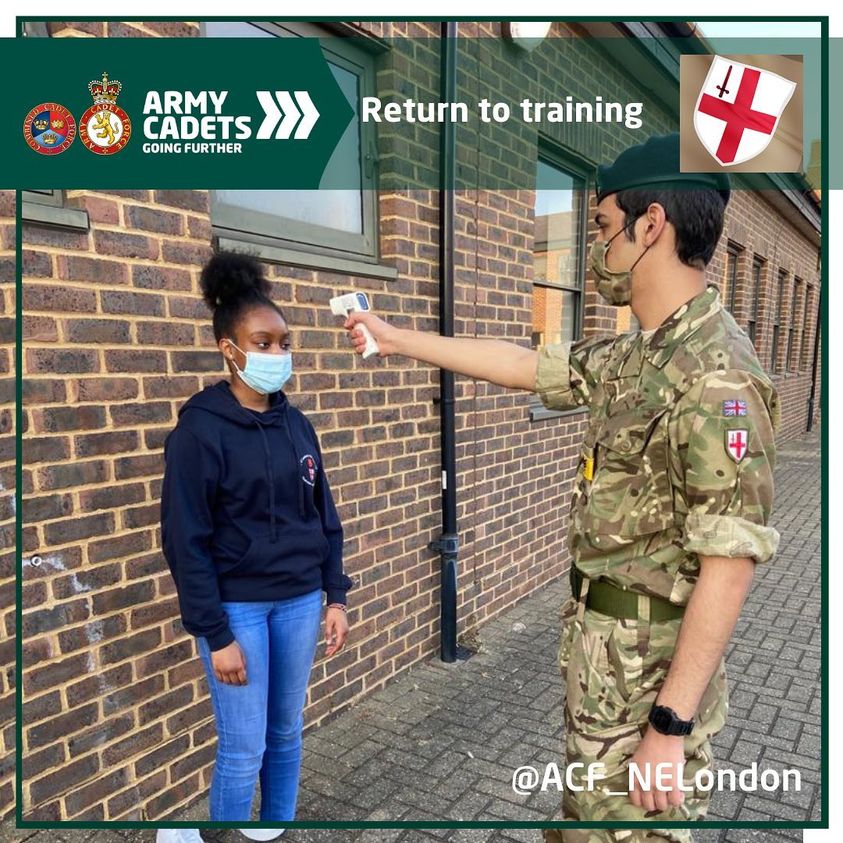 Are you aged 12-18 in Year 8 or above? Do you want to join the Army Cadets?
As the COVID restrictions are being lifted, we will start to return to detachments from tonight initially with a full return to normal parade nights from Monday 26th April!
If you're interested in joining us please go to armycadets.com and click join now! #armycadetsu
---
10 CADET DET COD
900 Lea Bridge Road, Walthamstow, London E17 9DW
PARADE TIMES
Wednesday: 1930-2130
Fashion Retail Academy Saturday Club

Overview

Age: 13 - 16 Year Olds

Start Date: September 2021

Club Duration: 30 Weeks

Day / Time: Saturday 10am - 2pm

Location: Fashion Retail Academy


Click here for more information!

Hear from our Previous Club Members!

"It's been really fantastic and really helped me decide that this is where I feel happy and what I want to move forward with as a career."

"Thank you Silvia and the rest of the FRA for teaching me. I have had the best time and am going to miss it."

A FREE 30 Week Programme for 13 - 16 Year Olds

The Fashion & Business Saturday Club is a 30-week journey for young people to experience the fashion industry and different roles within it.

Supported by the British Fashion Council, the club is aimed at providing young people with the opportunity to learn new disciplines and skills, whilst gaining important insights into the Industry and further study opportunities.

We aim to help students to grow in confidence, learn to take calculated risks, and experiment freely under the supervision of our experienced tutors, free from grades or assessment to support creative freedom. You will also have the chance to make new friends by belonging to a group of people with a shared interest.

Exciting topics covered are:

Inspiration and Research
Design Development and Fabric Identification
Pattern Development
Garment Construction
Illustration and Photography
Understanding principles of Visual Merchandising
Fashion styling/ Mannequin dressing
Effective marketing strategies
Inspiration for exhibition theme
Preparation for exhibition
Exhibition preparation
Launch of exhibition space
Fashion Retail Academy, 15 Gresse Street, London, W1T 1QL, United Kingdom
Local Village Network
This is a really useful app for students, with stacks of activities etc. to get involved in.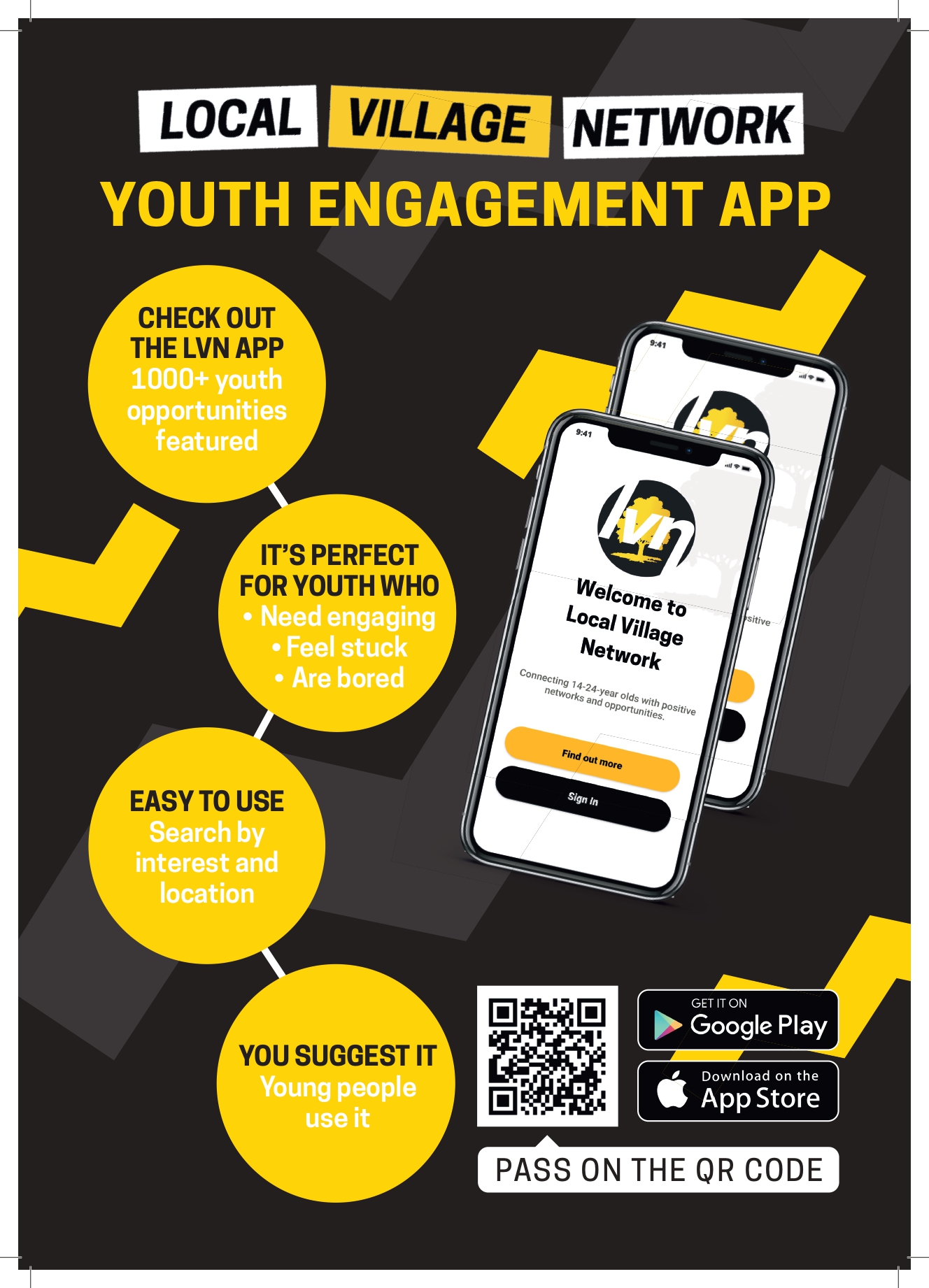 Click & Collect Library Books
WOOD STREET and WALTHAMSTOW LIBRARIES ARE
OFFERING A 'CLICK and COLLECT SERVICE!
Education Psychology Service Support for Parents/Carers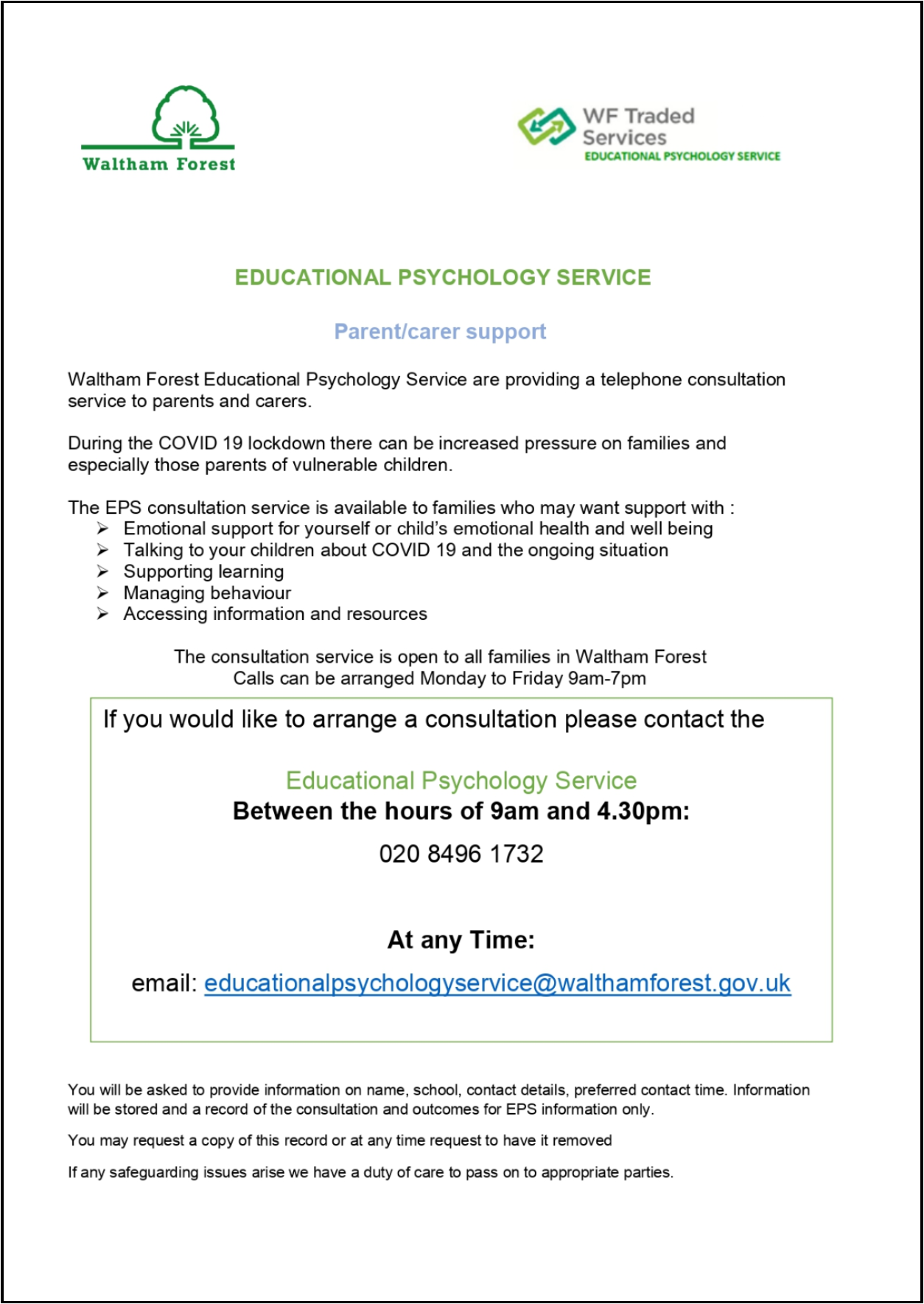 Waltham Forest Libraries Online Resources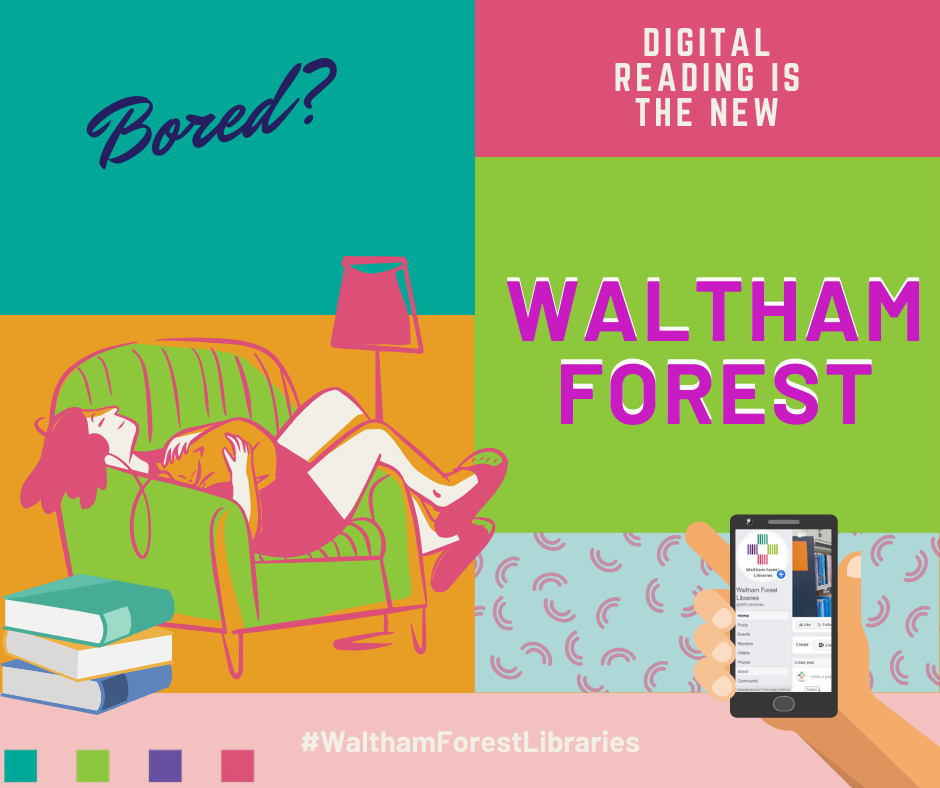 Feeling Bored?
Then why not log onto Waltham Forest Libraries and access our online resources?
Waltham Forest Libraries Website
Ziptales is an online literacy "library" designed for school, library, and home use. Ziptales has been a leader in the field of online literacy for more than 15 years.
It is based on the latest research about how children develop and sustain a love of reading. The Ziptales "library" was built by trained teachers with the express purpose of making reading a pleasurable and lifelong experience.
Stitch a Rainbow to Support the NHS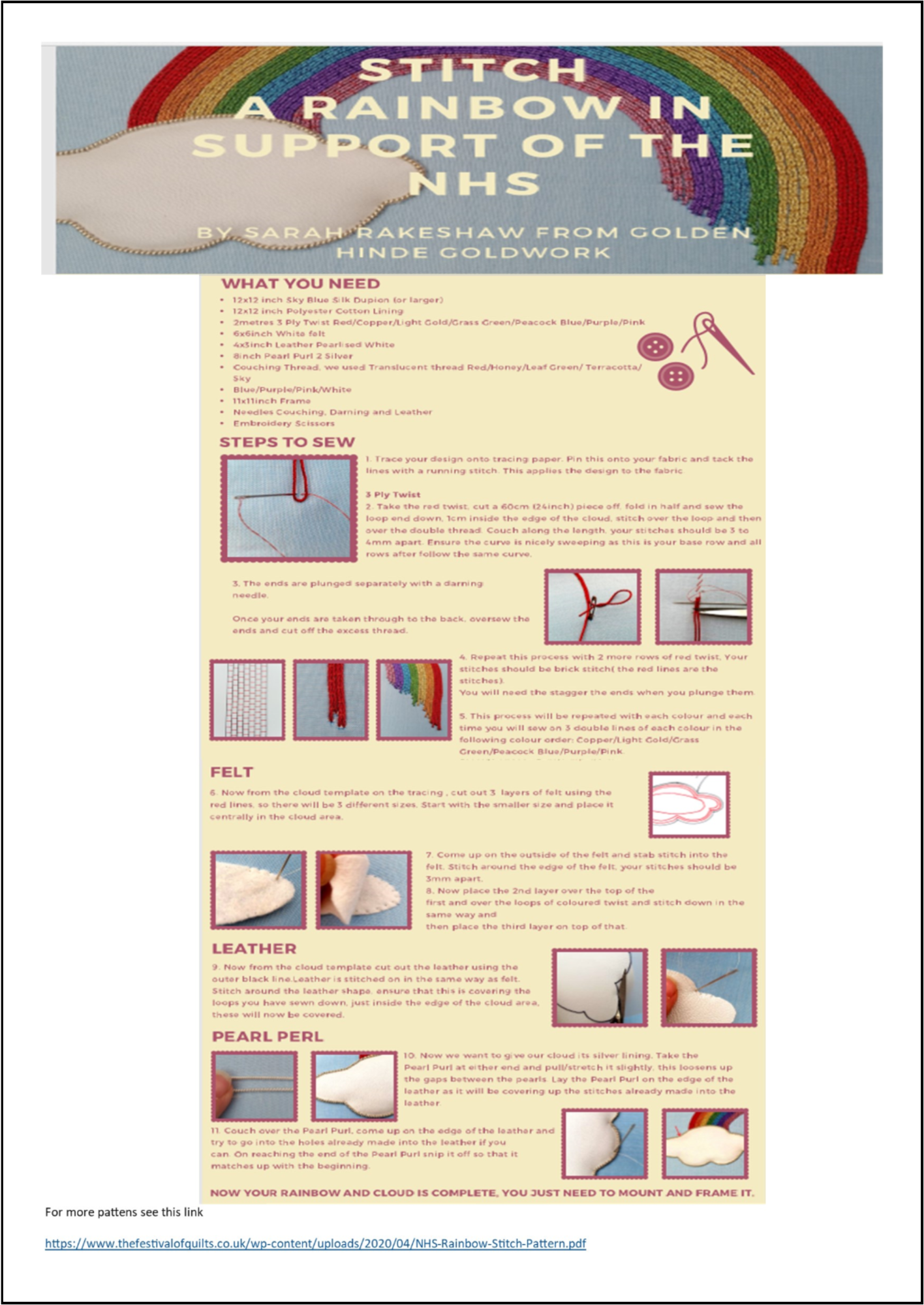 Waltham Forest Libraries

Waltham Forest Council offer library services online, meaning that you can access digital library resources from your own home. This includes newspapers, magazines, e-Books and audiobooks.

You can find out more here about the range of resources on offer.

Our library staff will email you a validated membership number within two hours (during business hours).

If you already have library books at home, they will be renewed until the libraries open again.
Mrs Kelly
Learning Resource Centre
Waltham Forest Youth Choir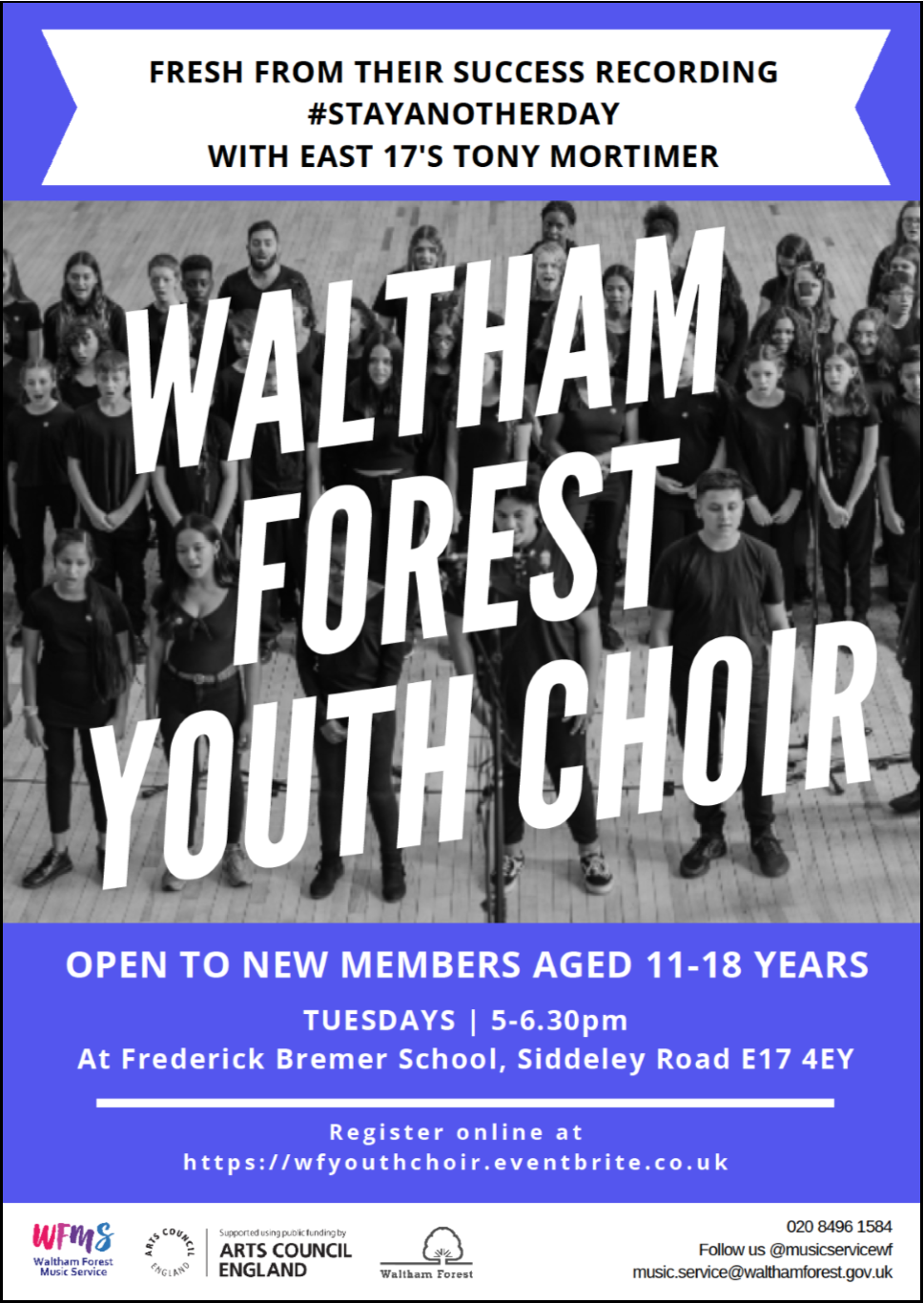 Kicks Football Coaching with Tottenham Hotspur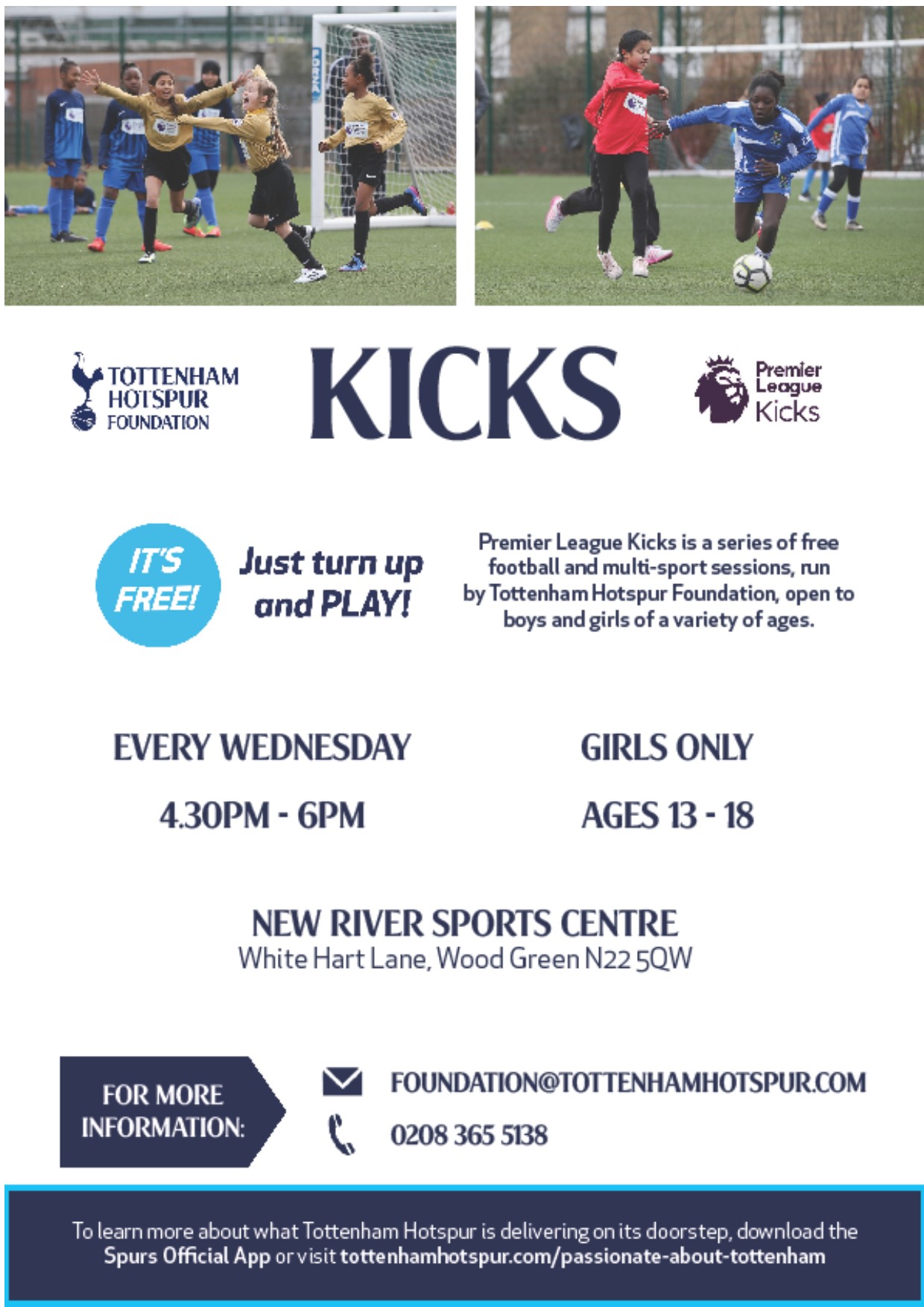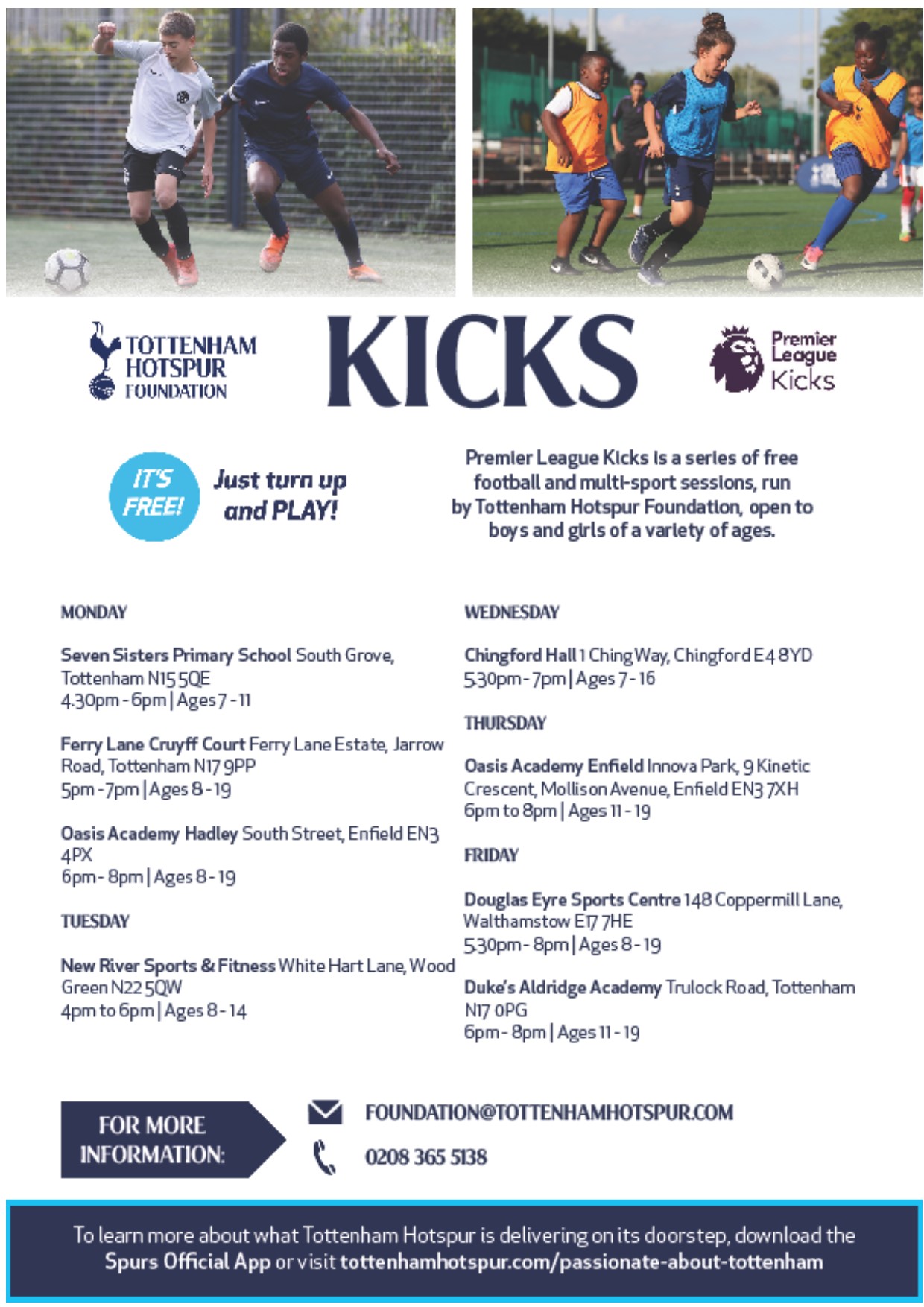 English Language ESOL Advice Service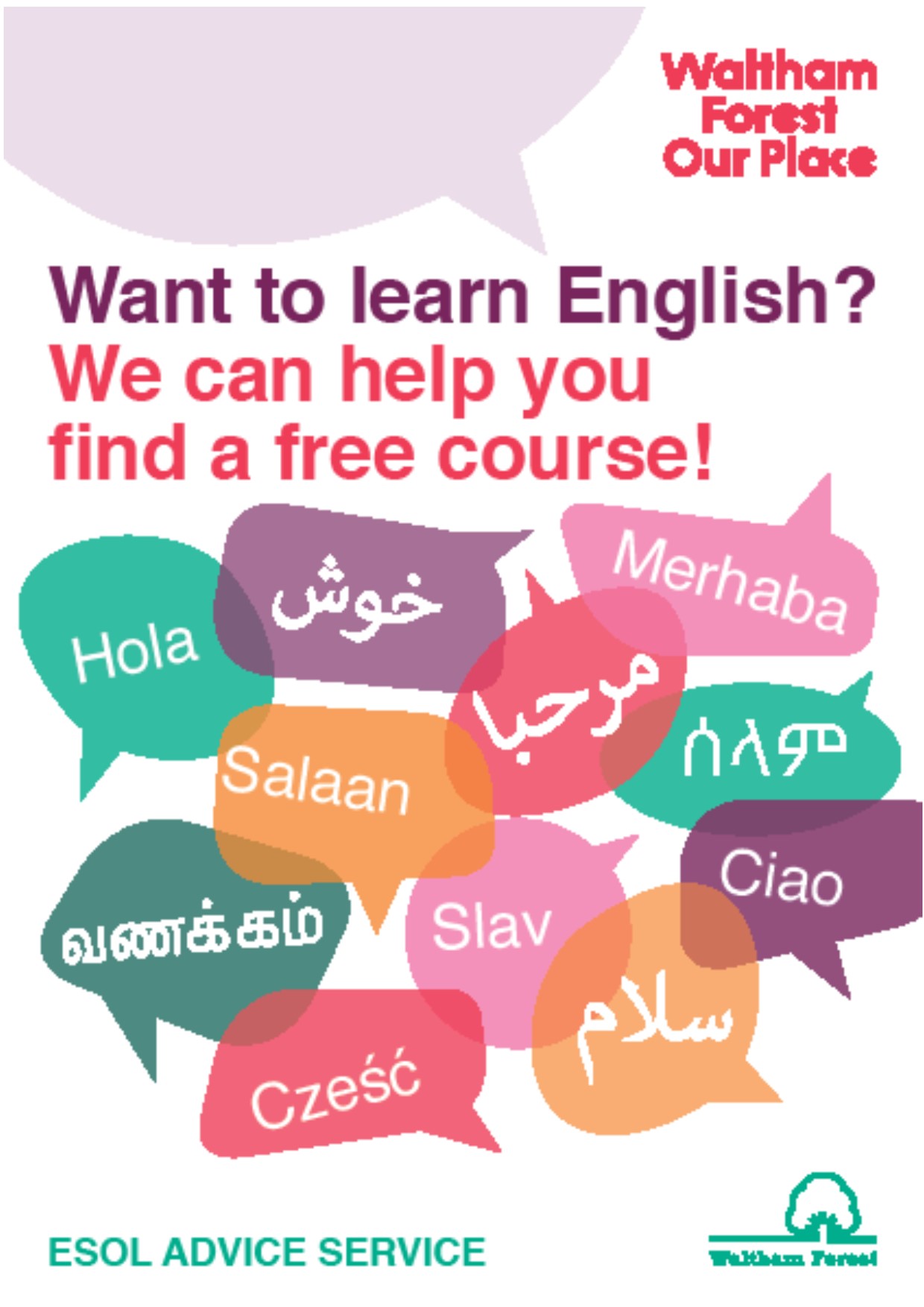 Phoenix Flames Children's Netball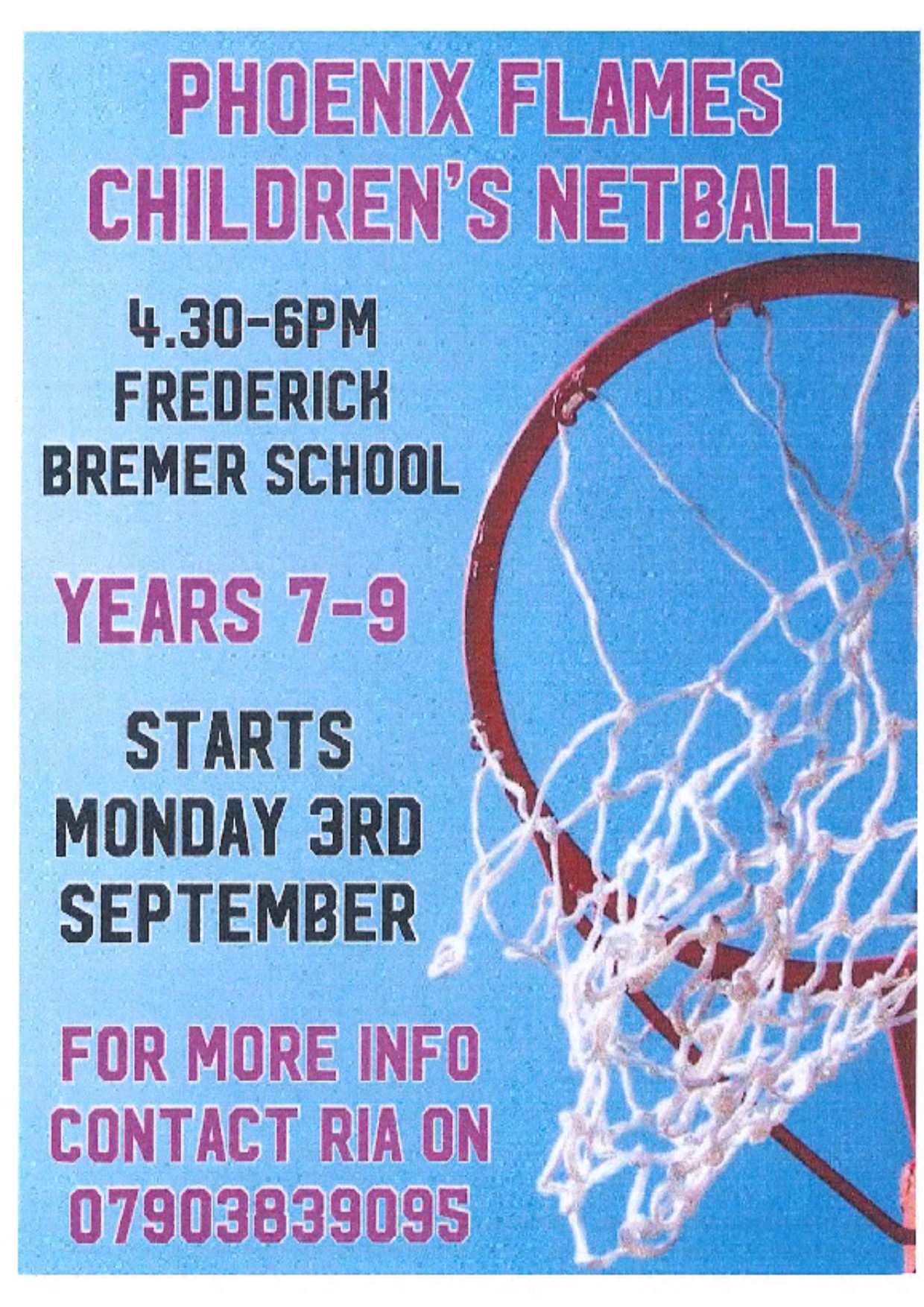 Olympia Handball Club Juniors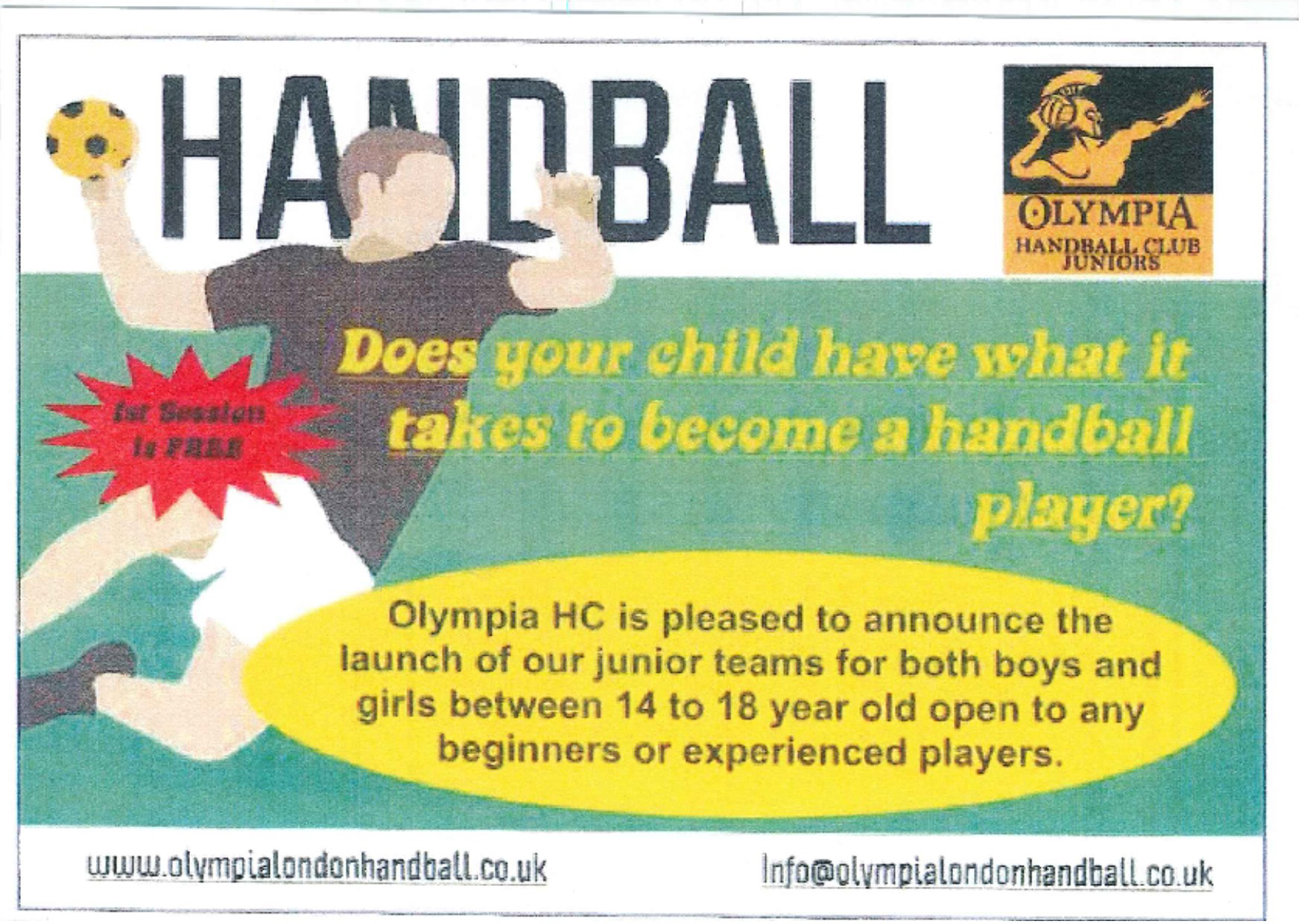 E17 Gymnastics Club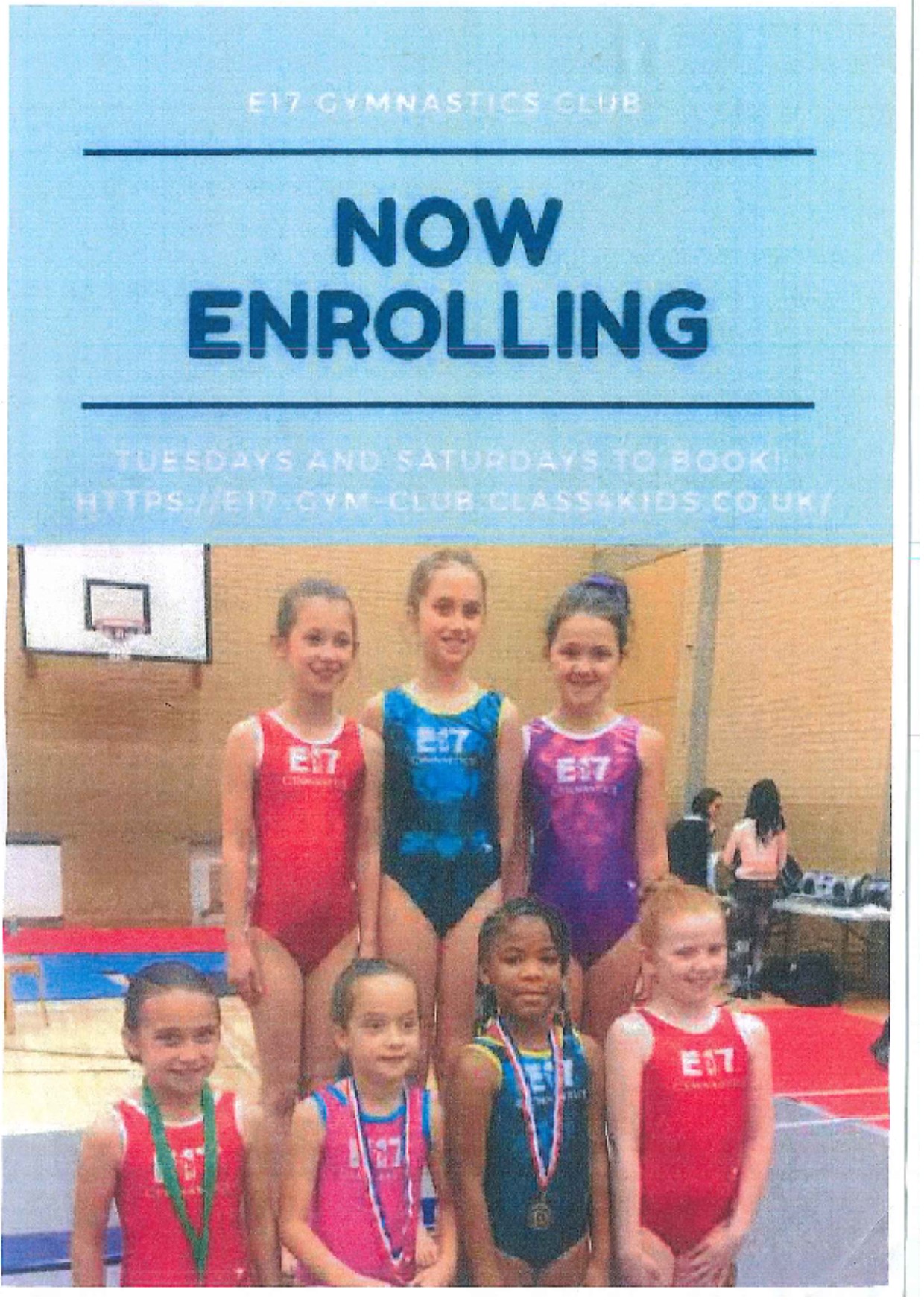 Tritons Swim School
Can you swim 25 metres or more?
Are you interested in learning a new skill?
Would you like to keep fit?
At TRITONS we are currently running the following
Half term crash courses and 1-2-1s
Help with GCSE Swimming
Rookie lifeguard (first steps on becoming a lifeguard)
NPLQ (NATIONAL POOL LIFE GUARD QUALIFICATION)
ASA/STA L1 and 2 swimming teachers
FIRST AID AT WORK
Save A baby's life and more
Classes held at; Waltham Forest College, 707 Forest Road, Walthamstow, E17 4JB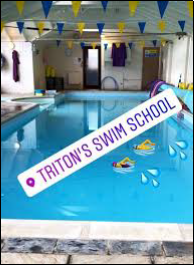 If you are interested in any of the above, please contact us at;
info@tritons.org.uk
Amber Childs
Service manager
Tritons swim school
Female Only Football Teams and Development Programmes (AFC Leyton - Arsenal Sister Club)
AFC Leyton is a female only football club based in Waltham Forest. Despite our name, all our matches and squad training occurs at Salisbury Hall playing Fields and 3G pitches, Walthamstow Avenue, E4 8ST - which is the back of Sainsbury's just off the Billet Roundabout.
We have 330 female players in our club and we play competitively in the Essex Girls County Football League as well as the Capital Girls Cups.
We are looking for players to join our League teams in the following age groups:
Ages 8 to 11 - for our existing U10s and U11s teams and our new U9s team
Age 11 to 12 - for our new U13s team
Age 15 to 16 - for our new U16s team
Development players of any age 5+ are welcome to join us. We have sessions for all ages (including ladies 18+)
Any female players that love to play football and would benefit from professional UEFA training in an excellent community based female only football club, see the letter below. Talented players in
AFC Leyton have gone on to play for Watford, West Ham, Tottenham Hotspur, Arsenal, Millwall and at Essex and Charlton Regional Talent Centres as well as England U15s training camps.
For schools, we are also offering free football development sessions for your existing girls' teams to try out our professional UEFA coaching. This programme is designed to get girls interested and stay in football/team sports.
If you would like any further information on AFC Leyton, please do not hesitate to get in touch.
Best wishes

Louise McGing
Club Secretary
AFC Leyton Girls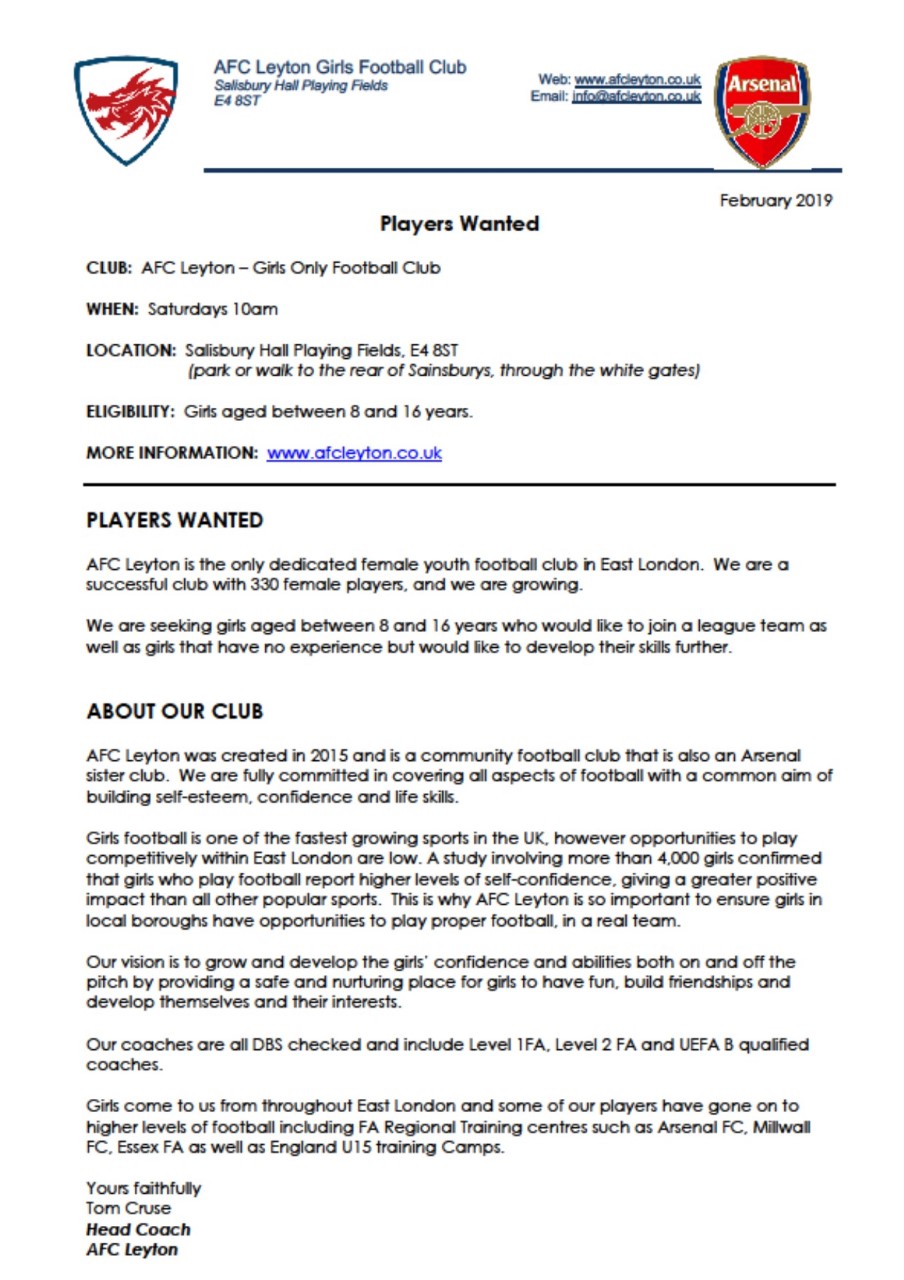 Free Football and Boxing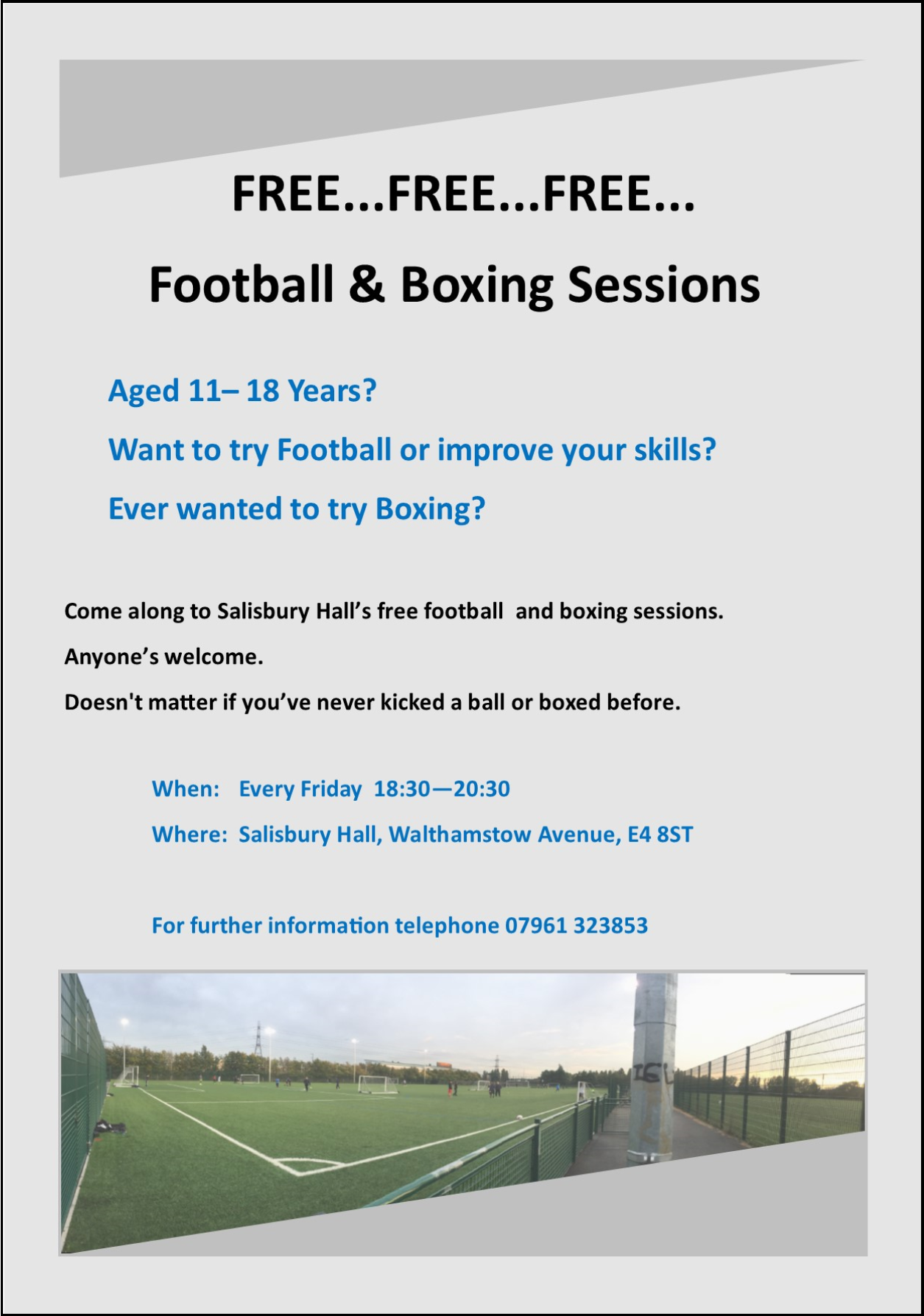 After School Club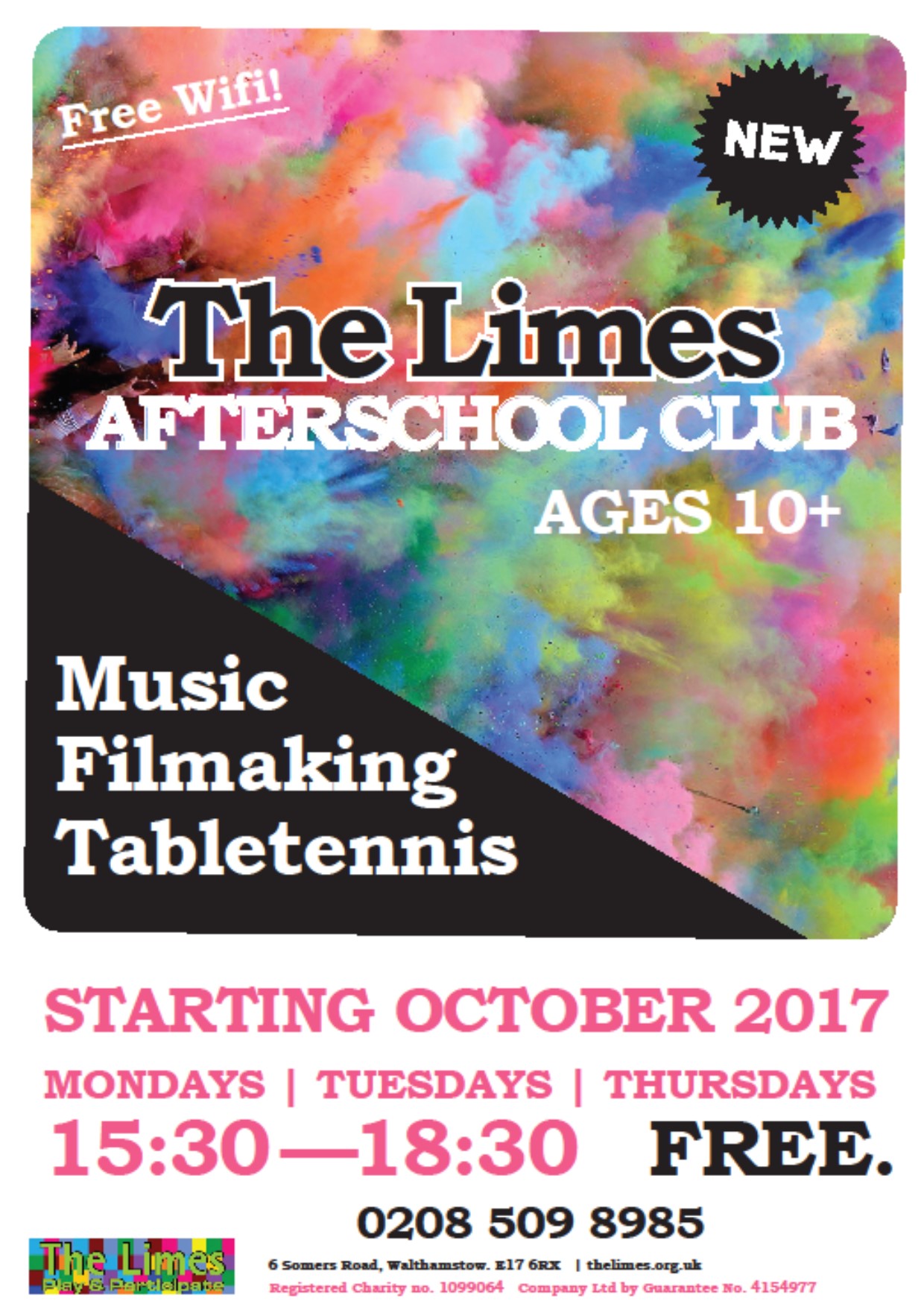 Walthamstow Wetlands

Walthamstow Wetlands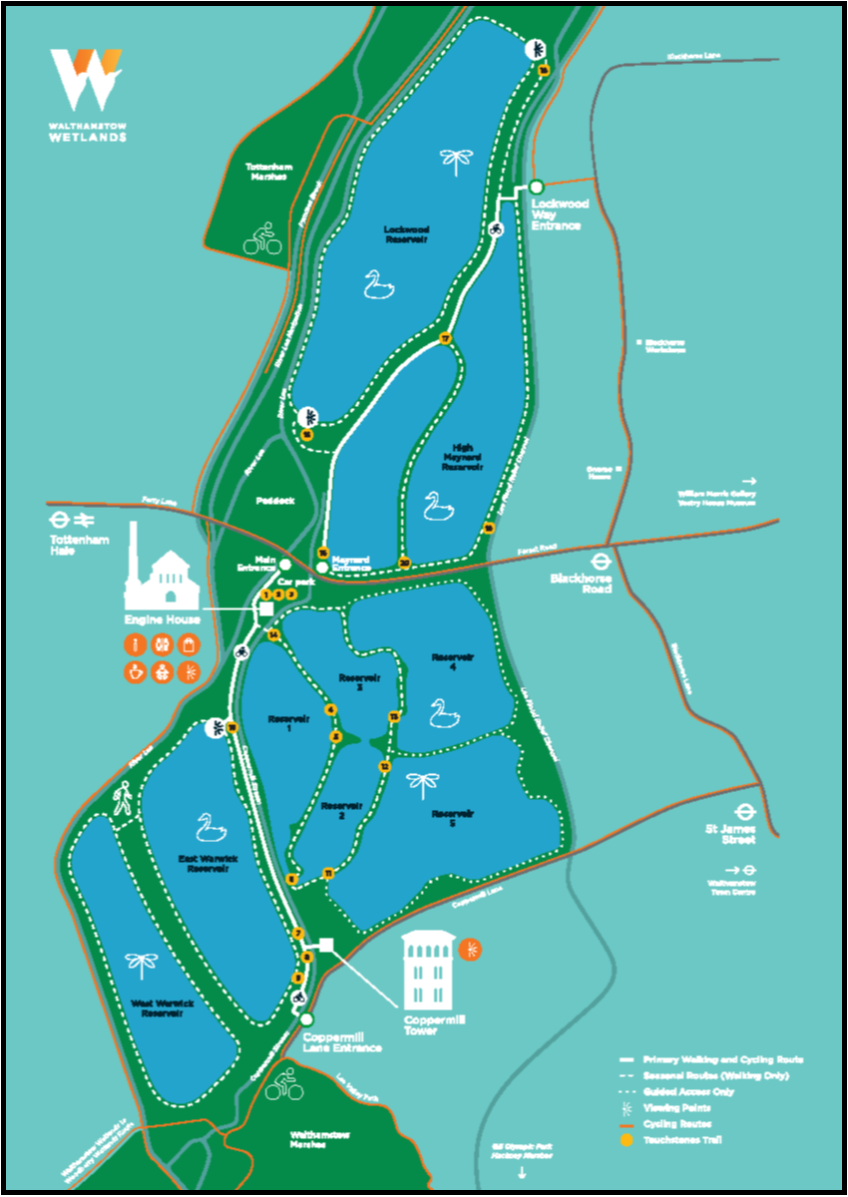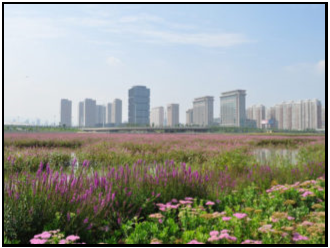 Walthamstow Wetlands is now open - see their website for further details
Walthamstow Wetlands is open seven days a week between 9.30am and 4pm (October to March), between 9.30am and 5pm (April to September).
The Visitor Centre and Café situated in the Marine Engine House are open daily 9.30am to 4pm (October to March); 9.30am to 5pm (April to September).
The main entrance to Walthamstow Wetlands is at 2 Forest Road, London N17 9NH.