Pastoral
Here is a booklet full of information that we hope will help our students and parents/carers during this uncertain time ...
---
School Nurse Drop-in Sessions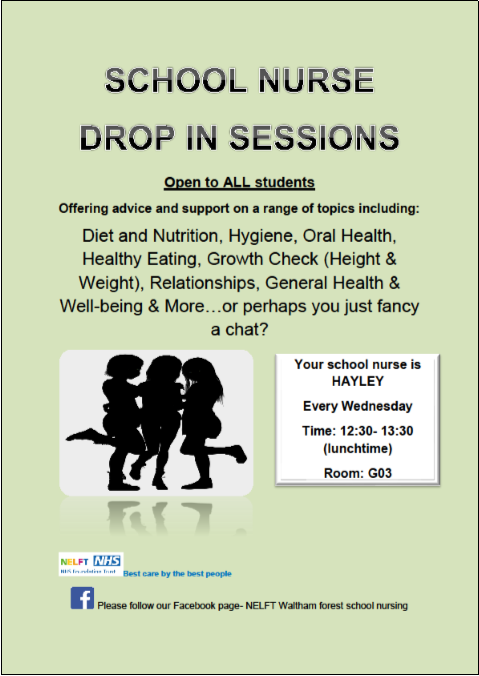 Safer Schools Officer Drop-in
Our Safer Schools Officer PC Viki Golden will be available in G03 at lunchtime of the following Tuesday dates:-

17th March
14th April
12th May
9th June
14th July
If you want to chat with her or ask any questions, she will be available so please drop in to see her.
Ms Pratt
Assistant Headteacher
Violence Against Women and Girls Project (VAWG)


Dear Parents and Carers
WSFG is working in partnership with various organisations in the Borough to raise awareness of violence against women and girls in Waltham Forest.
As a girl's school, we are a hub for young women to learn about this external challenge that can affect the well being of all. This project is aimed at Years 8-10 in particular.
The main focus of the project is building support in preventing and offering early help in relation to VAWG.
WSFG is one of a few secondary schools in Waltham Forest to embrace this whole school approach to this issue.
Ms Pratt
Assistant Headteacher
Mobile Phones

All Years
Mobile phones MUST be handed into the school office during the school day for safe keeping.
If you are caught with your mobile phone during the school day, it will be confiscated from you and your parent / carer will be asked to collect it from school.
Phones must NOT be used on the school premises either before or after school hours or again they will be confiscated.
If you wish to use your mobile phone after school you must leave the premises to do so, but ensure that you use it safely.
Ms Pratt
Assistant Headteacher
Valuables in Tutor Rooms
Please do NOT leave PE kits, bags or any valuable possessions in your Tutor Room at break or lunchtime, as they will be unsupervised.
Please take responsibility for your own possessions and use your lockers for storage of PE kits, bags and other valuables during non-lesson time.
Thank you
Ms Pratt
Assistant Headteacher