Show Racism the Red Card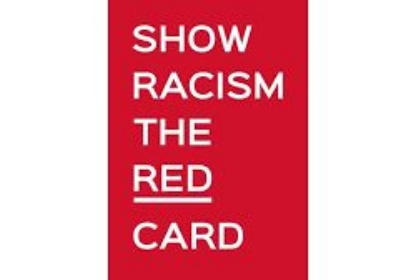 English / Art Competition Winners
Earlier this month, students in Years 7, 8 and 9 wrote poems in their English lessons challenging racism. The winning poem was written by Hannah in 9C. Well done Hannah!
A World Without Racism

A world without racism.
We've all heard of it before,
colours like red, blue and green
shades of orange and yellow and light green.
A culture, a race outside of space.
Skin, colours don't matter without it.
We're forever okay!

No person can swear at you and knock you off your feet
because without it we're human beings.
You don't hear protests on the street demanding "race rights"
because without it we're human beings.

You're not slapped on the face for what you say because of your race.
It's not a chance to beat the time and quick up the pace.
You say: "Without race outside of space we're human
beings and we stand against it no matter what."
Rock hits you and knocks you down to the floor.
We all know that, a world without race would probably be a
disgrace but, We as human beings can live with…
A world without race.

Hannah 9C
The art entries for Show Racism the Red Card also demonstrated a strong field of creativity from our students in Years 7 and 8. Below is our winning entry by Charlotte in 7C. Well done Charlotte!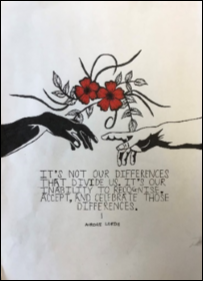 Ms Jean-Baptiste
Student Progress Leader Year 7