English News
News from our English Faculty.
For more information about subjects taught by this Faculty, please see the subject page for English
To contact the English Faculty staff, please click here
Year 8 Public Speaking Grand Finalist Winner
In the last half of the summer term, Year 8 students worked on a public speaking unit in English. Each student chose a topic they felt passionate about and researched, drafted, and performed a speech to their peers. Our Year 8 students produced some fantastic speeches, showing off their hard work, research, and excellent speech delivery!
The Grand Final of our Year 8 Public Speaking Competition took place on Monday 19th July. All of the judges were extremely impressed by the standard of speeches given by all six of our finalists, who showed great maturity and passion for the subjects they chose.
We are delighted to announce that Faith 8W is our Public Speaking Grand Finalist this year. Well done Faith!
Please see a copy of Faith's winning speech reprinted below:
The dangers of critical race theory and the single-story people tell

Everyone's a storyteller. I am. You are. We all are! I'm a storyteller and I'd like to tell you some stories:

Imagine you're at the back of the classroom. Oh, no! The history teacher comes in going:

'Hey...everyone we're going to be learning about slavery in Africa and the slave trade! Whaddya think?' Now, I bet you're thinking why Africa? Why? Well, I'll tell you why. Because Africa is one of the continents caught up in the single story. Just the other day me and my family were at the airport when I heard:

'We are proud of charity work done in India, Africa and other countries.'

I mean, there are others too, like, Africans are people waiting for a person with no colour to get them out of their 'failed infrastructure'. I'm not saying that's not true but it's the one story! What in the world happen to the others?

How come the British Empire is taught in all its glory but not also shamed for the killings and homicides it caused? how come Islamic people are related to

terrorism? And how come, in America, white liberals see black people as those who cannot use the internet, but most black teenagers own a phone! These are all examples of the single story. They dehumanize and bring down the rights as low as they can and make sure to throw the charger away! This can affect how people earn jobs and live their lives in general. Think about it. do you just buy into the

single story? I mean, everyone's a victim... and a predator. You say Germany, you think of Hitler. Think of all those innocent Germans who weren't born before 1939.

That's what it does! Critical race theory - the stereotypes that 'pressure' people into judging others because of their skin, traditions etc. It's like when one person from the community does something wrong, the whole gathering gets the blame! Someone tell me if this is fair? No, it isn't but people judge others by their one story but don't have time to read the rest!

This is a quote from Chiamanda Ngozi Adichie, a Nigerian feminist:

'The single story creates stereotypes, and the problem with stereotypes is not that they are untrue but incomplete. They make one story, the only story.'
Ms Schaber
Head of English
sT Stories and Supper Poetry Publication
As you may remember, a group of our Year 7 students took part in a fantastic writing workshop with the 'Stories & Supper' team in June. Students learned about migration first-hand and wrote their own poems about the theme of 'Home.'
We are delighted to announce that Flo in 7W has been selected to have their poem published by the Stories & Supper team! This is a fantastic achievement, and we are so proud of Flo's hard work. Please see Flo's poem reprinted below:
I Come From...

I come from… rumbling tubes, shivering bodies and flawed design.

The Jubilee Line is filled with unspoken words and jumbled memories.

The railroad cries echo in my head.

Strangers whisper at a glance,

frowning faces and emotions hidden behind masks.

I come from… blooming magnolia trees and blossoming flowers

ripe with colour and taste. My mother cared for it

as though it were a child. A seed into a sapling

a sapling to a mighty oak.

I come from… concrete giants, their faces turned from

the piercing sun. The cracks in the pavement gaping open and swallowing me whole.

Culture bursting from every open door, open arms

and glistening smiles.

Fireworks illuminating the dark night sky.

I come from…. a Tesco's down the road, a school across town and

a loving family at heart. Friends who cradle me

when I'm down, make me laugh and save me

when I can't find the light. They are that

light.

I come from… a mother, a father, a cruel sister, a sweet cat,

a strange grandfather. A safe haven.

My home is wherever I feel safe and welcome.
Imaginative Poetry
Year 7 students have been focusing on poetry last term. We had an Imaginative Poetry lesson and one of the students - Anna in 7H produced this. Why not have a go yourselves? It's not as easy as you might think. You MUST follow the pattern!
Mrs Jolliffe
English Faculty
Ten brave suffragettes
marching in a line,
One dropped her banner
And then there were nine

Nine brave suffragettes
chained to a gate
One got arrested
And then there were eight

Eight brave suffragettes
walking to Devon,
One fell in a pond
And then there were seven

Seven brave suffragettes
thinking up tricks
One went to give a speech
And then there were six

Six brave suffragettes
very much alive
Emily D was killed by a horse
And then there were five

Five brave suffragettes
running from the law,
One went on hunger strike
And then there were four

Four brave suffragettes
happy and free,
One was sent to jail
And then there were three

Three brave suffragettes
using glue,
They left one stuck to a statue
And then where two

Two brave suffragettes
on the run,
One hurt her foot
Now there is one

One brave suffragette
Her work nearly done
Then women got the vote
And now there are none

Anna, 7H
Romeo and Juliet Wordsearch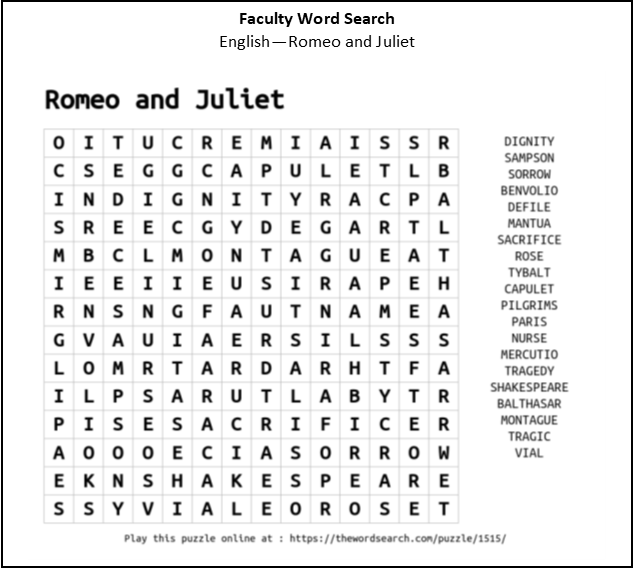 The Tempest
Shakespeare's Comedy - The Tempest
Students in 8H have been working through Shakespeare's comedy, The Tempest.
They were challenged with producing a poster for present day people to encourage them to take an interest in this play. Here are some of the wonderful results:
Mrs Jolliffe
English Faculty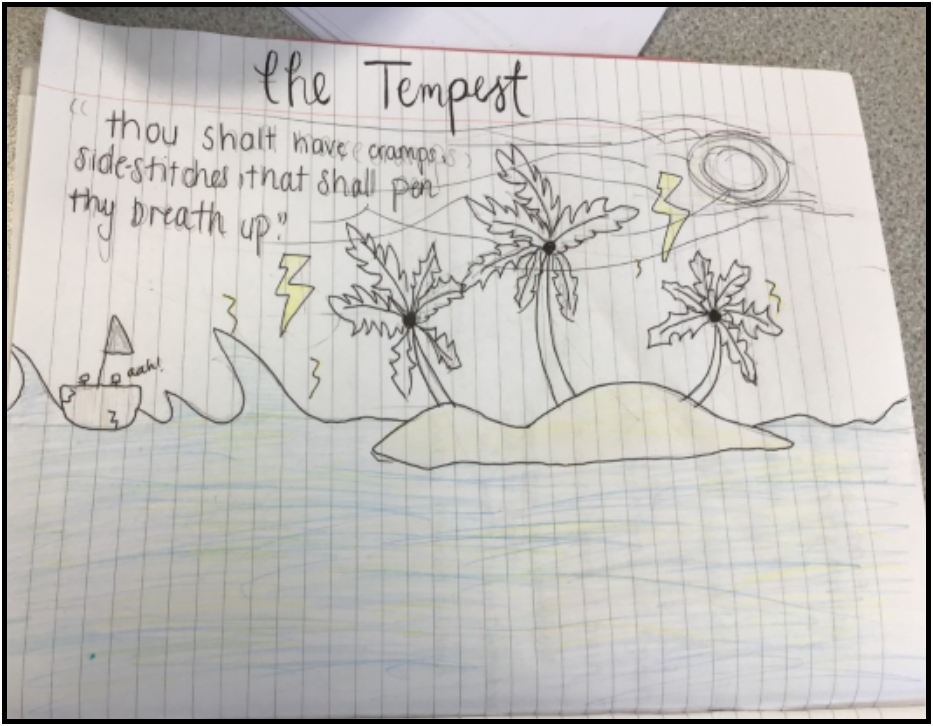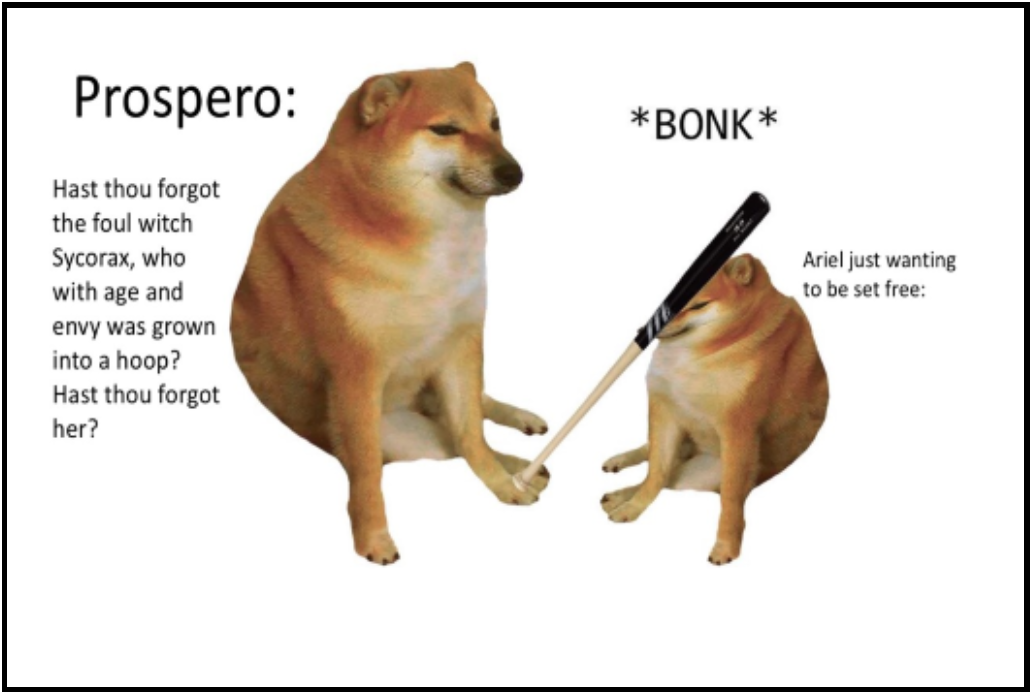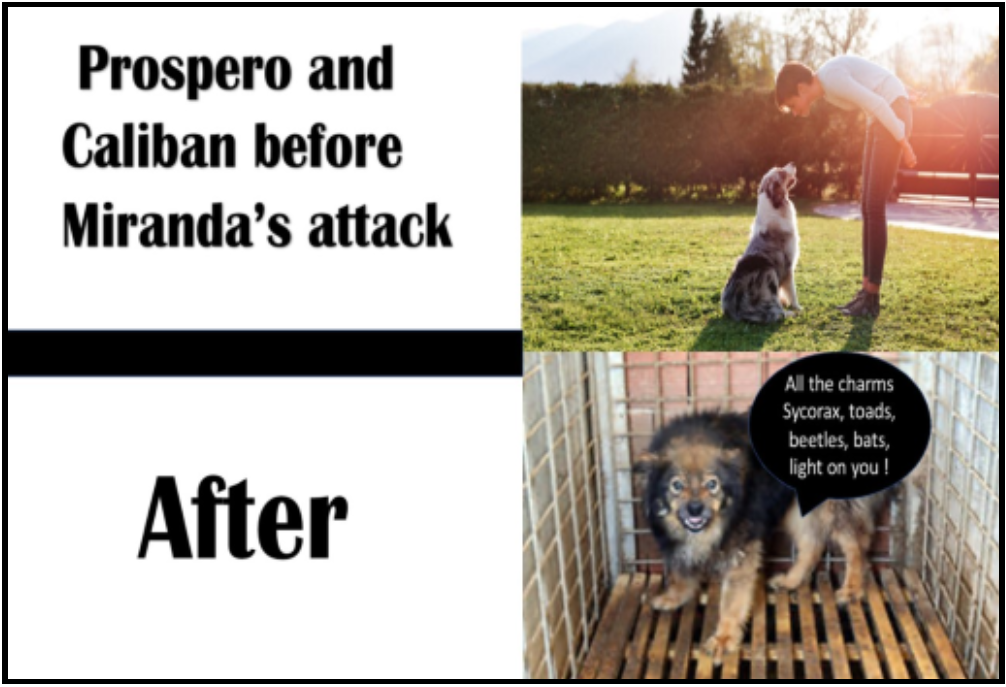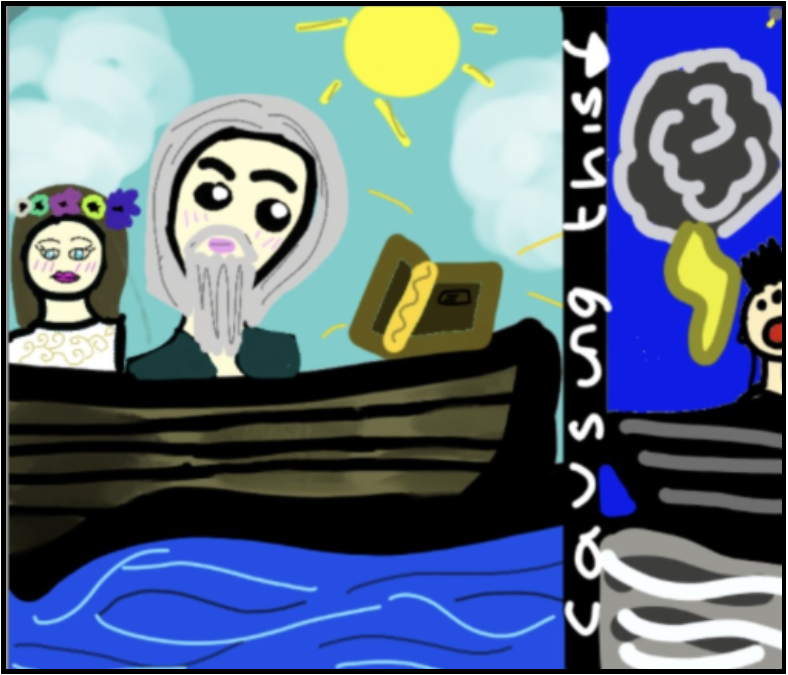 English Wordsearch

Words supplied by the English Faculty based on the book Animal Farm.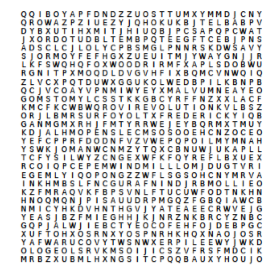 English Faculty News, Spring 2019
This half term the English faculty have been busy celebrating a variety of events and competitions. Year 9 have been following the 'Up for Debate' scheme of work which develops oracy and provides thought-provoking and challenging motions for pupils to debate. In addition to interesting and informative debates within lessons, the English Faculty is also pleased to announce that the following students have made it to the Year 9 debating final at WSFG: Jessica, Rachel, Beatrix, Amanta, Saahirah, and Keira. These students debated in an assembly before half term, the motion they were proposing or opposing was: 'This house would allow performance-enhancing drugs in sport.'
Technology is advancing so rapidly and it has changed the way we educate our young people. At WSFG this half term 7F have been trialling iPads in their English lessons and have been using them to explore non-fiction texts. They have embraced project based learning and have been busy working collaboratively to plan and create their own digital magazines! The completion deadline was Friday 15th February and Ms Simpson is looking forward to presenting the magazines to parents and carers once completed.
In addition to exciting lessons, Year 11 students had the opportunity to attend a Jane Eyre lecture delivered by Professor Dasgupta of Oxford University. The lecture explored key themes in the novel and allowed students to delve into alternative interpretations of their GCSE text. Many students felt inspired by the lecture's content and felt encouraged at the prospect of one day attending such a prestigious university.
Furthermore, the English faculty is also pleased to celebrate our students' success beyond the classroom. Students have been invited to submit their entries to the Young Writers competition 'Poetry Escape'. This competition inspires students to express themselves through poetry and voice their opinions, to break down barriers, destroy stereotypes and liberate their creativity. We have seen impressive entries and hope that someone from WSFG wins the competition.
Our Young Reporters have been busy writing for the yearlong scheme and have published an array of insightful and stimulating articles about local issues.
Most recently we have seen Ying Hang discuss the minimum age for voting, Crystal considering the importance of Holocaust Memorial Day, Kitty examining fitness in the UK, Iris celebrating Walthamstow hosting some of the London Borough of Culture celebrations and Safa reviewing a West End musical!
The articles written by our students are available on This is Local London.
Ms Simpson
Up for Debate Competition 2019

The winners of the Year 9 Up for Debate Competition 2019
"This House would allow performing enhancing drugs in professional sports."
The Opposition team!
Amanta 9S, Saahirah 9F, Keira 9F
A big thank you to all of Year 9 for being the perfect audience, and well done to all of the finalists.
The English Faculty
Young Reporter Scheme
Congratulations to the following Year 10 students who have applied to the Young Reporter Scheme and have been accepted
Gabriela
Safa
Ying Hang
Iris
Gulfen
Kitty
Amud
Crystal
We looking forward to reading your published articles over the next eight months - Well done!
Miss Simpson