ICT News
News from our ICT Faculty (Business, Computing, Media, Economics, ICT)
For more information about subjects taught by this Faculty, please see the subject pages for Business Studies, Computing, Creative Digital Media Production, Economics and ICT
To meet our ICT Faculty staff, please click here.
Matrix Challenge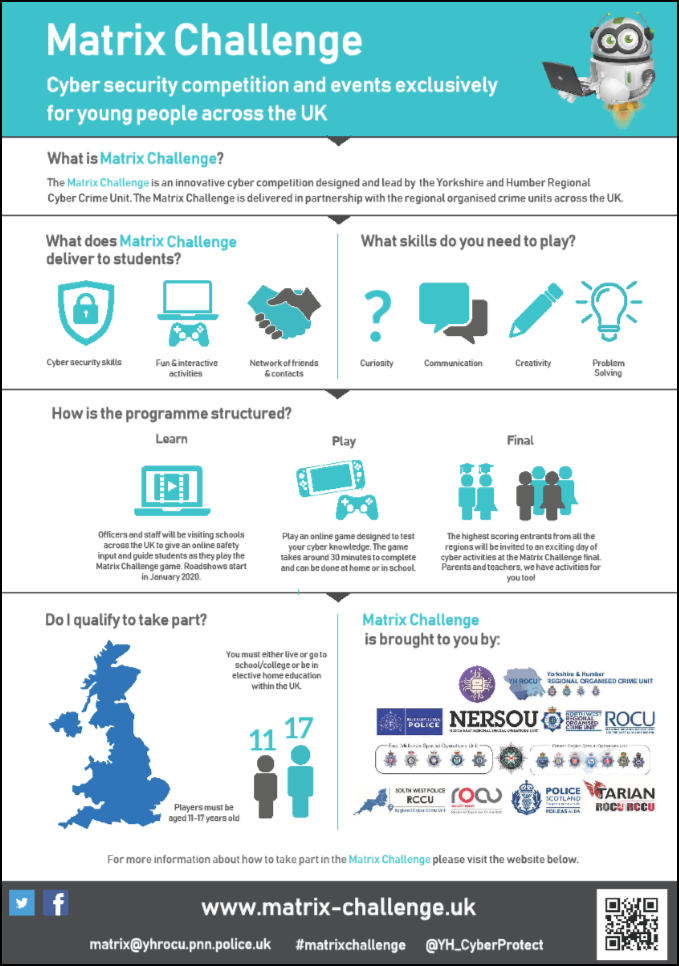 Project Based Home Learning in Computing

Our Year 7 students have recently been taking a closer look at their phones and identifying the similarities and differences between their phones and a desktop PC. They have done this as part of a new GREEN home learning project with their outcomes produced as interactive online presentations using Microsoft Sway.
If you want to find out more about this topic and see some of the excellent work produced by our Year 7 students then take a look below.
The ICT faculty are launching a competition for all Year 7s to create a Microsoft Sway, highlighting the positive aspects of Walthamstow.
Here are the details of the competition ...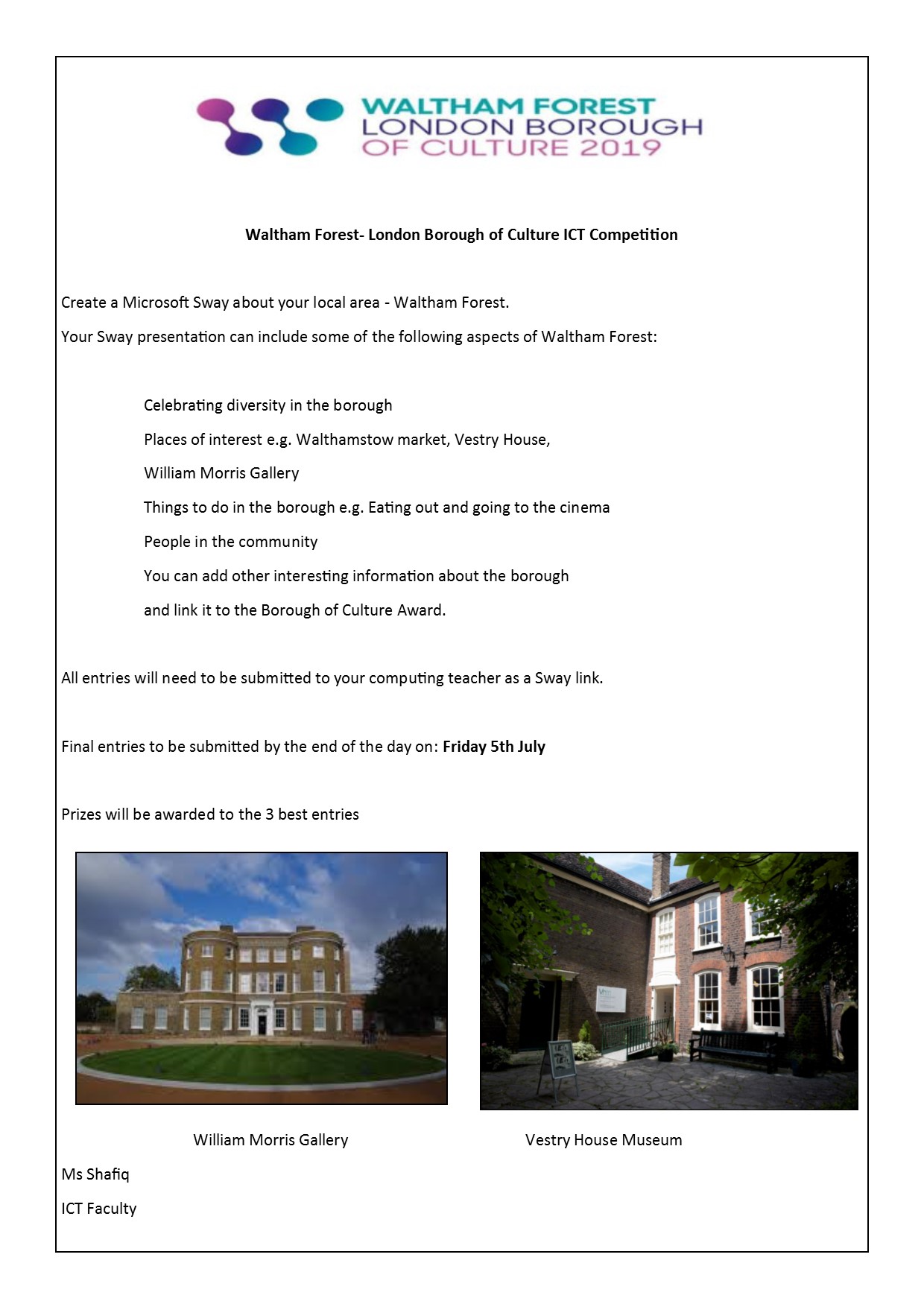 Longitude Explorer Prize 2019

Longitude Explorer are calling out for participants to submit ideas that use Artificial Intelligence(AI) across four themes, based on the government's 'Grand Challenges Mission' to help people:
live longer (helping the older generation to stay independent and active)
live better (helping people live healthier)
live together (through better transportation and tech)
live greener (helping tackle pollution and energy saving)
If you are in Years 7-9 and have some great ideas of using technology to help resolve real life problems and are interested in entering this competition, then come to find out more on Monday 11th November at lunchtime in room F18.
There will be an opportunity for selected entries to go on to be mentored and develop their idea, followed by an exciting Dragon's Den pitching event in July 2020.
The winning team will win £25,000 for their school.
Ms Shafiq
ICT Faculty
---
Office 365@WSFG
This academic year, all year 7 students will be using Office 365 in their computing lessons to support their learning. They can use Office 365 from home and from school. Students have access to Word, PowerPoint and Excel no matter what device they are using - it could be an iPad, Chrome Book, laptop or PC. They also have a storage area called One Drive, where they have 1000 gigabytes of storage.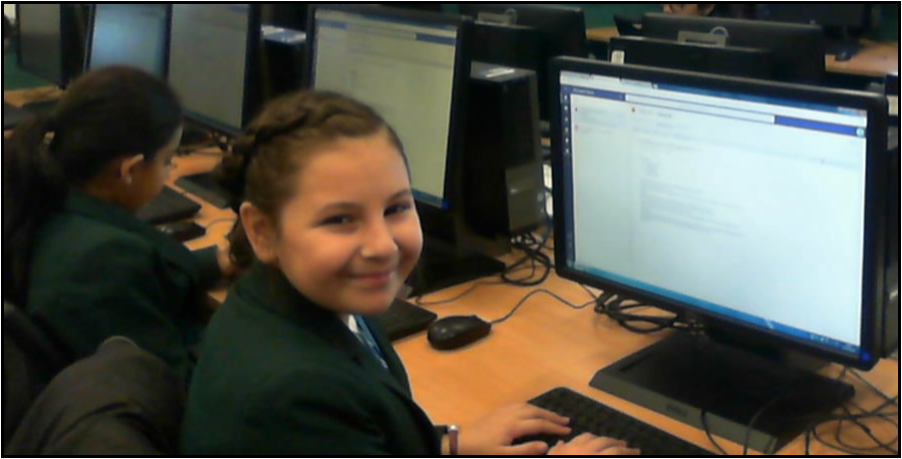 One of the advantages of using Office 365 is that it will read back whatever a student has written. Students can change the background colour of the text so that it is easier to read. They can also change a setting so that the verbs, nouns, adjectives and adverbs are highlighted in different colours.
Each student also has an electronic exercise book where they can take notes. These notes can include drawings, text and links to resources. There is also an area of the notebook where they can collaborate with other students and another area where the teacher can share resources.
Their teacher can set assignments using Office 365 and students can hand-in their assignments online – no more paper sheets that can get lost.
Mr Bryant
Head of ICT
---
Black History Month Competition
Make an A4/A3 sized Poster about a Black or Asian women, who has made a contribution to the development of computing/IT.
Your poster must include:
The woman's name
Her early life
Her career in computing
Submit your completed entry to Mr Bryant in F15 by Wednesday 31st October 2018
There will be a special prize for the top three entries
---
Primary Link Project
We will be linking up again this year with The Federated Schools of Saint Mary's and Saint Saviour's Primary School. Their Year 6 students will be visiting us for a computing taster lesson.
In the last academic year we used Scratch for the training (this is a graphical programming language).
This year we will be introducing the students to the text-based programming language Python.
---
Visit by Vyners School
On the 24th November we will be visited by two Computer Science teachers from Vyner School, who will be looking to see how we encourage our girls to choose Computer Science at GCSE.