Maths News
News from our Mathematics Faculty
For more information about subjects taught by this Faculty, please see the subject page for Maths
To contact our Maths Faculty staff, please click here
Origami for Mindfoldness
A keen group of Year 7 students have been meeting on Friday Week B to develop their origami skills and to improve their mindfulness.
So far we have focused on the interlocking sonobe cube, flapping birds and stars.
Here are some photos from the sessions.
If you want to have a go at the stars, here is a helpful video. It is a challenging model, achievable with perseverance and attention to detail:
https://m.youtube.com/watch?v=A2TzGWqChl8
Ms Robinson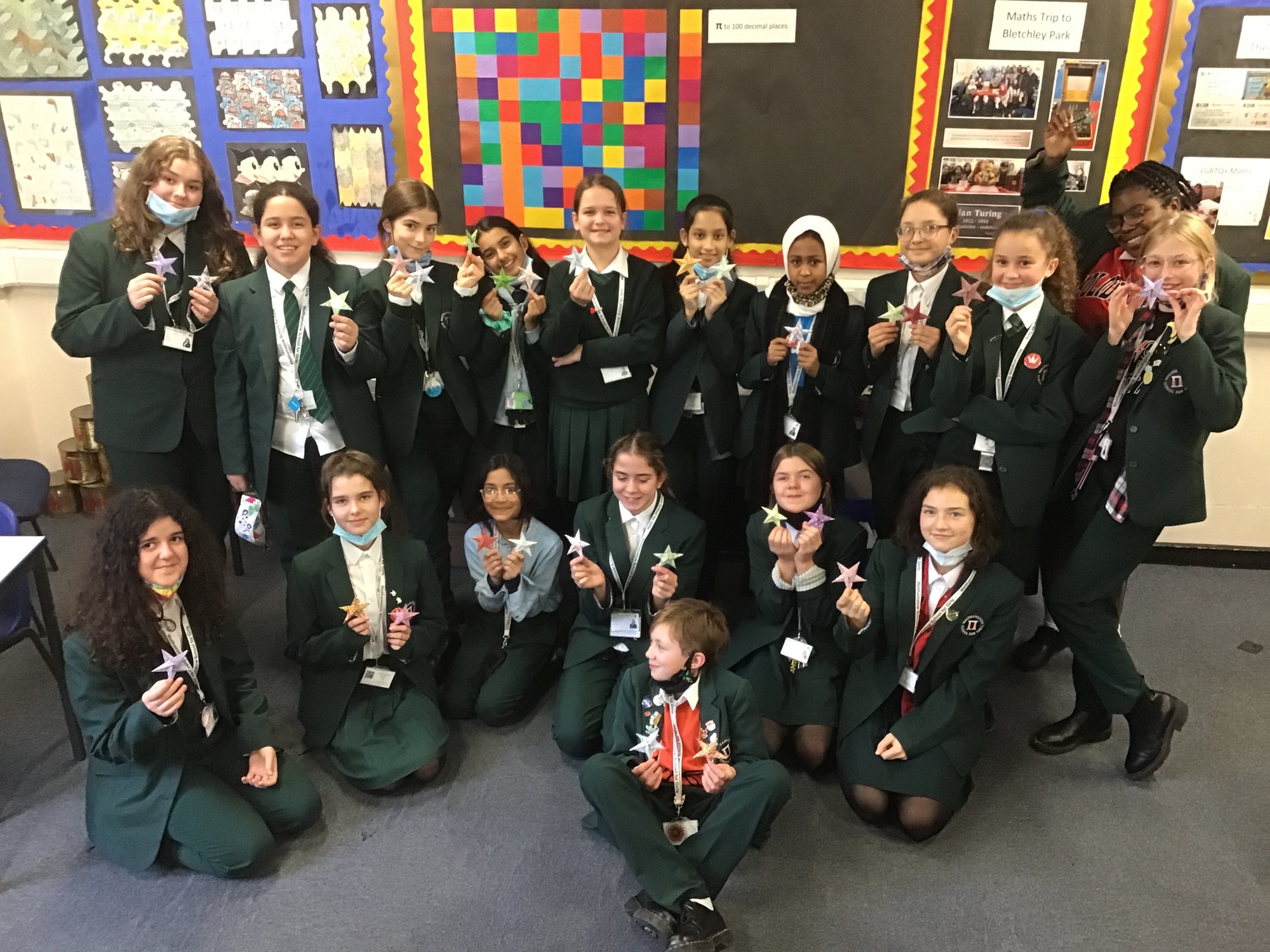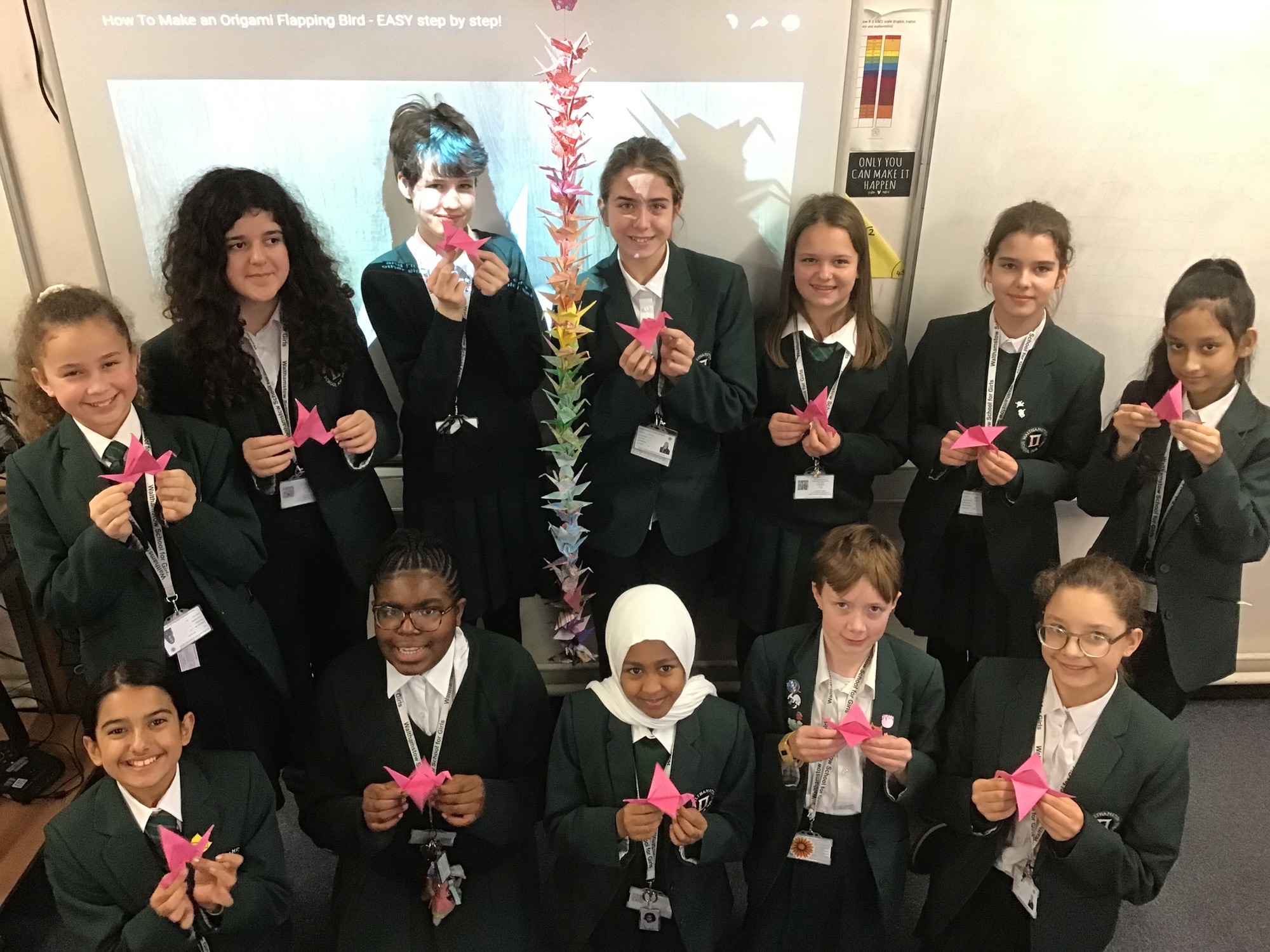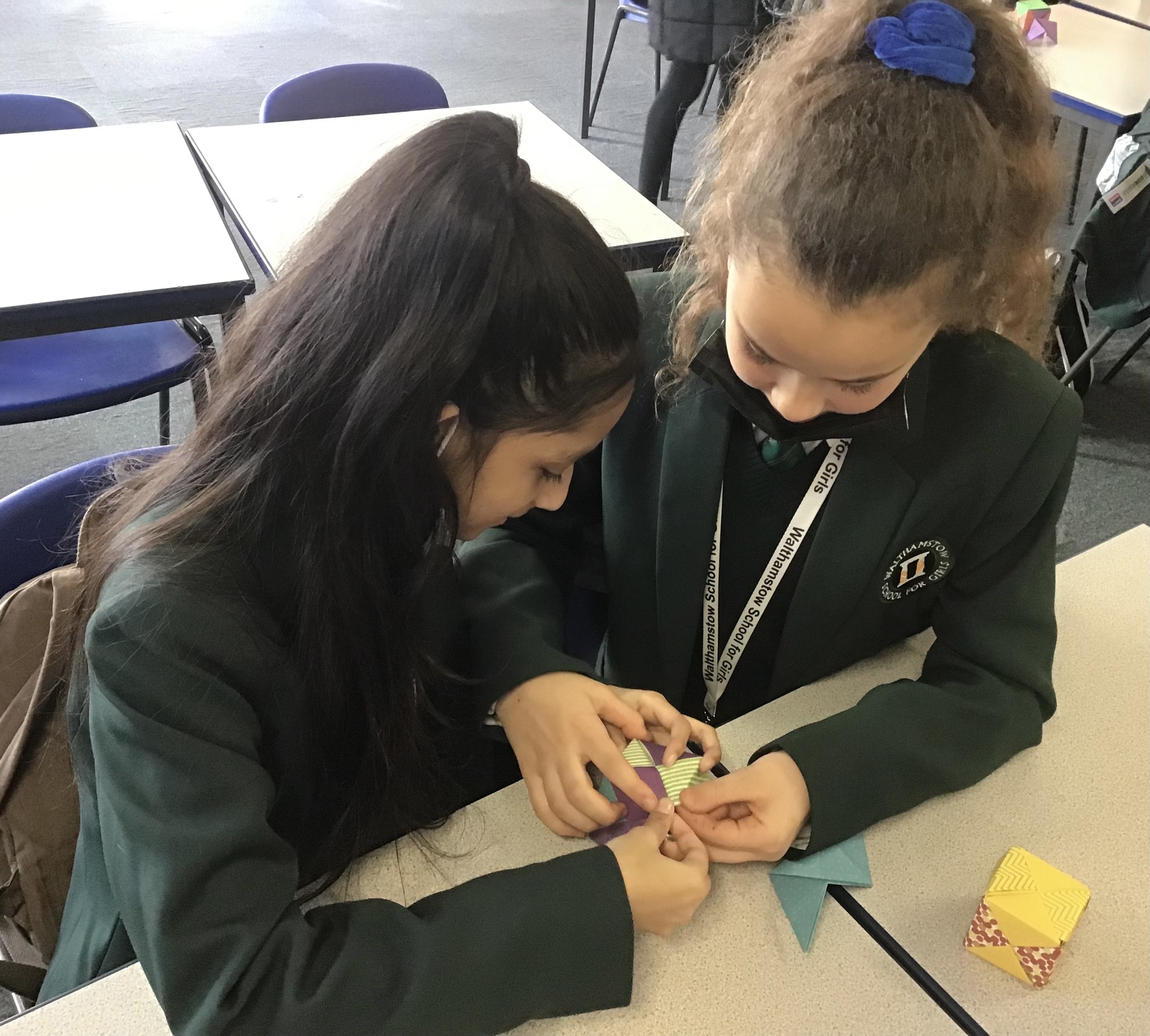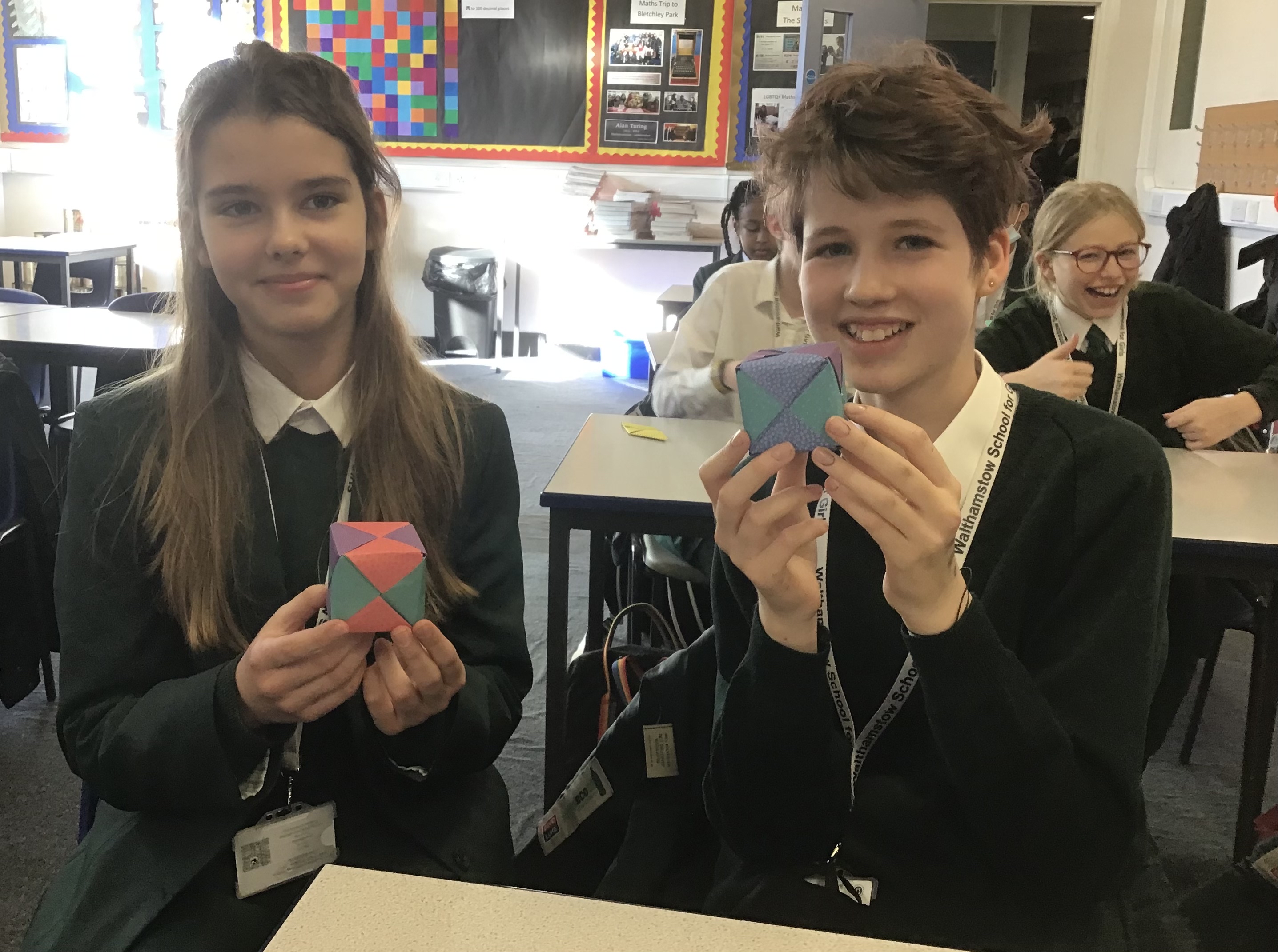 Black History Month Maths
Black History Month Maths – Learning how to play OWARE
Students in Year 7 are currently learning how to play the game during maths lessons. Year 8 will follow suit in November, having missed out last year due to the pandemic. Here is some feedback from 7B/Ma3
Karibuni! (Welcome everyone in Kiswahili)
I have enjoyed playing Oware because it is a great experience to learn about different cultures in maths lessons. I haven't won any games yet but I know that if I persevere and practise I will master the game and improve my skills. The game involves winning seeds. You need a strategy in order to win or you can easily be tricked!
Zadia Y7
Oware is an African board game played in many parts of Africa. It's not as hard as you would have thought it to be, and when you get the hang of it then it becomes a joy to play whether it's on computer or not. The board is made up of six recesses on each side, and in those recesses are four small white beans. The winner must have 25 beans; however, if you end up getting twenty-six don't worry as it still counts as a win! Hopefully ,yourself and others will enjoy it as much as I did and take more interest in it as you play it for a longer amount of time. I believe it is a great way to celebrate Black History Month as everyone is involved and even if you lose it doesn't matter seeing as you can always learn from your mistakes.
Martha Y7
Oware in an African board game that is played in a lot of different countries. We are playing it in maths to celebrate Black History Month. It's a lot of fun to play. In other countries it is called Mancala, Awale and Bao. The game can be played anywhere, even on the beach, by making holes in the sand and using pebbles. I highly recommend the game. So far I have won one game and with practice, hope to win more. It was one of my best maths lessons!
Rosie Y7
The Maths Faculty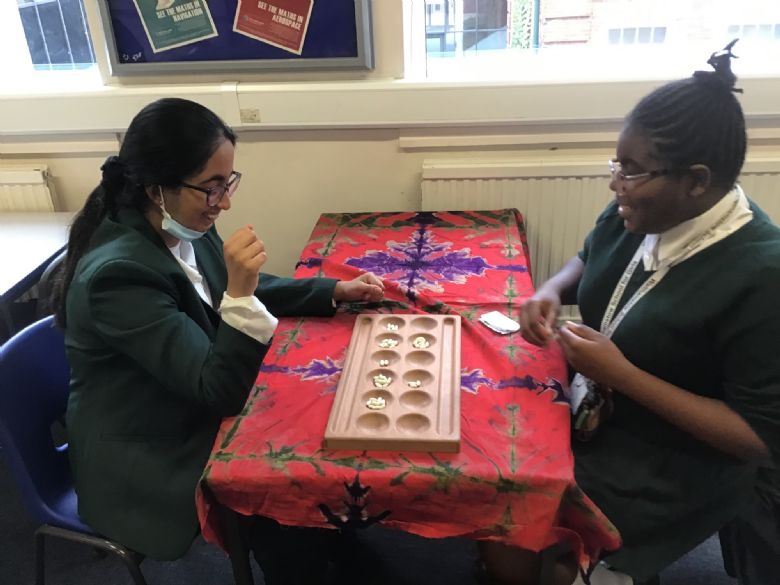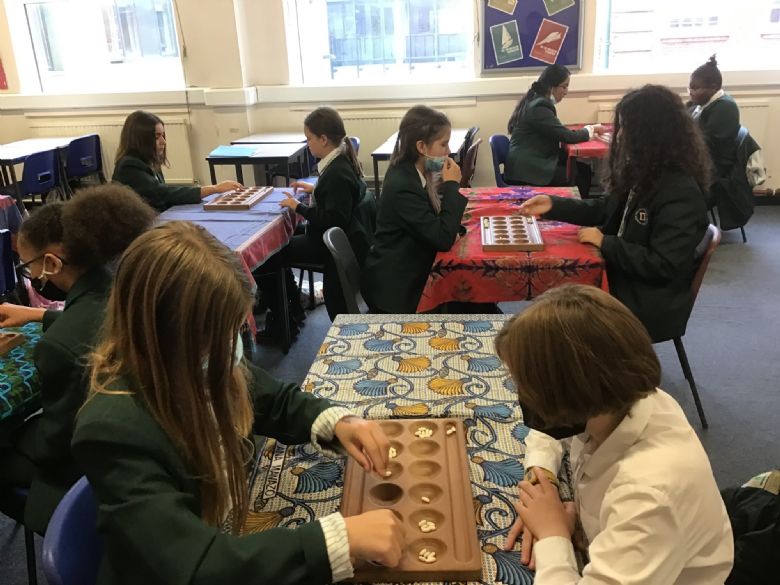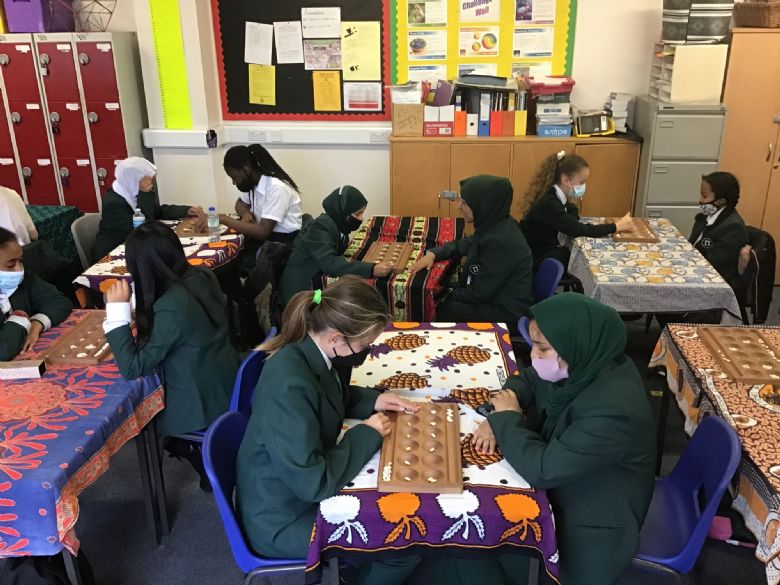 Maths and Careers
Maths and Art competition
Congratulations to Ayat in Year 8 who was a runner-up in the Maths and Art competition run by Maths and Careers. Her creative artwork combined the never-ending number Pi with the artist Picasso. Her work and other entries can be seen here:
https://www.mathscareers.org.uk/maths-art-competition-2021/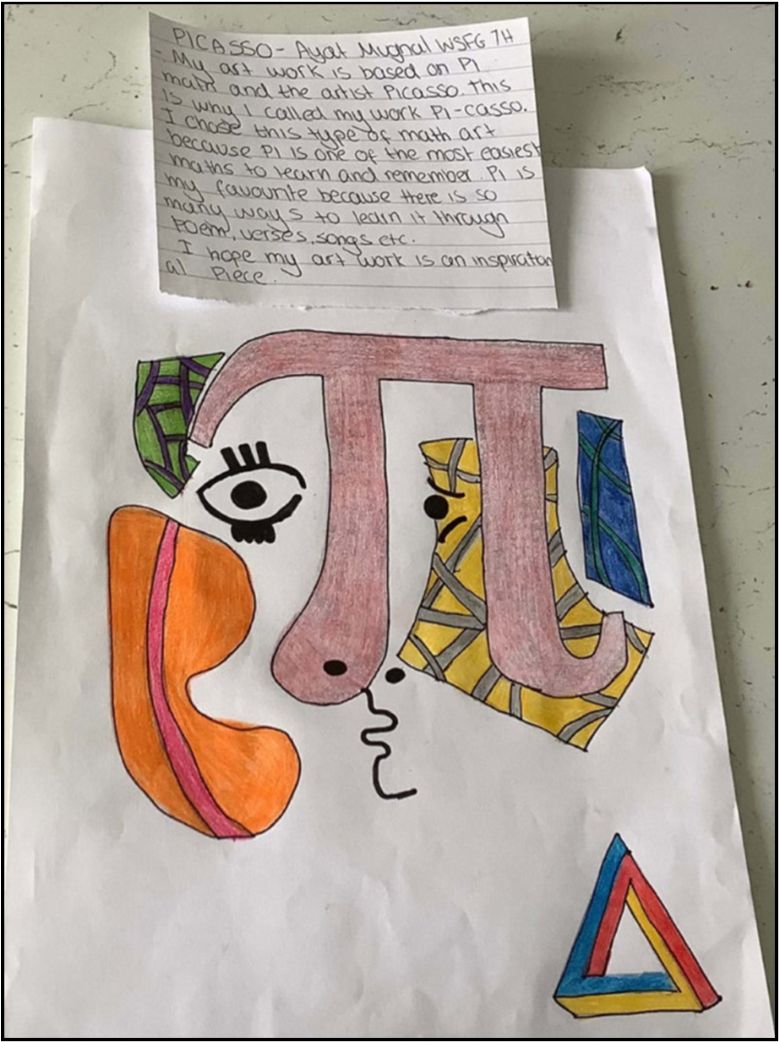 Ayat has won a gift voucher.
The Maths Faculty
WSfG Junior Maths Challenge 2021

Some of our Year 7 and 8 classes took part in our in-house Junior Maths Challenge; a multiple-choice competition that encourages mathematical reasoning, precision of thought, and fluency in basic mathematical techniques to solve puzzles.
Well done to everyone who took part; we had many bronze, silver and gold certificate winners.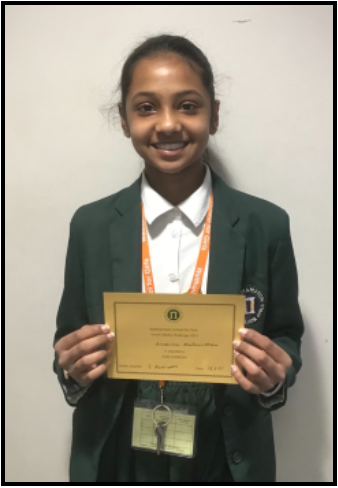 A big "congratulations" goes to Anokshe in 8S and Isla in 7C, who were the best in their respective year groups!
Why not challenge yourself at home using past Junior Maths Challenge papers, solutions to which can be found on the UKMT website.
Until next year, happy puzzle solving!
Miss Kelly
Maths Faculty
The Magic of Numbers
Recommended TED Talk
The Magic of Numbers : Why everyone should love Maths by Bobby Seagull
In Bobby's truly inspiring Ted Talk, he comments on the subject that most people don't like maths and that they just say they don't have a 'maths brain'. However, he explains that maths so much more intriguing and exciting than it might look at first glance. He talks about how when he was little he first got hooked into maths by comparing football cards to create an approximate analysis of who is more skilled and how it inspired him to learn more about maths. He goes on to further explain how confidence is a big part in maths too as he showed us that 50% of adults don't know how to work out a 5% increase of £9, even with a calculator and how they just need to persevere and challenge themselves to achieve great things in the maths field. He concludes the Ted Talk by saying that there is maths in everything, we just have to look for it and he ends with the motivational line: 'We are all mathematicians'.
Kacey Loki 8S
Scientific Calculators

We are please to be able to offer the latest model of scientific calculator FX-83GT X at cost price.
£8.35 if purchased through SQUID.
£8.50 if purchased by cash/cheque.
Mr Salmon
Head of Maths
Black History Month Maths

Year 7 have been learning how to play the African game, Oware, in their maths lessons for Black History Month.
The game has a few simple rules, but takes a lifetime to master!
Students can carry on at home, playing against a computer, by downloading it here.
Ms Robinson
Challenge Coordinator