TED Ed Club Launch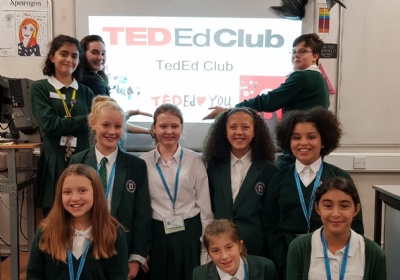 For Year 7, delivered by Year 10
This Tuesday, the TED Ed Club was launched by three students in Year 10 (Elif, Tulin and V)
They had planned activities for Year 7 to help them get to know each other and to develop their confidence in speaking to the group. The Year 10s had worked hard to put together an engaging first session and the feedback from Year 7 was very positive.
There will be several sessions over the year, where the participants will learn about and practise using different techniques to help deliver passionate, engaging and memorable talks. A number of guests will be invited to attend the sessions and the year will culminate in an event where the participants will deliver their own TED style talks.
It is not too late to get involved.
See Elif, Tulin or V if you would like more information.
If you are not familiar with TED talks, a good start would be to watch the most popular TED talk of all time, by Sir Ken Robinson 'Do schools kill creativity?'
https://www.youtube.com/watch?v=iG9CE55wbtY
Ms Robinson
Challenge Coordinator