Together, Walthamstow Remembers
"In Flanders fields the poppies blow, Between the crosses, row on row"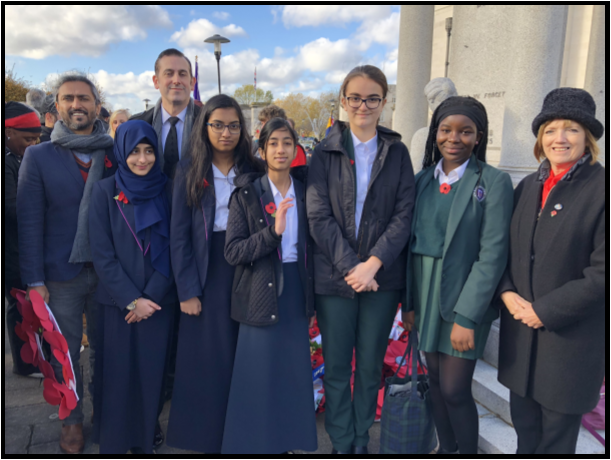 On Sunday 11th November Walthamstow School for Girls joined together with Eden Girls' School to honour the fallen victims of the Great War. Ms Davies and Mr Morrow were joined by two student representatives (Ornelda and Adjoa from Year 9) to lay a wreath of poppies on the cenotaph outside the town hall.
The laying of the wreath marked the final step in the Remember Together project that both schools have been collaborating on for the past few weeks. The project was aimed at raising awareness of the contribution of Muslims, Hindus and Sikhs to the British war effort in World War One. It was also intended to celebrate the brotherhood and solidarity of these groups by creating a special wreath of poppies that would be laid at the War Memorial.
The ceremony was led by Mayor of Waltham Forest Sally Littlejohn and proved to be both a sombre and emotional service. Many of the different communities who had members that sacrificed their lives in the Great War were acknowledged in speeches made by the many guest speakers, each of whom told their own personal stories of how they remembered World War One. It was a moving and thought provoking service that left all those present deeply affected.
We would like to thank the hard work of all the staff and the students involved in the project and we look forward to continuing to raise awareness of the other groups that have been overlooked in the past.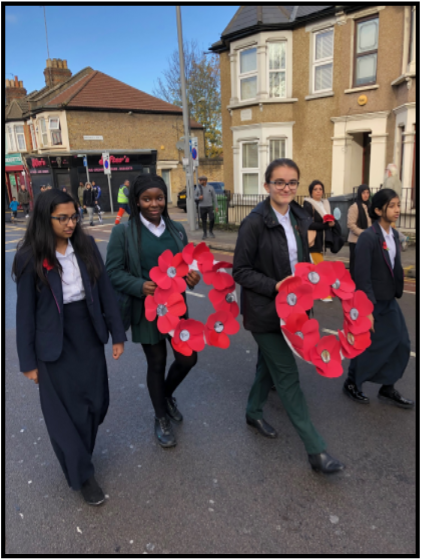 Or in the words of John McRae:
"Take up our quarrel with the foe,
to you from failing hands we throw
the torch; be yours to hold it high."
Mr Morrow
Associate Assistant Headteacher