Royal Veterinary College Visit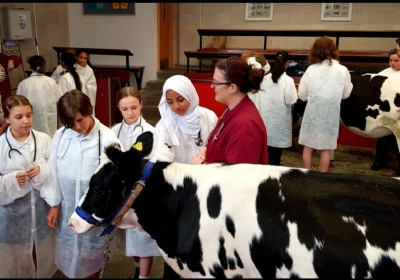 Year 7 Students Meet the Animals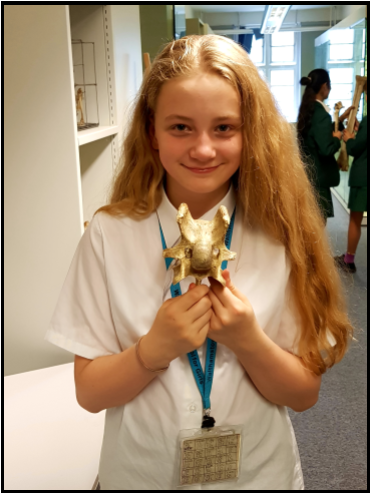 A group of Year 7 students had the opportunity to spend an afternoon at the Royal Veterinary College last week. They did one session where they had to identify bones and another where they met some live animals.
The staff at the college were very impressed by our Year 7 students, their concentration and focus throughout the day, and particularly their questions.
Here is some feedback from the participants:
I loved going to the RVC and working with the animals. I would recommend this trip to everyone. I felt so welcome as soon as I arrived and all of the staff were very understanding and helpful. It was actually the best trip that I have ever been on! The only way it could be improved is if it could be for the whole day instead of just for the afternoon.
Evie 7F

My favourite part was surprisingly not meeting the cows, but seeing all of the skeletons both in the museum and around the college. I found the elephant especially interesting because I wasn't sure how big an elephant would be in comparison to myself, so seeing it in real life was very good.
Zoe 7C

I really enjoyed seeing the skeleton of the early ape 'Lucy' because it is a crucial part of human evolution. I also enjoyed the anatomy museum. I was already interested in Biological Sciences, and after this trip I am now even more certain that this is what I want to do in future.​​​​​​​
Isabelle SF

I absolutely loved this trip. I must say though that my favourite bit was meeting the calves as they were so cute!
Lois 7W

I really enjoyed learning about and stroking the cows. It was fascinating to discover that they have four stomachs!​​​​​​​
Tanvi 7S

I really enjoyed the trip and learned lots of new skills that I can use in the future
Ella 7F

I really enjoyed learning about the bones and comparing where the different bones are in different animals. It was fascinating.
Bonnie 7S

My favourite thing about visiting the RVC was meeting Jelly and Bean (the two cows) and getting to know them.
Erin 7G

This was an outstanding opportunity. I thoroughly enjoyed learning about everything especially the cows.
Sara 7S

I enjoyed learning about the different jobs that there are working with animals, for example to become a Veterinary Nurse takes 3 years, but it takes 5 years to become a vet.
Serena 7C

I absolutely loved meeting the cows. They were so friendly and I loved them.
Lily 7S

I really enjoyed matching the animal bones with the animals.
Zahra 7C

My favourite thing was meeting the calves as they were so interesting. The bones were good too.
Sylvia 7W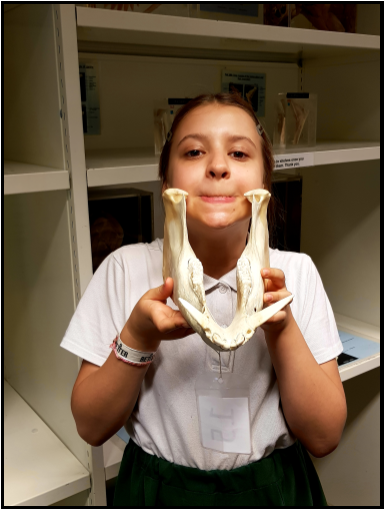 Thank you to Ms Dominique and Mr Grinbergs for accompanying us on the trip and making it possible.
Ms Robinson
Challenge Coordinator