Drama/Diversity Theatre Trip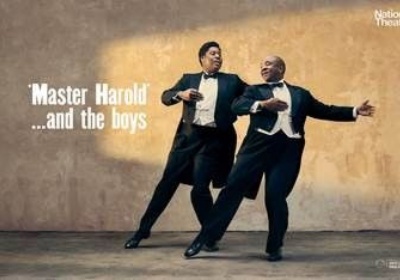 Our latest Drama & Diversity trip for Black History Month
As part of our Black History Month celebration, Ms Cornford, Mr Ramlagan and I invited 20 lucky students to watch 'Master Harold and the boys" at the National theatre on Tuesday 8th October.
The play is set in 1950's Apartheid South Africa.
The play explores the nature of friendship, and the ways people are capable of hurting even those they love because of racism.
Here are some students' reviews:
"The play was really interesting and the thing I enjoyed the most was the fact that it was only 3 men who acted throughout the whole play. I absolutely loved how they made the audience built hatred for one character and love towards the other character (who was a fabulous actor)."
Che'Nye 8F.

"I really enjoyed the show and especially really liked how they used ballroom dancing in the play to express their feelings. The ending was really sad when Sam said he couldn't sit with the boy because it was a white only bench"
Nehir 8G.

"in the play I liked when Willy and Sam danced at the end and when they were remaking the scene when they were all in the bedroom. But I found it really sad when Master Harold spat on Sam"
Lyla 8G.

"The play was set in South Africa in the 1950s about 2 black men who worked in a café, they had their good times, when they danced and when they flew their kites and their bad times, when they got spat in their faces by Master Harold, when they got hit or shouted at. This was a phenomenal show. My favourite part was when the 2 black men started dancing at the end."
Rachel 8G.
Our students were an absolute credit to our school, bravo!
Ms Desbenoit
Diversity Co Ordinator.