Oxford University Visit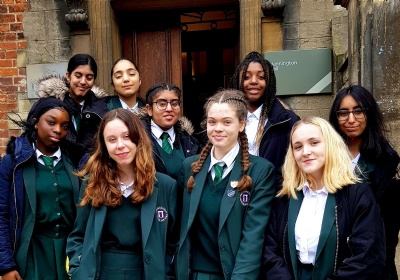 Year 10 Students Realise that Oxbridge is Within Reach
On Friday 31st of January a group of 10 students from Walthamstow School for girls had the opportunity to visit St Peter's College Oxford in collaboration with students from Kelmscott and Willowfield. We were hosted by Jacqui Dearden, the Schools Liaison Officer.
Here is some feedback from the students who participated:
I really enjoyed the trip to Oxford as it helped me to put into perspective what it would be like to study at a top university. I have always wanted to study maths at Oxford and now that dream seems even more of a realistic and exciting prospect. If I continue to work hard, it is within my reach.
Sylvie 10F

I found the trip informative and insightful. Before going I thought it was full of rich private kids but going has opened my eyes and showed me that it's a normal university with normal people. It has inspired me to apply for a university like Oxford and showed me it is a real possibility for any student who puts their mind to it and is not afraid of hard work. I enjoyed it so much that I did some research afterwards and I am going back during half term with my family to Lady Margaret Hall for another tour.
Mominah 10G

The trip dispelled a huge myth for me about how only posh white rich boys go to Oxford. I found it very multicultural and diverse. The two students who showed us around St Peter's were from an ethnic background and even some professors are from BAME. Also, I learnt that not everyone at Oxford is rich. There is financial help in the form of non-repayable bursaries that are means tested. A quarter of students receive this help.
Amira 10F

The trip to Oxford put everything into perspective for me and not knowing much about it beforehand, it really helped me understand and develop an idea of what options there are in the future for me. I managed to have a conversation with a student who is currently studying the things that I am interested in and considering doing in the future. This really helped me develop my understanding of what A-levels I should do and how to get to a point where I could potentially study them at university. Being able to speak to students who are attending the University gave me a great insight into life at Oxford and what it's really like. To my shock it seemed relatively normal. It definitely dispelled a popular myth that Oxford students don't have any fun and overall I found the trip extremely useful even if I don't decide to apply in the future.
Bo 10F

My personal highlight was visiting Lola, an ex-student from Walthamstow School for Girls. We visited her college, St Catherine's. I really loved going into the library because it was absolutely huge and full of books. The day inspired me greatly to apply for a university like Oxford or maybe even Oxford itself. I always thought Oxford would be filled with posh white people but it turns out it was full of people with loads of interesting backgrounds. I'm going to be working extra hard in school now so that I can hopefully get a chance to go to Oxford university in the future.
Amarah 10F

My personal highlight was exploring the facilities like the library and getting a personal insight into the daily life of a university student and hearing about the workload and social lives etc. The day did dispel some myths and just made the idea of applying to Oxford feel like a real possibility. The University honestly seemed normal and not at all what I had imagined. The day inspired me, excited me and made me think more about my future.
Molly 10G

I was amazed at how professional and advanced the University standards were and how they are willing to help the students in any way they can. I was impressed about the vast amount of subjects available and the tour was very organised and helped me to understand what the University was really like. This trip has convinced me to apply to Oxford due to its excellent history and due to the excellent tour guides of the different colleges. I've also learnt throughout this trip that Oxford University it's just one building. The university is composed of several colleges.
Diana 10S

The highlight of my day was seeing the St Peter's College library as I love books. The day dispelled several myths about studying at Oxford. I discovered that it is not just for 'smart white people'. There is a range of different cultures there which I found amazing. I think it is wonderful how people from different backgrounds can mix at such a great university. My passion is for computer science and I am now inspired to study it at Oxford.
Malaika 10W
The next university trip for Year 10 is to Cambridge in February, where a different group of 30 students will be given the opportunity to be inspired.
Ms Robinson
Challenge Coordinator