Year 11 Students Attend ASGS Student Leadership Conference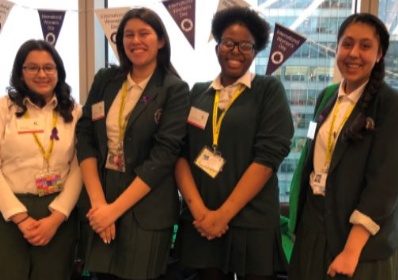 Inspiring Talks and Workshops for International Women's Day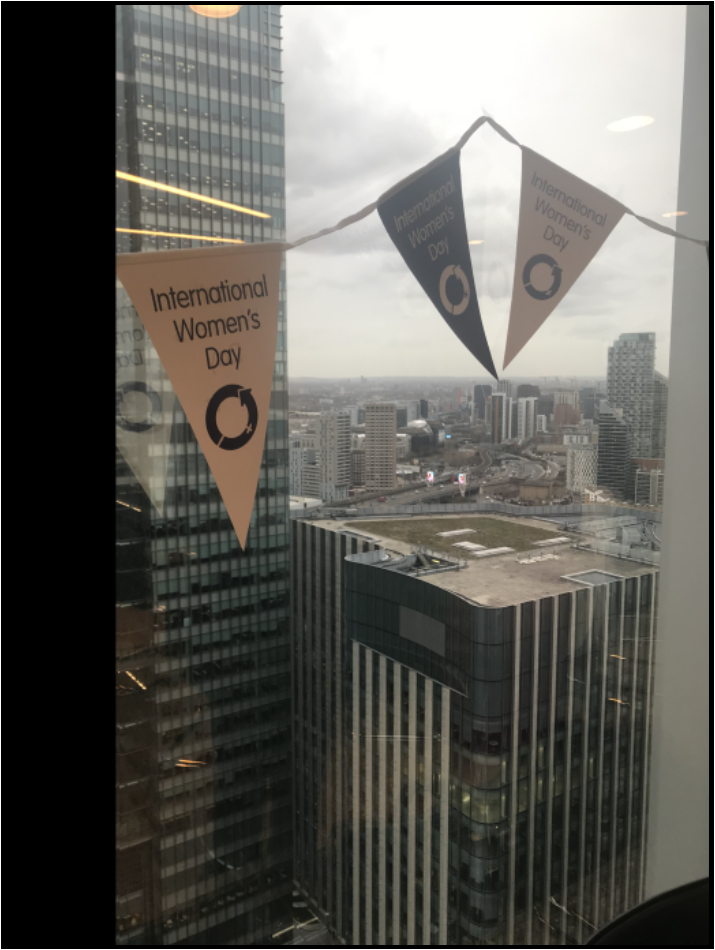 Last Monday, Ms Davies and I accompanied a group of students to Canary Wharf for the Association of State Girls' Schools' Student Leadership Conference, held at the Ernst and Young offices. It was the first time the students had been to Canary Wharf and what an introduction to the city they had! We were taken up 20 floors high and took our seats in the conference room surrounded by glass, giving us spectacular views of the whole city of London.
The conference consisted of talks given by renowned women working in a variety of fields, including law, academia, politics, journalism and radio, as well as student led workshops that were led by sixth-form students from girls' schools around the country. The first speaker was Dr Shola Mos-Shogbamimu, a New York Attorney and Solicitor of England and Wales, who ignited the room with her energy, passion and humour. Dr Shola challenged all of us with the statement that "confidence is an action not an emotion". Students soon understood the importance of demonstrating confidence even if they do not feel confident, after Dr Shola used her own experience and insecurities to illustrate her point.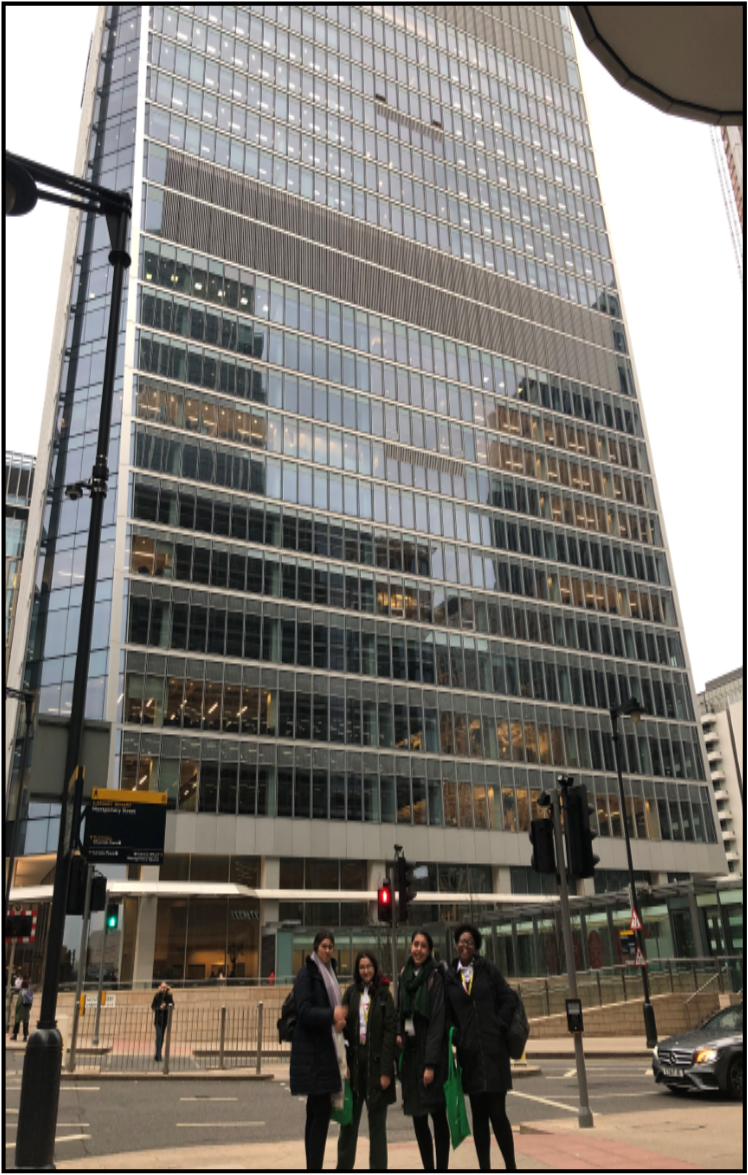 The second speaker, Ayla Goksel, CEO of Ozyegin Social Investments and Visiting Fellow at the London School of Economics, spoke about the importance of involving men when discussing the issue of feminism/sexism and when celebrating International Women's Day. When designing her own non-profit organisation on the importance of a home learning environment, she realised that without the fathers being on board with the project, the situation could not change for the mothers.
The third speaker, Fiona Millar, former advisor to Tony and Cherie Blair, described how both she and her husband (Alastair Campbell) began on the same graduate scheme which should have led to similar career trajectories, but that motherhood meant that her husband's career flourished, while hers stagnated. Fiona gave students practical advice, to look at the policies of prospective employers to ensure they have contracts that are flexible to the needs of women should they make the decision to have a child.
The fourth speaker, Eleanor Mills, Editorial Director of The Sunday Times Magazine, also spoke on the importance of men being involved in discussions around International Women's Day and how feminism is applicable to both men and women. Eleanor shared her thoughts on the increasing exposure young men have to pornography and the way it shapes their views not only on women, but on relationships. Eleanor also shared her career path and her approach to her editorial work for The Sunday Times, which is inclusive of women from a range of backgrounds and proudly promotes their intellect as opposed to their body on the front cover of her magazine supplements.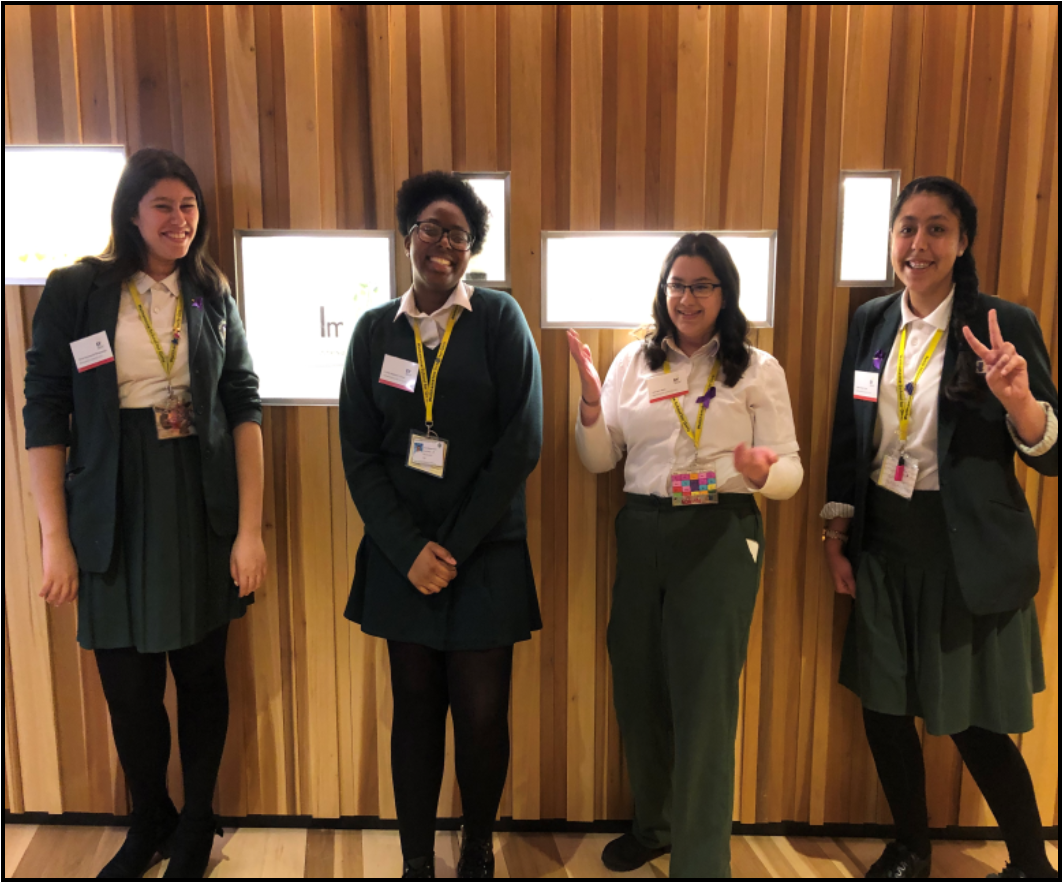 The final speaker, Lucinda Montefiore, spoke not about her career as one of the producers of BBC Radio 4's Woman's Hour, but of her struggles with managing her mental health. She explained to students that whilst she is from a background of privilege and has had a very successful career, she still has bouts of severe anxiety and depression. Lucinda encouraged students to not be ashamed of mental health issues, but to speak about them and to identify the right strategies to help them deal with the issues and make tasks manageable which previously were not.
All four speakers gripped the room and our students hastily wrote notes as they gave their talks. Whilst the conference was aimed at sixth form students, our Year 11 students were at ease joining in discussions and debates with a range of students. It was a useful day to develop students' critical thinking skills for their next steps at college and university.
Ms Hennelly
PA to the Headteacher
All of our students demonstrated exemplary behaviour and were a credit to the school. Please see their reviews of the day below:
Workshop Review: An Interpretation of Feminism

In the beginning I was apprehensive, due to the other bright minds in the room, but that was quickly conquered by the warm welcome everybody gave, which led to a constructive and informative conversation proceeding. First, we discussed our interpretation of feminism in small groups, which really opened my eyes about the differing perspectives we all shared due to our social status, ethnicity and experience with other 'feminists'.

We then had a brief presentation about the different waves of feminism through the ages, allowing us to understand the past before we look towards the future.

Finally, the conversation was opened up to the whole room, and a healthy and hilarious exchange of ideas ensued. We also talked about the past oppression of women, and how women unfairly judge each other still today, something I have never truly pondered. This workshop set an inclusive and comfortable tone for the rest of the conference, and it completely exceeded my expectations. For me, it's clear to say I walked out of the workshop as a changed person.
Crystal 11H

Conference Speakers Review

The conference was held at the Ernst and Young offices in Canary Wharf, where we were allowed access to the 20th floor. The conference was from 10am to 4pm and included five speakers and a variety of student workshops. The first speaker was such an inspirational lady named Dr Shola. She brightened up the whole auditorium with her inspiring words and her amazing message of being confident and persevering no matter what happens. As a woman, she talked about her struggle while working as a mother and gave an insight into what real life jobs will be like.

The second speaker was Ayla who was from a Turkish background and she talked about the struggles that everyone, but particularly young women, face while trying to get a good education alongside a stable work life. Her talk was equally as inspiring as Shola's, and she brought light to the girls who don't/can't get an education because of their gender, and sometimes because of their background.

Another speaker was Eleanor Miller who spoke on the taboo topic of the effect that the increased exposure to pornography has on young boys. Interestingly, she also spoke on the effect it has on girls and the way real relationships form. Using her experience from working as a journalist and having her own child, she chose a topic that we usually wouldn't talk about.

Her talk was very informative and gave us an insight to real life issues.

Overall, this trip was very inspiring and suited the theme of International Women's Day very well. The speakers gave us very good advice and helped develop our knowledge.
Maryam 11W

Workshop Review: How to Plant Your Success

I had one of the greatest experiences being able to go on this trip and I had the chance to meet many inspirational women. Throughout the day, I attended four talks and two workshops, my favourite being 'How to Plant Your Success'.

This workshop allowed me to structure my own path to success through many stages illustrated as a plant. For example, the soil represented the community you work in and being able to work well, efficiently and be determined. Furthermore, through this workshop I was able to build my self-esteem and confidence as I contributed many times during the workshops and felt very comfortable during the day. Overall, this day has empowered and encouraged me to believe in myself and to work extremely hard for the future. I would like to thank everyone who gave me the opportunity to attend this event, as it was the best trip I have been on and it has made a great impact on me.
Amina 11S

Workshop Review: Being a Queen 101

On Monday, I had the honour to go to a prestigious conference at the Ernst and Young office in Canary Wharf, celebrating International Women's Day. Throughout the conference, there were talks by a number of speakers who focused on highlighting the importance of inner beauty, confidence and self-esteem.

We also highlighted prominent issues within our society regarding women, like the gender pay gap and educating fathers in other countries about the importance of parent-children relationships. Furthermore, we attended two different workshops at the conference, one of the workshops I attended was called "Being a Queen 101", which was held by sixth formers and focused on discussing the common insecurities and concerns that young teenage girls have, alongside discussing what makes a true queen such as being intelligent and wise. I left the conference at the end of the day feeling extremely confident about myself and found that my self-esteem had been restored. Overall, I feel very thankful that I had such an amazing opportunity and hope that some of those speakers are able to come to school.
Imaan 11S