WSFG Alumni Naomi Ackie wins a BAFTA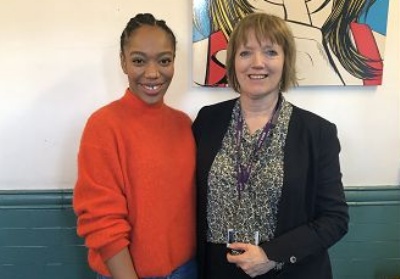 Naomi Ackie wins Best Supporting Actress at the Virgin Media British Academy Television Awards
Just a few months after returning to our school to film an interview with her former teachers and take part in a photoshoot, our alumna Naomi Ackie has won a BAFTA award for Best Supporting Actress for her role as Bonnie in a recent highly successful dark comedy drama series, which also won an award.
She burst into tears as she won the award at the BAFTA Virgin Media British Academy Television Awards on Friday. The actress, 27, beat Helena Bonham Carter to the top spot.
Shocked and thrilled by the win, Naomi responded with 'What? oh my God! Oh man, are you serious?' She then went on to thank her family, choking up as she said: 'And my dad, I love my dad and he's been so supportive, I know my mum up in the clouds would be so proud, and my sister. Oh man, I'm really happy, this makes lockdown so much better, thank you so much.'
The BAFTA Virgin Media British Academy Television Awards were held in a closed studio after the original date was postponed due to the coronavirus outbreak, having originally been scheduled for 17 May. The awards show was held at Television Centre and in accordance with government guidelines the ceremony was socially distanced, with nominees accepting their prizes virtually.
You can watch the interview she recorded at WSFG in March below ...
---
Naomi Ackie, former student and actor known for her roles in Star Wars: The Rise of Skywalker and Macbeth, visited Walthamstow School for Girls on Friday 13th March for a project in collaboration with Digital Spy Magazine.
During her visit, Naomi took part in a photoshoot around the school grounds and filmed an interview with her former mathematics teacher, Mr Straker. Naomi then went on to join a Science class led by Ms Brunas, which explored several Star Wars related science experiments, before holding a Q&A with students in the class, which was also filmed for the project.
In addition to this, Naomi met several steel pan students and her former steel pan teacher Mr Murphy as she listened to them practice during lunch. Naomi also met two of her former teachers who are now retired and ended the day by speaking to current Headteacher, Meryl Davies and Deputy Headteacher, Sally Kennedy.
Meryl Davies, Headteacher at Walthamstow School for Girls said:

"It was delightful to meet Naomi who came across as extremely genuine and excited about being back in her former school. She reminisced with her former drama teacher, Ms Cassford, as well as Mr Straker, her mathematics teacher. We are extremely proud to count Naomi amongst our alumni and wish her every success with her acting career".
You can read the full interview here and watch the recording of it on Facebook or Instagram