Young Lawyers Day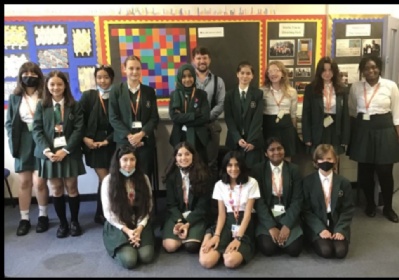 Year 8 students learn about a career in the law
Last Friday, eighteen students from Year 8 participated in a Young Lawyers Day, hosted by Josh from the Debate Chamber. It was interesting to observe the girls developing their skills during the day, as they learnt a great deal while having fun at the same time. Here is some feedback from some of the participants:
I was amazed when I joined the young lawyer's workshop and was even more amazed by how engaging it was! We were brought in on a wet Friday morning and were greeted by a friendly barrister called Josh who happily answered all our burning questions. We learned about different things in criminal law like mens rea (guilty mind) and actus reus (guilty act), the differences between American law and British law and we even got to take the role as a barrister in a case called Regina v Peter Richards. I was really nervous and Josh did his best to make me feel comfortable. I would absolutely recommend this workshop to anyone who is interested in law.
Aminata 8F

I loved the whole experience, I thought it was extremely exciting and it fuelled my passions in pursuing a career in law!! I also found out how the job will be, the sorts of things I have to learn, things I might have to be able to do (natural skills etc) and all kinds of interesting things. We explored different cases in crime where we had to determine whether they had a court case or not. Not only this but the teacher answered many questions about what we had heard on tv etc and showed us the difference between American law and England+Wales law. We learnt about actus reus and mens rea which I found out is extremely important in crime! At the end of this Josh told us about advocacy and we even trialed the tutor ourselves. Thank you for this opportunity!
Laurie 8S

I enjoyed the young lawyers day greatly and found it extremely interesting to learn about the law and how people are convicted. It included how people have to have committed the guilty act (actus reus) with a guilty mind (mens rea). I also learnt a lot about the court which included how court cases are written up as R v (whoever is being tried) with R standing for Regina (the queen.) My favourite part of the day was reading some of the small scenarios out and deciding whether a crime had or hadn't been committed. And finally, I liked how there was lots of time for us to ask any questions we had.
Harriet 8W

I thoroughly enjoyed the morning, it was educational and interactive and I think that I have learnt a lot about how a barrister does their job and also all the different areas I could pursue in law. Personally, I am interested in criminal law and the justice system since it seems the most interesting. Sadly I did not get to enjoy the last part of the day which would have been re-enacting the court; I think this would have been extremely fun but even without it the lesson was what I would describe as "enriching".
Eliza 8W

I enjoyed the Young Lawyers Day and I recommend it to anyone who is looking to become a lawyer. The teacher was so helpful, and I learnt a lot of new stuff. I loved this experience and I thank WSFG for giving me this wonderful opportunity.
Zara 8H

Lawyers day was lots of fun and I learnt a lot of new things from it. It has definitely inspired me to become a solicitor or a barrister one day.
Elena 8H

Young lawyers taught me the different types and rules of law. It also gave me an insight of how court is like and how to present evidence. Now I am considering a career in law when I am older.
Saarah 8G

Today was great. I've acquired so much information about what being a lawyer is like at a fun pace. Truly inspiring!
Lara 8C

I am so happy I reconsidered, and I choose to attend this day. Today was a day like no other. I learned a lot about law and it made me even more interested in becoming a lawyer one day in the future. I learned about all the types of lawyers and what they do and what you need to have in order to sue someone for assault. But at the end of the day I have to say that my favourite part of the day was the advocacy because I was really able to express myself and learn new ways of persuasion. So in conclusion today was great fun and I thoroughly recommend it.
Alexia 8H

The young lawyer day was a great experience! I learnt a lot and enjoyed myself, I would recommend the workshop to anyone over 11 (it would be quite hard to understand if you were younger). And I would definitely want to take part in another day similar to this, if there are any in the future.
Myla 8S

The day was really fun. It was great doing advocacy with Josh and trying to ask leading questions. I would recommend doing it to everyone interested in law.
Nabeeha 8S
Well done to all students who made the most of this opportunity and many thanks to Josh for sharing his knowledge in such an inspirational way.
Ms Robinson
Challenge Coordinator