Year 8 attend "My Money, My Future" Workshop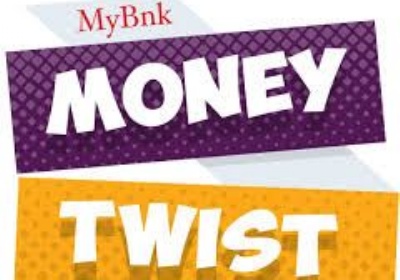 MyBnk Money Twist event held in school
The whole of Year 8 took part in workshops to boost their understanding of how to manage their finances in the future and how banks work.
We continue to work closely with the financial education charity MyBnk who support students in all year groups with workshops and projects to improve their financial awareness which will give them greater understanding and vital skills to carry them through later life.
MyBnk is a company that teaches people (from age 11-25) how to manage their money and how to make your own money.

MyBnk came to our school for two lessons. We were learning about "how to become a millionaire", how to keep your money safe, how to manage your money and banks.

We had to make our own bank, which was very fun. We had to create special features, special offers, our own way of unlocking/accessing our accounts, our bank name, slogan. logo and we had to decide what our banked money gets spent on. Then we had to present our work.

The activities were amusing and fun!

Tabassum 8H
The students really enjoyed the sessions and learnt a lot.
Ms Philippou
Assistant Headteacher