Christmas Card Competition 2017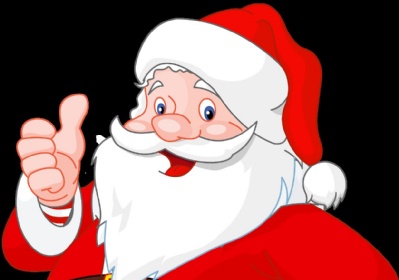 Winners and runners up announced
There is so much artistic talent in the school and the students have so many clever ideas, which made it a great pleasure to be one of the judges of this year's Christmas Card competition, alongside Ms Pratt and our Head of Art, Ms Wills.
We first decided on four finalists from each year group and then selected a winner and a runner up for each.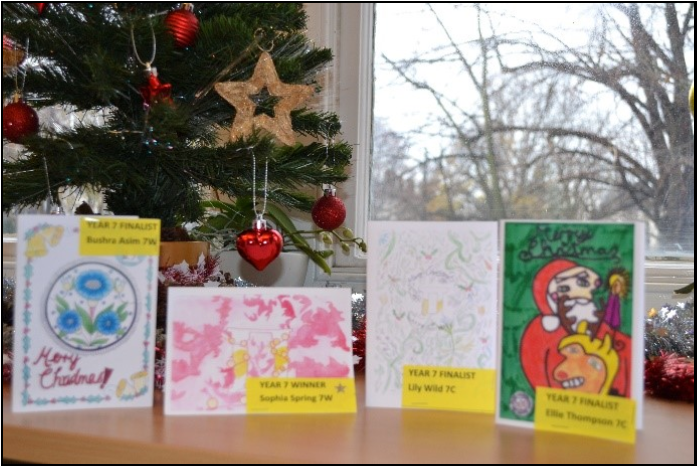 Congratulations to Year 7 finalists: Sophia (7W), Bushra (7W), Ellie (7C) and Lily (7C). Sophia's design was chosen as the winner in this group for her choice to use a simple, yet effective main feature, the Greek Theatre and school symbol, and for her bold choice of colours. It was impossible to choose a runner up from the three finalists as they were all wonderful designs and beautifully drawn.
The judges were very impressed with the Year 8 entries and chose another card inspired by the work of William Morris as the winner. This was designed by Adoja (8G) and the judges liked the use of colour which worked particularly well as a card. So well, indeed, that it was selected as the design for the WSFG e-card.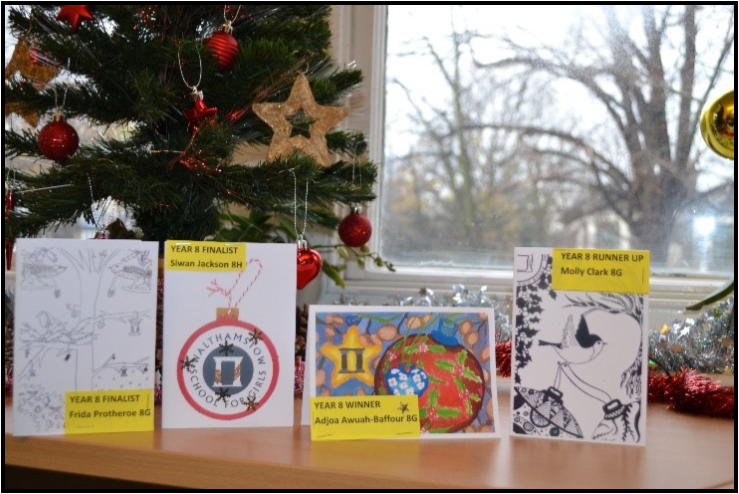 Judges also liked the work of Molly (8G), the runner up, for her interesting work in black and white, which subtly incorporated the WSFG logo at the top of the card. Also commended were Frida (8G) who cleverly used the school logo as baubles to decorate her tree and Siwan (8H) for her card in the shape of a bauble which is a fantastic idea, although we found it impossible to do it justice as a card which could be reproduced in any quantity.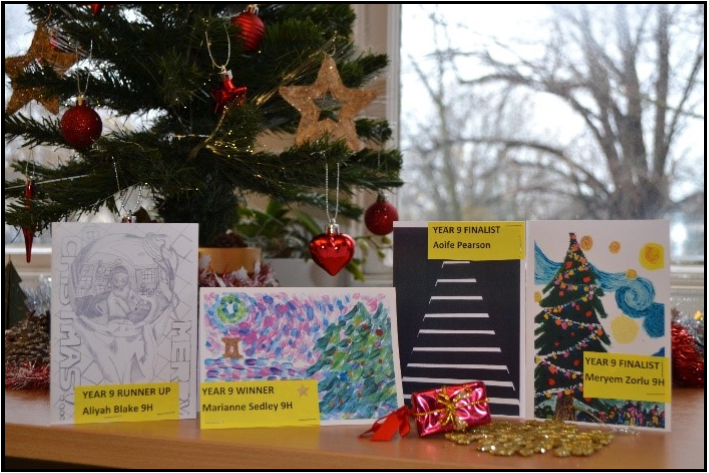 The winning card in the Year 9 group was designed by Marianne (9H) and inspired by the work of Robert
Delaunay. The judges especially liked the use of colour and brushwork. The runner up was Aliyah (9H) for her skilful use of perspective on the bauble and other finalists were Meryem (9H) for a design inspired by Vincent van Gogh and Aoife (9F) for a very clever and stunning design, using black and white, with cut outs, which again was greatly admired but we were not able to reproduce the design well as a card.
We had over one hundred entries this year, some of which, although spectacular, were received after the deadline or even after the judging had been held. You will be able to see how difficult the task was for the judges as many of the cards will be displayed in the school foyer during the countdown to the Christmas holidays. A huge thank you to the Art Department for encouraging the students to participate and congratulations to all those who submitted an entry.
Ms Davies
Headteacher