International Women's Day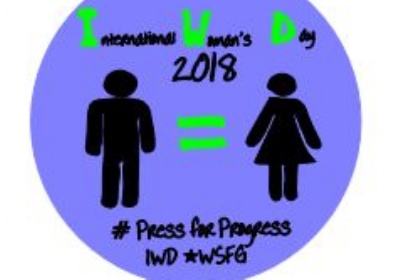 WSFG marks the day with a full calendar of activities
The whole school celebrated International women's day at WSFG on 8th March!
This year's winning IWD Logo was by Lily in 7C.
There were ribbons and badges of the winning design available for all students and staff to wear on the day.
All students participated in a variety of activities: dressing up as an inspirational woman, writing short stories, designing a page of a celebratory calendar, playing "What's my line?" with women from different lines of work, listening to an inspirational speech and presentation on the suffragettes and competing in a quiz! There are a few pictures below!
Celebrating International Women's Day at our school is crucial for many reasons.
We want our students to feel confident and empowered to tackle issues such as gender equality, pay discrepancy, objectification of women in society, etc. and to challenge stereotypes and bias.
We want them to have a voice, to express their views and to celebrate women's achievements.
Students are very fond of this day and past students when they visit always comment on how our school allowed them to become outspoken and strong.
The International Women's Day 2018 campaign theme is #PressforProgress.
Ms Desbenoit
Diversity Coordinator