Parent Awarded Freedom of Waltham Forest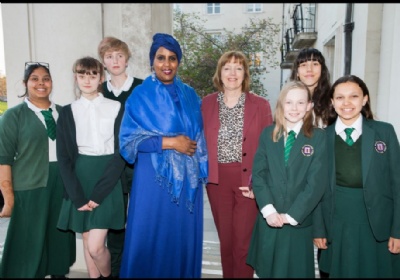 Our Headteacher & students attended the ceremony
It was an honour last Thursday to accompany a small group of student representatives to the Town Hall for a special Council Meeting to witness the Freedom of the Borough being awarded to two inspirational women, Hibo Wardere, a WSFG parent, and Leyla Qalbi Hussein.
They were given this award by Council Leader Clare Coghill in recognition of their indefatigable work fighting against the barbaric practice of FGM. The girls were invited to observe the Council Meeting as well as spend some time chatting to the two guests of honour about their campaigning work. The girls have in fact pledged to invite them both to WSFG to speak about this work to a new cohort of student campaigners, so watch this space for more news. Hibo also offered to donate more copies of her book 'Cut: One Woman's Fight Against FGM in Britain Today' to our LRC.
Below are a couple of observations from the students:
"Last Thursday my peers and I went to the Town Hall and listened to continuous debates as well as two miraculous women get rewards. We were luckily given the chance to talk to them after the rewards were given. Their inspirational words inspired us all and gave us power that we never knew we had. I hope to have them in school with us soon to enlighten everyone with their beautiful words. "
Jasia 9C
"On 19th April several students and I went to the Town Hall to honour the Award Ceremony of Hibo and Leyla with the Mayor. We took pictures, witnessed the ceremony and had a chance to ask questions and talk with Hibo and Leyla. They were awarded for their fight for women's rights and against FGM. Leyla made a movie about this, whereas Hibo wrote a book about FGM called 'Cut'. I am very delighted that they are going to visit the school, hopefully, and do activities with us."
Vanessa 7H
Thank you to Safa 10W, Fatma 10C, Erin 9W, Evan 9W, Jasia 9C, Olivia 9C, Emma 9S and Vanessa 7H - you all represented the borough's students in an exemplary way!
Ms Davies
Headteacher