Jackie Smith, Chief Executive and Registrar of the Nursing and Midwifery Council visits WSFG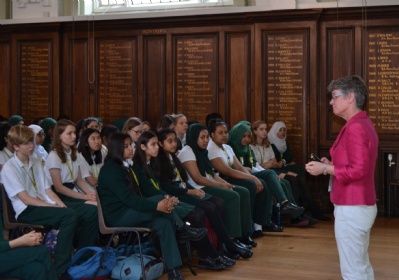 Students inspired to take up careers in the NHS
As part of plans to mark the NHS's 70th birthday in July, Jackie Smith, Chief Executive and Registrar of the Nursing and Midwifery Council returned to the classroom to promote careers in the NHS.
She attended Walthamstow School for Girls to talk to students about the vast number of career opportunities in the NHS including, doctors, nurses, midwives, paramedics, dentists and many more, as well as inspiring young people to take up science, technology, engineering and maths (STEM) subjects.
Meryl Davies, Headteacher at Walthamstow School for Girls said:

"We were honoured to have such a prestigious visitor to our school. Jackie spoke to our Year 9 students about her phenomenal career and shared her experiences and work, as well as urging the students to consider careers in the National Health Service to support our futures. The 180 students were gripped by her stories and applauded her strongly when she said she did this work because she "wanted to make a difference"."

Jackie Smith has been Chief Executive of the NMC since 2012. Jackie Smith said:

"It was an honour and privilege to share my life experiences with an engaged, lively and insightful group. I'd urge all of us in a position of influence to give thought to how we connect with the country's future generation"
The NHS is the country's largest employer offering more than 350 types of profession, many requiring STEM qualifications. However, only one in four secondary school students choose two STEM A-Levels, and only one in 11 choose maths and physics.
Earlier this year NHS England and NHS Improvement joined forces with the charity Speakers for School. The collaboration is giving school pupils access to insights and advice from individuals who are at the top of the health profession, helping broaden students' horizons for what they can achieve.
The campaign is part of plans to mark the NHS's 70th birthday with well-known media medics and other high-profile speakers volunteering their time to visit secondary schools and colleges in England this summer to help recruit the workforce of the future.