Lord David Puttnam visits Walthamstow School for Girls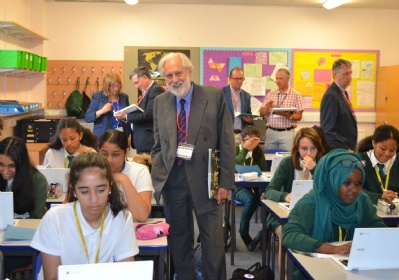 Revolutionary Learning by Questions (LbQ) pedagogy praised
On Wednesday July 11th Lord David Puttnam, CBE visited Walthamstow School for Girls to see a revolutionary new pedagogy that's been trialled there for the last ten months.
Learning by Questions (LbQ) is an online teaching and learning platform that transforms the traditional 'teach from the front' classroom, reducing unnecessary workloads for teachers and could increase learning by more than 25% .
Students progress at their own pace and ability through question sets and receive immediate automatic feedback as they answer, while teachers receive live analysis and results.
The programme is funded and owned by the Bowland Charitable Trust and independent testing confirmed that using Learning by Questions could increase learning by more than 25 per cent.
Although famous for his spectacular filmography including Oscar winner Chariots of Fire, Lord Puttnam has been heavily involved in developing educational opportunities for many years and is an Honorary Doctor of Education (University of Sunderland), founded the National Teaching Awards and was the founding Chairman of the General Teaching Council.
Walthamstow School for Girls have been part of a progressive LbQ feedback project with 49 other schools from across the UK, in which 92% of the teachers believe that this pedagogy will be widely used in the next five years.
Lord Puttnam said:

"The school is a total knockout – honestly a revelation!"

Meryl Davies, Headteacher said:

"We are really delighted to have been chosen as an ambassador school for this innovative scheme and the students have responded well to the instant feedback they receive on their learning. We were excited to host a visit by Lord Puttnam, who was also treated to a tour of the school."
Lord Puttnam was accompanied by Tony Cann, CBE, Graham Howe and David Kilgallon. Tony Cann set up Learning by Questions Ltd, a development company financed and owned by the Bowland Charitable Trust and founded Promethean, a global leader in interactive education technologies. Graham Howe was the
co-founder and former finance chief of mobile giant Orange and was a non-executive director of Promethean and David Kilgallon is Director of Learning and System Leadership, London Borough of Waltham Forest.