Year 9 Female Leaders in Finance Trip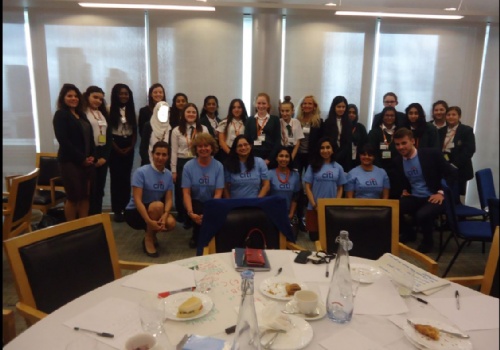 Students eat brunch at Canary Wharf with inspiring female leaders.
Ms Philippou, Ms Winter and I took sixteen lucky students to an inspiring Female Leaders in Finance Brunch at the Citi Bank in Canary Wharf. This event was aimed at raising the aspirations of the students participating, helping them to identify the key skills they will need and already possess when deciding on a career path.
The session focused on women in the workplace, a theme that is key for the school and the girls that attend WSFG. The session looked at the challenges women can face and Citi staff contributed their career insights and advice on succeeding in the workplace.
The session was delivered as a brunch giving the students the experience of a networking event. It included some introductory workshop activities for participants such as identifying their transferable skills and interviewing volunteers about their career paths. It was a wonderful experience and all students behaved perfectly.
Here are some of their reviews of the day:
The trip was a great opportunity for us to meet real life professionals, who talked about the hardships they have faced. This made me realise that women from different cultures can have professional roles. We interacted with different women and gave our views on many of our countries' problems and how we feel about where women stand in society. I found this a great experience that can impact on our future.
Sana 9C

Inspiring, empowering and helpful.
Grace 9W

I really enjoyed the trip, it was an amazing experience. I learnt about women in the workplace, and that there is still a pay gap between men and women workers. I learnt that most people do not know what career path to follow, until they have tried different jobs. The women we met were really inspiring and easy to talk too.
Amina9W

It was good being able to talk to women in the workplace and to ask them questions in a friendly atmosphere.
Ayjan 9F

This trip was very useful in helping me decide my future career. The professional women we met inspired me to keep working hard so that I will be able to reach my dreams. We talked to a variety of women about their experiences in banking, hopefully this will help me in the future. I was happy to go on this trip and will definitely sign up for more opportunities like this.
Maja 9C

I enjoyed the trip to the Citi Bank in Canary Wharf, it was a wonderful experience and educational. We interviewed women who had taken time out of their day to inspire us.
Mariyam 9S
Ms Desbenoit
Year 9 SPL / Diversity Co-ordinator