Presentation Evening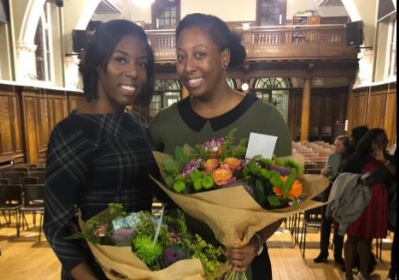 Ex-Year 11 Students rewarded
Last Thursday I had the pleasure of attending the annual Presentation Evening, as a member of the Alumnae Committee (and a VIP guest- what an honour!), and it was a heart-warming event, as ever. I had the pleasure of meeting Waltham Forest's Mayor, Cllr Sally Littlejohn, and the specially-invited speaker, alumna Miriam Fagan, for refreshments with Ms Davies, Danielle Ferguson (Chair of the Alumnae Committee) , Mariam Musa (member of the committee) and Miriam's proud mother and husband before the event, and was struck by the warmth Danielle and Miriam shared. They had been in the same year at WSFG, but hadn't seen each other since they left and had lots of memories and news to share. The Mayor was evidently struck by the relaxed atmosphere on her first visit to WSFG, and enjoyed the delicious nibbles provided by the school catering team, too.
Once we were seated in Hewett Hall, it soon became evident that this was going to be a particularly memorable Presentation Evening, as the hall was set up in a new format, and the students were even more attentive than usual. It was Ms Warren's first Presentation Evening as SPL, and everything ran very smoothly. Ms Davies welcomed everyone and praised the girls for their amazing results, which were even more impressive as they were the first cohort (guinea pigs, perhaps .. ) for the new exam format. Mr Shackson welcomed three gifted students to perform: Lily Deason (steel pans), Kalila Hambloch and Pearl Bador (voice), who represented the very high standard of musical talent in the year group. Everyone enjoyed their performances immensely and a very positive atmosphere was generated which lasted throughout the evening. Ms Davies read the Chair of Governor's speech, as Ms Barker was unable to attend, and the certificates were presented by Miriam Fagan, giving everyone a chance to admire the colourful and stylish outfits the students were wearing for this important occasion. Mustard, tartan, DMs and extra- long eyelashes seemed to be the most popular choices!
Then came the special awards and speeches: Danielle Ferguson, Chair of the Alumnae, encouraged the students not to forget their school friends and staff, and to keep in touch in the future. She had found it difficult to wear bottle green for many years, but was proud to be involved with the school again and urged students to consider joining the Alumnae in the future. She presented two awards from the Alumnae: to Sidra Chaudry, for making the most progress from Key Stage 3 to the end of Key Stage 4, and Lily Deason for her Outstanding Contribution to the School and the Community.
Subject awards were also presented, including awards for effort as well as achievement, and for 100% attendance. Ms Warren spoke about the challenges, fun and heartbreak of working with this year group; in particular, she remembered Dilara Ozbek, whose tragic early death had affected everyone so much. Guest speaker Miriam Fagan took to the stage, with a gripping tale about a 'young lady she knows' who had been expelled from two secondary schools before ending up at WSFG as a last chance in year 9. Everyone in the hall was attentive as she described how this girl, with the help of patient and understanding teachers, made friends and found her feet at last and gained some good GCSEs, against the predictions of the Heads of her previous schools. She then continued with her education, going on to university and further training, despite being diagnosed with dyslexia and being discouraged by some of her lecturers. She eventually specialised in children's safeguarding , and now runs a consultancy with her mother, who had supported her along the way. She then revealed that she was in fact the young lady in question, who had been saved and encouraged by WSFG all those years ago! This revelation made a big impression on students, parents/carers, staff and guests alike, as no one would have imagined that the confident, poised, articulate young woman speaking to us could have been the difficult and troubled teenage girl she described. I'm sure this speech will be remembered by everyone who heard it.
We then adjourned to the dining hall for photographs, delicious food and spiced drinks. It was great to congratulate students on their GCSEs and special awards, and to find out what they were doing now; I met someone who was at naval college, hoping to become an officer, and another student who was painting in her bedroom and hoped to establish herself as an artist. Other girls were pursuing long-held dreams to study medicine and act; some were already enjoying the world of work at the local hospital, and there were LOTS of very proud parents in the room!
All in all, it was a hugely enjoyable evening, and I'm sure all the girls who attended will have fond memories of the Presentation Evening, thanks to the support of their devoted SPL, teachers, support staff and parents. Thank you for inviting me!
Mrs Finamore
former Community Liaison Co-ordinator