Year 7 Visit Goldsmith's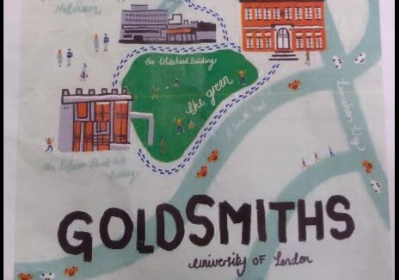 Inspiring Introduction to University Life
At the beginning of term, twenty four students from Year 7 had the opportunity to spend the day at Goldsmiths University. The idea was to give an introduction to life at university and to inspire students to consider it as an option from a young age. There were four representatives from each form group who will be sharing what they learnt with their forms. Here is feedback from some of the students:
Going to Goldsmiths was one of the best experiences that I've ever had! The three student Ambassadors were very kind and helpful and showed us different parts of the university. In the afternoon we did an event planning activity where we had to plan a festival. I was very surprised to learn that Event Planning is actually a degree that can be studied at Goldsmiths!
Aimma 7W

The trip was absolutely amazing! We learnt so much and I enjoyed every minute of it. It was so cool to learn about life at university without the usual pressure which is applied when talking about the future and what it holds. We learnt about some very crazy courses and one very interesting one – Curating. It is the study of collecting and organising Art, learning about its history and opinions about it. It was a great opportunity and I loved all of it!
Cleo 7F

I had an amazing day. We went on a tour of the campus and had to find things and answer questions. One thing that blew my mind was the Squiggle! It is a giant squiggle on top of a building and it weighs more than four hippopotami. The tour was lots of fun. Overall, it was a very useful day and a great experience. We learnt many things about life at university.
Teo 7F

We learnt many interesting things. My favourite part was the Festival planning and the tour. The most interesting thing I learnt was how big the classes can be. We went into a lecture theatre with over 300 seats! Universities are very different to schools. For example, students can still live at home but many live in university accommodation. Another main difference is that at school we have twenty five lessons each week. At university there may be as few as eight. When not in lectures, students need to study on their own, read for their course, do essays and they can join clubs and societies.
Cally 7C

​​​​​​​It was an amazing experience to find out how many choices of courses we can study in the future and how people fulfil their dreams. I would love to go there and learn even more about the possibilities. It is amazing how free you can be to study in your own time what you love, how many life skills can be learnt, and how new friends can be made. You can have so many choices and change your life in a good way. Go to Goldsmiths!
I recommend it!
Dolores 7H
Thank you to Ms Cassango and Mr Courteney who accompanied us on the trip. The next university trip for Year 7 will hopefully be to the Royal Veterinary College in the summer.
Ms Robinson
Challenge Coordinator