WSFG Hosts Artwork by Turner Nominated Duo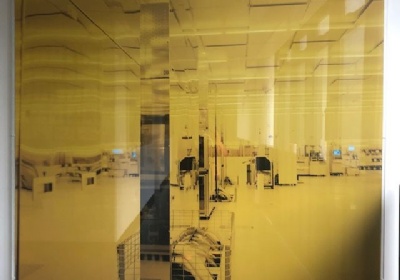 We join the "Ways of Seeing" Trail for the Borough of Culture
68 artworks, 33 artists, 28 locations
In partnership with the Government Art Collection, Waltham Forest London Borough of Culture 2019 presents Ways of Seeing. Transforming the whole borough of Waltham Forest into an art gallery, Ways of Seeing will display the work of 33 internationally-known artists from the Government Art Collection in 28 unusual and unexpected venues across Chingford, Leyton, Leytonstone and Walthamstow from 24 April – 31 August.
An impressive total of 68 artworks by 33 artists have been selected from the Government Art Collection relating to ideas around production, landscape and nature connecting with the Borough's rich history of creativity and its enviable mix of urban spaces, waterways and forest. Each work is in a specially selected location that responds to the piece, offering new ways to think about it and the borough.
Walthamstow School for Girls is privileged to be hosting a piece of artwork for the Ways of Seeing Project.
The artwork "Safe Light, Reflected Ballroom" by Jane and Louise Wilson is situated at the centre of the school, so that the students see it as they move around the building.
The artwork is available for public viewing on a Thursday evenings 4.30 - 6.00 pm by appointment only, as viewers will need to be escorted through the school buildings. The viewing will be available during school term time only.
The available dates are as follows:- 23 May; 6, 13, 20, 27 June; 4, 11 July.
If you wish to view the artwork, please call the school office on 0208 509 9446 to book your appointment.
More information on Ways of Seeing can be found here.
Jane and Louise Wilson are two Turner Prize nominated British artists who together work as a sibling duo. They first began working together whilst studying at different universities, Newcastle and Duncan of Jordanstone College of art respectively, where they both submitted an identical piece of photographic work depicting the siblings in a controversial scene. A sense of darkness stemmed from their Final Degree Show and has continued throughout their work and later years.

Whilst photography has been their main medium throughout their careers, they have also produced multiscreen video installations. A common theme throughout all the works however, is the use of political and institutional spaces – an interest the siblings state came about as they were growing up during Margaret Thatcher's term in office. Art Patron Delfina Entrecanales has described their work as "…very dramatic and often sinister, but most of all very powerful. It combines the personal, the political, and the poetic".

Rather than the more brutal and eerie photographs from the earlier stages of their career, the piece displayed in the school appears to be bright and inviting, and possibly depicting the reflection of a ballroom. However, the yellow colour was chosen for the piece as whilst many perceive it as a happy and positive colour, studies have shown that it can instead create anger and frustration. Additionally, the image of the ballroom may in fact be a hospital or laboratory, therefore returning to the artists' darker interests and themes, and making the audience question whether it is a safe light, reflected ballroom.

This work is displayed adjacent to the art rooms at WSFG.