More Mosaics Installed on our School Walls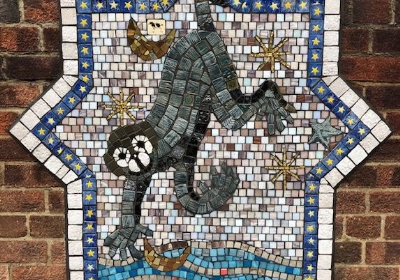 Maud Milton and her team add another three.
Students, staff, volunteers and local residents of all ages were involved in the design and creation of the latest mosaic panels which have been installed on our front walls over the last two days. There is a Fibonacci spiral themed mosaic, one features a monkey and the moon, one shows two swans - requested by a thrilled local resident - and there is also a new panel on the wall of the Almshouses, featuring all things beeand beehive related.
Artist Maud Milton and her team have been working hard to get them in position and finished - despite the changeable weather - to the delight of local residents and passers-by. There are even tiles featuring the Walthamstow Stadium frontage and some current and past local residents, both two and four footed!
Check out Maud's instagram account, where she gives more information about the ideas and work behind her mosaics, which you can see all around the local area and farther afield. Here are a few quotes from her about the new panels which we are so proud to have displayed on our walls ...
" The monkey is based on a William De MORGAN tile, a picture of a monkey reaching for the reflection of the moon. "

" ... this wall and two others ... transformed with the work of 700 community participants aged 3-83. "

" One of the reasons I love my work is because I get the chance to work with beautiful tiles, the best from suppliers like Orsoni in Venice and Bisazza, also a Venetian manufacturer. And then there's the amazing opportunity to work with other artists and the community and to see how a design evolves and grows into a mosaic with so many details and decisions decided while we are making, using our vast and richly varied smorgasbord of tile choices. Sometimes the best decisions are a complete surprise. Having the wonderful tiles made for us by my friend, award winning ceramic artist @alicemaraceramics has been an incredible gift and has added a local layer of stories and mystery and relevance to the imagery in these mosaics ... the Walthamstow cows, famous for grazing locally until a few decades ago. "