Our Mosaics feature on YouTube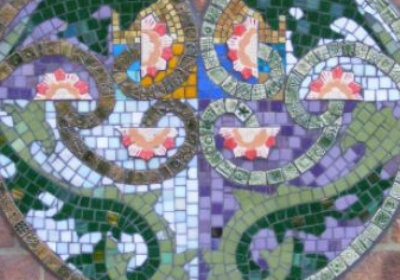 Click to watch ...
Below are the recent additions of mosaics to our school wall created by Maud Milton, her Artyface Team and members of our school and local community. Here is some background information from Maud herself ...
The swans and bees (the bees are in Church Path) were requested by Almshouse residents. The swans are based on an arts and crafts wallpaper design, the monkey reaching for the moons reflection is based on a William De Morgan tile, another contemporary artist of William Morris. The double Fibonacci spiral was requested by the Maths department (Ms Robinson) at WSFG. The painted lady butterfly on Aubrey Road was also part of this project and celebrated their community garden and local wildlife.

Local artist Alice Mara made and donated tiles with transfers - all the people and dogs on the monkey border are local. She took the photographs and uses them in her work , but they fitted with the monkey hanging by its tail. There's also a cow jumping over the moon. There used to be cows roaming by Whipps Cross about 29 years ago, hence the cattle grids. She also donated the beautiful Dog Track tiles in the swan border.

Smiles Glass cut and donated the mirror tiles.

Pupils and parents at Church Hill Nursery made many tiles, you can see them in the border of the swan and in the bee hive.

120 year 2 pupils from Henry Maynard made the beehive hexagons, the flowers, the monkey hair and the starry white monkey border tiles.

Pupils from WSFG made the bees, the names of the local bees and the flowers and plants which the bees like locally. Also they spent a few days mosaicing in WSFG.

St Mary's kindly let us use the Welcome Centre behind the school for a week and lots of community member s visited and took part.

We worked with people aged 2-86!
Here is a video of Maud's work, featuring the mosaics on our front wall and some of our staff and students ...
Please follow maudmilton on Instagram for updates and news on these and other local projects.
For more information please contact Maud Milton on 07958911315.
Maud's latest project is making roundels for local London Overground stations. An article about her work on the Londonist website can be found here.