Climate Change Drop Down Day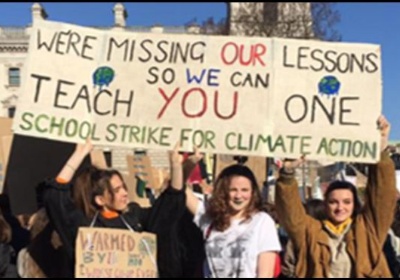 Humanities Faculty Focus on our Planet's Biggest Challenge
Climate change is one of the biggest challenges facing our planet today and something many of our students are understandably very concerned about. A number of our students have already taken an active role in the recent climate protests.
In support of last Friday's International Climate Strike, the Humanities Faculty collapsed their normal timetable and focused teaching in all lessons on climate change. Those students who were taught humanities on the day experienced a range of activities from watching David Attenborough's documentary "Climate Change: The Facts", to being given lectures by subject specialists.
At lunch time, we launched the new WSFG Green Club. Around 60 students attended the meeting where we discussed what actions the school could take to make it more sustainable. Some initial ideas included improving recycling practices across the school, increasing the number of trees across the site and promoting 'Meat-Free Mondays.' We are also looking at working towards securing 'eco-school status'. More news on the Green Club's progress will be shared as we work towards our targets.
If you want to make an eco-impact and join the WSfG Green Club, come to SO8 at lunchtime on Fridays Week A.
David Attenborough's "Climate Change: The Facts" can be found here.
Mr Sterlini
Head of Humanities