Gardening Club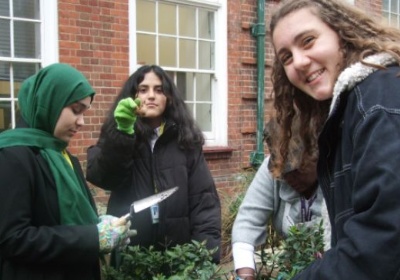 Year 11 students relieve their exam stress!
An unexpected lunchtime gardening experience for some Year 11 students! Here are their comments:
We had just finished our lunch, when we spotted Ms Dominique cheerily singing along to Frank Sinatra's 'Fly Me to the Moon' whilst tending to the school garden. So we thought why not help out as we have some time on our hands ahead of our mock exams starting next week!

Miss Dominique was delighted that we had offered to help her and so were we! It was so much fun, Meryem, Sofina & myself were planting some bulbs just in time for us to see them bloom in spring, whilst our camera-woman Safiyah took photos of us. I tried my best to explain to Ms Dominique about the plant hormone 'Auxin' which I had learned of in my last biology lesson: goes to show what an excellent teacher I have (thank you Ms Sulthana!)

It also shows, how gardening links to subjects you are studying which helps develop your knowledge! To anyone who is considering taking part in gardening club, I would encourage you to: it will benefit you and your studies, I can guarantee you that you'll have an amazing time!
Iris 11G

Recently, I participated in a wonderful gardening opportunity, where I planted bulbs, learnt how to do it as well as what tools are needed.

I have never really been interested in such activities involving nature and plants, but this opportunity helped me realise how wrong I was and that gardening is a really amazing way to relieve stress – especially if you're a student that has to go through many exams in the next 5 days.

This activity also made me become one with nature. As someone who was having a bad day, even something as small as planting bulbs made a difference to my psychological well-being, and happiness is essential to a good life. We can build happiness through small steps such as these. Do not underestimate the power of nature!

I advise people to take up gardening as a hobby, it will add colour to your life and cheer you up. If you are a person that doesn't like to get their hands dirty, don't worry you can wear gloves!

Furthermore, doing this with other people is a lot of fun, as I have did myself with my fellow friends Iris and Sofina, and the awesome and spectacular photographer Safiyah!

Finally, I am so glad I got to take part this wonderful experience… Can't wait to do it again!
Meryem 11H

It was a good experience and I'm glad I had an opportunity to take part in it. Gardening helps you relax, it's very calming and enjoyable.
Sofina
Thank you girls for your help and glad you enjoyed yourselves.
Ms Dominique
Learning Mentor KS3