Gardening Club News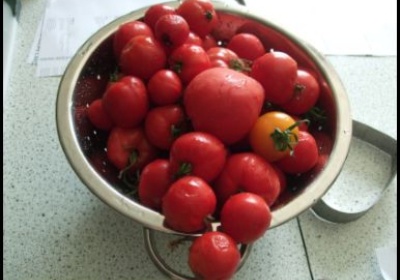 Bumper Harvest, almost time to start planting again!
On our return to school last September, we harvested produce from our school allotment garden.
Our harvest of tomatoes was bountiful. We also harvested onions, spinach, potatoes and garlic.
With consideration of what could be made from our produce we all agreed on tomato tartlets and green pesto.
We worked cooperatively to make the two recipes and eat the tartlets too. The remaining pesto was used with pasta a few weeks later. This was one of the best moments I have experienced in Year 7, everyone was included in the activities. I recommend gardening club to you all.
Faith 7W

Gardening club is extremely fun. We were able to make tomato and pesto tarts, with the crop of tomatoes. It was very nice of Ms Dominique to arrange for us to make them. She also gave us information on how she grows all her vegetables. At the end of the day Ms Dominique kindly let us take a tart home and they were delicious. I would encourage everyone to have a look at Ms Dominique's breath-taking garden.
Zarah 7W
Ms Dominque
Key Stage 3 Learning Mentor