Drama/Diversity Theatre Trip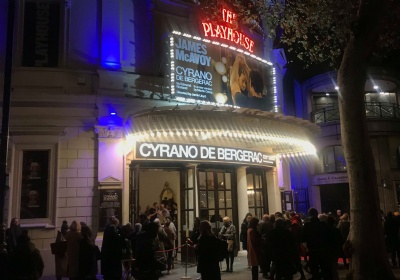 Students attend a performance of Cyrano de Bergerac
Ms Cornford, Ms Simpson and I took 20 lucky students to see Cyrano de Bergerac at The Playhouse Theatre on Monday 20th January at 7.30pm. It is a modern adaptation of the classic French love story with amazing acting and the integration of modern music! One of our ex-students was even in the cast!
Here are some students' reviews:
"Cyrano starring the one and only James McAvoy was absolutely amazing! The modern take on the play took me by surprise even though I had never seen it before it was easy to understand and follow the characters through the play. The actors and Jamie Lloyd managed to get around the difficulties a theatre production may face and created a romantic and emotional piece from beginning to end. If you have not already seen it, you are missing out on a great and new experience along with the many laughs and the thrill of always being on the edge of your seat!"
Roya 10W.

"I was really impressed to get such a cheap ticket for such a great play. There was a real joyous atmosphere in the theatre, and I loved the contrast between the humorous scenes and the more heavy-hearted scenes. I would definitely recommend going to see this play!"
Rosie 10G.

"What an amazing cast of talented actors who connected with the audience and created a lively atmosphere which concluded in a standing ovation! It was a wonderful adaptation!"
Priscilla 10 G.

"Our seats were so close to the front that it really intensified the experience and made me enjoy it even more. The acting was amazing and the plot clear despite it being an old play, they managed to juxtapose it with touches of modernity like wearing modern casual clothes."
Ellie 10G.
Our students were an absolute credit to our school, bravo!
Ms Desbenoit
Diversity Co Ordinator