Waltham Forest Heritage Plaques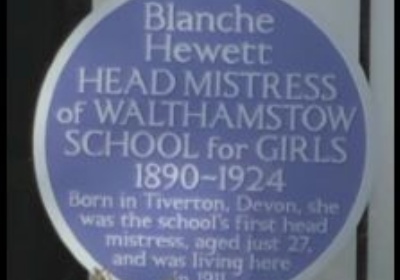 WSFG Inspiration Headteacher Celebrated
As part of the Borough of Culture residents of Waltham Forest were invited to choose Waltham Forest's local heroes, heroines and places of significance to be celebrated in iconic blue plaques.
The nominations could be for an inspirational person (living or dead) who it is felt is of importance to our borough, or a historic place that has real significance to the local community.
This plaque dedicated to Blanche Hewett the first headteacher of Walthamstow School for Girls is in the window of a local home. So not only did Miss Hewett spend 35 years of her working life here, she also lived locally, within one hundred yards of the school.