London Engineering and Technology Careers Fair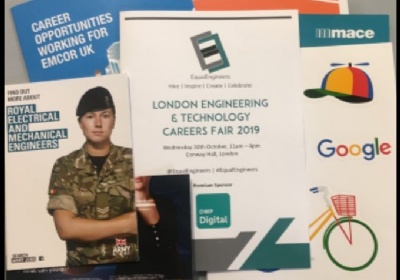 Students Visit STEM Event
Thirty Year 10 Students attended a careers fair at Conway Hall, London. This is what they had to say about the event:
Conway Hall had a big range of different companies offering information on jobs, work experience and apprenticeships to do with engineering and technology. It was really interesting and good to see how many opportunities Design Technology and STEM gives you.​​​​​​​
Keira 10F

This trip was really good as it gave me the chance to see different jobs out there and help me to decide what interests me.​​​​​​​
Hibah 10S

The Careers Fair was very interesting as there were a variety of companies present, it gave me a good idea of what I would like to explore in the future.​​​​​​​
Tahiya 10S

It was very exciting seeing huge companies such as Google wanting to talk to us about opportunities they offer for people our age.​​​​​​​
Selinay 10S

I really enjoyed the experience as it was interesting to explore the world of engineering. I enjoyed talking to the companies and it made me start to think about my future career opportunities.​​​​​​​
Aaisha 10W
I am delighted that the students were so inspired and will consider STEM as possible areas of study and career paths. As always, the students were a credit to WSFG and hopefully they have made some good contacts for future work experience placements.
Ms Healy
STEM Coordinato​​​​​​​r