Gardening Club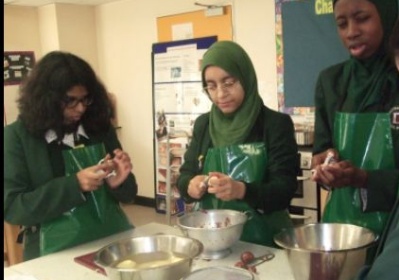 Spring is approaching on the allotment - come and join us!
This month there are signs of the approaching spring, with bulbs appearing and wildlife waking up as it gets lighter and temperatures increase. There's plenty to do indoors this month to prepare for the season ahead. Outdoors, as the garden comes to life again it's time to start sowing seeds under cover.
At this time it is important to prepare vegetable seed beds and sow some vegetables under cover.
We have been so fortunate to have Mr Grinbergs who has been volunteering his time to help us with this preparation, as well as his trusted advice. This has given us time to enjoy the fruits of our last season's growing.
This week we will be sowing seeds in our greenhouse in preparation for spring. These will include: peas, chillies, celery, and Goji berries. We will also be chitting our potatoes, to ready them for planting later.
Next week we will be making Mediterranean spinach pastries using spinach which is currently still flourishing in our garden.
"I enjoy attending Gardening Club. In Gardening Club we plant seeds and cook things using ingredients we have grown. For example, we have made muffins, bird cakes, pumpkin and potatoes, carrot soup and soaps. We also gave some pumpkins to our school kitchen. "
Nayab 7F
As well as pruning, cleaning and planning, it is a perfect time for sowing seeds. With this in mind, we purchased an additional greenhouse to maximize our seed sowing and growing potential.
Our school office staff have also become involved through propagating and nurturing seedlings on windowsills in the school's front office.
Thank you Year 7s and office staff for your continued support and interest in gardening club.
Mrs Dominique
KS3 Learning Mentor