"The Bee in Me" Project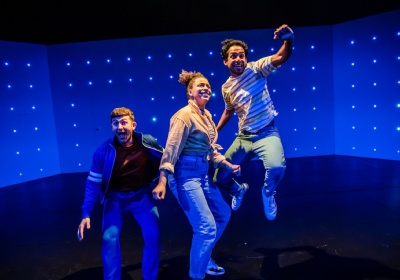 Year 8 Students Attend Workshops and Theatre Performance
Following on from 3 successful preparatory workshops, Ms Pratt, Ms Dominique and I took 30 students on a trip to the Unicorn Theatre to see The Bee in Me on Wednesday 5th February. The aim of the whole project was to build social skills, to develop self-esteem and to give them a confidence boost. The play was fantastic and here are some of students' reviews:
"It was a really interesting play with 3 people acting the same character, they moved at the same time and must have practised a lot. I liked how they interpreted these stages as levels from a video game."
Isabelle 8F.

"I liked how the play captured the daily struggles of teenage life and turned it into a metaphor of wanting to fly away by depicting scenes of the character turning into a bee. I also enjoyed how it was told in the second person and how the character took every challenge they were facing in life as a level in a game"
Jenny 8H.

"I thought the view of Tower Bridge and central London was beautiful and I loved walking around and I hope we can have more experiences like this in the future because I loved this one!"
Melisa 8C.

"I enjoyed the part when the characters were really expressive and exaggerated. I was ecstatic when I saw the Shard, the Tower Bridge and the Belfast Ship. The view was spectacular!"
Sedra 8W.

"I enjoyed the morale of the play that sometimes life can be hard but you should always have a positive mindset to things"
Nuriyah 8C.
The students behaved impeccably and were a credit to our school!
Ms D Desbenoit
Year 8 Student Progress Leader / Diversity Coordinator