Elevate - Music for Youth Digital Festival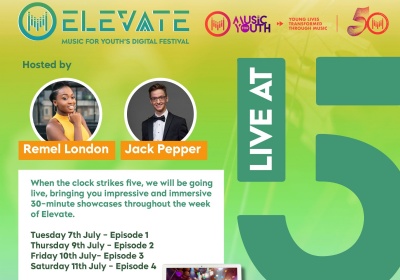 WSFG Steel Band features "Live at 5" on YouTube
Due to COVID, the annual National Festival run by Music for Youth was cancelled this year. Instead, they have organised a digital showcase to celebrate the music of young people.
We entered 5 pieces from our Steel Bands and we will be featured in Episodes 2 & 3 of the live at 5 sessions running next week. If you would like to watch these, you will need to subscribe to the Music for Youth Youtube channel.
ELEVATE, Music for Youth's Digital Festival, will be a celebration of young people and the multi-disciplinary music they create, both independently and with the help of fantastic music teachers.

We will be elevating youth voice by providing a platform that promotes inclusivity, addressing the importance of innovation and creativity curated by young people, regardless of background or circumstances.

Over the course of the week we will highlight our rich 50-year history and look to the future by elevating the progression of the young people we work with.

There's no need to miss a minute of the festivities, click here to be taken to the official ELEVATE homepage and turn on notifications for reminders of the week's live events as they happen.

We hope to see you there! Log on, tune in and turn it up!
Our performances will be able to view on the MFY YouTube Channel from 5 p.m. on Tuesday 7 July & Wednesday 8 July.
The full schedule and a link to subscribe to their Channel can be found here.
Ms Bradshaw
Head of Music