Battle of the Bands Remixed Online 2021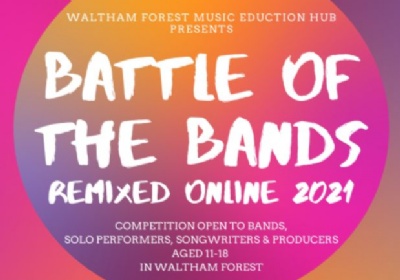 Musical Students invited to enter!!
Bands, Solo performers, songwriters, producers aged 11-18 from Waltham Forest secondary schools are invited to represent their school or college at the annual Waltham Forest Battle of the Bands. The competition will be held online this year.
Winning performances in each category will be announced and shared by a panel of experts in a Youtube Live feedback session on Wednesday 23rd June 2021.
Category 1: Overall Performance
This could be a cover version or an original song. It must be performed live by a band or solo artist (singer or MC).
Category 2: Original Song: Live/acoustic performance or Electronic/Production
Entries can be either:
A solo or group live performance.
This can be a fully live performance or a performance to an original backing track.
Any backing tracks must be original compositions written and produced by the entrants.
Where electronically produced backing tracks are submitted, judges will give credit to production skills as well as composition and lyrics.
Prizes
Key stage 3: Record a live performance at LSC for the sharing event in June 2021 or record at LSC in Autumn 2021.
Key stage 4-5: LCCM studio time and masterclass in the Autumn term 2021.
How to enter
Step 1: Tell your music teacher you plan to enter and ask them to help you prepare your entry
Step 2: Submit your final video performances via WeTransfer to music.service@walthamforest.gov.uk
Step 3: Send us an email to look out for your video with the subject line 'WF Battle of the Bands', state your school name, performer/writer names, song name, school year and the category you're entering.
Deadline for video submissions: Monday 7th June 6.00pm 2021
Videos must be a maximum of three minutes in duration and video file sizes must be no larger than2GB.
Zoom feedback sessions
Need some feedback on your performance or song before the final deadline? Submit a work in progress and contact WF Music Service to register for a feedback surgery Zoom call. Just type 'WF Battle of the Bands feedback' into the email subject line.