Year 8 Public Speaking Competition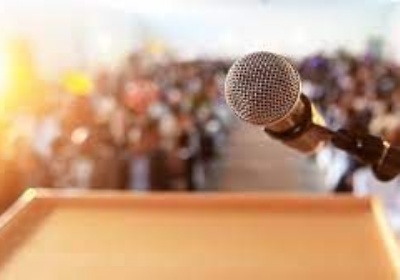 Read the winning speech here!
During the last half-term, Year 8 students have been working on a public speaking unit in English. Each student chose a topic they felt passionate about and researched, drafted, and performed a speech to their peers. Our Year 8 students produced some fantastic speeches, showing off their hard work, research, and excellent speech delivery!
The Grand Final of our Year 8 Public Speaking Competition took place on Monday 19 July. The judges were extremely impressed by the standard of speeches given by all six of our finalists, who showed great maturity and passion for the subjects they chose.
We are delighted to announce that Faith from 8W is our Public Speaking Grand Finalist winner this year. Well done Faith!
Please see a copy of Faith's winning speech reprinted below.
"The dangers of critical race theory and the single story that people tell" by Faith, 8W

Everyone's a story teller. I am. You are. We all are! I'm a story teller and I'd like to tell you some stories:

Imagine you're at the back of the classroom. Oh, no! The history teacher comes in going:

'Hey...everyone we're going to be learning about slavery in Africa and the slave trade! Whaddya think?' Now, I bet you're thinking why Africa? Why? Well, I'll tell you why. Because Africa is one of the continents caught up in the single story. Just the other day me and my family were at the airport when I heard:

'We are proud of charity work done in India, Africa and other countries.'

I mean, there are others too, like, Africans are people waiting for a person with no colour to get them out of their 'failed infrastructure'. I'm not saying that's not true but it's the one story! What in the world happen to the others?

How come the British Empire is taught in all its glory but not also shamed for the killings and homicides it caused? How come Islamic people are related to terrorism? And how come, in America, white liberals see black people as those who cannot use the internet, but most black teenagers own a phone! These are all examples of the single story. They dehumanize and bring down the rights as low as they can and make sure to throw the charger away! This can affect how people earn jobs and live their lives in general. Think about it, do you just buy into the single story? I mean, everyone's a victim ... and a predator. You say Germany, you think of Hitler. Think of all those innocent Germans who weren't born before 1939.

That's what it does! Critical race theory - the stereotypes that 'pressure' people into judging others because of their skin, traditions etc. It's like when one person from the community does something wrong, the whole gathering gets the blame! Someone, tell me if this is fair? No, it isn't, but people judge others by their one story but don't have time to read the rest!

This is a quote from Chiamanda Ngozi Adichie, a Nigerian feminist:

'The single story creates stereotypes, and the problem with stereotypes is not that they are untrue but incomplete. They make one story, the only story.'