Speak Out Challenge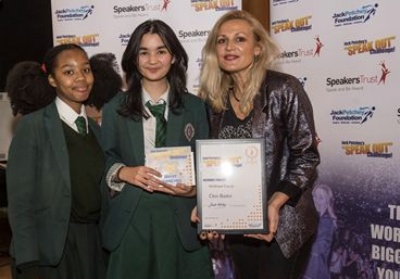 Waltham Forest Regional Finals 25.11.2021
I am delighted to announce that Cleo came 3rd in the regional finals on Thursday night! I am beyond proud of her!
It was such a fabulous event. There were 13 regional finalists who delivered their speeches. All chosen out of the 422 students trained in Waltham Forest this year and all finalists were amazing, but Cleo shone brighter!
Here is her speech on YouTube:
https://www.youtube.com/watch?v=PK2ZQAQJ7rE
Cleo Bador, Romance or Toxic Masculinity, JPSpeakOut

Cleo Bador of Walthamstow School for Girls, took third place at the 2021-22 "Speak Out" Challenge! Waltham Forest Regional Final with a speech titled 'Romance or Toxic Masculinity'. Congratulations! This programme is funded by Jack Petchey Foundation and communications skills training is delivered by Speakers Trust, the UK's leading ...
I also want to congratulate Leigh who came to support on the night with us and was such a good sport throughout the competition.
Both students will deliver their speeches to Year 8 students in their assembly on Wednesday 8th December!
Ms Desbenoit
Year 8 SPL