WSFG Student Ambassadors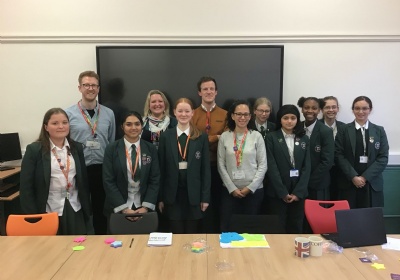 On Thursday 2nd February WSfG had a visit from two Waltham Forest Council members and two Life Chances team members. Cllr Kizzy Gardiner (Cabinet Commissioner for youth engagement) and Cllr Alistair Strathern (Cabinet Member for Children and Young People) spent the afternoon with our year 8, 9 and 10 Student Ambassadors. They ran a number of activities with the Student Ambassadors and had some very interesting discussions on various issues that affect young people in Waltham Forest. They talked about safety, the work that WF is currently doing to support young people and there was a Q&A session with the Council Members.
The Student Ambassadors represented the school and their year group incredibly maturely and the Council Members went away with lots of issues to discuss and ideas to take forward. Below is an article from one of our Year 10 Student Ambassadors.
From Martha 10S:
Last Thursday (2-Feb), the student ambassadors along with the Youth Parliament representatives, had a meeting with a group of staff from the Waltham Forest council. There came to WSfG because of the ideas that we shared at the Youth Parliament last year. Our main objective was the topic of safety around Waltham forest, especially for young people. I found this experience very helpful because I learned a lot from the other students attending and managed to get my voice heard on topics that I think are really important.