International Women's Day Assembly by 7S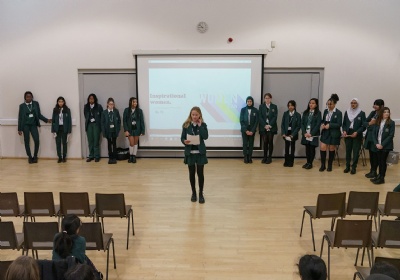 To celebrate International Women's Day, 7S spoke about the women who inspired them and why
To celebrate International Women's Day, 7S spoke about the women who inspired them and why. They worked excellently in groups to research, plan and present their inspirational woman.
They were inspired by sports women Sky Brown and Emma Raducanu. Musician Arianna Grande, astronaut Mae Jamison, campaigners Greta Thunberg and Princess Diana.
It is very insightful to see who the future generation are inspired by, you never know, some members of 7S may feature in other students inspirational Women's Day assembly in future years!
Although some of the students were nervous, I was very proud of how well they worked as a team and their professional presentation skills.
A big thank you to our form reps Hafsah and Niamh for their editing skills on the PowerPoint presentation and our wonderful skateboarders Hafsah, Mia and Safaa.
Ms Healy