Year 10 Speak Out Challenge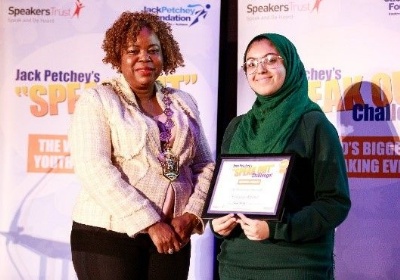 Watch our finalist's speech in full!
30 lucky Year 10 students from my Year Group were selected to attend the Jack Petchey "Speak Out Challenge" Workshop.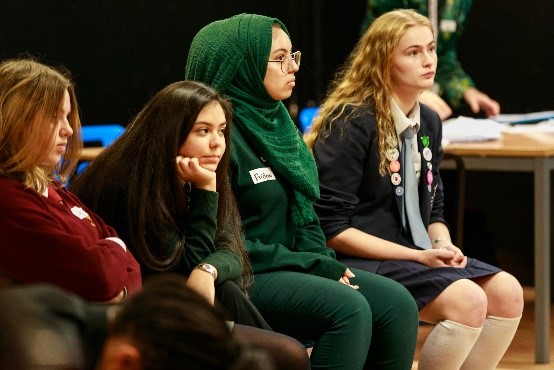 The training was great fun and very interactive. The workshop included speaking games and challenges.
Students had the chance to speak several times and learn to think on their feet. They found out how to prepare a speech; they delivered a short speech based on a personal experience such as a holiday, an achievement or a memorable event; and a longer speech about a subject of their choice.
They learnt how to speak in front of a group with more skill, confidence and enjoyment and gained skills that will last a lifetime.
Here are some of their reviews of the training:
Aleena: "I really enjoyed the training session. It really developed my skills and boosted my confidence."

Fatma: "It was super fun and we learnt so much from the trainer. I learnt about other people and gained confidence"

Eli: "It was amazing, it really helped me to get what I want to say on to paper and then from paper to my peers"

Emily J: "It throws you in at the deep end but it helps you to find your feet quicker"
They did brilliantly and it was really hard to choose finalists. Well done to all participants!
The 5 semi-finalists were: Rachel 10C, Kate 10G, Sophie-May 10G, Eve 10H and Firdaous 10F. All speeches were excellent and interesting. Kate was chosen as reserve with her funny speech on "Imagination and Cardboard"! The finalist was Firdaous with her wonderful speech "Hollywood is Racist".
Here you can see myself and Firdaous talking about the challenge and listen to her speech.
You can read the full speech below ...
"Hollywood is Racist" by Firdaous 10F

Almost every single one of our favourite films, TV shows, practically anything that appears on our TV screens share one exact common problem. They are all racist. Now before you all start accusing me of being racist and making sweeping declarations and generalisations, I mean, really, how can nearly every film be racist? Aren't I treading on slightly controversial territory? No. No I'm not. Let me tell you why. How many of us in here are currently binge watching a Netflix series or generally have a favourite TV show or film? Now honestly keep your hand up if the majority of that cast is white. Take a look around the room and really think to yourself, am I still treading on slightly controversial territory? You see it's become so normalised to just see a bunch of white men on our screens that we don't even question it anymore. We just think it's the norm. But it's not.

Now really think about some of our favourite sit-coms and films that are classics, "How I Met Your Mother" and "Friends". Great shows, hilarious. Until you realise that there isn't a single person of colour in the main cast…

Now I'm not saying that there aren't any roles for people of colour in Hollywood because believe me there are. It's just that Hollywood likes to do this thing where it will grab Jake Gyllenhaal and slap on a bit of sun kissed bronzer in the shade of "this isn't your colour" and then call him the Prince of Persia. Yes, "The Prince of Persia" was an actual film starring Jake Gyllenhal as the Prince of Persia. Now I'm not going to lie to you, I haven't met many Persian people in my life, but I can guarantee you that none of them are called Jake! I mean they'll either do that or they will cast people of colour in their films, but they'll cast the Latino to be the drug dealer, the black guy to be the thug and the Muslim girl as the shy girl turned terrorist. It seems as if the only reason we exist is to cater to Hollywood's racial stereotypes of us.

Now I know what you all may be thinking. What's the point of me standing here and delivering a 3 minute long speech about how un-Persian Jake Gyllenhaal is? Well the point is that representation in the media matters so much more than we all think it does. We hear so much about these hate crimes aimed mainly at people of colour, with police brutality and these acid attacks. But honestly what do we expect when practically the only way we're getting represented in the media is as that thug and that drug dealer and that terrorist.

Hi, hello I'm a Muslim girl and I am not a terrorist. Hollywood knows that. People like you and me, it sees us. The problem is it just doesn't show us."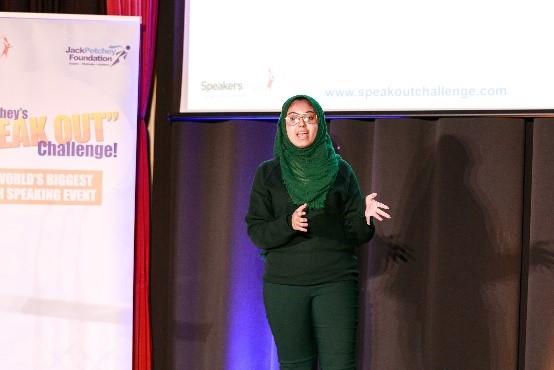 The Speak Out challenge was held at Lammas school and although Firdaous didn't win on the night she was wonderful. Her speech on stereotypes in Hollywood was thought-provoking and funny.
It is a great achievement for her as she was one of 16 finalists chosen out of 536 students trained for the Speak Out challenge in Waltham Forest! BRAVO!
Congratulations to Abdelraouf from Leytonstone school for winning the first place, and to all the other participants for being very worthy competitors. You can watch his speech on YouTube.
Check out the Speakout Challenge website for more pictures and videos of the night.
Ms Desbenoit
Student Progress Leader Year 10 / Diversity Co-ordinator