Maths News
News from our Mathematics Faculty
For more information about subjects taught by this Faculty, please see the subject page for Maths
To contact our Maths Faculty staff, please click here
WSfG Junior Maths Challenge 2021

Some of our Year 7 and 8 classes took part in our in-house Junior Maths Challenge; a multiple-choice competition that encourages mathematical reasoning, precision of thought, and fluency in basic mathematical techniques to solve puzzles.
Well done to everyone who took part; we had many bronze, silver and gold certificate winners.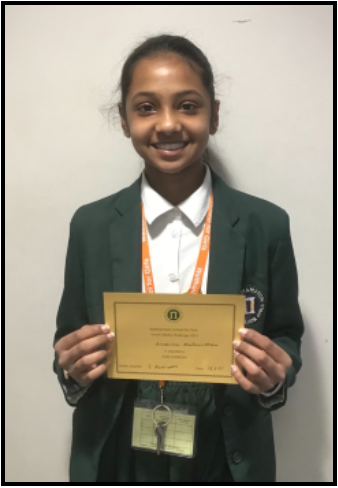 A big "congratulations" goes to Anokshe in 8S and Isla in 7C, who were the best in their respective year groups!
Why not challenge yourself at home using past Junior Maths Challenge papers, solutions to which can be found on the UKMT website.
Until next year, happy puzzle solving!
Miss Kelly
Maths Faculty
The Magic of Numbers
Recommended TED Talk
The Magic of Numbers : Why everyone should love Maths by Bobby Seagull
In Bobby's truly inspiring Ted Talk, he comments on the subject that most people don't like maths and that they just say they don't have a 'maths brain'. However, he explains that maths so much more intriguing and exciting than it might look at first glance. He talks about how when he was little he first got hooked into maths by comparing football cards to create an approximate analysis of who is more skilled and how it inspired him to learn more about maths. He goes on to further explain how confidence is a big part in maths too as he showed us that 50% of adults don't know how to work out a 5% increase of £9, even with a calculator and how they just need to persevere and challenge themselves to achieve great things in the maths field. He concludes the Ted Talk by saying that there is maths in everything, we just have to look for it and he ends with the motivational line: 'We are all mathematicians'.
Kacey Loki 8S
Scientific Calculators

We are please to be able to offer the latest model of scientific calculator FX-83GT X at cost price.
£8.35 if purchased through SQUID.
£8.50 if purchased by cash/cheque.
Mr Salmon
Head of Maths
Black History Month Maths

Year 7 have been learning how to play the African game, Oware, in their maths lessons for Black History Month.
The game has a few simple rules, but takes a lifetime to master!
Students can carry on at home, playing against a computer, by downloading it here.
Ms Robinson
Challenge Coordinator