Accelerated Reading (AR) Programme

At Walthamstow School for Girls we place great importance on developing reading and understanding skills, which ultimately impacts immensely across the whole curriculum and benefits students as they progress towards their GCSEs.
Renaissance Learning (responsible for our Accelerated Reading lessons) has provided students with access to numerous online books from a huge variety of genres through their myON service. We cannot stress enough the importance of maintaining regular reading, and then quizzing on the books read to indicate understanding of the content.
We would like to encourage our students to continue with their Accelerated Reader (AR) lessons - reading and quizzing as often as possible. AR lessons in school are only a small part of the need for reading, as it is recommended that all students read for a minimum of 30 minutes per day. Reading should be both pleasurable and a way of extending learning. In addition, this can be a fun activity for all the family - read, discuss and challenge one another in a variety of ways: understanding, changing characters, guess endings, change endings - the ideas are plentiful
Here are the links to both websites:
Renaissance Learning (Accelerated Reader)
If there are any problems, please contact the info@ email and ask for your concern to be forwarded to either Miss Jolliffe or Mrs Kelly.
The Accelerated Reader Programme
Accelerated Reader is a highly successful customised reading programme, designed to help develop and improve students' literacy levels and to encourage our students to have a lifelong love of reading, regardless of aptitude and ability.
Walthamstow School for Girls has invested in the Accelerated Reader scheme for students in Years 7 and 8.
Students complete a reading assessment and are given their reading range, which is also known as a ZPD (Zone of Proximal Development). This acts as a guide for students to select books appropriate to their reading level. Students in Years 7 and 8 have an Accelerated Reader lesson every fortnight to support their development of reading and comprehension.
Significant improvement

Accelerated Reader produces "particularly positive effects" according to an independent study by the Education Endowment Foundation (EEF) and Durham University.

"The internet-based programme increased the reading age of pupils by three additional months in just 22 weeks. The effect on low-income pupils was even greater, with their reading age improving by five additional months in the same amount of time."
Students are able to borrow books from the school's well-resourced LRC, run by our librarian, Ms Kelly. We also encourage students to swap books and borrow books from their local library.
It is recommended that students read for a minimum of half an hour every day – including at the weekends and during school holidays. This is important if students are to continue to develop their literacy levels. There are over 19,000 book titles on the Accelerated Reader programme. Students can look for books here.
Parents can log on to the AR website to see how their child is progressing by clicking on to the Home Connect icon.
Appropriate challenge

Pupils develop reading skills most effectively when they read appropriately challenging books – difficult enough to keep them engaged but not so difficult that they become frustrated. This is their 'Zone of Proximal Development' (ZPD)
Accelerated Reader Student App
Accelerated Reader quizzes can be taken on computers, laptops, tablets, and through the Accelerated Reader Student App for Apple iOS® devices.
The dedicated online book-searching tool Accelerated Reader BookFinder is publicly available to students, parents, teachers and librarians so they can identify appropriate books that are also of interest.
Positive attitudes

The National Literacy Trust's second independent research report into the reading habits of students using Accelerated Reader was published earlier this year.

"Children and young people who use Accelerated Reader tend to enjoy reading more, do it more often and think more positively about reading than their peers who do not use Accelerated Reader. They are also more likely to see a link between reading and their successes."

Dr Christina Clark, National Literacy Trust
Year 7 & Year 8 Accelerated Reader Lessons in the LRC
Students have a fortnightly AR lesson where we monitor their independent reading and support their literacy levels. They take a test four times during the year and are encouraged to take a quiz after reading a book. Results are used to look at their understanding of the book and to suggest further reading.
A parent's guide to Renaissance Accelerated Reader 360 can be found here.
"Piece of Cake" Baking Challenge

During lockdown, we set students a small challenge of selecting and making a recipe from one of our free online books.
Below are some excellent examples of our students' talents: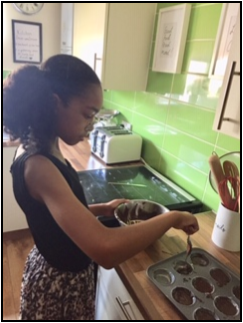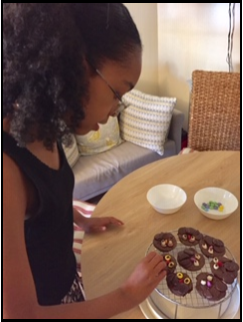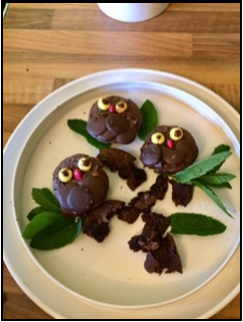 "I made chocolate owl cupcakes with my sister this morning for the Piece of Cake Challenge. My owls are sitting on a chocolate cake tree with mint leaves as decoration. They tasted very nice!"
Sienna 7G
---
A selection of bakes from Leela 7G, who is already a great fan of cooking but has had much more time to enjoy her hobby during lockdown.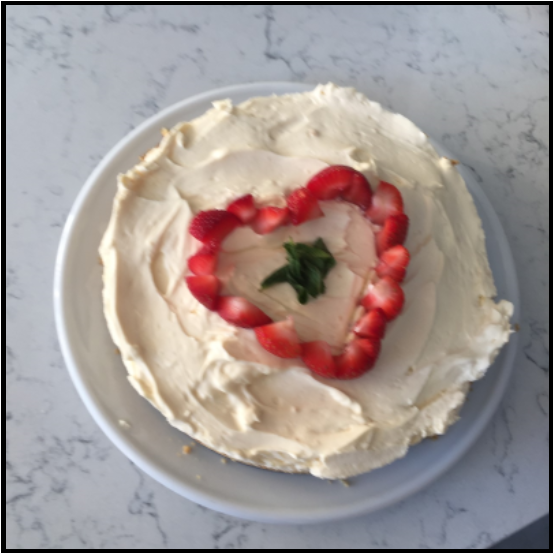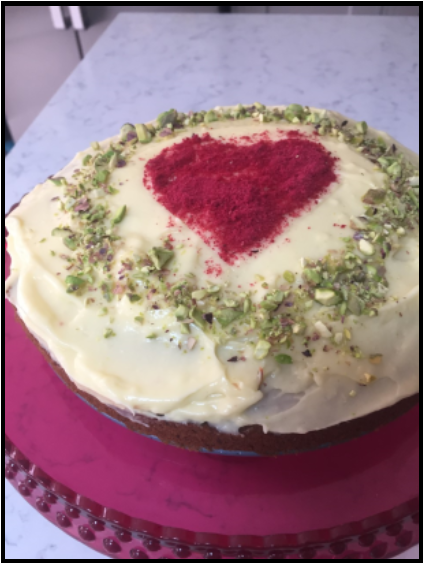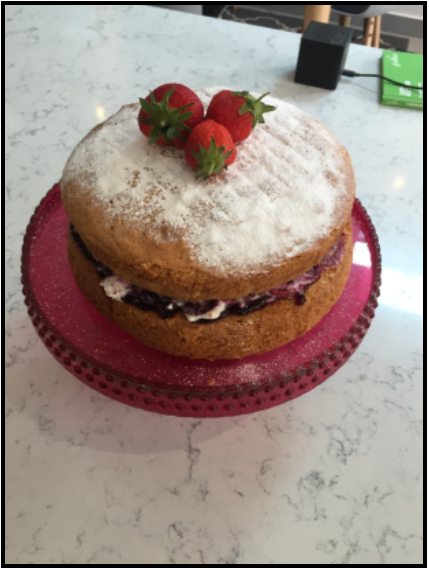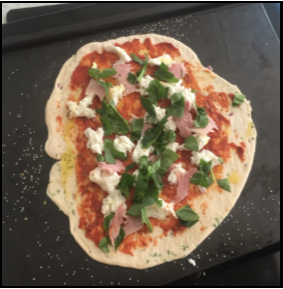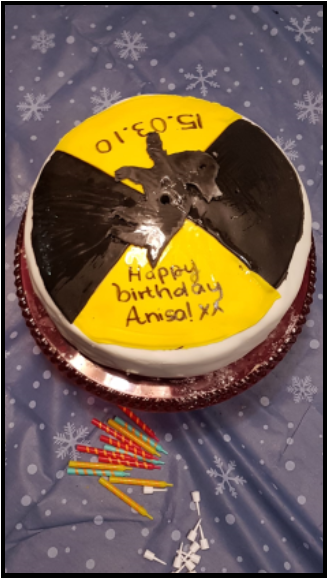 ---
Betty 8G - Cheese and Mouse Cake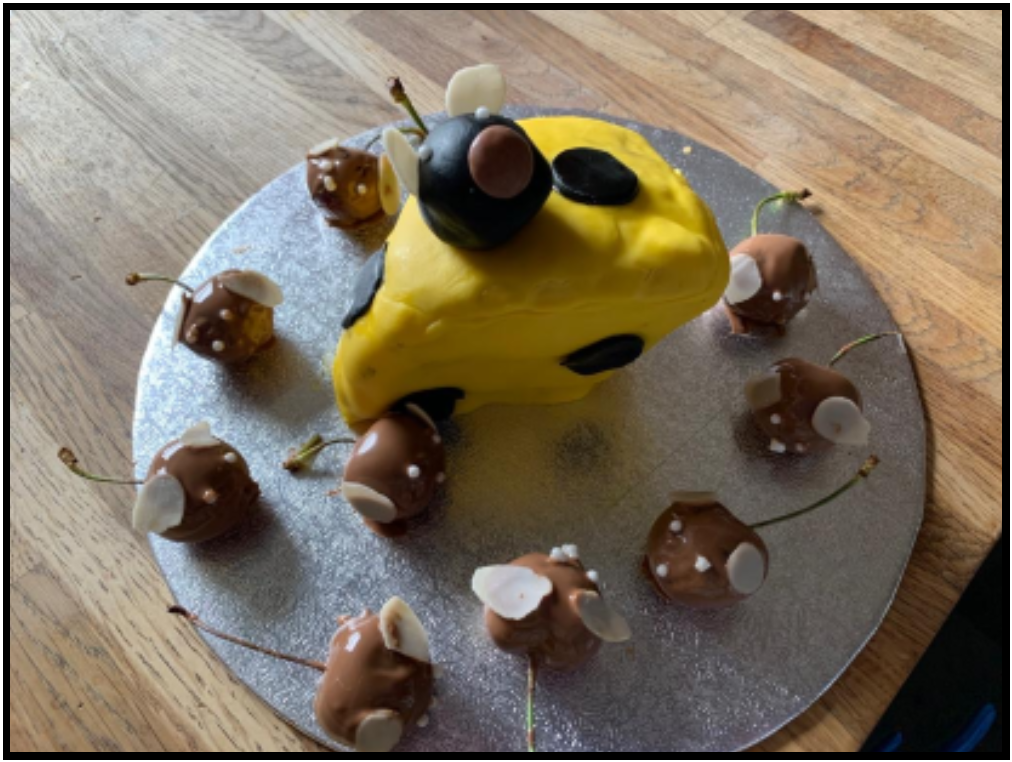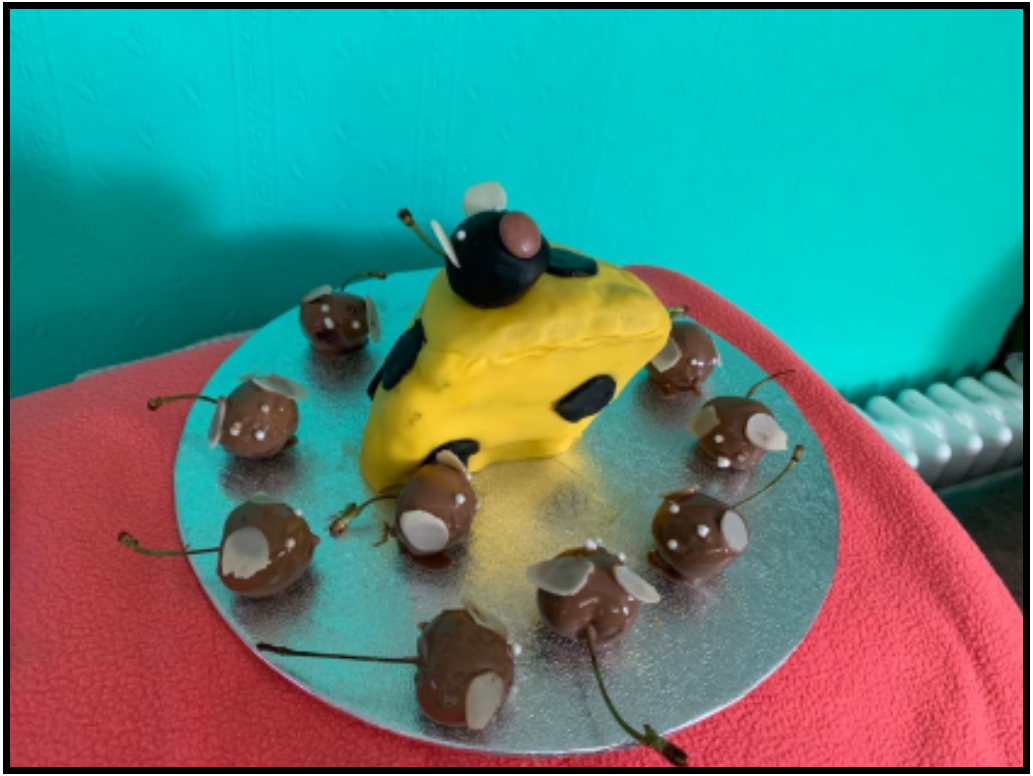 ---
Maisie 7F - Rollercoaster Creation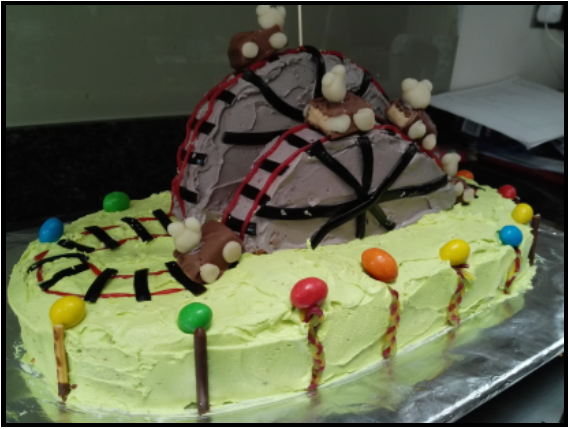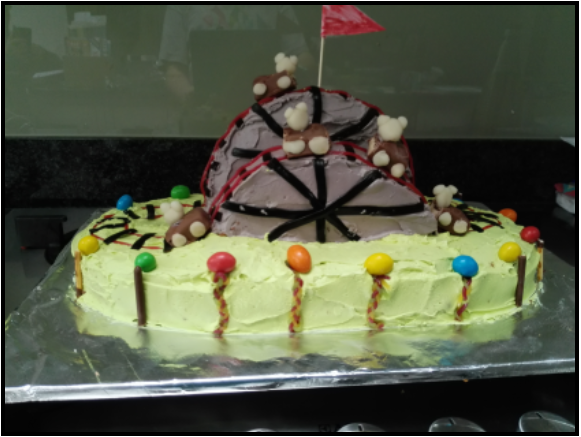 Mrs R Jolliffe English/EAL Teacher
and
Mrs O Kelly Learning Resource Centre Manager
Free online books and articles to read over the summer.
Year 7 and Year 8 students will now be able to keep taking AR quizzes over the summer holidays.
---
The key part of the link is ukhosted56, so check the top of your computer screen to see that it is 56.
---
myon is also available until the end of August - https://readon.myon.co.uk
Here is the new login for myon over the summer months. Why not try to login soon, to see what is available. Not all books have AR quizzes but hopefully you will find them interesting.
Go to myon.co.uk and enter your login information:
School Name: Walthamstow School for Girls
(type WAL and select from the drop-down menu)
a. Username: walthamstow312student
b. Password: read
Click on the Sign In button, select a book, and start reading!
---
Keep Well and Keep Reading and have a lovely summer,
Mrs Kelly
LRC Manager
Celebrating Diversity on Accelerated Reader
Did you know that there are over 38,000 quizzes on Accelerated Reader? That's a lot of books to choose from! Here are some recent favourite AR titles.
---
Noughts & Crosses: The Graphic Novel Adaption by Malorie Blackman BL: 3.1 | Quiz # 230299 | Doubleday
In Sephy and Callum's hostile world, Noughts and Crosses do not mix. But when their childhood friendship matures into passionate love, they are determined to find a way to be together.
---
Little Badman and the Invasion of the Killer Aunties by Humza Arshad and Henry White BL: 4.3 | Quiz #238039 | Puffin
When aspiring rapper Humza Khan's teachers begin to go missing, he soon realises some suspicious aunties are taking their place. [Contains profanities.]
---
Now or Never: A Dunkirk Story by Bali Rai BL: 5.0 | Quiz # 237769 | Scholastic Children's Books
Private Fazal Khan is proud to be supporting the British in WW2. As events in France take a turn for the worse, the frightening retreat to Dunkirk becomes nothing compared to the betrayal he and his comrades face at the point of rescue. [Contains violence.]
---
The Boxer by Nikesh Shukla BL: 4.0 | Quiz # 236599 | Hodder Children's Books
Sunny's life changes the night he is attacked by racists in his new city. Stepping into a boxing gym, he finds the community he's desperately been seeking. But racial tensions are rising and he begins questioning where his new friends stand.
---
Home Girl by Alex Wheatle BL: 4.0 | Quiz # 237567 | Atom
Naomi is a teenager growing up in the care system. When she's placed with a loving West Indian family, her social worker tells her it's only temporary. But Naomi is haunted by her dark past and struggles to stay out of trouble. [Contains strong language.]
---
"I Will Not Be Erased": Our Stories About Growing Up as People of Colour by gal-dem writers Non-fiction | BL: 6.9 | 236484 |
Walker Books Gal-dem, the award winning online and print magazine, is created by women and non-binary people of colour. In this collection, gal-dem writers share their joyous, funny and life-affirming stories about growing up. [Contains drug use.]
---
Chinglish: An Almost Entirely True Story by Sue Cheung BL: 5.4 | Quiz # 237846 | Andersen Press
It's 1984, and Jo Kwan's family have just moved to Coventry. Can Jo achieve her dreams while dealing with annoying siblings, racism, bullies and drama? [Contains racist slurs, scenes of violence and abuse.]
---
A Change is Gonna Come by various authors BL: 5.1 | Quiz # 233433| Stripes
This anthology of stories and poetry are from BAME writers on the theme of change. Contributors include Tanya Byrne, Inua Ellams, Catherine Johnson, Patrice Lawrence, Ayisha Malik, Irfan Master, Musa Okwonga and Nikesh Shukla.
---
Kick the Moon by Muhammad Khan BL: 5.0 | Quiz # 238037 | Macmillan Children's Books
Ilyas wants to create comic-book heroes, but instead he's got GCSEs, troublemaker mates and work in his dad's shop. Then he finds a kindred spirit in Kelly, but when she's caught up in a toxic bet Ilyas must decide what kind of hero he wants to be.
---
Rose, Interrupted by Patrice Lawrence BL: 4.4 | Quiz # 237275 | Hodder Children's Books
Rose and her brother have recently escaped a strict religious sect. Now they must learn how to handle the rules of their new life.
Summer Quizzing
GREAT NEWS FOR THE SUMMER!
AR students will now be able to quiz over the summer months.
Quizzes are now available until 31st August, so students will be able to keep tracking their reading progress during the school holidays.
Keep Safe and Keep Reading!
Mrs Kelly
LRC Manager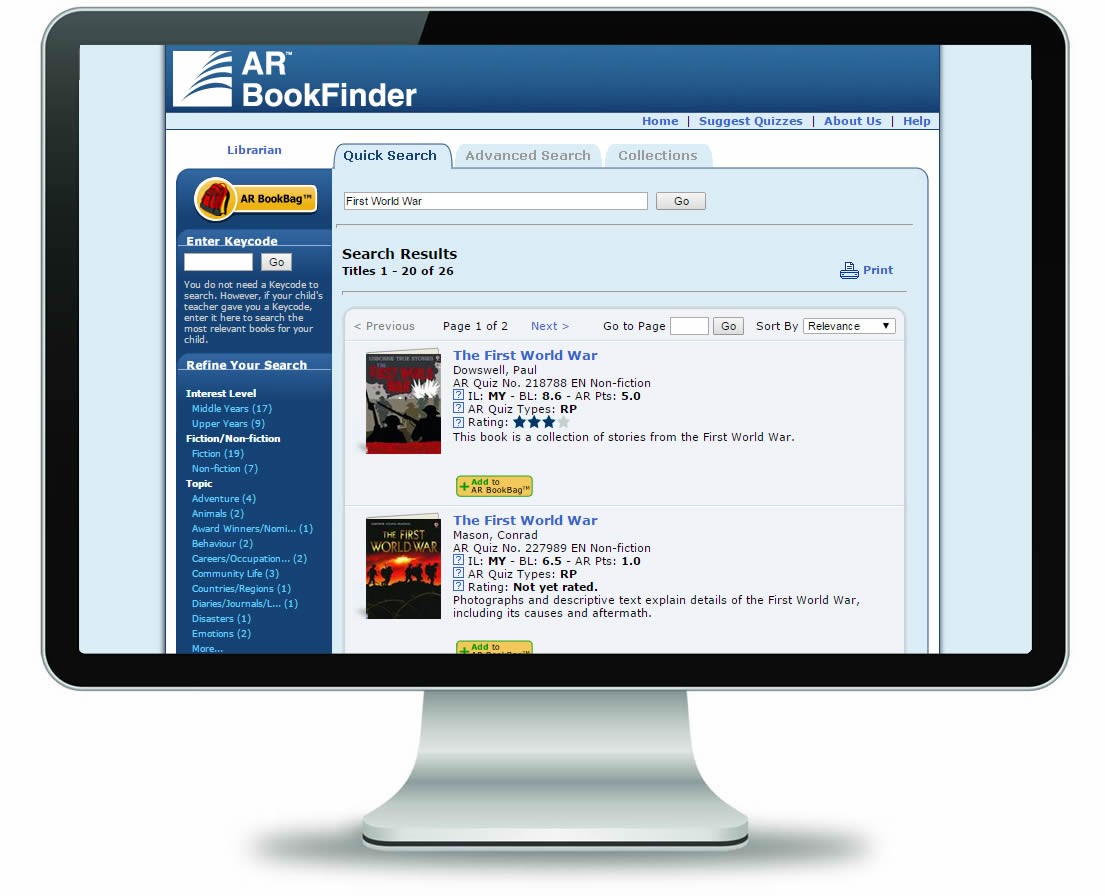 Logging into Accelerated Reader from Home
To log on to Accelerated Reader from home you need to follow this link
Please ensure that the link at the top of your computer screen is showing "ukhosted56". Some of our computers at school revert to "ukhosted46" or other numbers, so try to check that the link is showing 56.
You can log on via Google Chrome, or if your computer is blocking the site, try via Internet Explorer.
If a student is having problems logging on, please contact me by e-mail
I hope you and your families are all well.
Mrs Kelly
LRC
AR News - 15 July 2020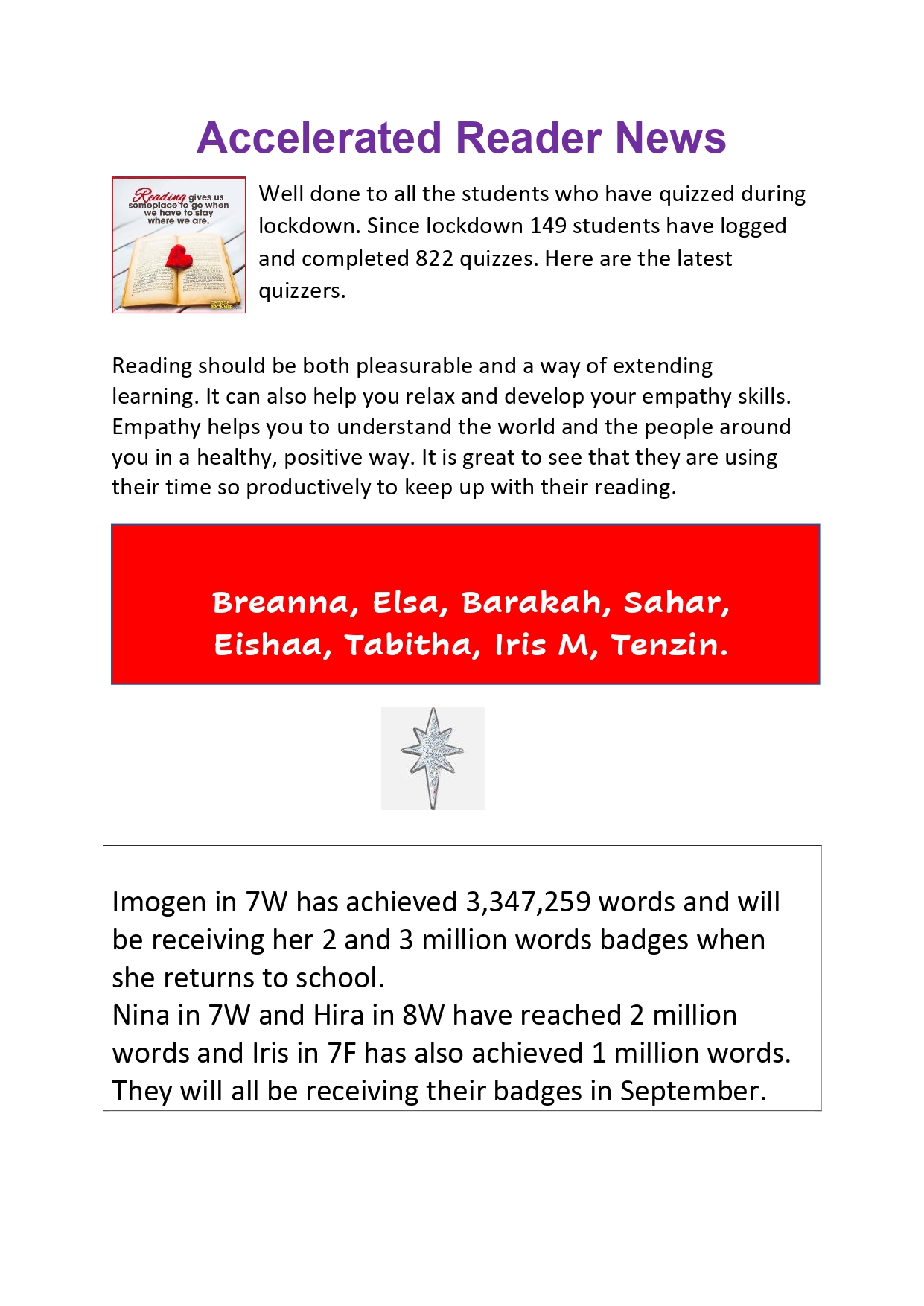 Ms Kelly
LRC Manager
AR News - 6 July 2020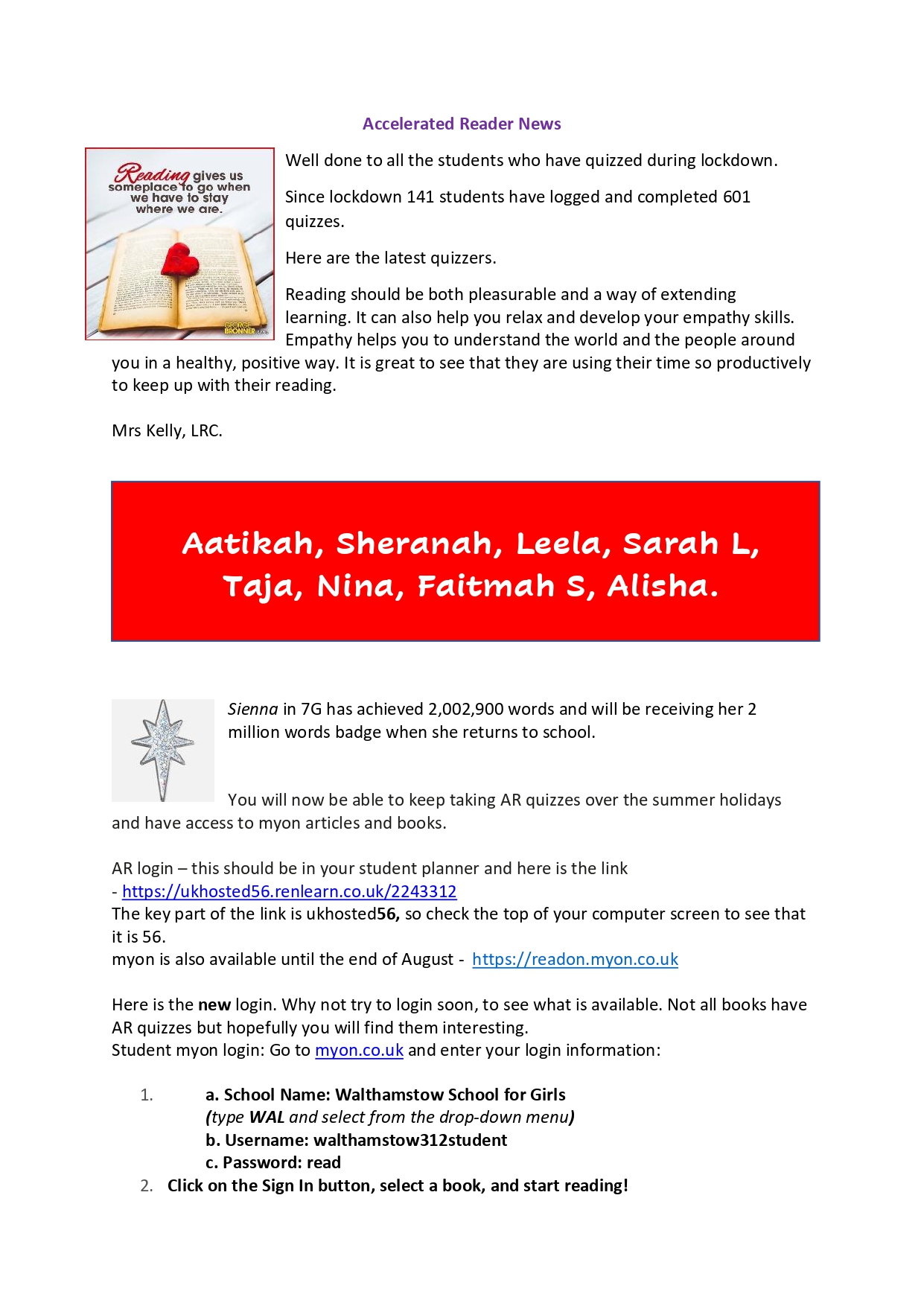 AR News - 1 July 2020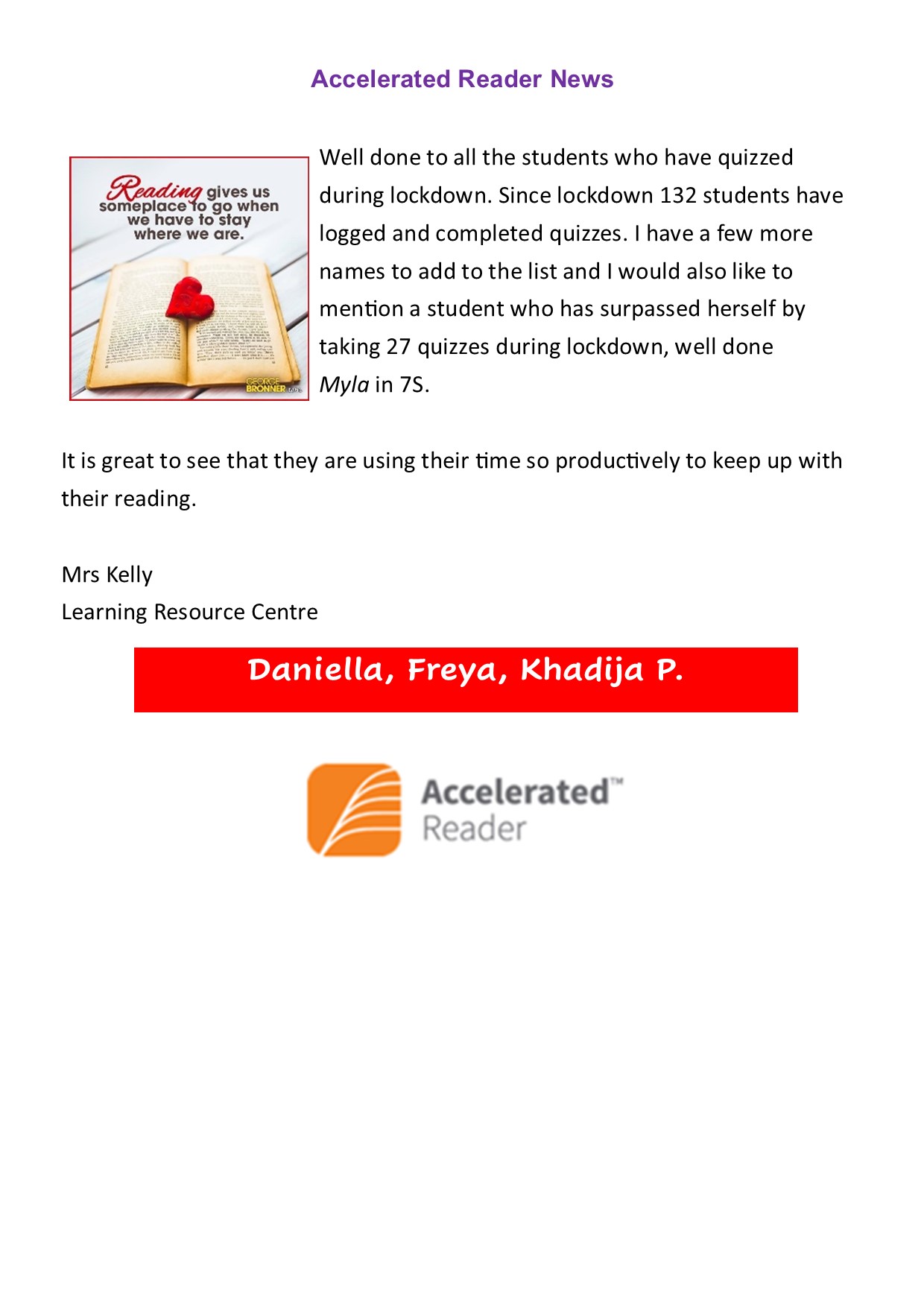 AR News - 22 June 2020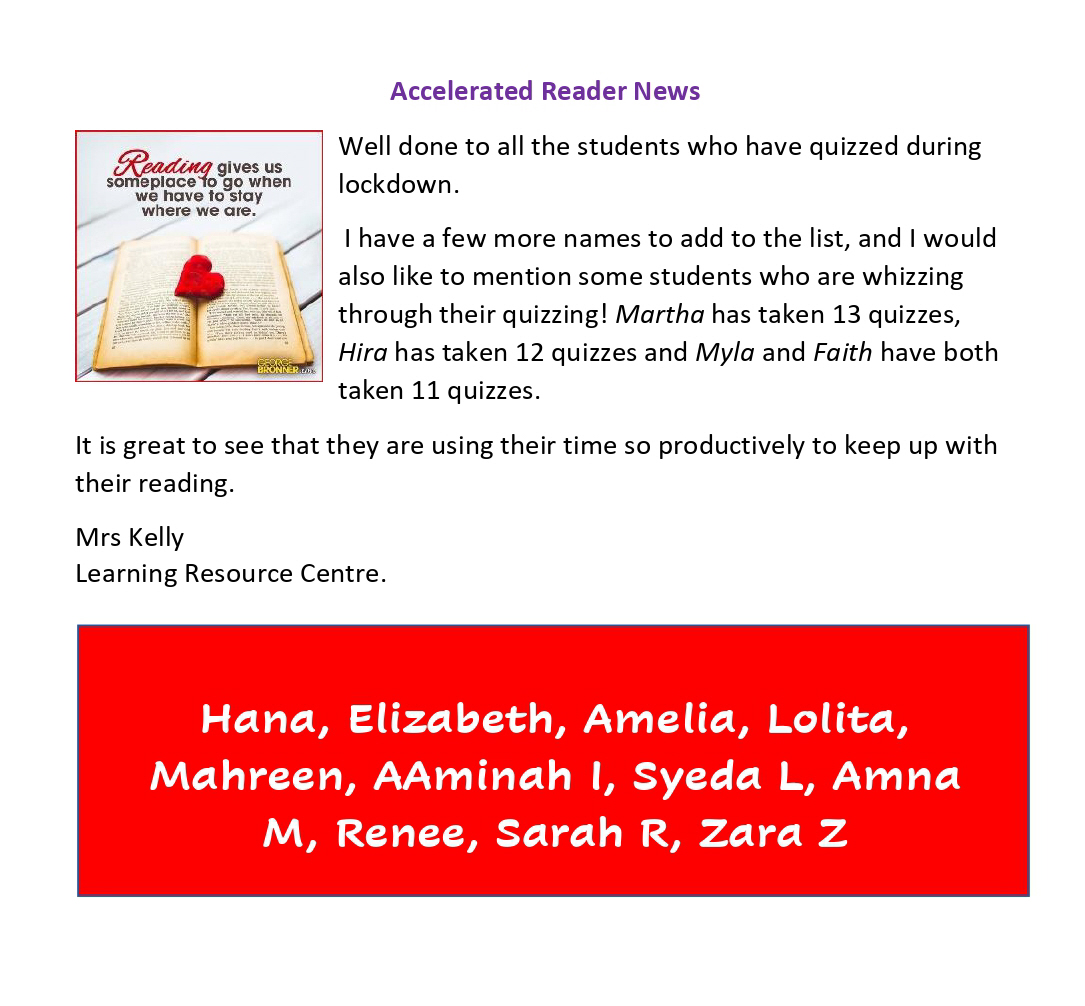 AR News - 15 June 2020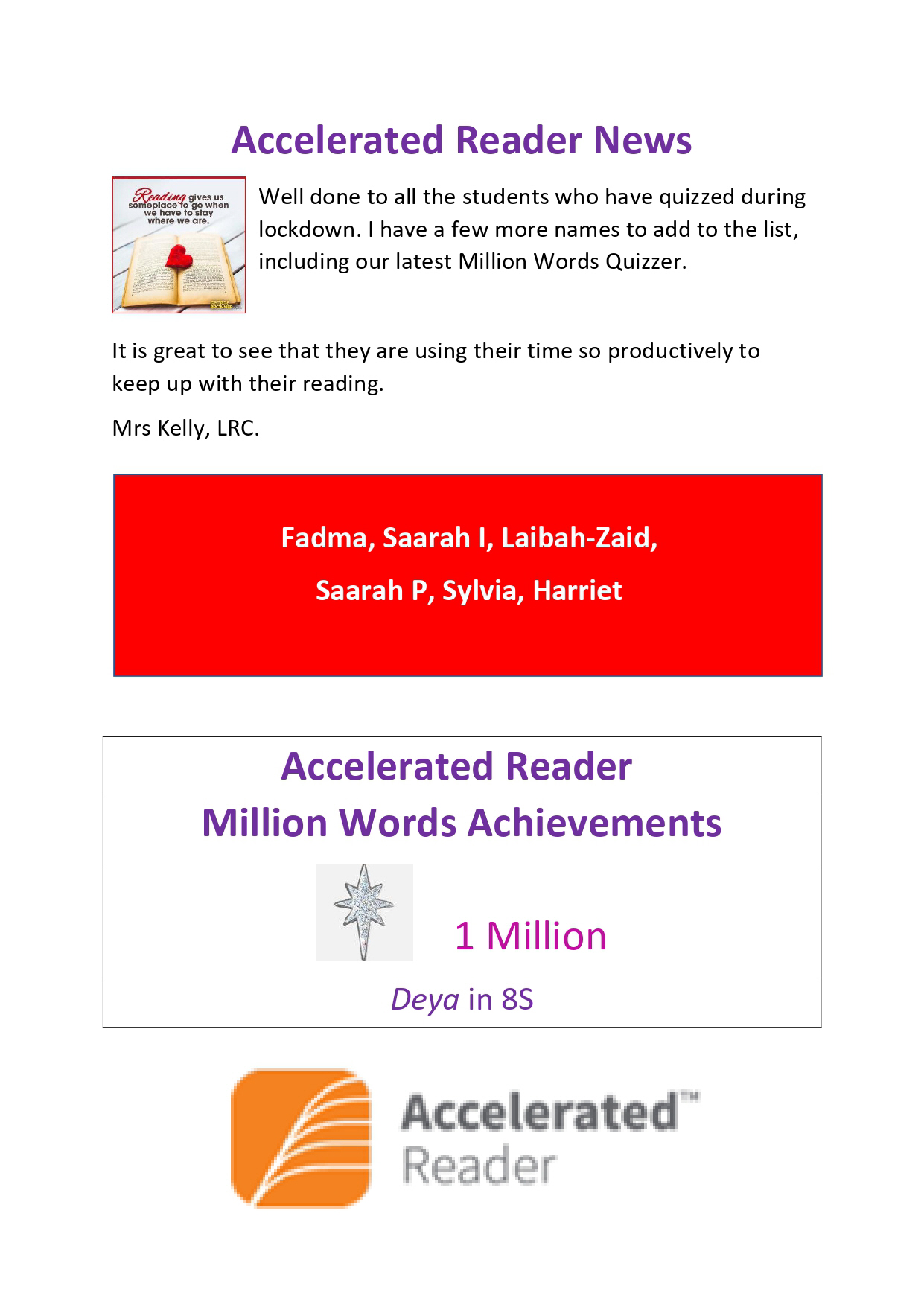 AR News - 31 May 2020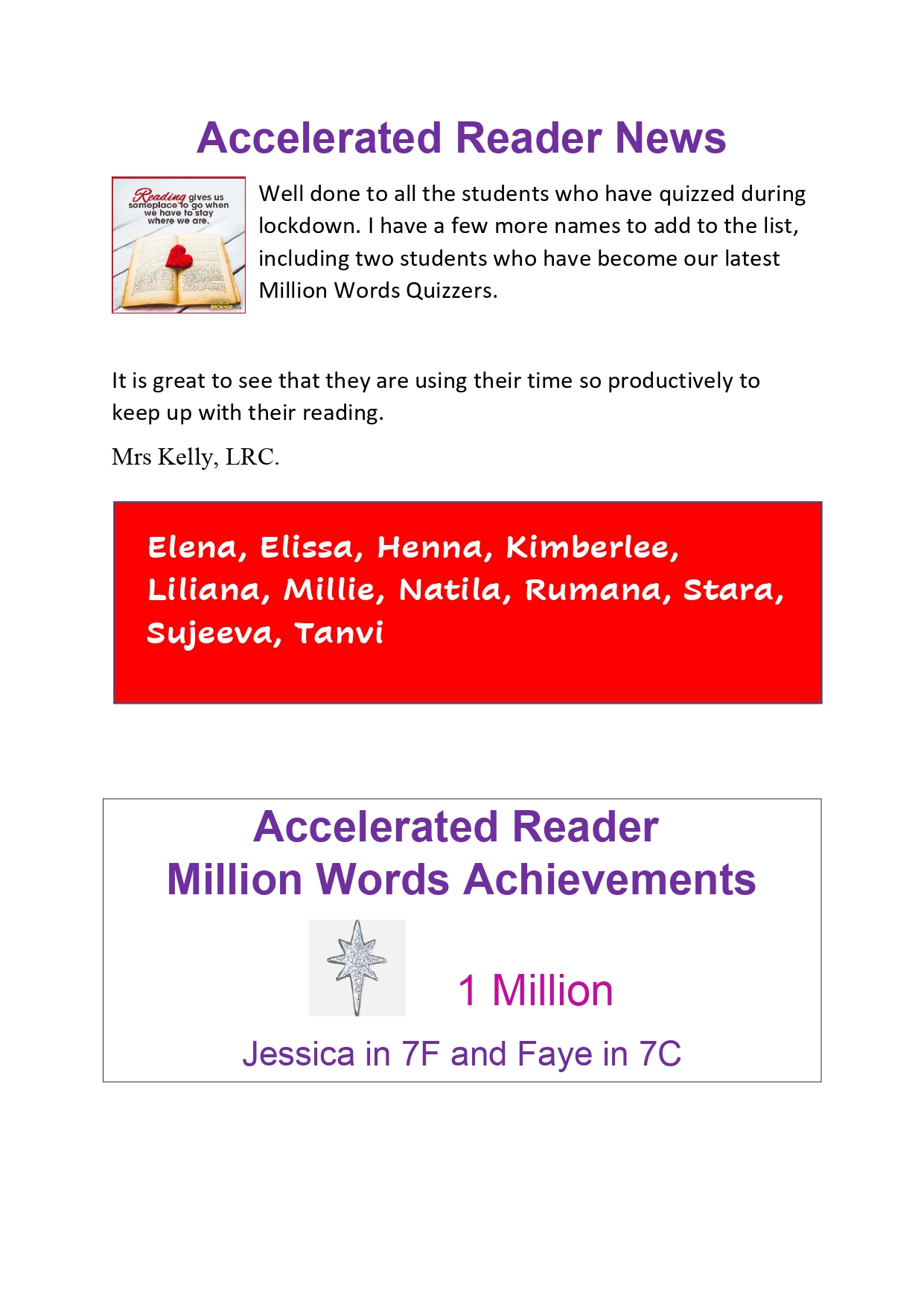 Accelerated Reader ​- Million Words Achievements
1 Million
Hannah H, Abrish, Zara F, Sophia M, Hira, Billie, Husna T
2 Million
Laiba H, Imogen, Myla V
3 Million
Haniya F, Manahel, Evie Sky
5 Million
Faith
Well done everyone for reaching your Million Words milestones during lockdown.
Mrs Kelly
LRC Manager
Accelerated Reader Quizzers