Catering
ETHOS
At WSFG we believe in encouraging healthy eating. Our catering service is outsourced to a specialist company called Olive Dining, who the students took part in selecting. Olive Dining use only the best quality ingredients and suppliers, whilst trying to maintain an affordable meal price for all our students.
We believe all our students should have access to a good quality hot meal each day and so actively engage with our Student Food Focus Group to suggest improvements to our food offer.
SERVICE
Our menus rotate on a 2 week cycle and change termly. We offer breakfast, snacks at morning break and a hot meal / salad / sandwich at lunchtime. We offer two meat and two vegetarian options each day, so there is an option to suit all tastes. Menus are of course subject to change and availability.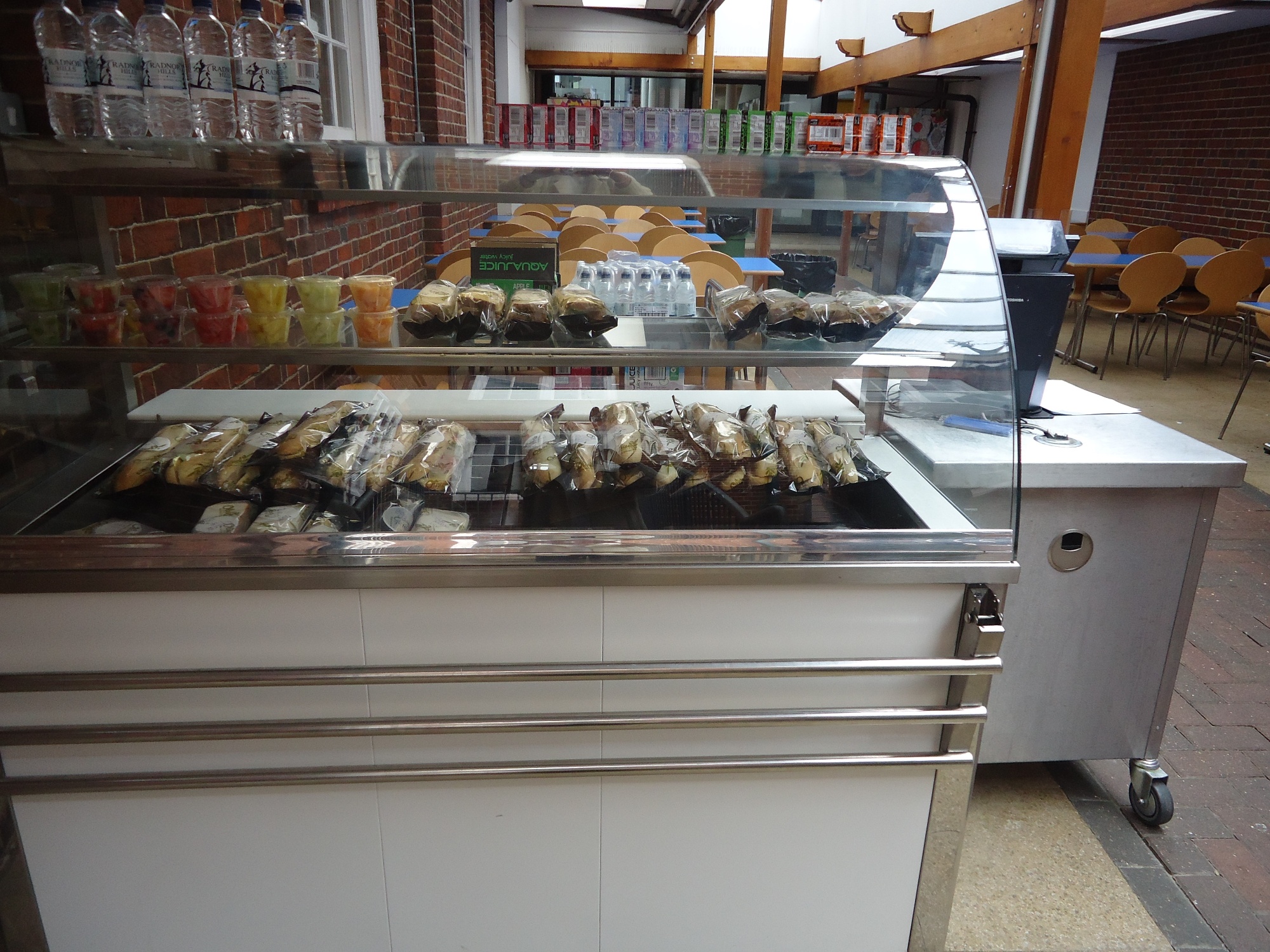 We have vending machines offering healthy drinks and snacks and are starting some innovative satellite serving areas to offer a tailored "grab and go" service in response to the focus group. The first of these, a sandwich bar in the covered patio area at lunchtimes, is now open.
Our meat is sourced from "halal" suppliers and is certified to HFA standards. All foods containing allergens are clearly labelled and information on these can be obtained from our Catering Manager.
On special occasions throughout the year, we hold "theme days" to mark historical achievements, events, religious celebrations and many other topical celebrations during which the canteen is usually decorated and the food offered is appropriate to the occasion.
We run a "cashless" catering service where students can either top up their accounts through cash, cheques or online payments (our preferred payment method) via the online system, sQuid: Please click here to access the sQuid portal.
COSTS
Prices vary for individual items, but students can purchase a £2.30 meal deal which includes a hot meal or a salad box or a sandwich/baguette option with a either a drink or dessert included within the price.
We believe it is very important that those students entitled to a free school meal take up their entitlement so positively encourage parents and carers to apply online - please click here for information on Free School Meals and a link to apply.
IMPACT
We continually get positive feedback from students, staff and parents about the quality of the food offer we are able to give provide:
"Our Sixth Form doesn't have food as good as we used to have here" – Former student returning for Presentation Evening celebrations

"I can't believe the choice my daughter can have for their lunch every day, I never had more than one choice when I was at school!" – A new Year 7 student's parent
There are numerous studies which link eating healthy food to sustained levels of concentration in the classroom, so we strongly believe in ensuring all our students get access to a high quality healthy meal option not only to support their physical well-being but also their mental well-being and hopefully lead to better educational outcomes for all our students.
Latest news from Olive Dining can be found below.
If you do wish to contact the school further about the school catering please contact Mr Skippers (the Olive Dining Chef Manager) or Romi Jalil (School Business Manager) via the school switchboard.
A Message from Olive Dining re Autumn Term Meal Price Increase
Olive Dining - Autumn Term Meal Price Increase
We wish to inform you that the school meal price will increase by 5p to £2.30 from September 2020. In partnership with the school we have tried to keep the meal prices as competitive as possible but the impact of Covid-19 has had an impact on the food supply chain and this has inevitably led to higher prices in sourcing the food required for the daily menu offers.
The preferred method of payment for school meals is via the parental payment system, sQuid. The new year 7 intake parents and carers will receive their login details in September and details of using the sQuid system can be found on the school website. In the meantime new students will be able to make use of the cash loaders to top up their accounts for those first few weeks in September. For existing parents and carers, If you would like a reminder of your sQuid username and password please contact the school via info@wsfg.waltham.sch.uk
The new menus for September have been published on the school website.
Olive Dining
---
Meat Free Monday…
We are excited to launch the introduction of "Meat Free Mondays" in conjunction with our caterers Olive Dining.
Martha 7S, has written a brief outline of why we are doing this:
Cutting our meat intake is an easy and effective way to help our environment by reducing our carbon footprint. Producing 100 grams of beef for example, releases up to 30 kilograms of greenhouse gasses including carbon dioxide, nitrous oxide and methane. These are key contributors to an enhanced greenhouse effect, itself a major driver of global climate change. By comparison, producing 100 grams of peas creates just 1 gram of greenhouse gasses.
Have a look at the menus in the canteen to see what exciting foods we have to look forward to in the coming weeks.
If you are interested in reading about the link between our diet and climate, have a look at this article from the Guardian newspaper.
Mr Sterlini
Head of Humanities
Specialist Leader of Education
---
Lunch Money Loans
It has become apparent that the number of students borrowing money for lunch has increased dramatically this school year. Lunch money loans should be for emergency purposes only.
Walthamstow School for Girls offers a Top-Up facility via sQuid enabling bothstudents and parents to check balances, top-up lunch money, pay for trips and other sundry items at their own convenience.
An automatic Top-Up can also be activated ensuring your daughter never runs out of money.
A reminder to parents/carers that if you wish to pay for your daughter's school meals by cheque, please make the cheque payable to 'Olive Dining Ltd'.
All students have also been given usernames and passwords to enable payments to be made online via our sQuid system (see the school website for details). If you would like a reminder of your daughter's username and password please contact Student Services.
Ms Jolliffe
Student Services